Cajun Jambalaya
June 10, 2019 | Updated August 02, 2022
As an Amazon Associate I earn from qualifying purchases.
To pin down the One True Cajun Jambalaya is a fool's errand: This is one of those recipes that has as many versions as it has cooks. But I can assure you, this is a good one.
Some jambalaya recipes have seafood, some chicken, many, including this one, feature wild game — duck, quail, venison, etc. There are a few constants, however. Cajun jambalaya, for example, is a darker dish, with less tomato than New Orleans Creole jambalaya, and often no tomato at all.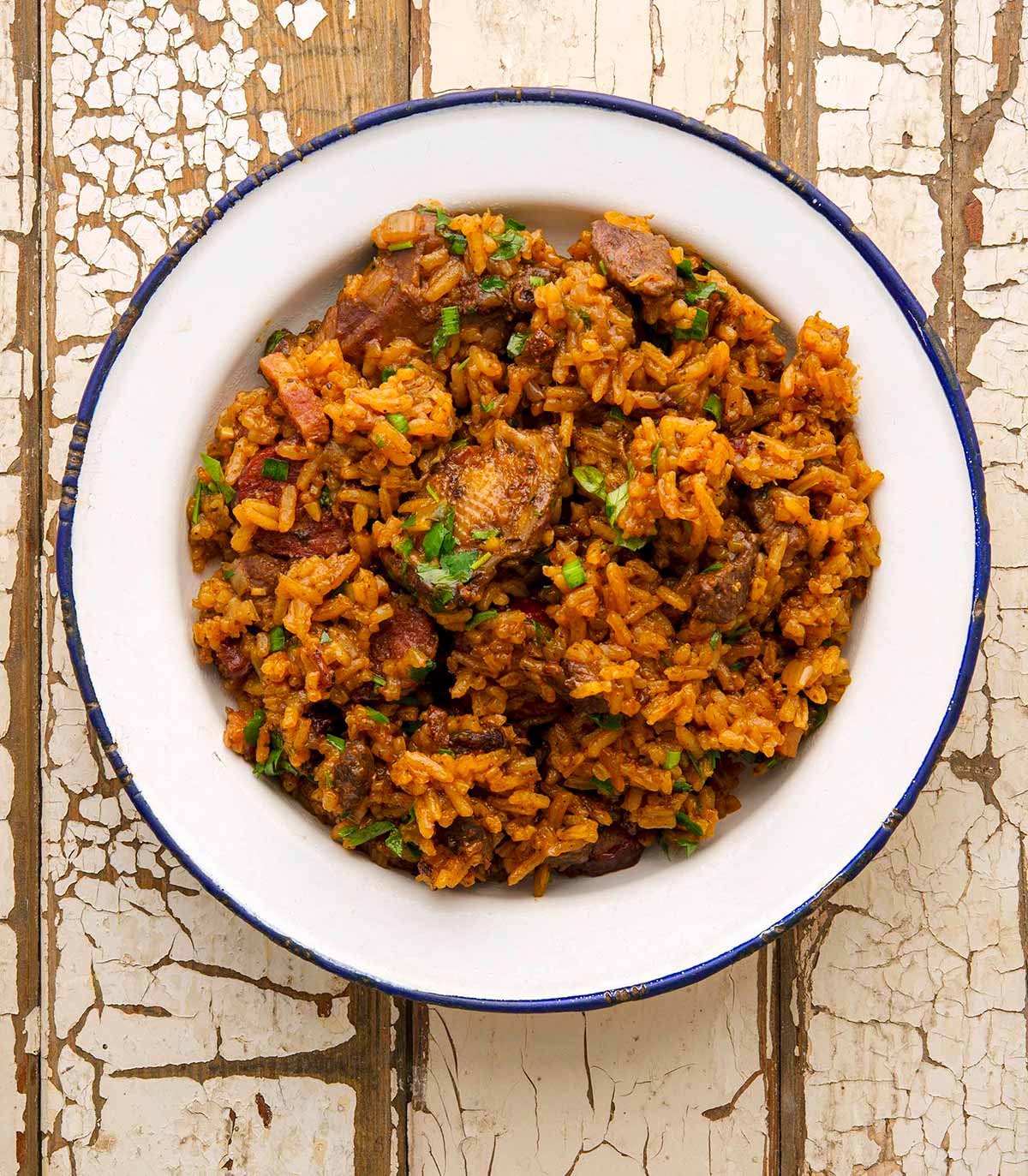 Both versions usually have sausage, too. Andouille is king here, and here is my andouille recipe if you want to make your own.
I developed this recipe as an amalgam of jambalaya recipes from the great Cajun chefs Don Link and Eula Mae Dore, whose book Eula Mae's Cajun Kitchen
I highly recommend.
My rendition of Cajun jambalaya uses a mix of duck, pheasant thighs, homemade andouille, and some homemade jowl bacon. My suggestion is to use the following:
A dark meat. In my case, it was duck. You're looking for about a pound or so. Venison, beef, lamb, goat, goose; any would be good.
Thighs of a white meat bird. I use ruffed grouse or pheasant, but chicken or turkey would work, too.
Smoked sausage. Andouille is what you want, but any smoked sausage will do in a pinch.
Bacon of some sort, or tasso ham. Because bacon.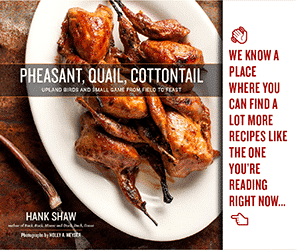 All this said, let your freak flag fly on this one. Cajun jambalaya is a one-pot wonder designed for freestyling, so you can use it as an "empty the freezer" special, too.
One tip I picked up from Don Link is akin to making an Italian sugo: In the cooking process, you let the browned bits start to stick to the bottom of the pot a bit before adding enough liquid to then scrape them off. You do this twice, which adds a ton of flavor and gives you that nice brick-red color you see in the pictures.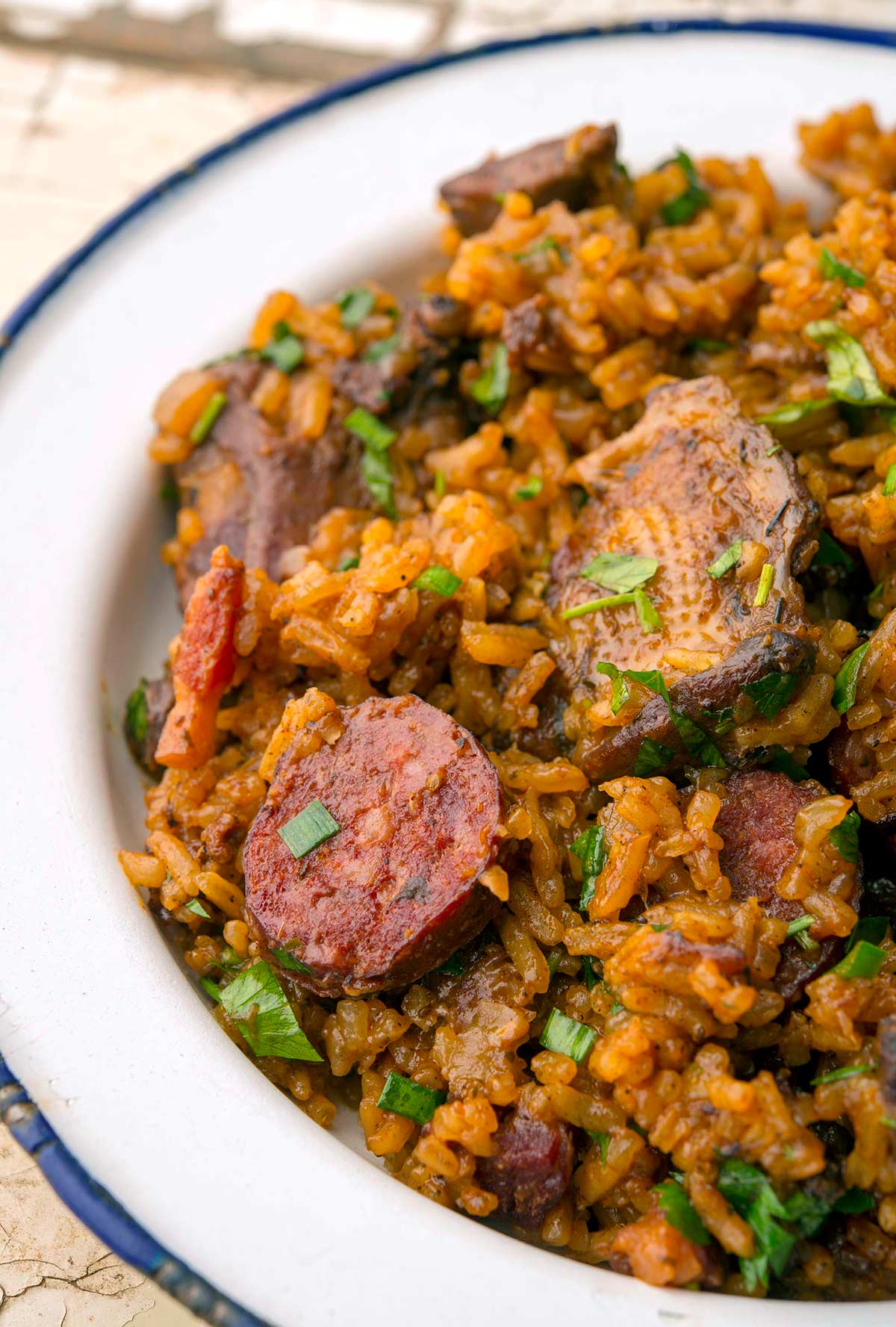 Cajun jambalaya tends to be a drier dish, more like a perloo or dirty rice, rather than a porridge-like, soupy rice dish like Lowcountry chicken bog, which Creole jambalaya tends to be.
Either way, jambalaya is a hit at parties, and reheats really well, so make a big batch and bring it to work, or eat off it the whole week. One good idea for leftovers is to spread some out in a frying pan over a little lard, butter or oil, get it sizzling, then crack a few eggs over it. Mix, then let the eggs set, and eat. You'll thank me later.
Cajun Jambalaya
You will see my choices of meats here, but feel free to mix and match; just look for the approximate weight. Always use medium- or long-grain rice, and, if you are using store-bought Cajun or Creole seasonings, you won't need salt -- they are very salty to begin with.
Ingredients
1/4

pound

bacon

1

pound

skinless duck breasts, diced

2

pounds

bone-in chicken or pheasant thighs

(either skinless or skin-on is fine)

2

onions, chopped

3

celery stalks, chopped

1

green pepper, chopped

5

cloves

garlic, minced

1

tablespoon

tomato paste

(optional)

2

teaspoons

dried oregano

2

tablespoons

Cajun seasoning

2

quarts

chicken or other light stock

1/2

pound

andouille sausage

2 1/2

cups

medium- or long-grained rice

1/4

cup

chopped scallions or chives

1/4

cup

chopped parsley
Instructions
In a large Dutch oven or similar pot, fry the bacon over medium heat. When it's crispy, remove and chop. Set aside. Brown the duck and thighs well. Add the onion, celery and green pepper and brown that, too. Let this cook a minute or three, then add the garlic. In some cases, your pot may be too crowded, so if that happens, fish out the thighs for the moment.

As the vegetables are cooking, use the liquid they release to scrape the browned bits off the bottom of the pot. Let everything cook until you get bits starting to stick again. Add a splash of stock and the tomato paste, along with the oregano and Cajun seasoning. Stir well and let this cook until it starts to stick one more time.

Stir in the rice and andouille and let this cook for a minute or two. Add in the rest of the stock, stir well, scrape any browned bits off the bottom of the pot and bring to a simmer. Cover the pot, drop the heat to low and let this cook until the rice is done, about 20 minutes.

Stir in the chives and parsley before serving.
Notes
The use of any tomato in many Cajun recipes is hotly debated; it's one of the things that differentiates Cajun versus Creole cooking. I got the idea of adding a tiny bit of tomato paste in my jambalaya from a friend in Houma, which is in Cajun country, so I went with it here. You can skip the tomato paste if you want. 
Nutrition
Calories:
633
kcal
|
Carbohydrates:
56
g
|
Protein:
50
g
|
Fat:
23
g
|
Saturated Fat:
7
g
|
Polyunsaturated Fat:
4
g
|
Monounsaturated Fat:
9
g
|
Trans Fat:
0.1
g
|
Cholesterol:
185
mg
|
Sodium:
564
mg
|
Potassium:
1018
mg
|
Fiber:
3
g
|
Sugar:
3
g
|
Vitamin A:
1311
IU
|
Vitamin C:
22
mg
|
Calcium:
74
mg
|
Iron:
6
mg
Nutrition information is automatically calculated, so should only be used as an approximation.