As an Amazon Associate I earn from qualifying purchases.
If there's a simpler, more rustic meat-and-potatoes dish than Lancashire hotpot, I'm not sure what it is. My rendition is a venison hotpot, but the traditional dish uses mutton or lamb. Easy, classic, cold-weather comfort food.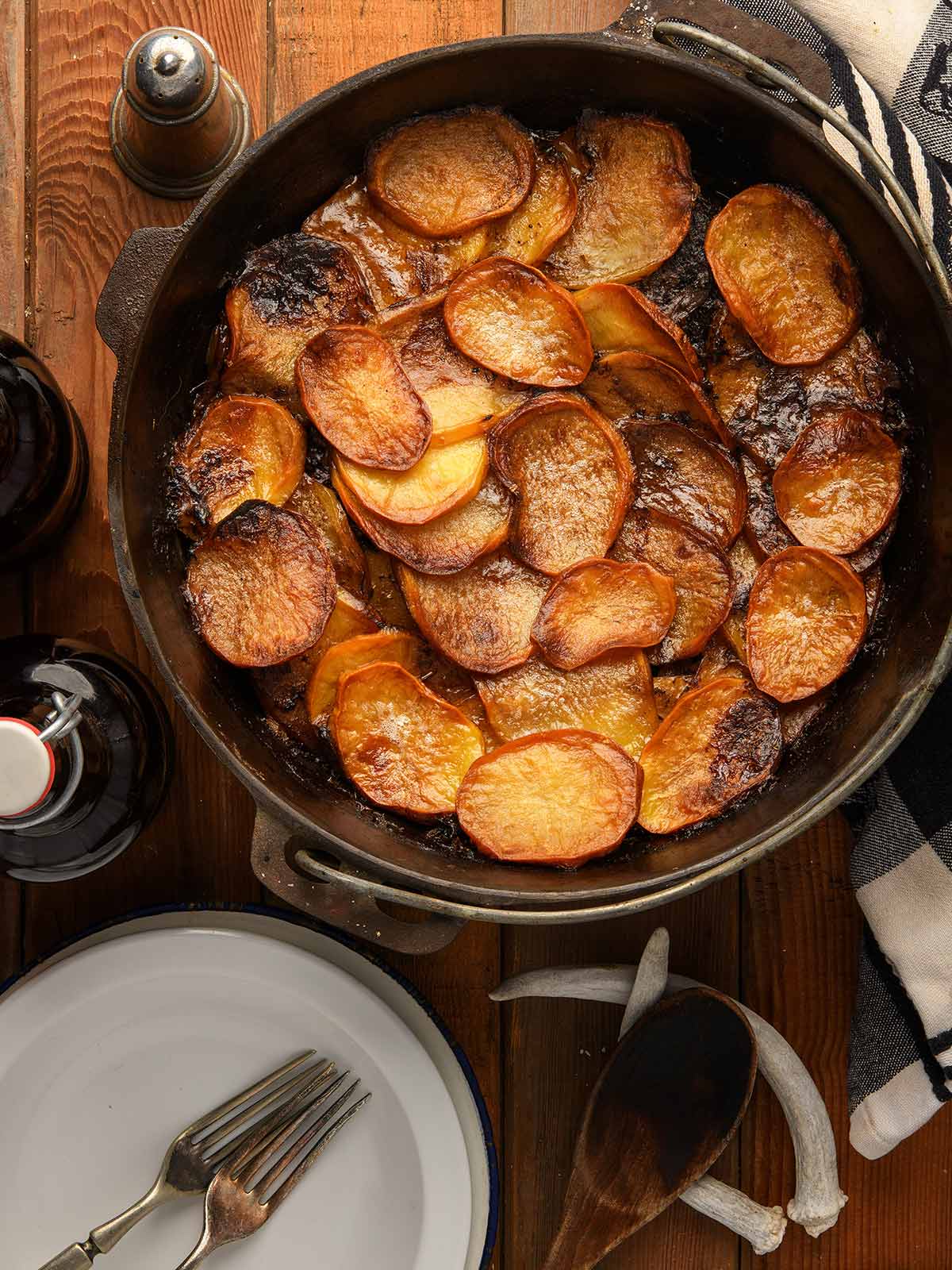 Lancashire hotpot has its origins nearly 200 years ago as a dish of poor textile workers who would put this on the hob before work, eating it when they came home. It is best slow cooked, and since the recipe is so simple, technique matters here, similar to beer braised short ribs.
Poor technique and you will have gross cafeteria food. Do it right and you will be amazed at how something so simple can taste so good.
What is Lancashire Hotpot?
Dumb question for Britons, since this is a classic there. But for Americans, Lancashire hotpot is a one-pot stew of sorts that is made in layers of meat, onions and potatoes, flavored very simply with stock, Worcestershire sauce, salt and pepper, and maybe a little dried herb.
It's how you make it that matters.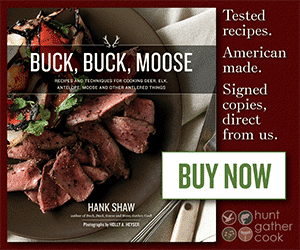 Ingredients
The meat in Lancashire hotpot is normally lamb these days, but that's a poor choice in my opinion, although lamb neck is OK. Mutton is better, and venison better still. Why? A venison hotpot mimics the flavor and toughness of mutton, which can be fiendishly hard to find now.
You will see various cuts used, from loin cutlets to my favorite, neck meat. You want a tough cut to stand up to long cooking, and it's the long cooking that transforms this into a lovely meal.
The meat is either sliced into slabs of about 1/2 inch thick, or chunked. You salt it, dust in flour and brown before stewing.
Ditto for the kidneys. The wha?! Yep, Lancashire hotpot often has kidneys in it, and this is an excellent use of venison kidneys — along with that other British classic, steak and kidney pie, which has similar flavors to Lancashire hotpot. (Deviled kidneys are lovely, too.)
You can skip kidneys if you want to, but I like them as an additional knob of goodness in the hotpot.
Onions are the standard yellow storage onion, and potatoes can suit your fancy. I prefer waxy yellow potatoes like Yukon gold, but either these or floury russets will do fine. The main difference is that waxy potatoes will hold their shape better, while floury ones will dissolve and make the underlying stew richer.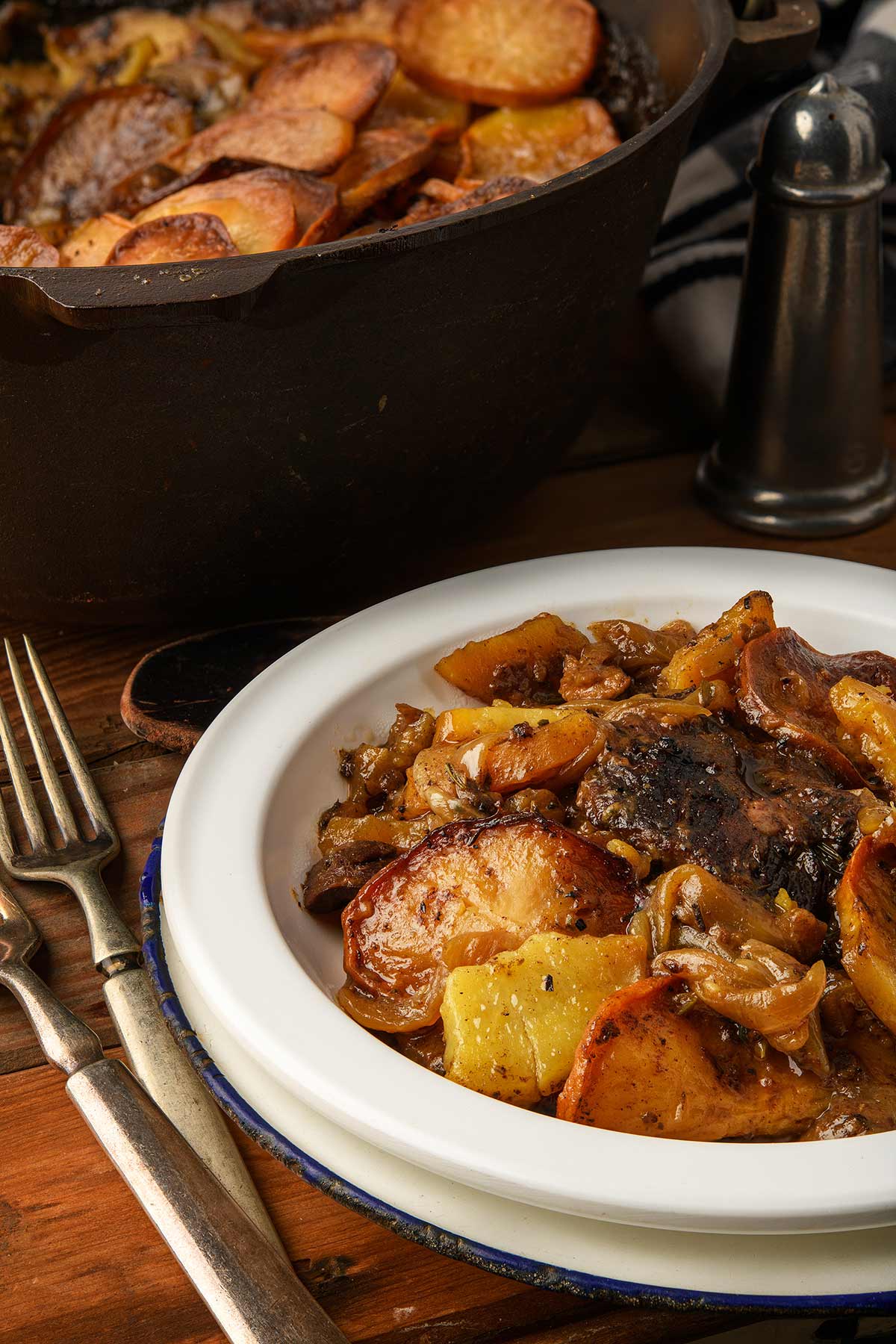 Making Lancashire Hotpot
It is very important with a stew this simple that you take your time and do each step with care.
Salt the meat well. Flour it, shaking off excess. Brown it really well over medium-high heat. This step is important, and takes a while, so don't rush it.
Same for the onions, which need to be not quite caramelized, but definitely browned well.
The potatoes should be cut by hand if you are making a venison hotpot because venison takes longer to cook than lamb, so you will need more time in the oven, Thin, mandoline-cut potatoes will break up under such long cooking.
I advocate an "herb of the day," in this case thyme, savory, rosemary, sage or lovage. Choose only one. Remember, Lancashire hotpot is a simple dish.
Once all your browning is done, you can either cook the hotpot in a Dutch oven as I do, or move everything to a slow cooker.
What to Serve Alongside?
Hotpot is a simple dish, but it is rich. I prefer a simple salad of bitter greens alongside, and/or pickles. Something bright to wake things up on a cold night.
Once made, Lancashire hotpot will keep in the fridge for a week. I've not tried freezing it.
Other British Classics
Other than the aforementioned steak and kidney pie and deviled kidneys, you might also like these other classics:
If you liked this recipe, please leave a ⭐️⭐️⭐️⭐️⭐️ rating and a comment below; I'd love to hear how everything went. If you're on Instagram, share a picture and tag me at huntgathercook.
Lancashire Hotpot
This rendition is made with venison, but lamb or mutton also work well. If you are using lamb, cut the cooking time down by 1 hour. If the potatoes on top get too brown for your liking, cover the pot.
Ingredients
2 to 3

pounds

venison, mutton or lamb neck,

boneless

3 to 5

venison or lamb kidneys, cleaned

(optional)

Salt and pepper

Flour for dusting

1/4

cup

lard, bacon fat, butter or oil,

divided

3

cups

sliced onions

2

teaspoons

dried thyme or savory

2

cups

beef or venison stock

1 to 2

tablespoons

Worcestershire sauce

1 1/2

pounds

potatoes, peeled and sliced thin

(see below)

3

tablespoons

melted butter
Instructions
Slice the neck meat into slabs about 1/2 inch thick, then again into big chunks. Cut the kidneys into pieces about the size of the last digit of your thumb. Salt all the meat, then dust it in flour.

Heat half the lard, bacon fat or other cooking out in a large Dutch oven over medium-high heat. Brown the kidneys well, stirring once in a while. Remove and set aside. Brown the rest of the meat in batches. Do not crowd the pan, and take your time on this. You want a really nice browning. Add more fat as you go if you need to so nothing blackens. This process can take 15 to 20 minutes. Remove the meat as it browns.

Add all the onions to the pot and stir well. Use a wooden spoon to scrape up all the browned bits. Brown the onions well, salting them as they cook. As they cook, preheat the oven to 325°F. When the onions are done, turn off the heat on the stovetop.

Remove most of the onions, leaving a thin layer. Add a layer of venison and kidneys, then some sliced potatoes (use the knobby ends here), a little dried thyme and a splash of Worcestershire. Top with more onions and repeat with another layer. Add enough stock to come about 3/4 of the way up the sides of the stew. Grind some pepper over everything, then top with the remaining slices of potato to form something of a top or lid.

Brush the potatoes with melted butter and bake uncovered for 3 hours if using venison or mutton, or 90 minutes to 2 hours if using lamb neck. After about 2 hours, you might need to put a lid on the pot to prevent the potatoes from burning. When the meat is tender, serve in bowls with a crisp salad, pickles and some malty beer.
Notes
If you are using kidneys, I have instructions on cleaning kidneys here. 
If you are using venison, slice the potatoes about 1/8-inch thick. If you are using lamb, make them thinner, like thick potato chips. 
Nutrition
Calories:
540
kcal
|
Carbohydrates:
29
g
|
Protein:
60
g
|
Fat:
20
g
|
Saturated Fat:
12
g
|
Polyunsaturated Fat:
1
g
|
Monounsaturated Fat:
5
g
|
Trans Fat:
1
g
|
Cholesterol:
208
mg
|
Sodium:
391
mg
|
Potassium:
1246
mg
|
Fiber:
4
g
|
Sugar:
5
g
|
Vitamin A:
437
IU
|
Vitamin C:
29
mg
|
Calcium:
61
mg
|
Iron:
9
mg
Nutrition information is automatically calculated, so should only be used as an approximation.