As an Amazon Associate I earn from qualifying purchases.
Scotch broth is more of a mood than a set recipe. You will see variations with beef, lamb, and yes, game. My version is a venison soup based on the Scottish original, but of course you can use beef or lamb if that's what you have.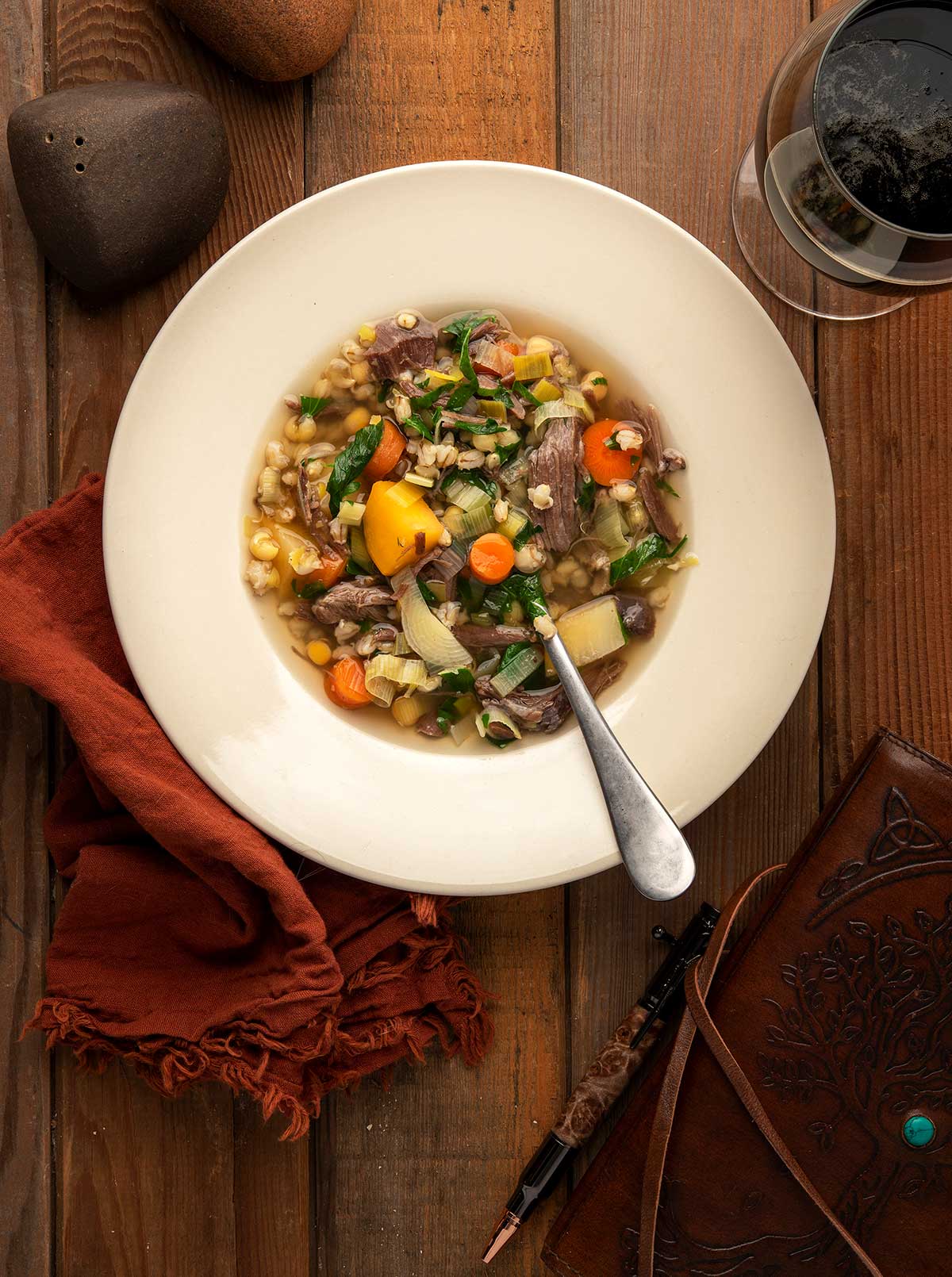 I have had a version of venison soup-as-Scotch Broth on this site, well, since the beginning, back in 2007. I am of Scots descent, and my mom made a lamb and barley version of this soup often when I was a boy. This recipe is close to that one, with some modern changes and the addition of venison.
I used a shank (shin) from a large deer for this recipe, but pretty much any cut that has connective tissue to break down will do: Shank, shoulder, neck being the best. And any game animal will work, from deer to elk and moose, to pronghorn, wild sheep and goats, you name it.
This updated venison soup owes a lot to the Scotch broth in the excellent cookbook Broths to Bannocks, by Catherine Brown. It's one of the few Scottish cookbooks worth buying. Her book has a whole section on broths, and it honed my old recipe quite well.
Let me start by noting that the main difference between a soup and a stew, at least to me, is the broth. In a stew, like my venison stew, the things in the broth play the main role. In a soup, like this one, or my duck soup, the broth is the star, with the things in it being nice accompaniments.
In most cases, you will want soup broth to be clear, although not necessarily consommé clear. You do this by not boiling it. Think steeping tea rather than boiling potatoes. This will give you meat that's more tender, and a broth that is pretty and clear.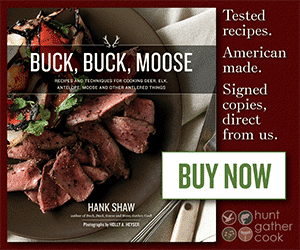 Starting the Scotch Broth
All soups start with a broth. Scotch broth is no different. You build a broth for the venison soup by simmering the meat with some aromatic vegetables, herbs and spices, straining and shredding the meat, then building the final broth with more vegetables, some grains, more herbs and then the meat goes back in.
One note on making a pretty broth: I cook the grains, in this case barley and dried peas, separately in salty water. Drained and added back to the final soup, it keeps things clean. While not strictly necessary, doing this is a nice touch.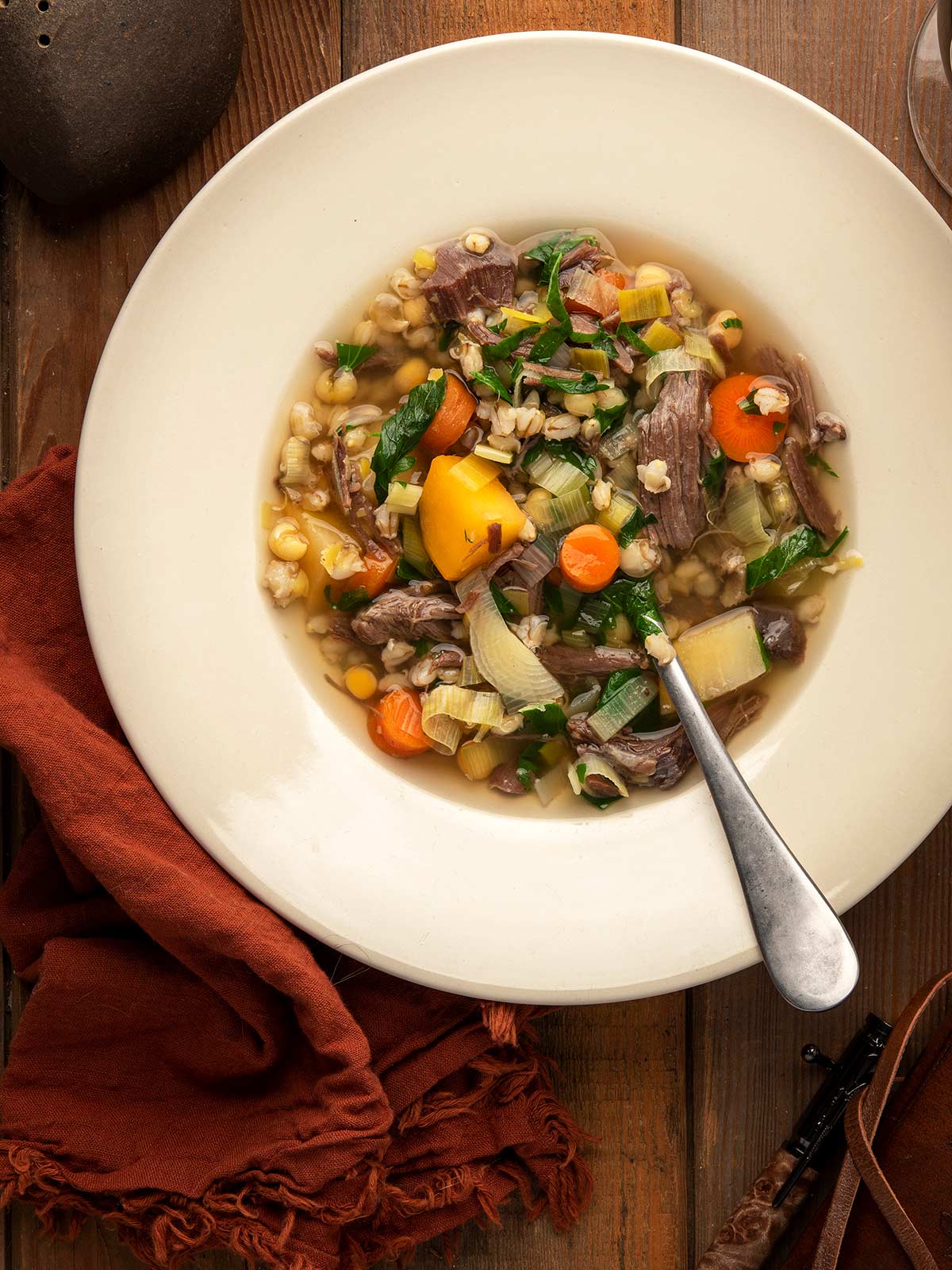 Venison Soup Ingredients
Scotch broth has certain set ingredients, then you can play around with others.
An onion component, usually leeks. Leeks are what you want here, but if you can't find them, sliced yellow onions work.
A root vegetable. Rutabagas are normal here, but parsnips and turnips work, too. I occasionally see potatoes, too.
Carrots. Always carrots.
Something green. Nettles, spinach, chard, kale, the tops of celery, parsley, you name it.
A grain. Almost always barley, but you could use rye or wheat berries, too. Brown adds dried peas to hers, and since I had some, I added them, too. These would be beige or brown dried peas, not the dried green ones.
Incidentally, I have a ton of recipes for venison soups and stews here.
Variations
I make Scotch broth in a pot, on the stove, on a weekend, because it can take a while to come together. The venison soup keeps all week, and is great for lunches.
That said, you can use a pressure cooker like an Instant Pot to make Scotch broth. My advice is to cook on medium pressure for 20 to 25 minutes if you are using venison, 15 minutes for store-bought meats, except for mutton, which will need 20 minutes. Do the natural release.
If you are using an instant pot to make venison soup, leave out the chard and herbs until you open the pot — the residual heat will cook them through. If you don't do this, the greens will be murdered by the pressure cooker.
OTHER BRITISH CLASSICS
You might also like these other classics:
If you liked this recipe, please leave a ⭐️⭐️⭐️⭐️⭐️ rating and a comment below; I'd love to hear how everything went. If you're on Instagram, share a picture and tag me at huntgathercook.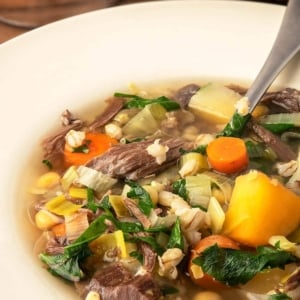 Venison Scotch Broth
This is a lovely venison soup based on Scotch broth. I use shank, but shoulder, neck or any cut with connective tissue works well. Lamb, mutton or beef are also good.
Ingredients
BROTH
2 to 3

pounds

venison shanks

(see above for alternatives)

1

small yellow onion,

peeled but whole

10 to 20

cloves

1

rib

celery

3

bay leaves

green tops from a leek or two

Stems from a bunch of parsley

Salt
SOUP
1

cup

barley

1

cup

dried yellow peas

2

the white parts of the leeks, sliced thin

3

carrots, cut into chunks

2

rutabagas, peeled and chunked

2

ribs

celery, sliced

1

tablespoon

sugar

(optional)

tops from the celery

1

pound

chard, chopped

(or kale, lambsquarters or turnip greens)

1/2

cup

chopped parsley

Salt and black pepper
Instructions
BROTH
To make the broth, add the meat to a large pot and just barely cover with water. Bring this to a hard boil, let it boil for a minute or three, then turn off the heat, remove the shanks, and toss the water. Wipe out the pot. This step removes any impurities in the broth and will keep it much, much clearer without sacrificing flavor. You can skip this step, but your broth won't be clear.

Stick the cloves into the onion.

Return the meat to the pot and cover with water by about 2 inches. Add all the remaining broth ingredients, bring to a simmer, and cook gently, partially covered, until the meat is tender enough to come off the bone – between 2 and 3 hours.

Remove the meat from the bones, cut into pieces you'd like to eat in a soup, and set it aside. Strain the broth through a fine mesh strainer with a paper towel set inside. Add salt if needed.
SOUP
Boil the barley and the peas, if using, in separate pots of salted water. Drain and rinse when they're tender and add to the soup. Doing this keeps the broth clean and clear. You can cook the grains in the soup, adding them with the root vegetables, but the broth will become cloudy.

To finish the soup, bring the strained broth back to a simmer and add the meat, the white part of the leeks, carrots, rutabagas and celery. Let this simmer a while, then add sugar, if using. Once the vegetables are tender, add the chard, parsley, celery tops and taste for salt. Add the pepper at the end.
Notes
Once made, this soup will keep a week in the fridge. It can be frozen. 
Nutrition
Calories:
237
kcal
|
Carbohydrates:
39
g
|
Protein:
17
g
|
Fat:
2
g
|
Saturated Fat:
1
g
|
Polyunsaturated Fat:
1
g
|
Monounsaturated Fat:
1
g
|
Trans Fat:
0.001
g
|
Cholesterol:
26
mg
|
Sodium:
73
mg
|
Potassium:
759
mg
|
Fiber:
11
g
|
Sugar:
9
g
|
Vitamin A:
3698
IU
|
Vitamin C:
28
mg
|
Calcium:
84
mg
|
Iron:
3
mg
Nutrition information is automatically calculated, so should only be used as an approximation.