Venison and Kidney Pie
January 17, 2021 | Updated June 06, 2022
As an Amazon Associate I earn from qualifying purchases.
Steak and kidney pie is just about the most British meal you can eat. I make it with venison, and it is so good it will convince you to save those kidneys. Seriously. It will.
If your nose is all squinched up thinking about eating kidneys, walk with me for a moment.
Kidneys are super high in protein and several key vitamins you need to stay healthy. But yeah, I get it: It's a filter for pee. Sounds like not good eats. And, prepped poorly, you'd be right. But remember that all store-bought kidneys will be pre-prepped and ready to cook.
However, if you are harvesting deer kidneys or some other wild animal's kidneys, you will want to pull the thin membranes off them, slice them in half lengthwise, and soak in a solution of about 1/4 cup kosher salt to 1 quart water in the fridge overnight. Remove, rinse, and, if you want to (and I do), give them another overnight soak in milk. This literally soaks the piss out of them.
Eaten raw (!) or lightly cooked, kidneys are actually kinda crunchy, which can be off-putting. But cooked slow and low, as you do with this kidney pie, their texture softens, and they get a mouthfeel that's rich, warming and perfect as a counterpoint to the muscle meat they go with.
Now obviously you don't need to be a hunter to make steak and kidney pie. Most British cooks use beef. If that's you, I highly recommend lamb as a better substitute, or even better better? Veal. Thankfully, you can find humanely raised veal these days.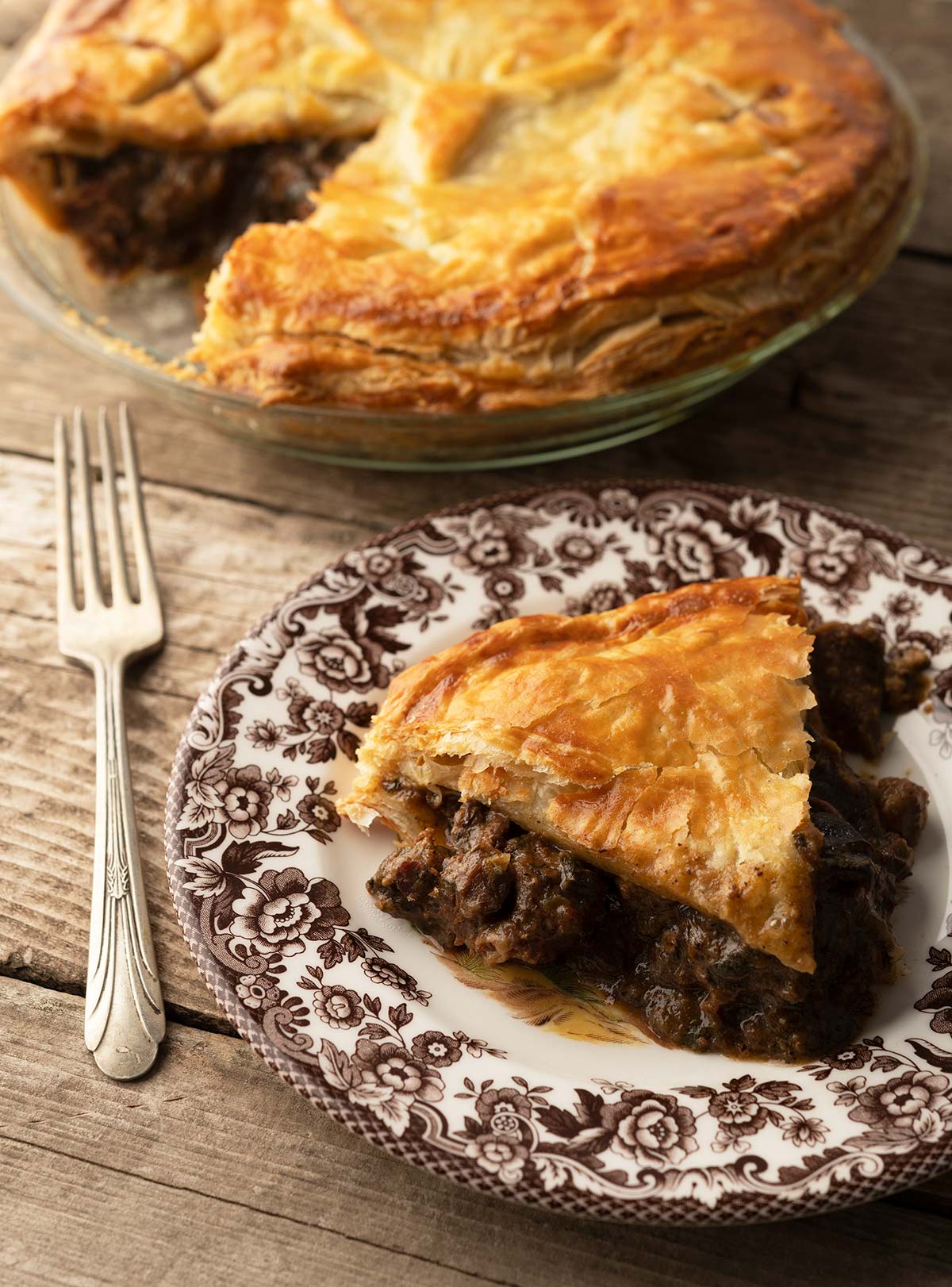 What, exactly, is steak and kidney pie? Well, traditionally it's made with skirt or flank steak that is long cooked, but I think that is a waste of good taco meat. So I use neck meat, shoulder or shank, and braise it long and slow with the kidneys for a thick, stew-like filling. That filling goes into a nice pie crust — either puff pastry as I do here, or the same basic pie dough you'd use for apple pie or pot pie, only with no sugar — and is baked.
You eat wedges of kidney pie with some good mustard, and ideally a crisp salad and lots of malty beer.
A word on British food in general. It gets a bad rap, and a generation ago, it deserved it. But British food, skillfully done, can be soulfully satisfying — especially in cool weather. Think British bangers and mash, Scotch broth, or even that other famous kidney dish, deviled kidneys.
Kidney pie is also a great way to use a little more of the animal, waste less, and enjoy the alchemy of making something wonderful from what most throw away.
Once made, your kidney pie will keep a week in the fridge. It does not freeze well, but the filling does, so you can thaw that out and make more pies later.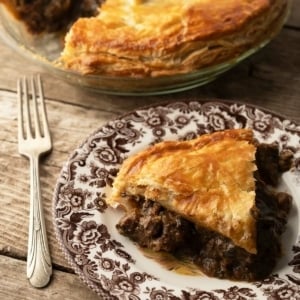 Venison and Kidney Pie
Obviously you can use pretty much any meat with its kidneys here: Beef, lamb or mutton would be my top alternatives, but this could be done with pork or even bear.
Ingredients
FILLING
2

pounds

venison shank, shoulder or neck meat

1

pound

venison kidneys

1/2

cup

flour

1/4

cup

lard, bacon fat or butter

(or beef drippings)

1

pound

chopped fresh mushrooms

(any kind)

1

large yellow onion, chopped roughly

Salt

2

cups

stout or porter or other dark, malty beer,

divided

1

teaspoon

dried thyme

4

bay leaves

1

tablespoon

chopped parsley stems

1

celery stalk, minced

1

tablespoon

minced fresh rosemary

(or 1 teaspoon dried)

2

cups

venison stock

3

turnips or parsnips,

peeled and diced

1/4

cup

chopped parsley leaves

Worcestershire sauce, dry mustard and black pepper, to taste
PASTRY
1

17-ounce box, puff pastry

(I use Pepperidge Farm)

1

egg, lightly beaten

1

tablespoon

milk
Instructions
Chop the venison and kidneys into chunks. Salt them and toss in flour. Heat the bacon fat in a large pan and brown the meats. Don't crowd the pan and take your time; you might need to do this in batches. You want them all nicely browned. Remove the pieces as they brown.

Preheat the oven to 325°F.

Deglaze the pot with the fresh mushrooms and the chopped onion; their moisture will loosen all the browned bits on the bottom of the pan, which you want to scrape up with a wooden spoon. Salt these as they cook, and cook them, stirring occasionally, until they are beginning to brown, about 6 to 8 minutes.

Add 1 cup of the beer to the pot and use it to scrape up any more browned bits from the pot. Add the thyme, parsley stems, bay leaves, rosemary and minced celery, along with the rest of the beer and the venison stock. Return the meats to the pot along with any juices in the bowl where you'd left them.

Cover the pot and cook in the oven for 90 minutes. After that has elapsed, add the parsnips or turnips. Taste for salt and add some if needed. Cover the pot again, return it to the oven and cook until everything is nice and tender. This could be 30 minutes, could be another couple hours, depending on how old and tough your game was.

Remove the lid, and add chopped parsley leaves, Worcestershire, Coleman's dry mustard and black pepper to taste. Let this cool. At this point, the filling can be stored up to a few days before making the pie.

Jack the oven up to 425°F

To make the pie, let the puff pastry thaw according to the directions on the box. Press in one sheet of pastry into a standard pie pan and dock it by poking it all over with a fork. Fill the pie generously. It should be sorta jellified if it came out of the fridge, and even if you just let it cool, it will be very thick once cooled. Top with the other sheet of pastry and seal the edges.

Whisk together the beaten egg and milk and paint the whole pie with it. If you have stray bits, make a fun deer or whatever out of them and stick it in the middle; it will adhere because of the egg wash. Paint the decoration, too. Finally cut vents in the pie here and there.

Bake the pie about 45 minutes, or until pretty and browned. Remove, and let it rest 10 minutes before serving.
Nutrition
Calories:
512
kcal
|
Carbohydrates:
37
g
|
Protein:
33
g
|
Fat:
25
g
|
Saturated Fat:
8
g
|
Cholesterol:
287
mg
|
Sodium:
374
mg
|
Potassium:
1002
mg
|
Fiber:
4
g
|
Sugar:
5
g
|
Vitamin A:
1029
IU
|
Vitamin C:
21
mg
|
Calcium:
67
mg
|
Iron:
7
mg
Nutrition information is automatically calculated, so should only be used as an approximation.