As an Amazon Associate I earn from qualifying purchases.
It's taken me more than a decade to post a recipe for venison shepherd's pie on this site, largely due to post traumatic stress syndrome from gawd-awful lunch lady renditions of this classic dish way back in middle school.
Those versions were abominations. Somehow gelled up so you could cut them like lasagna — and since I grew up in New Jersey, those lunch ladies did make a mean lasagna. But this was not that. Middle school shepherd's pie smelled odd, unnatural. Not of this earth.
Now, finally, decades later, I present to you a venison shepherd's pie worthy of the name.
The dish is English, and really quite old, dating back to the 1700s, when it was called cottage pie. Pies are a big deal in Great Britain, but this particular one has always seemed a sort of cheat because it's so easy.
It is usually diced or ground meat — lamb, beef, mutton or venison — often with things like carrots, turnips, parsnips, maybe peas, a nice gravy, and typically Scarborough Faire herbs.
If you're not familiar with that one, you're too young. It's an old English song made famous by Simon and Garfunkel back in the 1970s. I was just a kid, but I remember the "parsley, sage, rosemary and thyme" line to this day. I always hated that song…
But, unlike the rest of the great British tradition of pies, shepherd's pie has no real crust. Just a layer of mashed potatoes on top, entombing the goodness like thick ice in February. This would keep the flies off the meat, and add heft to the dish.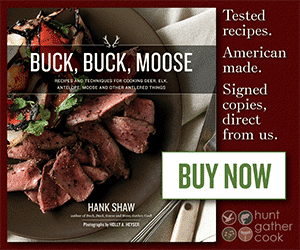 I imagine that a venison shepherd's pie was not uncommon back in the 1700s, although in much of England only the wealthy could hunt, leaving us commoners to literally eat humble pie. "Umbles" is an old English term for offal, and the modern steak and kidney pie is that ancient delicacy's descendent.
When you set out to make a venison shepherd's pie, understand you are doing two things at once: Making mashed potatoes, and the filling that goes into the pie pan; more on the pan in a moment.
So yes, there will be several pots going, as well as the oven. Nonetheless this is an easy recipe.
I am assuming everyone knows how to make mashed potatoes, although I will detail my method below. I like to mix shredded cheddar cheese in there for flavor and calories. You make that first and let it sit on the stovetop.
Meanwhile. you are browning the meat, browning the onions — both very important steps, not to be shirked — adding whatever vegetable matter you've chosen to toss in there, and finally making a lovely gravy to tie it all together.
The gravy for my venison shepherd's pie is a hodgepodge of good British things to eat: a dollop mustard, Worcestershire, a splash of Maggi, a touch of tomato paste.
It is thinned out with red wine (claret), or a dark, malty beer, some beef or venison stock, and the whole lot is cooked down so that the filling is wet, but not soupy.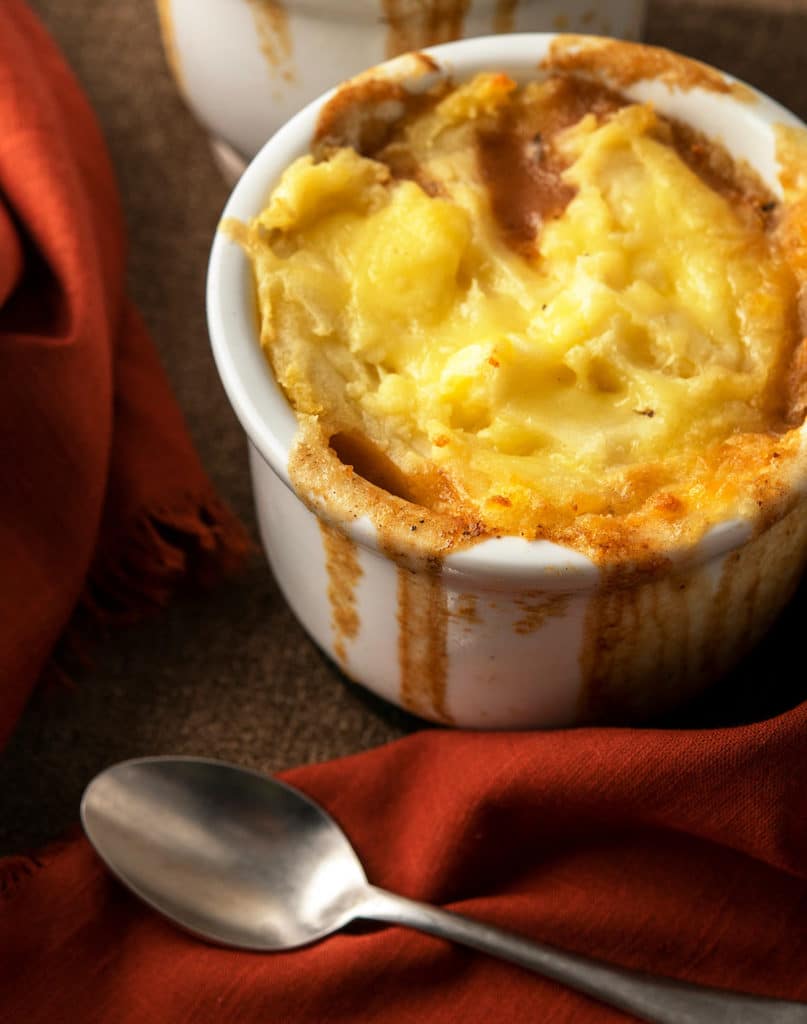 Now you can go all homey and use a standard 9×13 casserole dish — this recipe is designed to fill one — or use something nicer, or even individual ramekins, which pretty up what is otherwise a very homey dish.
Once made, your venison shepherd's pie will keep a week in the fridge.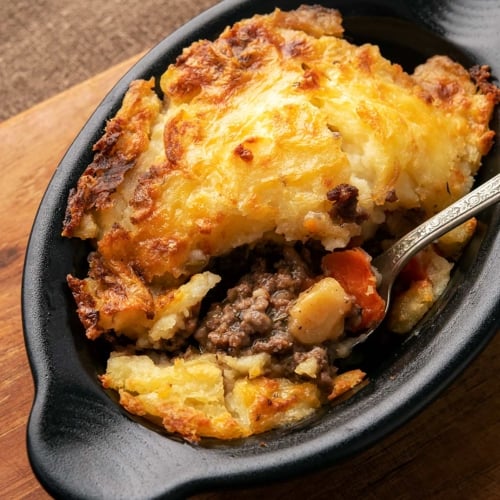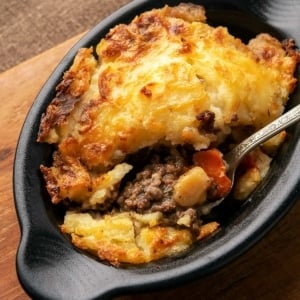 Venison Shepherd's Pie
This is an easy and delicious rendition of the classic. Any ground meat works here, or you can dice it small if you'd rather.
Ingredients
POTATOES
2

pounds

russet potatoes,

peeled and diced

1/2

cup

half and half,

or buttermilk

3

tablespoons

butter

1/2

cup

shredded cheddar cheese,

about 3 ounces

Salt
FILLING
3

tablespoons

butter

2

pounds

ground venison,

or other meat

Salt

1

large yellow onion,

chopped

2

carrots,

peeled and cut small

1

parsnip,

peeled and cut small (optional)

1

cup

peas

(optional)

1

clove

garlic,

peeled and minced

1

cup

red wine,

or malty beer

2

tablespoons

Worcestershire sauce

1

tablespoon

Dijon mustard

1

tablespoon

tomato paste

1

cup

venison stock,

or beef stock

1

teaspoon

dried thyme

1

teaspoon

dried sage

2

teaspoons

minced fresh rosemary

2

teaspoons

Maggi sauce

(optional)

Black pepper to taste

1/2

cup

shredded cheddar cheese
Instructions
POTATOES
Set a large pot of water over high heat, add the potatoes, and bring to a boil. Simmer until tender. Drain the pot, then return the potatoes to the pot. Turn the heat to low. Let them steam a couple minutes.

Add the remaining potato ingredients and mash it all well. You want the potatoes to be delicious, and fluffy. Set aside for now.
FILLING
Heat the butter in a large, wide pan over high heat. When it just barely starts to brown, add the venison and brown well; salt it as it cooks. Take your time here, because you want good browning, not just gray meat. Remove and set aside.

Add the onions to the pan and some more butter if you want. Brown the onions well, too, over medium-high heat. Add the carrots, parsnips and garlic and cook another couple minutes.

Set a large Dutch oven or similar pot over medium heat. Preheat the oven to 400°F.

Add the browned meat and onions to the Dutch oven, plus all the remaining ingredients — except for the last 1/2 cup of shredded cheese. Stir well and bring to a boil. Boil this down, stirring often, until the mixture is wet, but not soupy. This should take 5 to 10 minutes.

Pour the meat mixture into a 9×13 casserole dish or other similar baking dishes. Leave about 1 inch space for the potatoes. cover the casserole with the potatoes and make the surface irregular, which will make nice brown marks. Sprinkle that last 1/2 cup of cheese over the top. Bake until everything is pretty and browned, about 25 minutes.
Notes
Literally any ground or small-diced meat will work here, from beef, mutton and lamb to deer, elk, pronghorn, moose, caribou, wild turkey, etc. 
Keys to Success
The alcohol you choose to cook with should be what you drink with your shepherd's pie, so a decent dry red or, ideally, an English ale. Can't use alcohol? Use more stock. 
The Maggi really adds something to this dish, but is not 100% required. 
If you like this filling, it makes a great filling for venison pasties, too. 
Once it goes into the oven, you are really just heating things up and looking for pretty browning on top. Everything is already cooked, so the timing is approximate. 
The ramekin idea elevates shepherd's pie to a dinner party or date night dish. Definitely give it a whirl.
Nutrition
Calories:
497
kcal
|
Carbohydrates:
33
g
|
Protein:
34
g
|
Fat:
23
g
|
Saturated Fat:
13
g
|
Polyunsaturated Fat:
1
g
|
Monounsaturated Fat:
6
g
|
Trans Fat:
1
g
|
Cholesterol:
134
mg
|
Sodium:
413
mg
|
Potassium:
1222
mg
|
Fiber:
4
g
|
Sugar:
5
g
|
Vitamin A:
3187
IU
|
Vitamin C:
20
mg
|
Calcium:
182
mg
|
Iron:
6
mg
Nutrition information is automatically calculated, so should only be used as an approximation.