As an Amazon Associate I earn from qualifying purchases.
Beer braised short ribs, made with beef, elk, moose or bison ribs. Slow cooked with dark beer and onions, this is simple and satisfying on a cold day.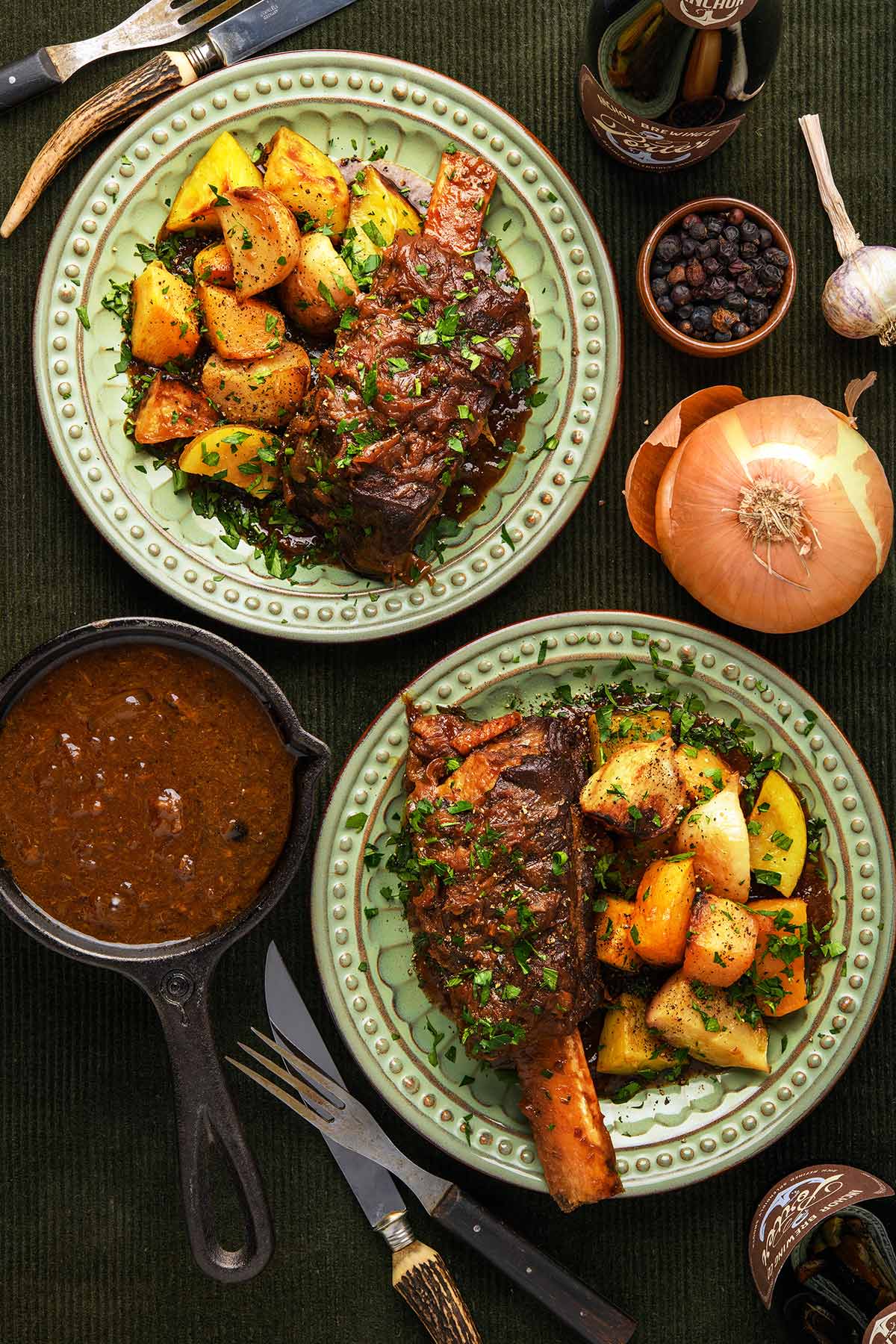 For this recipe, I used bison ribs from an animal I butchered for my Venison 101 video class, but beef short ribs would be easier to come by. With beef, short ribs and cheeks are interchangeable in the kitchen; I have a recipe for braised beef cheeks that would work very well with short ribs.
Hunters can also use large ribs from elk, moose, nilgai or oryx. In the case of elk or moose, you will want to trim most of the fat because it can get waxy as it cools. (More on venison fat here.)
The beauty of beer braised short ribs is its simplicity. Similar to Lancashire hotpot, this recipe relies on only a few ingredients, all of which should readily available all over the country.
Ingredients for Beer Braised Short Ribs
Obviously you need short ribs of some sort, beef or bison ribs probably. I prefer actual ribs of a few inches long rather than those little riblets you can buy. If that's all you can find, they'll do.
The other main ingredient is the beer. What beer you use matters. It needs to be dark and malty. My preferences include:
Scotch ale or a "wee heavy." Both are Scottish ales that are very dark and very malty.
A regular porter or stout. Nothing with weird crap like vanilla or peanut butter or somesuch. Chocolate in a beer, however, does work, as does coffee.
A brown ale. The Dodge Dart Dependable of cooking beers.
A Belgian beer that isn't Stella Artois. Usually dark, often very malty.
Red ale. They are… OK. Often they are too aggressively hopped for beer braised short ribs.
A sour. This one's tricky. Most are malty-sour, and that is a cool effect.
None of those available? Find something, anything, not hoppy. Hops will ruin this recipe. So no IPAs or pale ales, OK?
Beyond that, onions and garlic are the main players. More on them below.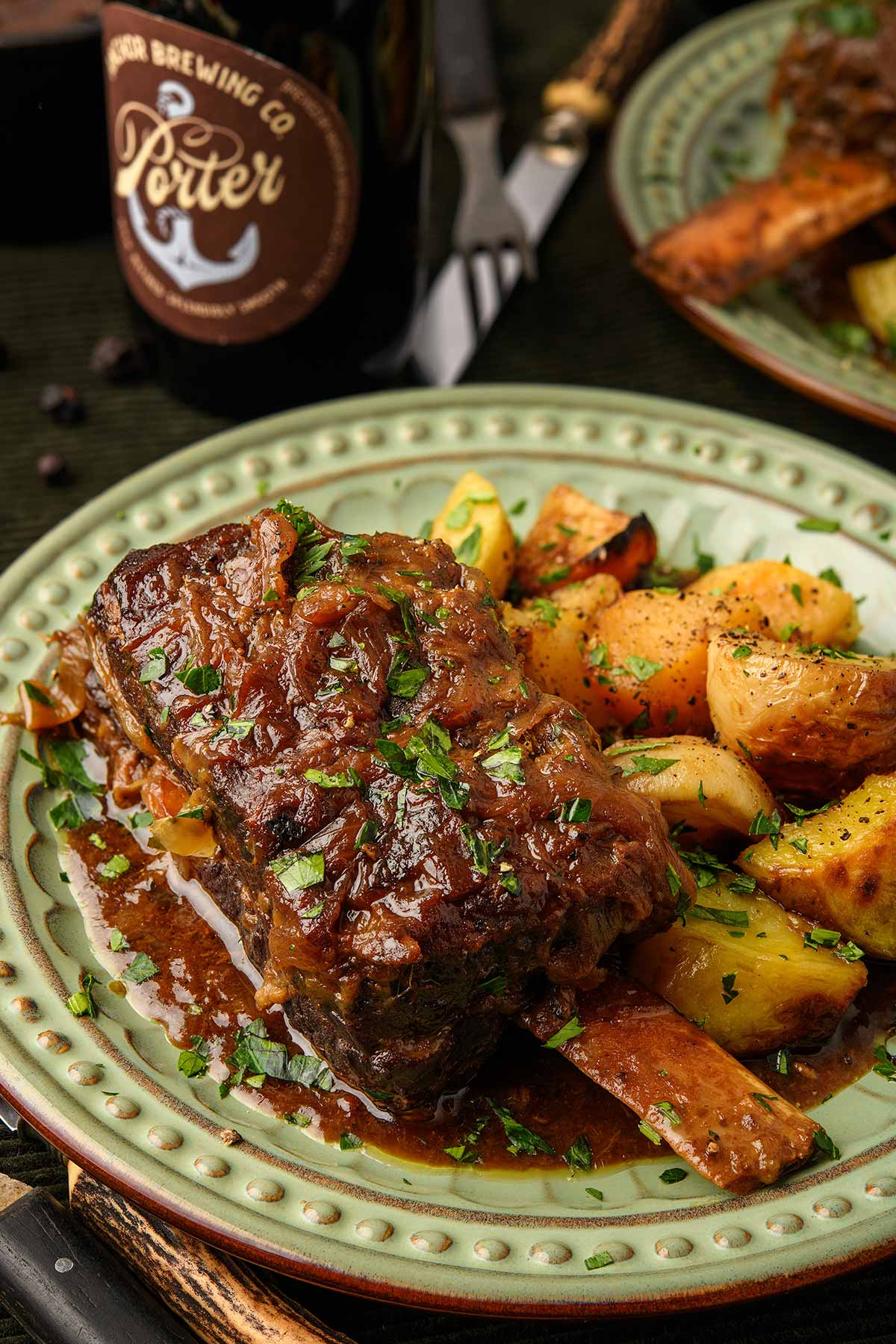 Patience is Key
Since there are so few ingredients, how you cook them is important. This particular recipe for beer braised short ribs is an Ode to Brown. Everything needs browning or it won't come out well.
Brown the beef or bison ribs well. The Maillard Reaction is your friend. Take your time with this.
PRO TIP: Sear all sides of the short ribs except the side with just the bone and membrane. If you sear that side, too, the ribs will fall of the bone easier, and you don't want that if you are serving them as ribs.
You also want to brown the onions very well, even caramelize them if you want to take it that far. They add a ton of flavor here. And use lots: They cook down.
Ditto for the garlic. We're roasting garlic here, and then squeezing it into the pot. This is also incredibly important for the overall flavor. Roasting garlic is super easy, so don't sweat it.
Short ribs will get tender, remember that. Sometimes it takes hours and hours, but it will happen. Be patient and you will be rewarded.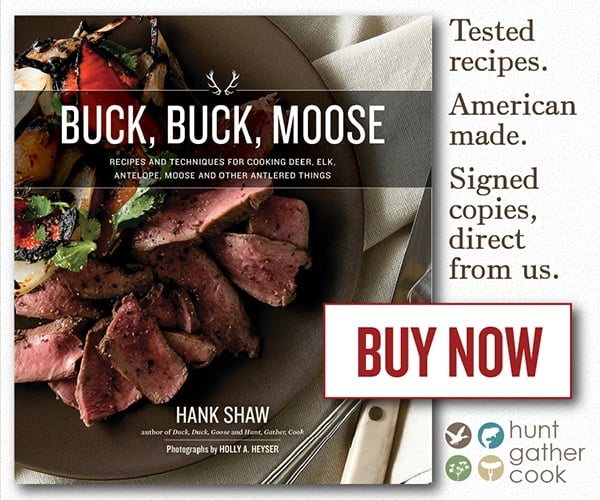 Cooking Methods
I prefer to use a heavy, lidded pot first on the stovetop to brown things, then everything is finished in the oven. This keeps things to one pot, and works very very well.
You can use a slow cooker, but you will need another pan to brown everything first.
Instant Pots can sear, so you can use that function, but the surface area is small, so that step will be fiddly with an Instant Pot. That said, if you go that route, cook on High for about 45 to 55 minutes, then let it go through 15 minutes of natural release afterwards.
What to Serve with Beer Braised Short Ribs
Most people will whip up some mashed potatoes or some other mashed vegetable (mashed celery root is especially good) with beer braised short ribs. Definitely a good option.
A nice loaf of bread is another easy option.
I also love to slow roast root vegetables alongside the Dutch oven, essentially taking care of the main course and the side dish at the same time.
Whatever you do, you'll want something to enjoy that sauce with.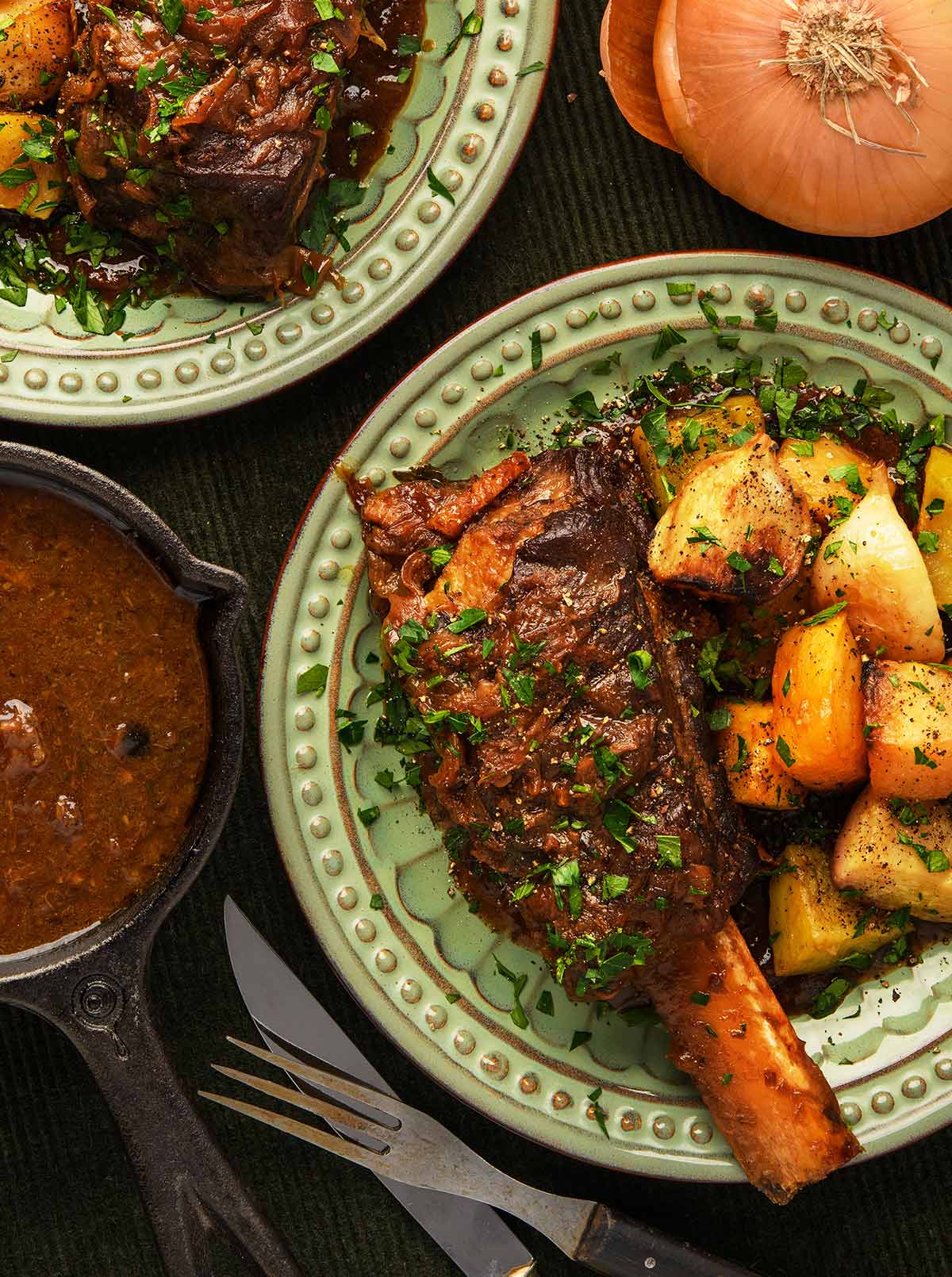 Leftovers
If you have some leftover ribs, and I am hoping you do, take the meat off the bones, and chop it, then return it to the sauce. You now have an epic sauce for polenta, grits or pasta — or with more bread.
Beer braised short ribs will keep a week or so in the fridge, and if you take them off the bones, they freeze very well.
If you liked this recipe, please leave a ⭐️⭐️⭐️⭐️⭐️ rating and a comment below; I'd love to hear how everything went. If you're on Instagram, share a picture and tag me at huntgathercook.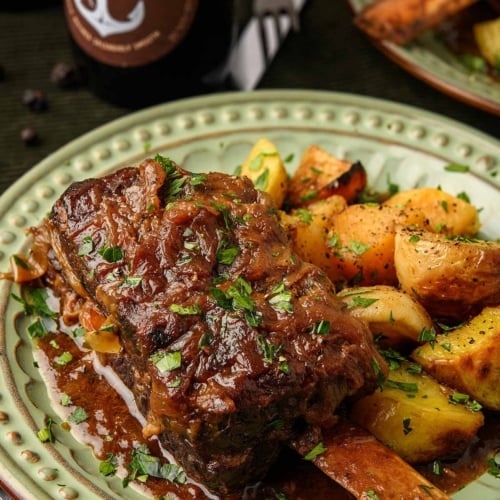 Beer Braised Short Ribs
Beef or bison ribs will be the best here, but you could use ribs from elk, moose, bear, nilgai or oryx. If you use elk or moose ribs, trim most of the fat.
Ingredients
2

heads

garlic

Olive oil for drizzling

4

pounds

short ribs

Salt

4

cups

sliced yellow onions

1

tablespoon

flour

1 to 2

bottles

dark, malty beer

(see above for styles)

1

tablespoon

juniper berries

(optional)

1

tablespoon

dried marjoram or lovage

2

tablespoons

Dijon mustard

A splash of Worcestershire sauce

black pepper
Instructions
Preheat the oven to 350°F. Slice the top third of the heads of garlic off. Set them in a foil packet. Drizzle some olive oil over the cut tops, then close up the packet. Pop into the oven for 1 hour. If this is the first thing you do, you will be mostly done chopping and browning things by the time it's ready.

In a large Dutch oven or other heavy, lidded pot, sear the short ribs over medium-high heat, starting with the fattiest side down. This renders fat for browning everything else. If you are using elk or moose ribs, or your ribs aren't fatty, add some olive oil, lard, bacon fat or butter. Salt the ribs as they cook. Brown them well on every side except for the side that's just bone and membrane. Take your time and do this in batches if need be. Remove the browned ribs for now.

When all the ribs are done, add the sliced onions, some salt, then brown them well. You might need to add more fat or oil. This step can take a solid 10+ minutes. When this is done, check the garlic to see if it has browned and softened. If not, wait until the garlic is ready before proceeding. Just turn the heat off the pot.

When you are ready to add the garlic, squeeze it into the pot, stir and add the flour. Cook this over medium heat for a few minutes. Again, this step takes some time because you want the flour to brown. If you use Wondra flour you'll save a few minutes.

Once the flour has browned, add some beer to the pot and use a wooden spoon to deglaze it. Add the remaining ingredients, stirring well, and then return the ribs to the pot. If the level of beer isn't up to the top of the ribs, add some water or stock. Cover the pot and put in the oven, which should still be hot from the garlic. Drop the heat to 300°F and simmer for at least 2 hours, and in some cases as much as four hours. (Five hours is not unheard of, but is rare.)

When the ribs are tender, gently remove them to plates. Add salt and black pepper to taste, then spoon sauce over them. Serve with mashed potatoes or other root vegetables, bread or roasted root vegetables.
Notes
If four pounds seems like a lot for 6 people, remember most of that weight is bone.  I am using 12-ounce bottles of beer.  You can roast the garlic up to a few days in advance. 
Nutrition
Calories:
454
kcal
|
Carbohydrates:
15
g
|
Protein:
44
g
|
Fat:
23
g
|
Saturated Fat:
10
g
|
Polyunsaturated Fat:
1
g
|
Monounsaturated Fat:
10
g
|
Cholesterol:
130
mg
|
Sodium:
205
mg
|
Potassium:
995
mg
|
Fiber:
2
g
|
Sugar:
5
g
|
Vitamin A:
33
IU
|
Vitamin C:
11
mg
|
Calcium:
69
mg
|
Iron:
6
mg
Nutrition information is automatically calculated, so should only be used as an approximation.