Chocolomo: Fire in a Stew
February 05, 2016 | Updated October 29, 2020
As an Amazon Associate I earn from qualifying purchases.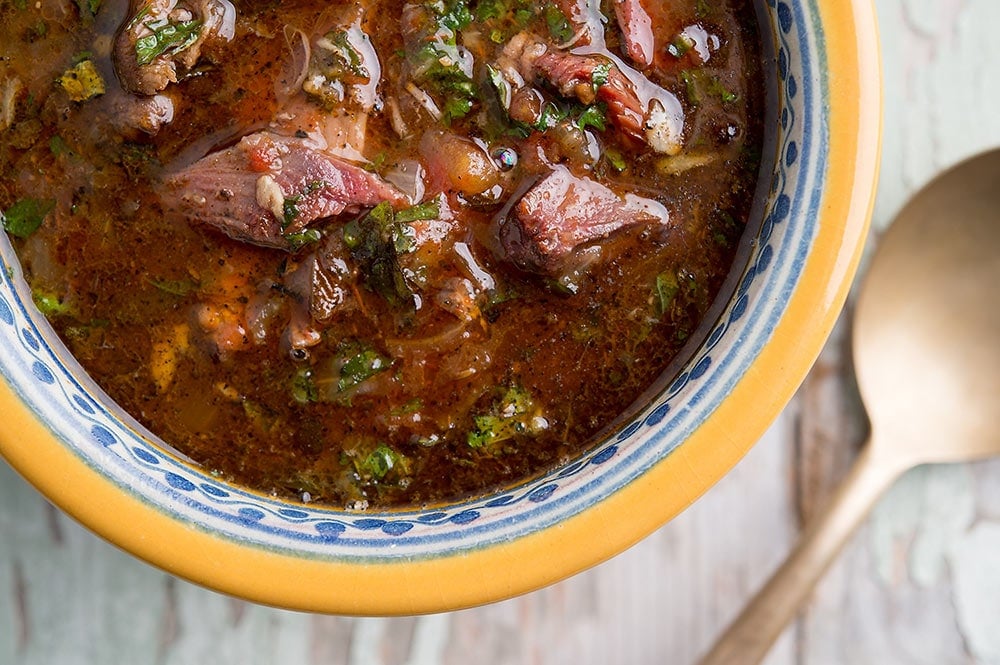 It seems that in most food writing, every dish is breathlessly described as "life changing" or "earth shattering" or somesuch. Please, people. How life changing can a cronut actually be? And if it does fundamentally change your existence, you may want to stop for a moment and reassess your life. You're doing something wrong.
That said, this Mexican stew is indeed a singular eating experience — at least in my own experience. Why? Char.
Char. Blackening. Burnt-ness. Fire. It is to real Mexican cooking what velveting is to Chinese cooking: A technique that most Americans who are not of that ethnic group aren't fully aware of, a technique that sets the cuisine apart from the European traditions. Most of us experience the magic of char in Mexican cooking in salsas, when you see the little flecks of black among the chiles. But it's everywhere across the cuisine, and when you as a home cook discover this you go a long way toward hitting the right notes when you make a Mexican dish at home.
This dish, a Yucatecan stew called chocolomo (cho-ko-LO-mo), hits that note hard.
I'd never heard of the recipe until I read the David Sterling's excellent cookbook Yucatán: Recipes from a Culinary Expedition. It is one of the best Mexican cookbooks I've ever read, and, as I mentioned when I riffed off his recipe for cochinita pibil, I'd be making several dishes from this book.
Chocolomo is normally a beef dish, made with meat and offal from a losing bull after the weekly bullfight.
Here I used venison and some wobbly bits: Shanks, a piece of shoulder, a kidney or two, a heart and a tongue. But you could easily shift this stew to cover dark meat birds like ducks and especially geese, using the giblets along with leg and wing meat.
I often use the word "deep" to describe flavor, but here I really, really mean it. There are layers of flavor in chocolomo that make you linger over each spoonful, wondering why the hell no Mexican restaurant you've ever been to actually makes this thrifty stew. (The reason is because most Mexican restaurants in the United States are not staffed by Yucatecans.) Punctuating it all is that char flavor.
What do I mean by it? Well, I can almost guarantee you know what I am talking about. Probably the most common way to find it is your typical backyard party, where someone has slightly burnt the chicken on the grill. Maybe it was you. But you like that taste, don't you? Just so long as it isn't overdone.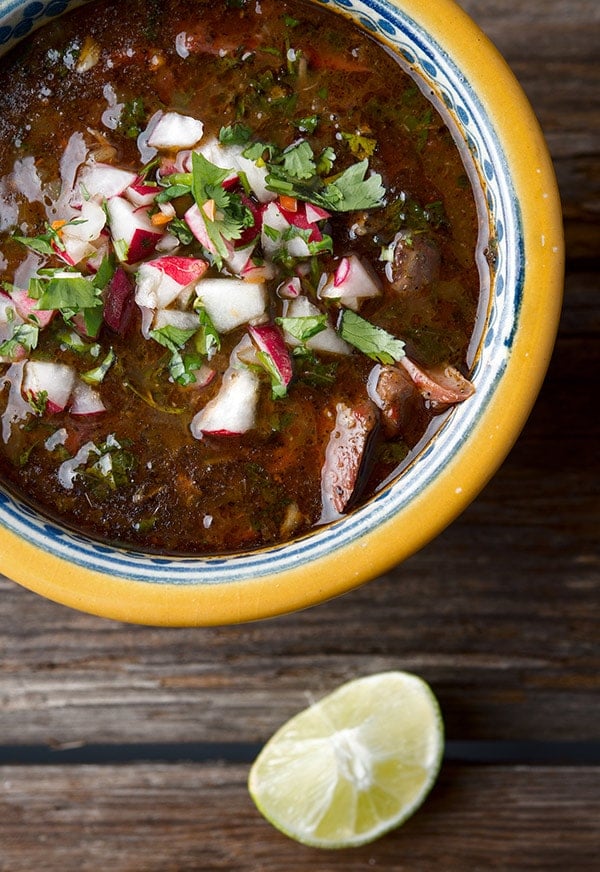 Argentine chef Francis Mallman puts the allure of the burnt this way in his book Seven Fires: Grilling the Argentine Way:
"I adore dissonance in food — two tastes fighting each other. It wakes up your palate and surprises you …charring or even burning adds an extra dimension to breads, vegetables and fruit. The right amount of burning or charring can be delicious and seductive: A burnt tomato, for example, has a has a dark crust bordering on bitter, while the inside is soft and gentle in texture and taste …what appeals to me is the element of danger and excitement in creating a burnt taste. Take the burning too far, and it destroys the dish. Stay just this side of the line, and it is lovely."
Fire. Char. Burnt. Whatever you call it, there is an elemental, primal chord struck within us when we taste it. Desire for this flavor is most likely hard-wired in our primate brain, as it was fire that set us on our way to being who we are as a species. To capture it in a stew is truly something special.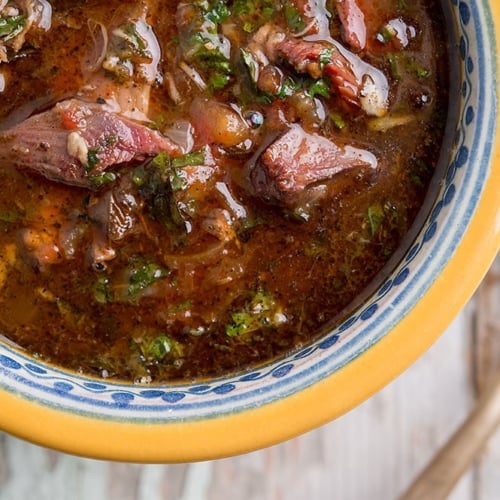 Chocolomo, Mexican Venison Stew
This stew is traditionally made with a losing bull after a bullfight, so it lends itself well to older, tougher, more flavorful animals. Any sort of venison certainly, but Canada geese, older hogs, bears, ducks, even jackrabbits would all work well here. You really want to toss in whatever offal you are OK with eating. With birds, certainly hearts and gizzards, and liver if you want. With mammals, hearts, kidneys, tongues, shanks, tail are all good choices. Chocolomo hinges on the distinct char flavor you get from burning the onions and garlic. If you don't do this, it will still be a nice stew, but it will lack the jarringly smoky flavor that attracts me to this recipe.
Ingredients
STEW
1/4

cup

lard or cooking oil,

divided

3

pounds

various meats and offal

s(ee above)

2

quarts

stock or broth

2

cups

red wine

1/4

cup

sherry or red wine vinegar

Salt

1

large white onion,

charred, peeled and chopped

1

head of garlic,

charred, peeled and chopped

2

cups

crushed tomatoes

1/2

cup

chopped chives

1/2

cup

chopped mint
TO FINISH
Totopos

(fried tortilla strips)

Chopped radishes and cilantro

Limes

Hot sauce
SPICE PASTE
5

tablespoons

black peppercorns

1

tablespoon

cumin seeds

1

tablespoon

dried oregano,

Mexican if possible

2

teaspoons

whole cloves

10

allspice berries

1/2

teaspoon

ground cinnamon

2

heads of garlic,

charred and peeled

2

tablespoons

vinegar
Instructions
Your first task is to make the spice paste, the recado bianco, which can be made days or even weeks ahead and then stored in the fridge. On a grill or gas burner, set the garlic heads over the fire. You want to burn off the paper and cook the garlic at the same time, so you will want to turn the heads frequently as they cook. You want some parts of the garlic to burn and char. This normally takes a solid 5 to 10 minutes, and longer is better. When they are cool enough to handle, peel off any remaining paper around the garlic cloves and chop them roughly. Set them in the bowl of a blender or small food processor with the vinegar.

Toast the peppercorns, cumin, cloves and allspice in a dry pan over high heat until they are fragrant, a minute or three. Put them into a spice grinder with the oregano and cinnamon. Grind into a powder and add to the blender with the garlic. Buzz this to a paste, stopping to scrape down the sides of the blender or processor a few times. This paste will keep for months in the fridge.

To make the stew, cut the meats and offal into pieces you'd want to eat. Get 3 tablespoons of the lard hot in a large, heavy, lidded pot like a Dutch oven. Pat the meats dry and brown them in batches so you don't crowd the pot. This may take a solid 20 minutes. As they brown, set the chunks in a bowl. When the meats are all browned, add some stock to the pot and use a wooden spoon to scrape up any browned bits on the bottom. Add the rest of the stock, the wine, vinegar, 4 tablespoons of your recado bianco spice mixture and the meats -- along with any juices that have collected in the bowl. Bring this to a simmer and add salt to taste. Cook until the meats are tender, which can be anything from 90 minutes to 4 hours.

About an hour after the meats have started simmering, heat the last tablespoon of lard in a frying pan and cook the onion and garlic over medium heat until they're nice and softened, but not browned. Add the tomatoes and cook until most of the liquid has evaporated, then add the contents of the frying pan to the stew pot.

When the meats are nice and tender, add the chives and mint and cook another couple minutes, just to wilt the herbs. Serve in big bowls with the finishing garnishes.
Notes
Serve with the accompaniments and maybe some rice or bread. The stew keeps for a week in the fridge, and, like most stews, gets better a few days after it's made.
Nutrition
Calories:
416
kcal
|
Carbohydrates:
16
g
|
Protein:
40
g
|
Fat:
16
g
|
Saturated Fat:
4
g
|
Cholesterol:
105
mg
|
Sodium:
1130
mg
|
Potassium:
981
mg
|
Fiber:
4
g
|
Sugar:
6
g
|
Vitamin A:
917
IU
|
Vitamin C:
9
mg
|
Calcium:
118
mg
|
Iron:
6
mg
Nutrition information is automatically calculated, so should only be used as an approximation.