Honey Mustard Duck Wings
November 24, 2014 | Updated March 03, 2022
As an Amazon Associate I earn from qualifying purchases.
One of my great crusades in wild game cookery is to convince people to keep more of the animals they bring home. In the case of bird hunting, this often means the wings. Duck wings are among the finest of all wild bird wings.
So here's an easy recipe for honey mustard duck wings you can use for wild or farmed ducks.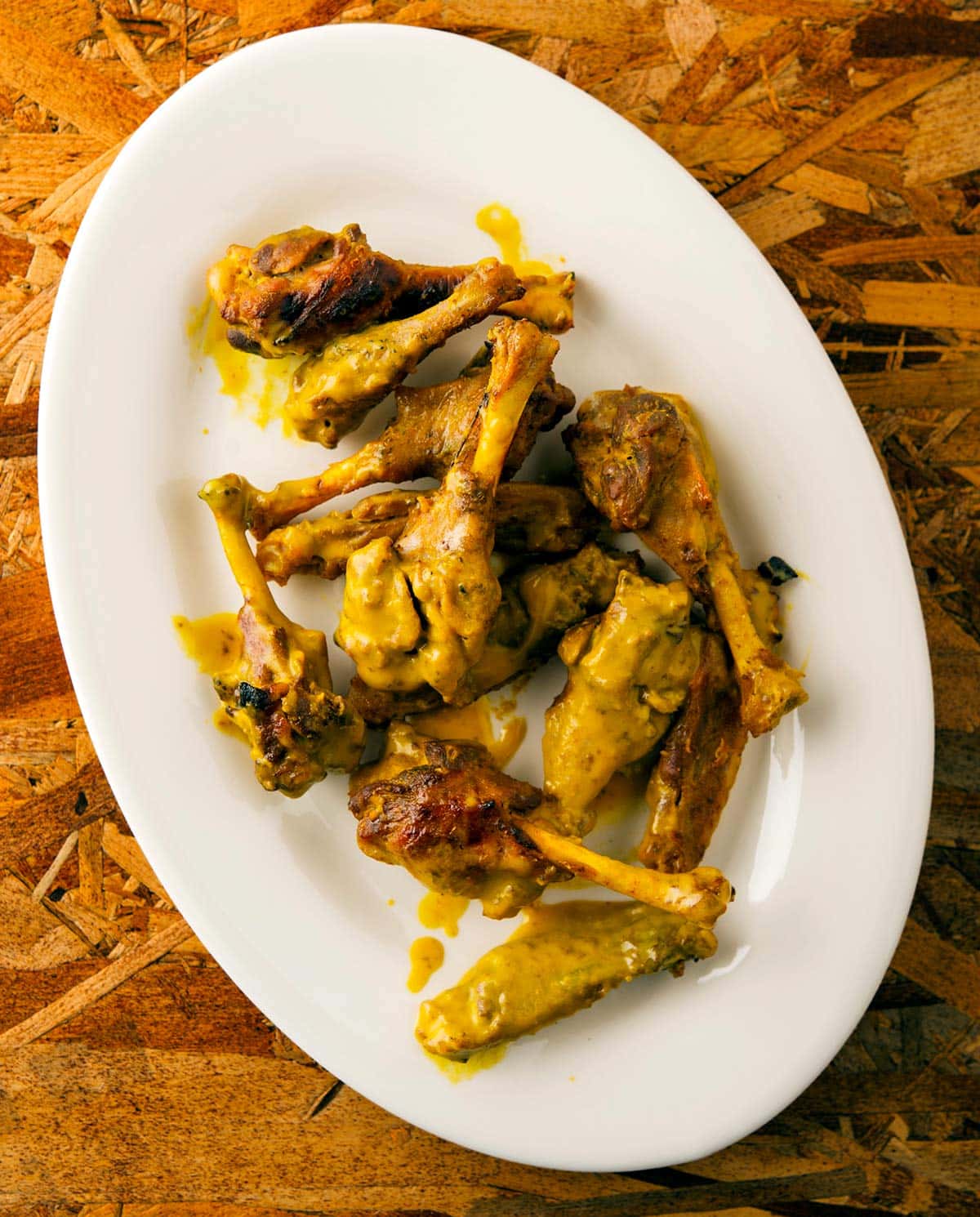 Wings are a staple at sports bars (and really any casual restaurant), but they are always from chickens — and usually crappy, factory-farmed chickens. But try to make duck wings the same way and you end up chewing on leather. Duck wings are not like chicken wings, even from lazy, farmed birds. The wings are much tougher.
There's a work-around, however. Braise the duck wings first, then coat them with sauce and roast them.
This method works great with all kinds of wings, from giant turkey wings down to grouse wings. But it's best with duck wings and pheasant wings.
You should know that braising the wings of wild birds is something of a roulette: Really old birds can often take a full hour longer to get tender, compared to young-of-the-year. I generally overcook the young bird wings to ensure that the old ones are edible.
My original recipe for this was the classic Buffalo duck wings, but now you see all sorts of different flavors on a wing. Honey mustard wings are my favorite of these alternates, although I love a spicy-sticky Asian style wing, too.
I adapted a recipe for honey mustard wings from my friends over at White on Rice Couple, who are equally wing-obsessed. Mustardy and reasonably sweet — I prefer my mustard to have honey in it, not my honey to have mustard in it — Holly and I annihilated the plate in about 3 minutes.
Wanna make this recipe? If you are a hunter, save up the drumettes from all your birds, and the second digit, the "flat," of larger birds like pheasants and big ducks like mallards, pintails, canvasbacks, redheads and gadwall. As you collect them, vac-seal your duck wings in packages or just wrap in plastic wrap until you get at least 20 wing pieces.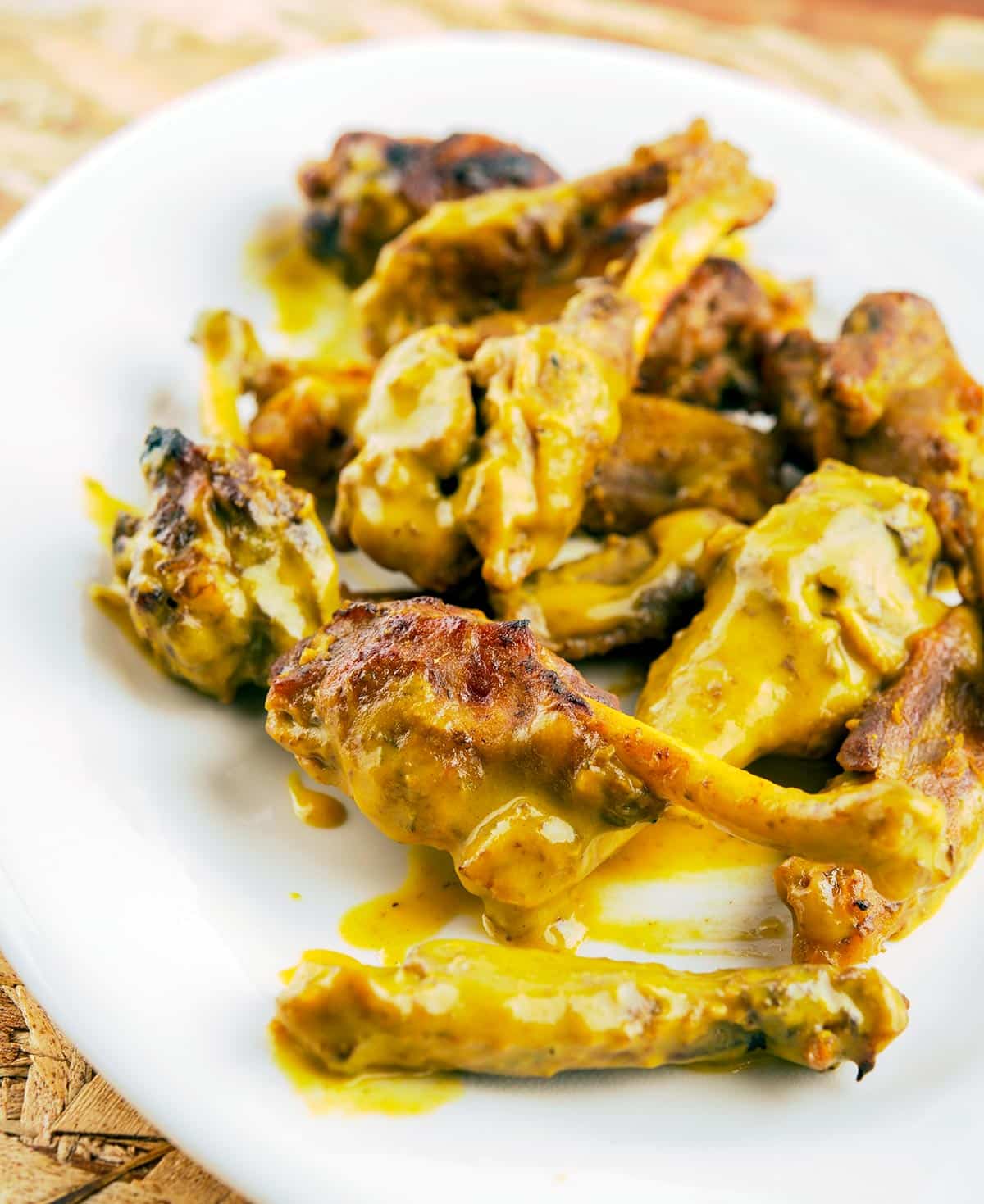 If you are not a hunter, your best bet to buy duck wings is to look in an Asian supermarket. A Google search will turn up a number of options, but I've never bought from any of them so I can't vouch for the quality.
Or you can just use this recipe with regular chicken wings, and skip the braising step. If you do braise chicken wings, it should only take an hour. If you skip that step, the roasting will take closer to 30 minutes, but keep an eye on them.
Then make your duck wings for Football Day or whenever. You won't be sorry.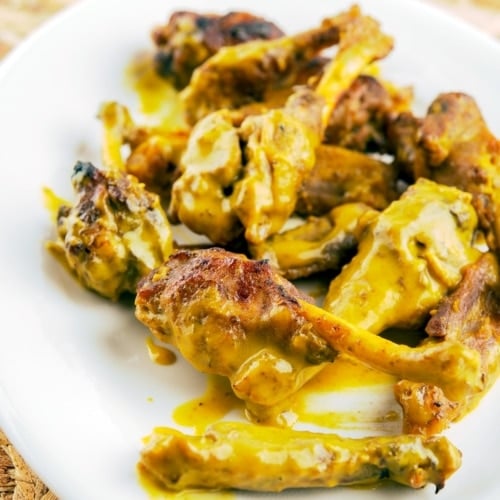 Honey Mustard Duck Wings
I made this recipe with wild duck wings, but chicken or pheasant wings would work just as well. If you wanted to, you could also make it with duck legs, too. If you want to make it with store-bought meat, obviously your main option is chicken wings. They do not need to be pre-cooked.
Ingredients
3

to 4 pounds duck wings

1

quart

duck stock or chicken broth

Salt

1/2

cup

yellow mustard

2

tablespoons

water

3

tablespoons

honey

1

tablespoon

cider vinegar

Splash of Worcestershire sauce

Cayenne and black pepper to taste
Instructions
Put the wings and the broth in a heavy, lidded pot. If they are not totally covered by the broth, add water until the wings are covered. If you need to add water, sprinkle a little salt in there, too. Bring to a simmer and cook gently, with the lid on, until all the wings are tender. You want the meat to be thinking about falling off the bone. Normally this takes 2 hours, but 3 hours isn't unreasonable.

Meanwhile, make the sauce by mixing all the other ingredients to a small pot and bringing it to a simmer. Turn off the heat and tinker with the flavors by adding more salt, honey, cayenne or black pepper.

When the wings are ready, put them in a bowl and add the sauce. Toss to coat. Preheat the oven to 425°F. Set the wings on a baking sheet (save the excess sauce) so they don't touch each other and bake until they begin to brown on top, about 15 minutes or so. Turn and repeat. Toss with the remaining sauce and eat.
Notes
If you want extra flavor, you can braise, then marinate the wings in the sauce overnight, then roast them. This is what I do for Super Bowl.
Nutrition
Calories:
125
kcal
|
Carbohydrates:
12
g
|
Protein:
8
g
|
Fat:
6
g
|
Saturated Fat:
1
g
|
Cholesterol:
19
mg
|
Sodium:
301
mg
|
Potassium:
202
mg
|
Fiber:
1
g
|
Sugar:
9
g
|
Vitamin A:
50
IU
|
Vitamin C:
1
mg
|
Calcium:
21
mg
|
Iron:
1
mg
Nutrition information is automatically calculated, so should only be used as an approximation.