Smoked Turkey Wings
March 26, 2018 | Updated August 01, 2022
As an Amazon Associate I earn from qualifying purchases.
Turkey wings have officially become my favorite part of the bird, wild or domesticated, and smoked turkey wings are the way to go. And no, I am neither kidding nor crazy. They are absolutely amazing, properly prepared. Walk with me for a minute.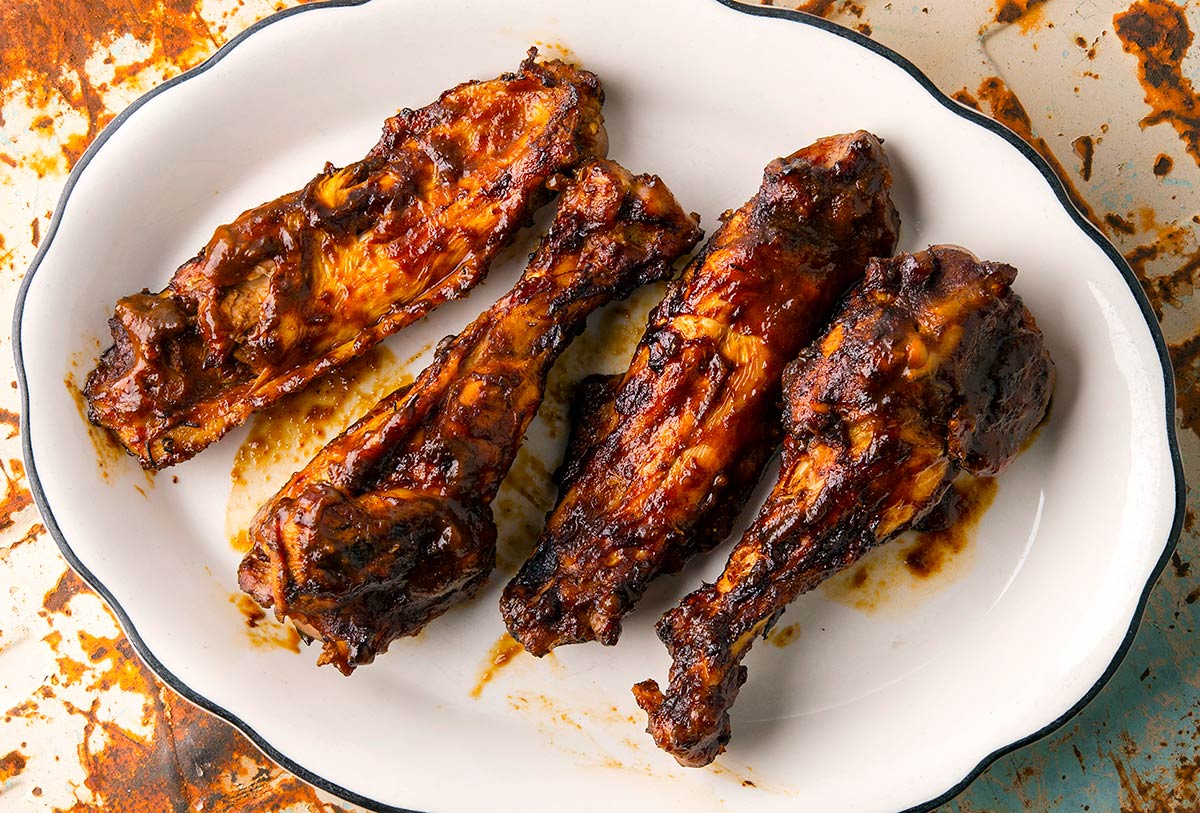 Yes, I know 95 percent of turkey hunters just breast out their birds; I find this sad, because there is far more meat that's not the breast on a turkey than breast meat. I also know that probably 75 percent of people who keep the legs on a wild turkey don't bother with the wings.
The reason is plucking. Yeah, plucking the feathers off a turkey wing isn't super fun, but nor is it brain surgery or ditch digging. It takes me about 15 to 20 minutes to pluck a whole bird, with jakes and hens being easier. (We can shoot hens in autumn) But your labors will be rewarded — here's how to pluck a turkey.
And if you're not a hunter and you want to make smoked turkey wings, most supermarkets sell them.
The easiest thing to do is to simply smoke turkey wings for a few hours, until they are pretty well cooked through. These make for excellent "ham hocks" when you are cooking beans or greens. They work really well if you are making something like my recipe for slow-cooked "border beans."
But, if you do this, the turkey wings will be very tough. They need long, slow cooking to become tender and amazing. So. To that end, I present to you BBQ smoked turkey wings. Yes, you heard right. They will become your favorite part of the gobbler, too, I can almost guarantee it.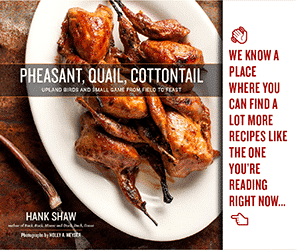 Making Smoked Turkey Wings
Here's how to go about it. First, yes, you need plucked wings. The skin makes a huge difference and adds a ton of flavor. Next you need to slowly braise the wings until they are tender. Basically you are making turkey broth with wings, then removing the wings themselves before the meat falls off the bone.
Now you soak the braised turkey wings in the BBQ sauce of your choice — or hell, any sauce — as little as 30 minutes, or as long as a day. For the record, the sauce I used in the picture is my bourbon barbecue sauce I developed for my friend Elise on Simply Recipes.
Then you smoke your wings to tighten them up a bit and cement the sauce into the wings' crannies and nooks, or nooks and crannies depending on your preference.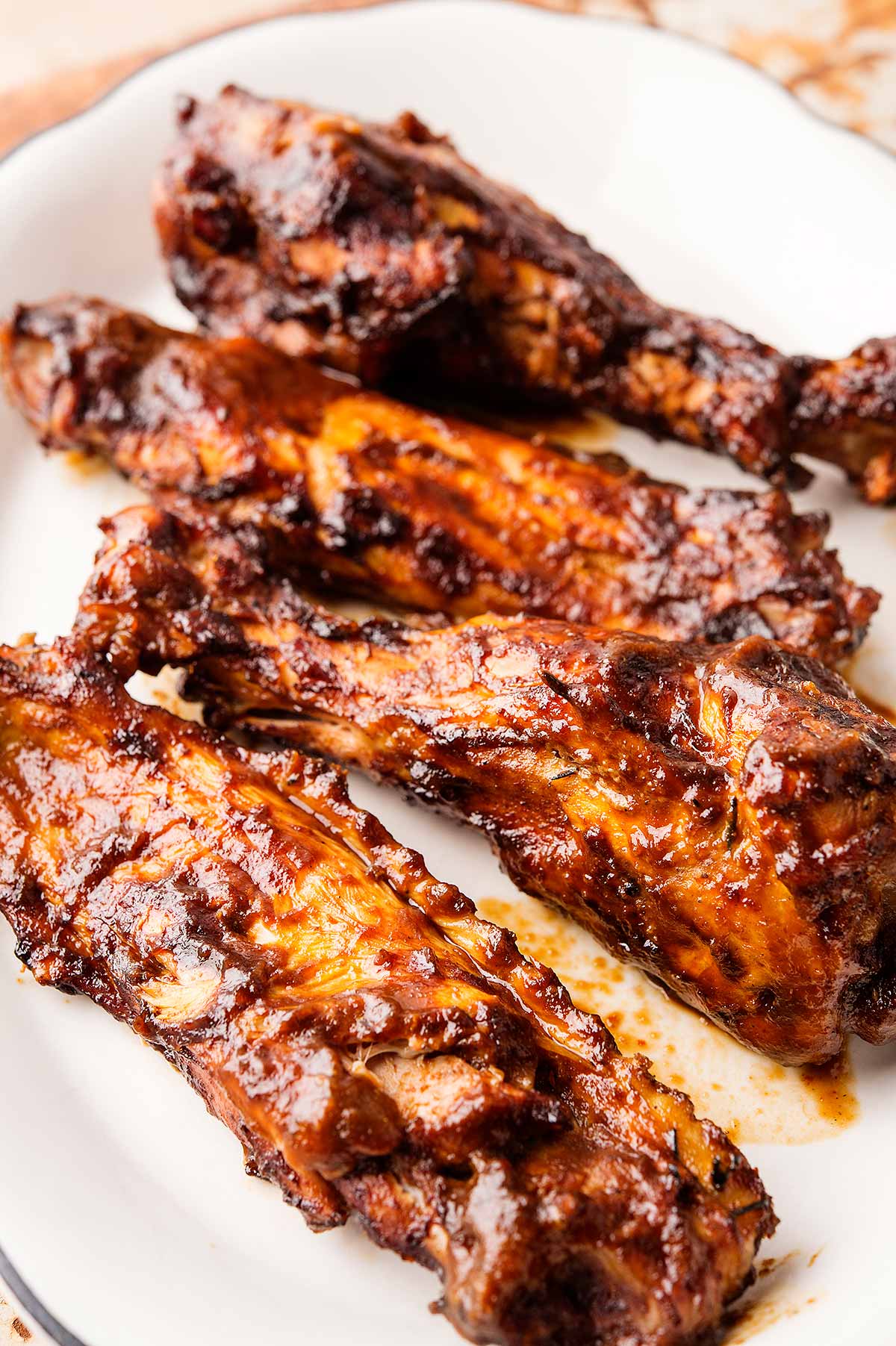 Wood and Temperature
Smoker and smoke choice is yours. I like to use hickory wood. But any hardwood or orchard wood would be nice: oak, maple, cherry, apple. This is also a place for mesquite, if you like that wood.
I set the smoker to 200°F. Remember, the wings are already cooked, they just need smoke time and time for the BBQ sauce to set. Minimum of 30 minutes, and I wouldn't go more than 3 hours. I tend to pull them at 90 minutes.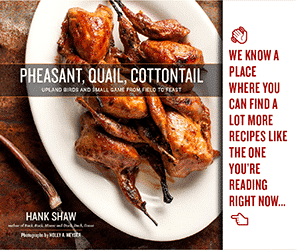 In the end, you can literally suck all the meat off the bone, like a gigantic chicken wing. And, like a chicken wing, a turkey wing is white meat, not dark like the drumsticks. A lot of people don't know that.
Gorging on these smoked turkey wings is borderline orgasmic. So good you will not share them. So good you will seek out other states in which to hunt turkeys, in no small part just for the wings. Yes, it's true. You only have to try this to find out.
Looking for another great turkey wings recipe? Try my braised French turkey wings Nicoise.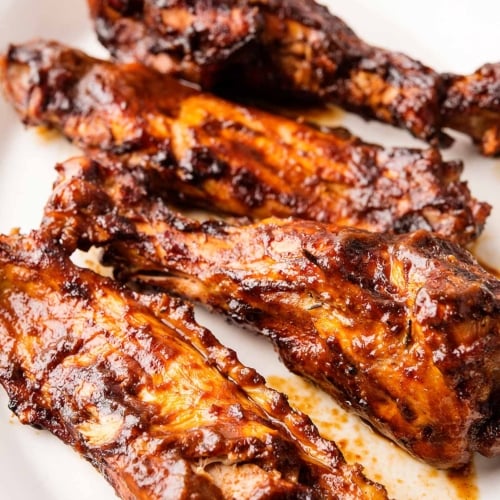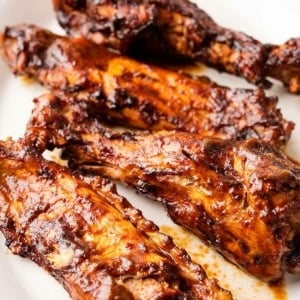 BBQ Smoked Turkey Wings
I of course use wild turkey wings, but store-bought wings will work every bit as well; they won't take as long to braise though. I leave the choice of smoke and barbecue sauce up to you, but I used hickory wood and my bourbon BBQ sauce in this case. Remember these are addicting, so either have lots of wings -- or don't invite people over. 
Ingredients
4 to 8

turkey wing segments,

drumettes and flats

2

bay leaves

1

tablespoon

dried thyme

1

onion, minced

1

carrot, chopped

2

celery stalks, chopped

1 to 2

cups

barbecue sauce

(see note above)
Instructions
Salt the wings well and set them in a pot with a lid. Cover with water by 1 inch and bring to a strong simmer. Skim off any froth that forms on the surface of the water. Drop the heat to low and add salt to taste. 

Add the herbs, onion, carrot and celery and simmer very gently until the wings are tender, anything from 90 minutes for store-bought birds and young jakes to 3 hours or more for gobblers. They will get tender, just give them time.

When the meat is tender but not yet falling off the bone, remove the wings. Let them cool just enough to handle, and then coat with the BBQ sauce of your choice. You can let them sit as little as 30 minutes or up to a day.

Get your grill or smoker ready, and when it's about 200°F and smoky, coat the wings with more BBQ sauce and set them in the smoker. Let them smoke as little as 30 minutes and as long as 3 hours; I prefer 90 minutes. After 1 hour has elapsed, paint the wings with more BBQ sauce. 

When you're ready to eat them, you can either paint one more time with BBQ sauce or just eat them. Smoked turkey wings are good cold the next day, too.
Notes
You can strain and save the braising liquid, which is now a nice turkey broth. Use it for turkey risotto or soup. 
Nutrition
Calories:
968
kcal
|
Carbohydrates:
69
g
|
Protein:
72
g
|
Fat:
44
g
|
Saturated Fat:
11
g
|
Cholesterol:
240
mg
|
Sodium:
1714
mg
|
Potassium:
1437
mg
|
Fiber:
4
g
|
Sugar:
52
g
|
Vitamin A:
5709
IU
|
Vitamin C:
9
mg
|
Calcium:
172
mg
|
Iron:
8
mg
Nutrition information is automatically calculated, so should only be used as an approximation.