Wild Duck 'Buffalo Wings'
February 06, 2009 | Updated May 28, 2021
As an Amazon Associate I earn from qualifying purchases.
Yes, of course I watched the Super Bowl! Haven't missed one since the mid-1970s, and I must say that this was an excellent game, even if I didn't care about the teams themselves (I am still in afterglow from the Giants' win last year).
And for me, the Super Bowl isn't complete without yummy fried things…you know, like Buffalo wings.
Named for the city in New York, not the bison — which many of you know lacks wings — Buffalo wings are essentially a way to eat the least desirable part of the chicken: Marinate the wings in a hot sauce, roast or fry them, toss them in some more sauce and serve with blue cheese dressing and a few celery sticks.
What's not to love? Actually, a lot. I have eaten scores of shitty wings, where the skin is flabby or the meat isn't done enough: You really need to kill the wing for this preparation — an ideal wing slips off the bone.
Which brings me to duck wings. VERY few hunters save the wings on their ducks, especially the second digit (a bird's equivalent to your forearm). It is undeniably a pain in the ass to pluck that part, but hell, I broke (killed, really) this bird, so I might as well eat this tidbit.
I often toss the second digit into the stockpot, and the drumettes go into braises. But I thought about doing Buffalo wings a while back, so I saved a big bag of just wings after Holly and I had a very successful hunt.
(Like these? Try my Buffalo meatballs. Yep, meatballs served exactly like Buffalo wings.)
My recipe for Buffalo wings is pretty simple. But there is one significant difference between making duck wings vs. chicken wings: Ducks fly thousands of miles. Chickens fly thousands of inches, if at all. Duck wings are very difficult to cook enough where you can slip the meat off the bone. I may try doing them sous vide for 6 hours someday, but until then, my wings are chewy.
Still, I soften them up for a few hours by simmering the wings in duck stock. THEN I marinate them, and then I roast them in the oven to crisp the skin. I am aware that there is a raging debate over whether Buffalo wings ought to be fried, broiled, grilled, smoked or roasted in the oven. My answer is, "yes." I've had good wings done by all these methods, so to each his own.
How were they? I liked them a lot. Very ducky, reasonably spicy and fun to gnaw on. Not so tough that it was ridiculous, but this was definitely a messy dish — you gotta get in there to get all the tasty meat. I was less happy with my blue cheese dressing; still need to experiment with that one.
Why do this? Well, if you are a hunter who has saved the wings of many ducks, you're in business. If you are not a hunter, you can buy duck wings at Asian markets ridiculously cheap: Big bags go for something like $5. That's a lot of yummy protein for a low price — and we could all use that these days…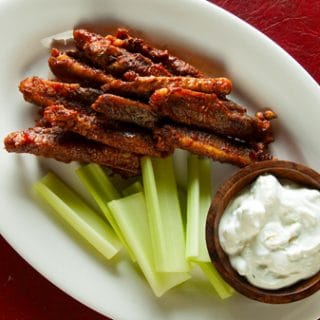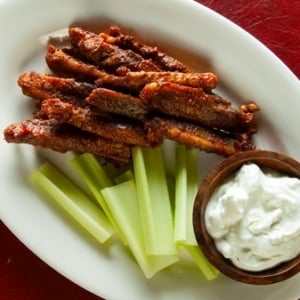 Duck Buffalo Wings
Trying to find some way to enjoy the wings of wild ducks can be challenging. Let's face it, the wings of a bird that flies thousands of miles a year are simply not going to be as tender as Ye Olde Chicken Wing. Still, the folks in Buffalo, NY, who invented the Buffalo Wing weren't stupid, and applying the same basic idea to duck wings works — if you cook them long enough.
Ingredients
2 or 3

dozen duck wings,

separated into sections

1

quart

duck or chicken stock

2

bay leaves

1/3

cup

Frank's hot sauce

1/4

cup

butter

1/2

teaspoon

salt
Instructions
In a large Dutch oven or covered pot, submerge the duck wings in the stock; add water if needed to cover by about 1/2 inch. Toss in the bay leaves, cover and put in a 325°F oven. Cook for at least 90 minutes and up to 4 hours — you want the wings to be nearing the "falling off the bone" point.

Remove and drain. Pour the hot sauce, paprika, butter and salt into a container large enough to hold all the wings. Stir well to combine and add the wings. Toss well to coat them all. Let this marinate for at least an hour, and as long as overnight. The longer you marinate, the hotter the wings will be.

Preheat oven to 375°F. Place the wings on a cookie sheet or two in a single layer and bake until they are crispy, 30 to 45 minutes. Start watching them after 30 minutes to see that they get to the crispiness you want.

While the wings are cooking, pour the marinade into a small pot and bring to a boil. Keep warm, and when the wings are done, toss them with the warm sauce right before serving. Serve with your favorite blue cheese sauce with some celery. Oh yeah, and a beer.
Nutrition
Calories:
182
kcal
|
Carbohydrates:
2
g
|
Protein:
11
g
|
Fat:
15
g
|
Saturated Fat:
7
g
|
Cholesterol:
51
mg
|
Sodium:
747
mg
|
Potassium:
198
mg
|
Sugar:
1
g
|
Vitamin A:
295
IU
|
Vitamin C:
1
mg
|
Calcium:
13
mg
|
Iron:
1
mg
Nutrition information is automatically calculated, so should only be used as an approximation.