Austrian Braised Venison Shanks
March 11, 2014 | Updated June 06, 2022
As an Amazon Associate I earn from qualifying purchases.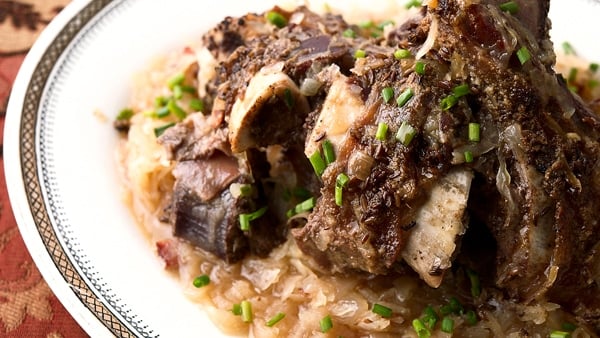 Venison shanks with sauerkraut is not the fanciest, daintiest plate of food I've ever made. But it's damn good, and is well worth your time to make if you have shanks from some large animal lying around.
Shanks, you should know, are some of the best-tasting cuts on any critter. They should never be cut up into sausage — too much connective tissue — and it's true that there's really very little you can do with shanks… except braise them. Or smoke them and then braise them, but that's another post.
Why are venison shanks so good? Because of all that nasty connective tissue. Cooked slow and low in a moist environment, like a Dutch oven, all those tendons and sinews melt, releasing intensely flavorful meat (the more any muscle group works, the better its flavor, but the tougher it will be. It's a kitchen conundrum.) coated with that melted goodness. Done right, braised shanks are downright silky.
I have a whole section on cooking venison shanks on this website, and this is my latest venture into the list. I got the idea for this dish from what I think is the finest book on Austrian cooking yet written, Neue Cuisine: The Elegant Tastes of Vienna: Recipes from Cafe Sabarsky, Wallse, and Blaue Gans, by Chef Kurt Gutenbrunner. What, you ask, is Austrian food, exactly? Mostly it's like German, only with a whiff of Northern Italy and a strong aroma of Hungary tossed in.
Chef Gutenbrunner's original recipe calls for pork shanks, and he cooks them differently. But the flavors of his dish and this one are very similar, and I will certainly be returning to his book for more inspiration soon.
The key revelation I got from this dish is the addition of shredded potatoes with the sauerkraut. As the shank cooks over time, the shredded potato dissolves in the beer and stock and makes a thicker, silkier sauce. It's amazing. Gutenbrunner's choice of beer is important, too: He uses a German hefeweizen, an acidic, bright wheat beer that provides all the tartness this dish needs. It's not hard to find hefeweizen in the United States, so please try to find it if you can.
I also use squash seed oil here, too. It is a dark, thick oil that really adds a ton of flavor, and it is an Austrian specialty. You can buy it in fancy supermarkets or online, but if you can't swing the cost or just don't want to, a good sunflower oil or nut oil will work, too.
I really think you're going to like this recipe. The flavors are lighter than your typical German dish, and it will be a perfect Sunday dinner just as the weather begins to warm.
Austrian Braised Venison Shanks with Sauerkraut
]I cooked this dish with a large shank from a big Ohio whitetail buck that my friend Joe brought home. For whatever reason, his butcher sliced the shank bones -- maybe for ossobucco. I like the effect, because it looks cool on the platter and it opens up the bones to the marrow, which you can easily scoop out and add to the sauerkraut mixture (Yes, it's delicious. Trust me on this one). No venison shanks? Do this with pork shanks, even smoked pork shanks -- but if you do, skip the bacon and use lard or butter instead. Osso bucco cuts from beef or veal would work, too.
Ingredients
1

large elk shank,

or up to 4 venison shanks

2

tablespoons

squash seed oil or sunflower oil

1

tablespoon

caraway seeds

1

teaspoon

garlic powder,

or 2 teaspoons minced fresh garlic

Salt

4

slices

bacon

1

medium onion,

chopped

2

cups

sauerkraut,

drained

1 1/2

cups

coarsely shredded potato

1

bay leaf

1

teaspoon

dried thyme

1

teaspoon

caraway

1 12-

to 16-ounce bottle hefeweizen beer

1

cup

stock

(any kind)

Black pepper and chopped chives for garnish
Instructions
Massage the venison shanks with the squash seed oil, then with the caraway, garlic and enough salt to season the meat well. At the very least set this on the counter for 1 hour to come to room temperature, but the seasonings penetrate better if you leave this covered in the fridge overnight. Regardless, when you are ready to cook the shank, preheat the oven to a full 475°F and let the shank come to room temperature while the oven heats. Set the shank or shanks on a rack in a roasting pan and blast them in the oven until nicely browned, about 15 minutes. Remove and set aside for now.

While the oven is heating, cook the bacon in a large pot or Dutch oven (it needs to be able to fit the shank) over medium-low heat until it's crispy. Remove, chop ans set aside.

Add the onion to the pot and saute in the bacon fat over medium-high heat until it begins to brown on the edges, about 5 minutes. Add the sauerkraut and shredded potato and mix well. Saute this for a minute or two, then pour in the beer and stock. Mix in the reserved bacon, the bay leaf, thyme, caraway and a healthy pinch of salt. Bring this to a simmer.

When the venison is ready -- out of the hot oven -- nestle the shanks into the pot, cover it and cook until done. You can do this in two ways: On the stovetop over low heat, or in a 300°F oven. Either way it should take about 3 hours, or a little longer if you are dealing with an old deer.

You can serve this in one of two ways: As a centerpiece, where everyone pulls of pieces of shank at the table, or you can strip the meat from the bones and serve it on top of a bed of kraut. Don't forget the marrow in the bones! Scoop it out with a spoon and stir it into the kraut for extra flavor. Add black pepper and chives right before you serve.
Notes
Serve this with good bread, like a German pumpernickel or a Jewish rye. And even though this is a red-meat dish, I like an Austrian white wine here. German beer is another good alternative, such as a weizenbock or if the weather's a little warmer, the same hefeweizen you used in the pot.
Nutrition
Calories:
300
kcal
|
Carbohydrates:
24
g
|
Protein:
13
g
|
Fat:
18
g
|
Saturated Fat:
4
g
|
Cholesterol:
24
mg
|
Sodium:
656
mg
|
Potassium:
757
mg
|
Fiber:
5
g
|
Sugar:
3
g
|
Vitamin A:
13
IU
|
Vitamin C:
30
mg
|
Calcium:
62
mg
|
Iron:
3
mg
Nutrition information is automatically calculated, so should only be used as an approximation.