As an Amazon Associate I earn from qualifying purchases.
If you are looking for a great way to cook small birds, braised quail is hard to beat. Because they are white meat, they don't suffer from long, slow cooking like, say, ducks. And this Greek style recipe really makes the little birds shine.
This recipe has All Things Greek in it: Lemon, garlic, artichokes, olive oil, oregano, parsley, white wine.
The beauty of Greek food is how skilled that country's cooks are with relatively limited ingredients. Much of Greece is hard to farm, hot and rocky, but the limitations created by that have made the food more imaginative.
Quail are hunted in Greece, and play a role in that nation's cuisine. I cobbled together this rendition of braised quail from my library of Greek cookbooks. One I highly recommend is Diane Kochilas' The Glorious Foods of Greece.
Nothing in this recipe is hard to find — even the quail. You can now buy quail in most supermarkets if you look in the freezer section. I used Mearns quail Holly and I hunted in Arizona.
A great aspect of my braised quail recipe is that unlike most of my quail recipes, this one doesn't require plucked quail. Skinned is fine, which is great for hunters; quail are notoriously hard to pluck.
Like most Mediterranean cuisines, the quality of your ingredients make the dish.
Use extra-virgin olive oil, Greek if you can find it. Use garlic you peel yourself. Lemons you zest yourself. Fresh parsley you chopped, and black pepper you ground. And ideally, your own stash of pickled artichokes, but I'll totally forgive you for not having that one lying around; it's a California thing.
I like a spoonful of little capers in there, but that's up to you. I think it adds a nice salty bite. Oh, and use jarred Kalamata black olives if at all possible. Please don't use those weird, canned Lindsay olives. Ew.
If you want to make this but don't have quail, you can sub in the following:
1 store-bought rabbit or 2 cottontails or 2 to 3 squirrels
4 to 8 woodcock or snipe
4 partridges or chukars
2 to 3 Cornish game hens or ruffed grouse
2 pheasants or blue grouse
Use a dry white wine you would want to drink. In a perfect world, you'd find a Greek Assyrtiko, but any crisp, dry white will work. Pinot grigio, unoaked chardonnay, Sancerre, Chablis or Albarino are other good options. If you are a beer drinker, pilsner is the way to go here.
Serve your braised quail with crusty bread or rice or potatoes. It will keep about a week in the fridge.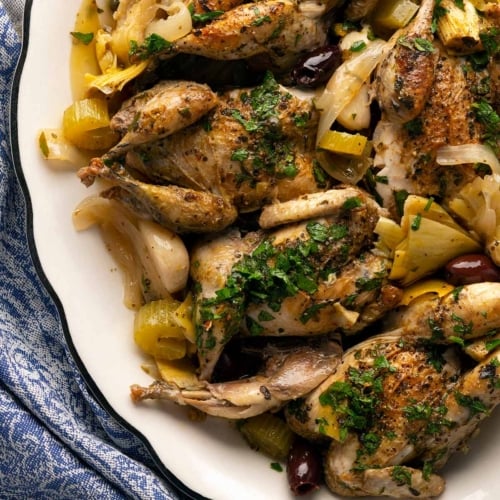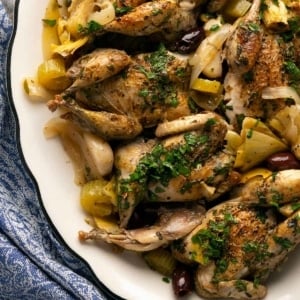 Greek Braised Quail
This is an easy, one-pot recipe that has most of the celebrated ingredients of Greece in it. All are easily found in most supermarkets. The quail are often sold in supermarket freezer sections if you are not a hunter.
Ingredients
1/4

cup

olive oil

4 to 8

quail

(see headnotes above for substitutions)

Salt

3

stalks

celery,

chopped

1

large yellow onion,

sliced thin

1

head

garlic,

cloves peeled but whole

2

teaspoons

dried oregano

1

cup

white wine

3

Lemons, zest and juice

12

ounces

marinated artichoke hearts

12

ounces

pitted black olives

1

tablespoon

capers

(optional)

3

tablespoons

chopped fresh parsley

Black pepper to taste
Instructions
Using kitchen shears or a knife, cut out the backbones of the quail. If you want to get fancy, remove the ribs as well. I do this so there's less fiddly stuff in the braise when you eat. Preheat the oven to 325°F.

Heat the olive oil in a large, lidded pot like a Dutch oven. Salt the quail well and brown them in the oil, removing them to a bowl as they brown. It's OK if not every bit of the quail are browned, but you want some on both sides.

Add the onion and celery and sauté until translucent, but not browned. Add the garlic cloves, the quail back into the pot along with any juices that have accumulated in the bowl, the oregano and the wine. Mix well and let the wine boil for a minute or three.

Just barely cover the quails with water, bring it to a simmer and add salt to taste. Add the lemon zest, cover the pot and put it in the oven for 1 hour.

Take the pot out of the oven and add the artichoke hearts, black olives and capers, if using. If the quail are not yet tender, which might be the case with wild birds, cover the pot and return to the oven until they are. This shouldn't be more than another 30 minutes or so.

Once the quail are tender, add in the parsley, lemon juice and black pepper. Serve with bread, rice or potatoes.
Notes
As I note in the recipe, wild quail will likely take 90 minutes to get tender. If you are using the alternatives, pheasants, grouse and partridges can take 2 hours, and rarely more than that, to get tender. If you are using these, don't add the olives or artichokes until then, or they'll disintegrate. 
Nutrition
Calories:
625
kcal
|
Carbohydrates:
16
g
|
Protein:
24
g
|
Fat:
48
g
|
Saturated Fat:
8
g
|
Polyunsaturated Fat:
6
g
|
Monounsaturated Fat:
24
g
|
Cholesterol:
83
mg
|
Sodium:
1791
mg
|
Potassium:
490
mg
|
Fiber:
6
g
|
Sugar:
4
g
|
Vitamin A:
1858
IU
|
Vitamin C:
34
mg
|
Calcium:
133
mg
|
Iron:
6
mg
Nutrition information is automatically calculated, so should only be used as an approximation.