Ossobuco, if you are not familiar with it, is a Northern Italian classic: Braised shank with a tomato sauce, usually served with risotto, which makes it ossobuco milanese. To make it right, you need the shank of a large animal; little lamb shanks don't cut it.
Normally it's a veal shank or pork shank, and yes, I've seen it with those little lamb shanks. But I mostly make ossobuco, which means "bone with a hole" in Italian, with shanks from large deer, elk, nilgai, moose or even bear.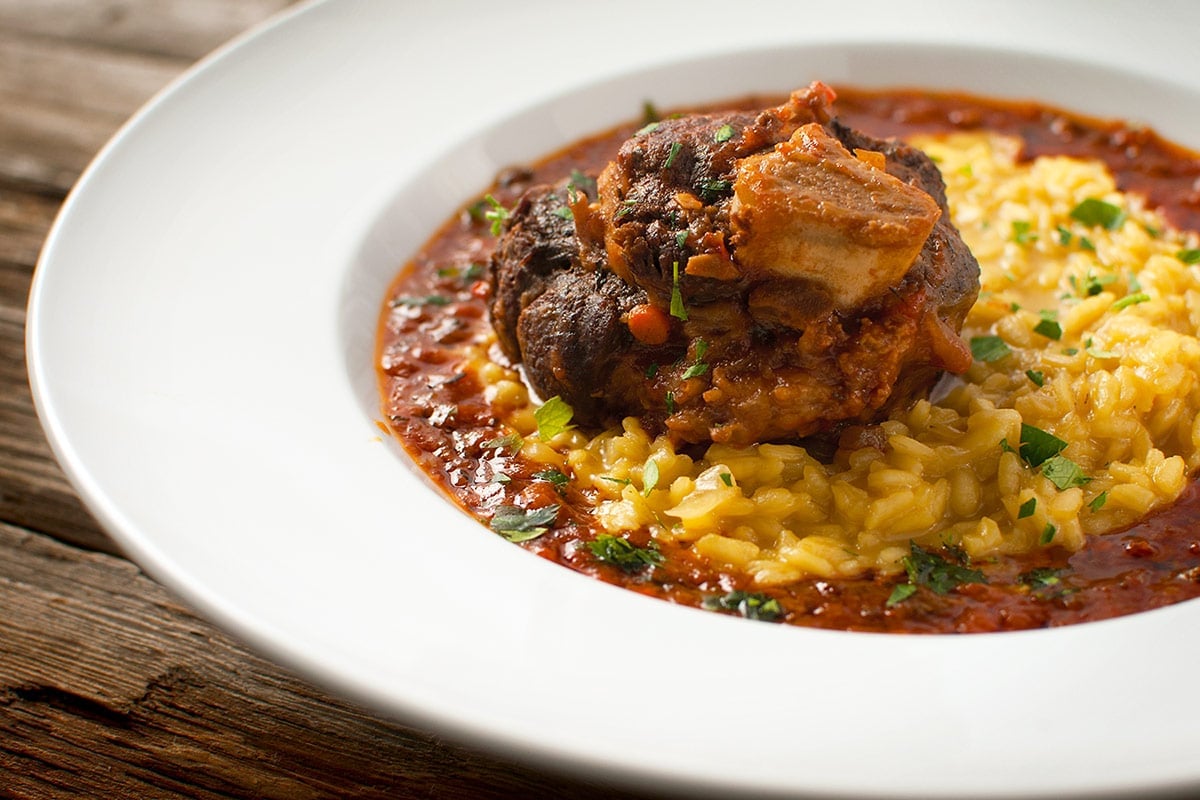 Making ossobuco milanese is straightforward: Dust the shanks in flour, brown in olive oil or butter (or lard), saute veggies and braise until tender with white wine and tomato sauce.  A veal shank might take 2 hours, one from an old moose or elk maybe 4 hours.
And you don't need to serve it with risotto, although that is what makes it a proper ossobuco milanese. Polenta is a great alternative, as is a loaf of good, crusty bread. Just don't forget the red wine at the table.
You will have more sauce here than you need for this meal. My advice is to use it as a pasta sauce, maybe with homemade squash gnocchi. And if you have leftover meat, shred it up and use it as a filling for homemade agnolotti.
Any sort of shank will work here. One important tip on dealing with large shanks: Use kitchen twine to tie them tightly while cooking — this keeps them together and compact. Mostly it's for presentation, but if you skip this step you run the risk of the shanks falling apart in your sauce. Not always a bad thing.
A note for hunters, who will be cutting their own shanks for ossobuco: Use a knife to slice the shank meat to the bone, making each cross cut about three fingers' thick. Then use a hacksaw or Sawzall to cut through the bone. Wipe any bone debris away with a cloth or paper towel.
If you are making ossobuco milanese from smaller animals, like small deer, javelina or smaller pigs, leave the shanks whole.
Ossobuco Milanese
Make this dish when you have a little time, as it will always require at least 2 hours, and probably more. Good news is that it reheats beautifully, so you can make it on a weekend and eat it during the week. 
Ingredients
4

cross-cut shanks,

about 2-3 inches thick

Salt

Flour for dusting

1/4

cup

olive oil,

butter or bear fat

1

onion,

chopped

2

carrots,

chopped

2

celery stalks,

chopped

1/2

ounce

dried porcini mushrooms

about a handful, chopped

1

cup

white wine

1

cup

chicken,

beef or game stock

1 28-

ounce

can crushed tomatoes

1

teaspoon

dried thyme

1

teaspoon

dried oregano

Zest of a lemon cut into large strips,

white pith removed

2

bay leaves

1/4

cup

chopped fresh parsley,

for garnish
Instructions
Preheat the oven to 300°F. Heat the olive oil in a Dutch oven or other large pot set over medium-high heat. Salt the shanks well and dust them in the flour to coat. Brown them well in the pot. Take your time and get a good browning on them, which should take a solid 10 minutes. Remove and set aside.

Add the onion, carrot, celery and porcini mushrooms, and saute until slightly browned around the edges, about 6 to 8 minutes. Sprinkle some salt on them as they cook.

Pour in the white wine and use a wooden spoon to scrape up any browned bits on the bottom of the pot. When this comes to a boil, add the stock, crushed tomatoes, thyme, oregano, lemon zest and bay leaves and bring to a simmer. Return the shanks to the pot and turn to coat with the sauce. Cover the pot and move it to the oven. Cook until tender, between 2 and 4 hours, depending on the animal. Serve on top of risotto or polenta, or alongside some bread, garnished with the parsley.
Nutrition
Calories:
360
kcal
|
Carbohydrates:
18
g
|
Protein:
33
g
|
Fat:
15
g
|
Saturated Fat:
3
g
|
Cholesterol:
113
mg
|
Sodium:
349
mg
|
Potassium:
1113
mg
|
Fiber:
4
g
|
Sugar:
9
g
|
Vitamin A:
3960
IU
|
Vitamin C:
18.9
mg
|
Calcium:
108
mg
|
Iron:
3.8
mg