Warm Crab Salad with Peppers
December 12, 2019 | Updated January 22, 2021
As an Amazon Associate I earn from qualifying purchases.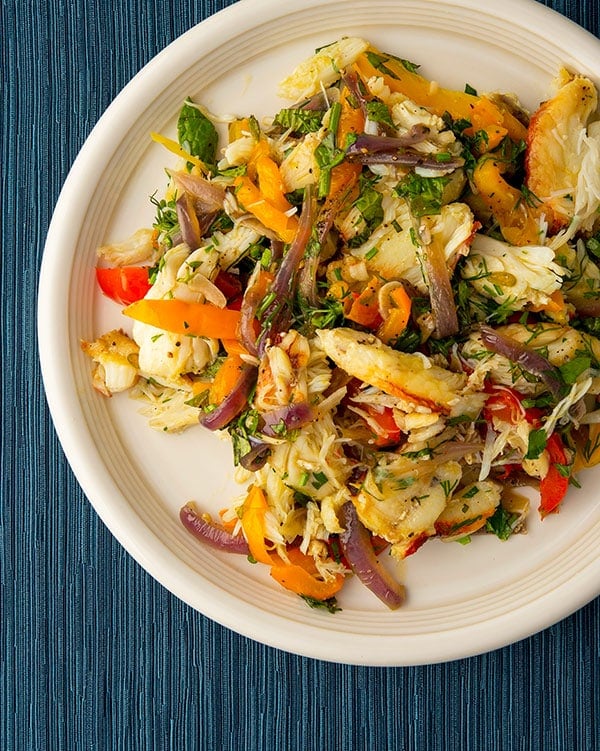 There are as many takes on crab salad as there are cooks. Elsewhere on this site I have a cool recipe for a California crab salad, for example, and "tuna fish" style crab salads are all over the internet. This is not that. This is a warm crab salad with peppers, great for cool nights.
I found this recipe in Diane Kochilas' great cookbook The Glorious Foods of Greece: Traditional Recipes from the Islands, Cities, and Villages. It is from Roumeli, a region Kochilas describes as the northern area of Greece encompassing Fokida, Boetia, Evritania, Fthiotida, and the memorably spelled Aitoloakarnania.
Originally, this crab salad with peppers was made with freshwater crabs, Kochilas says, but I used Dungeness. Atlantic crabs work fine, too, and this recipe would be every bit as good with shrimp.
There are two ways to make this crab salad: With or without rice. I did it without rice because I had some excellent bread to eat along with it, but Kochilas' recipe includes about 1/2 cup long grain rice, which is added to the dish before the crab and herbs go in. If you do that, add 1 cup of crab stock or water to the pan and cover it to let the rice cook.
Kochilas uses only green peppers in her salad, but I find that boring, so I went with an assortment of colored peppers. You do want some hot peppers, too, according to your taste. Anything from mild poblanos and jalapenos and Anaheims, to, well, habaneros if that's your thing.
You might notice a lot of olive oil in this recipe. Yep, it's Greek food, folks. They use a lot. It's good for you, and keeps you shiny. Use less if it makes you feel better. I don't.
And while I call this a warm crab salad and that's how I like to eat it, it is very good at room temperature, too. It's also good cool — but only if there's no rice in it. The rice gets chalky if eaten cold.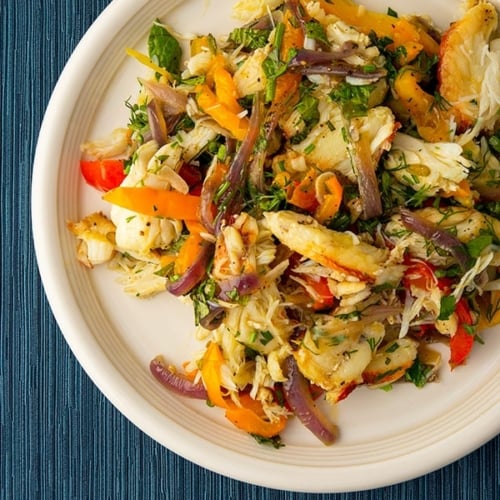 Greek Warm Crab Salad with Peppers
You can use any sort of crabmeat that makes you happy, or even shrimp. Choose an assortment of peppers to keep thing interesting. Once made, leftovers will keep a couple days in the fridge.
Ingredients
1/2

cup

olive oil

1

large red onion, sliced thin

4 to 6

bell peppers, of various colors,

sliced thin

2 to 4

hotter peppers, like poblano, Anaheim or jalapenos,

sliced thin

2

cloves

garlic, sliced thin

1

pound

crabmeat

1/2

cup

finely chopped dill

1/2

cup

finely chopped parsley

1/2

cup

finely chopped mint

Salt and pepper

Lemon juice to taste
Instructions
Heat the olive oil in a large pan over medium-high heat. Add the red onion and saute, stirring often until wilted, about 10 minutes. Add all the sliced peppers, sweet and hot, and saute another 5 minutes. Add the garlic and stir well.

If you are adding rice as noted above, add it now along with the water, plus a healthy pinch of salt. Cover the pot, lower the heat and simmer until the rice absorbs the water.

Add the crabmeat and all the herbs, stir to combine and add salt, pepper and lemon juice to taste. Serve warm or at room temperature.
Nutrition
Calories:
401
kcal
|
Carbohydrates:
14
g
|
Protein:
23
g
|
Fat:
28
g
|
Saturated Fat:
4
g
|
Cholesterol:
48
mg
|
Sodium:
1057
mg
|
Potassium:
639
mg
|
Fiber:
5
g
|
Sugar:
7
g
|
Vitamin A:
5077
IU
|
Vitamin C:
183
mg
|
Calcium:
106
mg
|
Iron:
3
mg
Nutrition information is automatically calculated, so should only be used as an approximation.