Portuguese Braised Deer Shank
January 19, 2010 | Updated August 01, 2022
As an Amazon Associate I earn from qualifying purchases.
Nothing like rainy days — days and days of rain — to bring out the braised meat urge in me. Storms slow us all down, and there must be some sort of aromatherapy going on when you fill your home with the smell of slowly cooking goodness. On such days, braised deer shank really does it for me.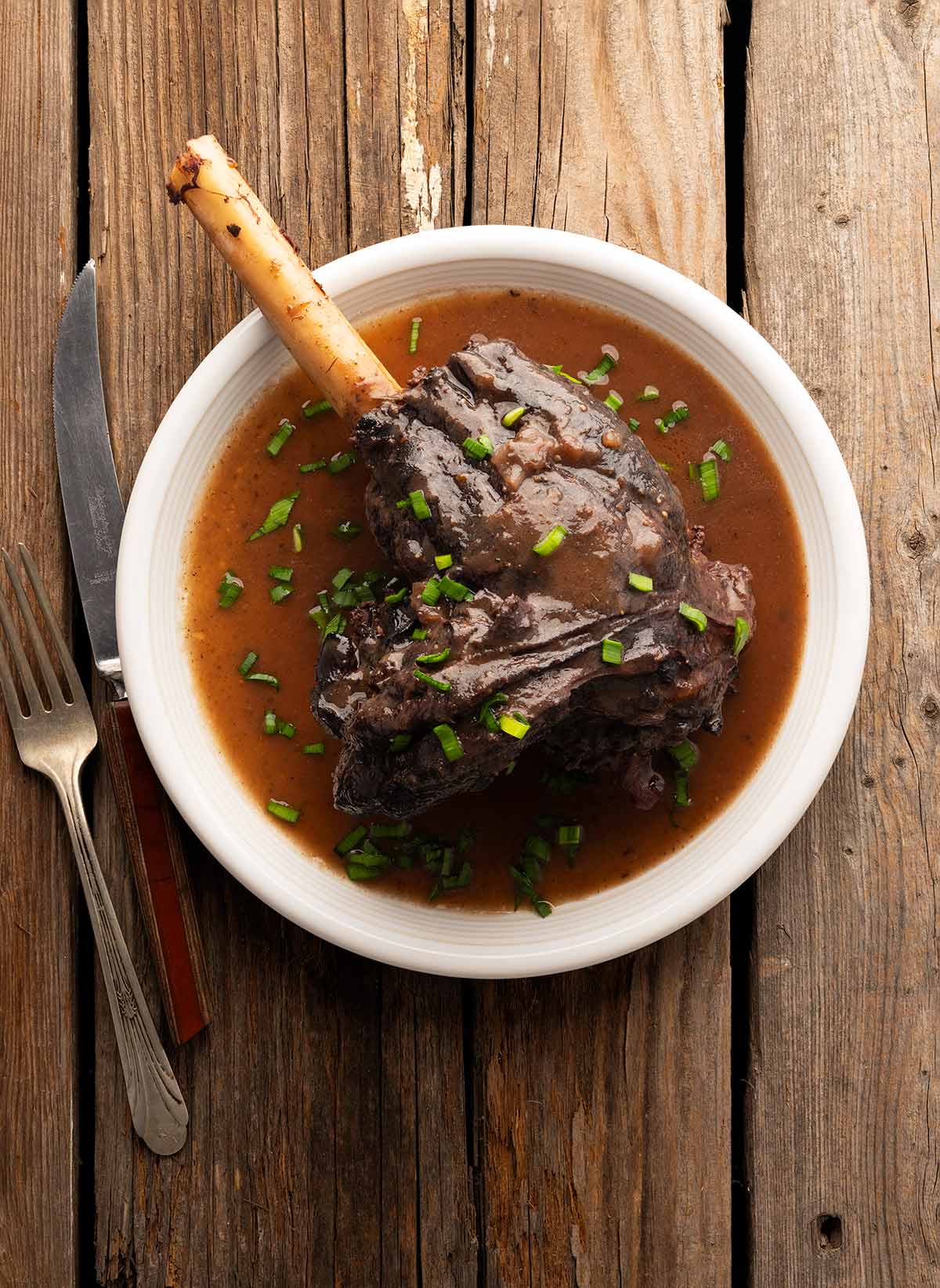 There is nothing quite like a shank, whether it be lamb, beef, veal or, yes, deer. For the hunters out there, we all know that we really shouldn't waste a deer shank, but shanks have so much sinew and connective tissue there really isn't much to do with them. So most of us grind it for burger meat.
This is a shame, as my shank-eating friends will attest. Shanks, frankly, suck if not cooked slowly and for a long, long time. The only other thing you can do with a deer shank besides braise it is to put them in a stock, or the classic Taiwanese beef noodle soup. But well-browned deer shank, bathed in aromatic juices and served falling off the bone? Seriously good stuff.
Shanks always need a good sauce, but which sauce?
You need something bold for a shank, and I immediately thought about a shank recipe from my friend David Leite in his book The New Portuguese Table.
Leite's recipe has includes a lot of warm spices — cloves, cinnamon, allspice — as well as molasses. I love molasses.
Naturally I can't leave well enough alone, so I modified Leite's recipe by adding chiles and juniper berries, doubling the red wine called for and by finely pureeing the sauce at the end. Why puree? Because you can use the leftover sauce to dress pasta.
Typical sides for a braised deer shank would be a mashed thing and a green thing. Why mess with the formula? I really like mashed celery root, maybe with a couple tablespoons of mascarpone cheese and a knob of butter — if you've never done the mascarpone and mashed veggie thing, try it! Heaven. And for the greens, any greens you like; lambsquarters are my favorite.
The sauce is sweet-savory-spicy-hot-rich (did I mention there are four ounces of pureed, simmered homemade bacon in it?). The deer shank you can eat with just a fork — no knife needed. Silky-smooth and super flavorful.
Could you do this recipe with a lamb shank? You bet, although it will not be as flavorful because the animal was young. If that's what you have, I suggest making my Greek venison shank recipe instead. This recipe works better with a hunk of beef shank, or the shank from a hog. Hunters, don't hesitate to use this recipe on wild boar or elk shanks, too.
If you want to go another, lighter route, try my recipe for braised venison shank with garlic.
Braised Venison Shanks, Portuguese Style
A properly braised whole deer shank is every bit as tender as a lamb shank. These venison shanks are so tender you could eat them with a fork, and the sauce is so rich you'll want to save the leftovers for pasta sauce.
Ingredients
4

small deer shanks,

or 2 large ones

1

teaspoon

black peppercorns,

cracked

1

teaspoon

allspice berries,

cracked

1

teaspoon

juniper berries,

crushed

8

cloves

1

cinnamon stick

1

hot dried chile

2

bay leaves

4

ounces

bacon, cut into chunks

1

tablespoon

olive oil

2

yellow onions, minced

1

head

garlic,

cloves peeled and chopped

1

bottle

red wine

2

cups

beef stock or venison stock

2

tablespoons

molasses

Salt
Instructions
Salt shanks and set aside. In a heavy pot with a lid (a Dutch oven will do), put spices and herbs in with the wine and molasses. If your bacon had the rind on it, put that in, too. Turn the heat to medium-low. Preheat the oven to 300°F.

Pour olive oil into a second pan set over medium heat. Fry the bacon slowly, turning all sides to get crispy. As each piece crispifies, toss it into the pot with the wine. Do not let the wine pot go past a gentle simmer. When the bacon is done, brown the shanks on all sides except the one with the bone; this helps the shank stay together after long cooking. Take your time on this one, and do this over medium heat. It could take 20 minutes. Move the shanks to the wine pot, bone side sticking up.

Put the onions in the frying pan and turn the heat up to high. Toss to combine. You will notice the onions will deglaze the pan. After about 3 minutes like this, add the garlic and toss to combine. Continue cooking until you hear the sound change: That's onions losing enough moisture to begin browning. Cook another minute or two.

Pour in the stock and mix it well with the onions. Bring to a furious boil and make sure you've scraped everything off the bottom of the pan. Add to the wine pot, mixing in with all the other ingredients. Make sure the shanks are still bone side up. Cover and cook in the oven for 3 to 4 hours. Venison, being wild, is difficult to gauge doneness — you might have shot an old deer, or a yearling. Each will require different cooking times.

When the meat is almost falling off the bone, remove it gently and tent it with foil. Fish out the bay leaves, cinnamon stick and as many cloves, peppercorns, allspice and juniper berries as you can in a few minutes. It's OK if you don't get them all.

Puree the sauce in a blender or pass it through a food mill set on a medium setting. It should be thick. Pour over the shanks and serve at once with mashed root veggies and something green.
Notes
Remember that the leftover sauce is amazing over mashed potatoes or pasta. 
Nutrition
Calories:
620
kcal
|
Carbohydrates:
25
g
|
Protein:
46
g
|
Fat:
21
g
|
Saturated Fat:
7
g
|
Cholesterol:
146
mg
|
Sodium:
588
mg
|
Potassium:
1236
mg
|
Fiber:
2
g
|
Sugar:
12
g
|
Vitamin A:
33
IU
|
Vitamin C:
7
mg
|
Calcium:
111
mg
|
Iron:
6
mg
Nutrition information is automatically calculated, so should only be used as an approximation.