As an Amazon Associate I earn from qualifying purchases.
Yes, you fry pheasants! Here's a recipe for pickle-brined, fried pheasant you'll love. Works great with skin-on or skinless birds, as well as grouse or partridge.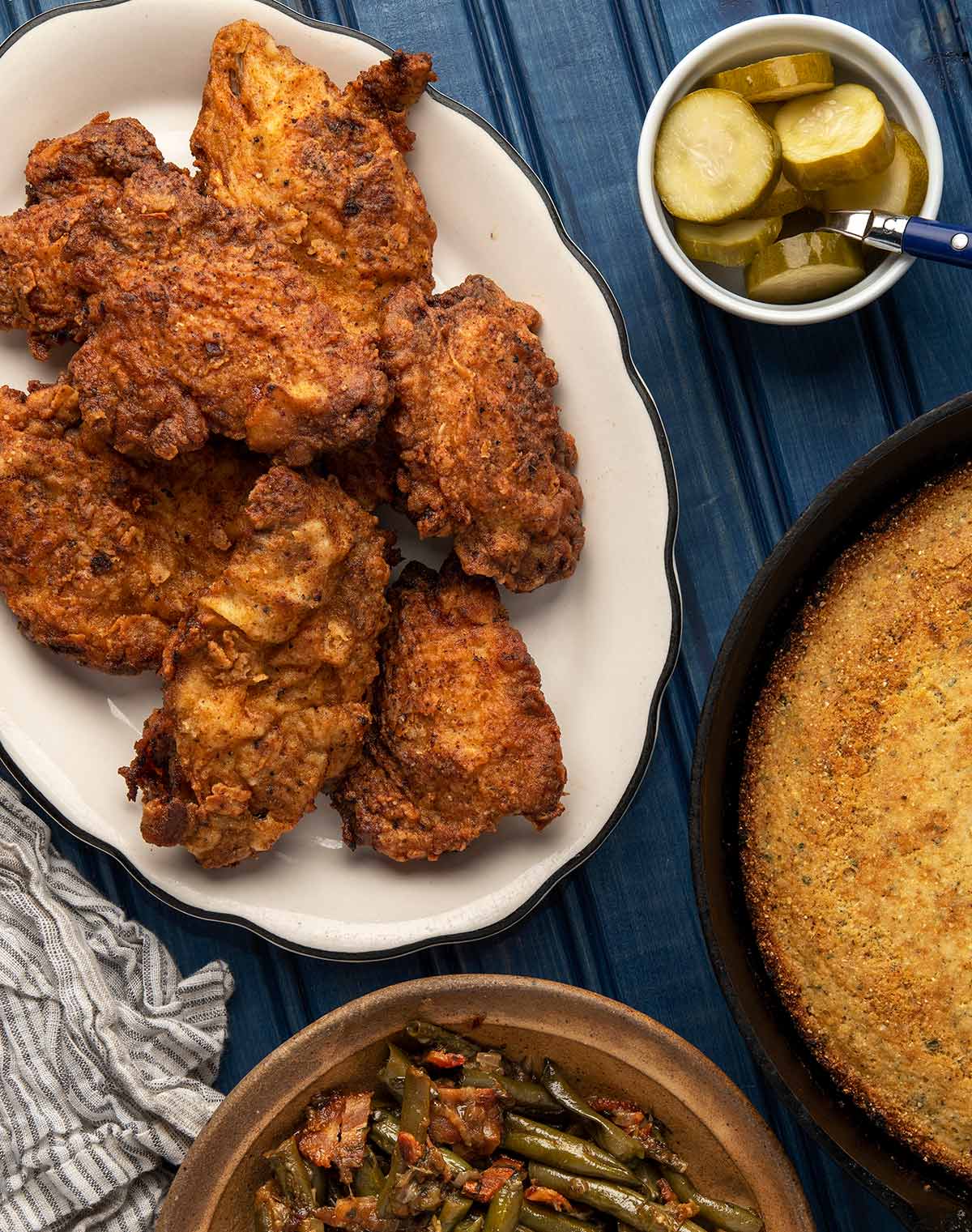 So I'll give you the caveat first: If you really want to enjoy fried pheasant as if it were chicken, you will want to use only young birds. There are three "tells" that you have a young bird:
They're a lot smaller than older roosters, sometimes by as much as a pound.
Young roosters don't have much in the way of spurs.
Their plumage isn't fully in yet, and their tails aren't very long, giving them a hen-like appearance.
OK, that's four tells, but you get my point. Incidentally, most pen-raised birds will be young.
We shot a few really young roosters on Opening Weekend in North Dakota (the story of that hunt is here), and I knew I wanted to treat them differently. Fried pheasant was the ticket.
Much like my recipes for buttermilk fried quail and fried rabbit, this is a celebration of rarity: it isn't often you come home with a wild game animal so tender you can just fry it.
I used kitchen shears to cut the breasts in half bone-in, and separated the thighs from the drumsticks. Alas, even on a young pheasant, the tendons in the drumsticks are a killer; save those for the crockpot.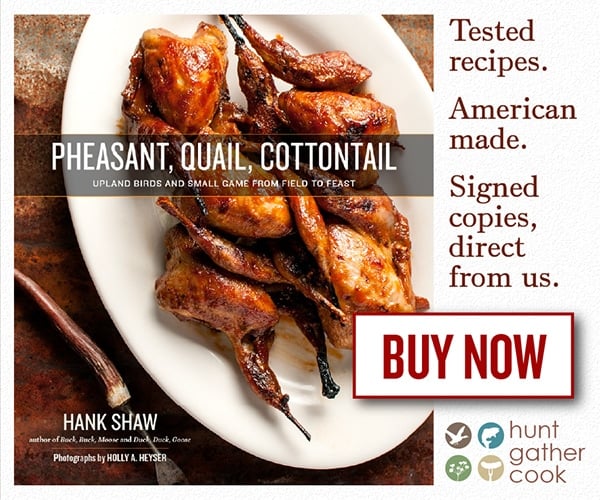 The wings will work on a young pheasant, but I prefer to make a dish just of wings, like my pheasant Buffalo wings, so I kept them all together for later… likely the Super Bowl.
Now I hear you: What if I only have older pheasants? All is not lost: Make fried pheasant only with the bone-in breasts. It'll still be good.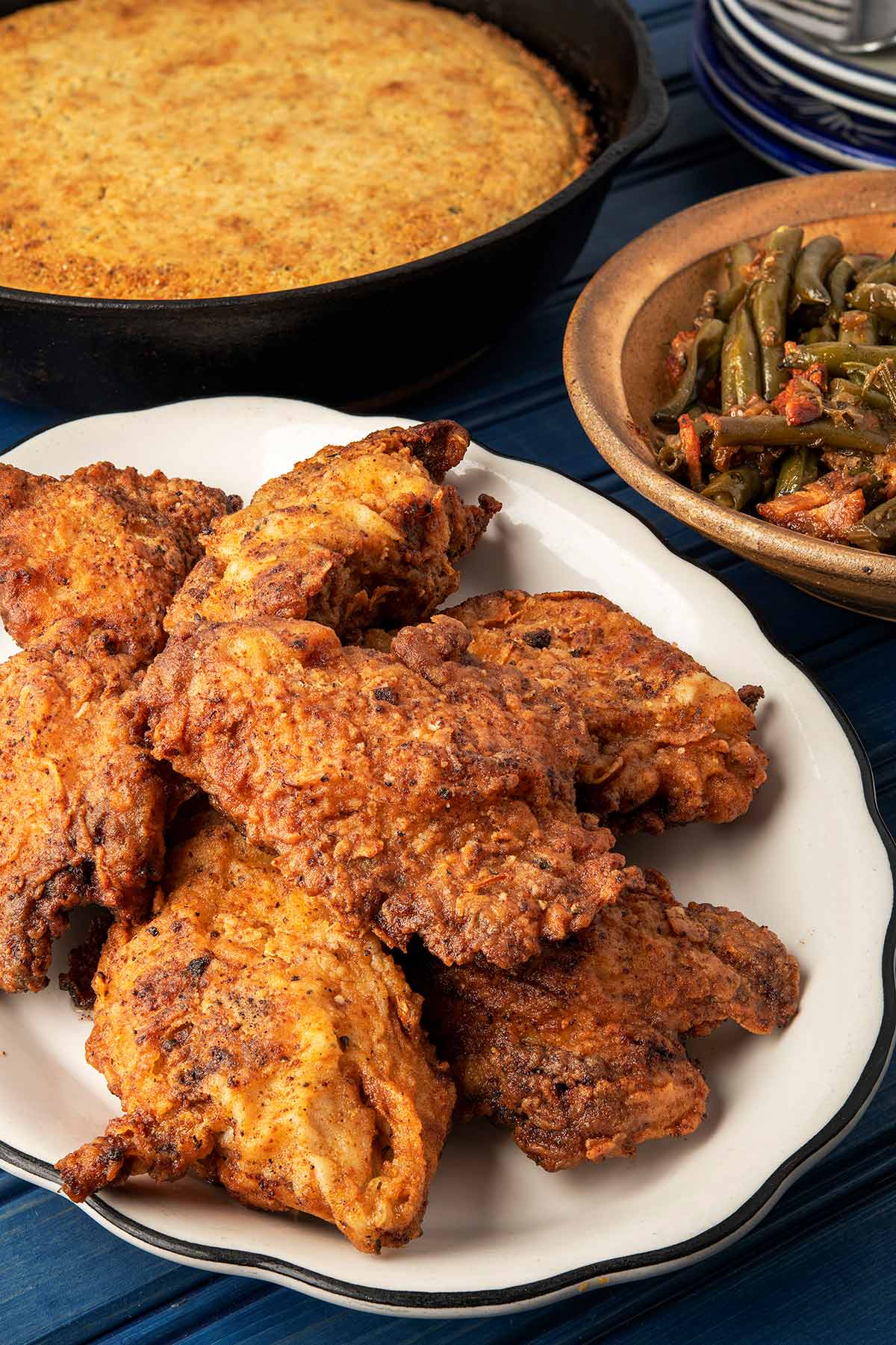 Prepping the Pheasant
I really prefer skin-on pieces because that skin adds fat and flavor to an otherwise lean meat, and the skin is something else for the breading to stick to. But skinless works, too.
(If you're flummoxed on how to pluck a pheasant, I have a tutorial here.)
Don't use shot-up pieces. A shot hole here and there is fine, but if the meat is pretty beat up, use it in soups or stew or for pheasant stock.
You really want to brine your meat when you make fried pheasant because it can tend toward dryness — and, well, every fried chicken place in America brines its birds. The pickle brine is my go-to.
Wha? Yep, the liquid in a pickle jar. Save it after you've eaten the pickles. And I am talking about a vinegar pickle, not a lacto-fermented pickle; that brine has a very different effect I'll get into in another post.
This acidic brine is a perfect marinade for pheasant. You get the salt penetrating to the center of the meat, and the flavors in the vinegar all over the outside. I prefer to use a sweet and spicy pickle brine in this recipe.
How long to brine your pheasant pieces? Overnight, or at least 4 hours. Don't go longer than about 12 hours or things will get a little salty and acidic.
Fried Pheasant Seasonings
So many people forget to season everything when they make fried chicken, or in our case fried pheasant. The act of frying dulls the impact of most spices so you really want to lay them on.
You already have brined the pheasant. My advice is to add lots of seasoning to the buttermilk you douse the pieces in, then a little seasoning to the flour.
If you want to add cayenne or paprika, it should go into the buttermilk; plain yogurt thinned with milk works, too. The reason is because if there's too much in the flour itself, it will burn in the hot oil and get bitter.
The flour should get some salt, black pepper, and dried herbs like parsley, savory, basil, thyme, etc.
You'll want to tinker with things as you make batches of fried pheasant over the season.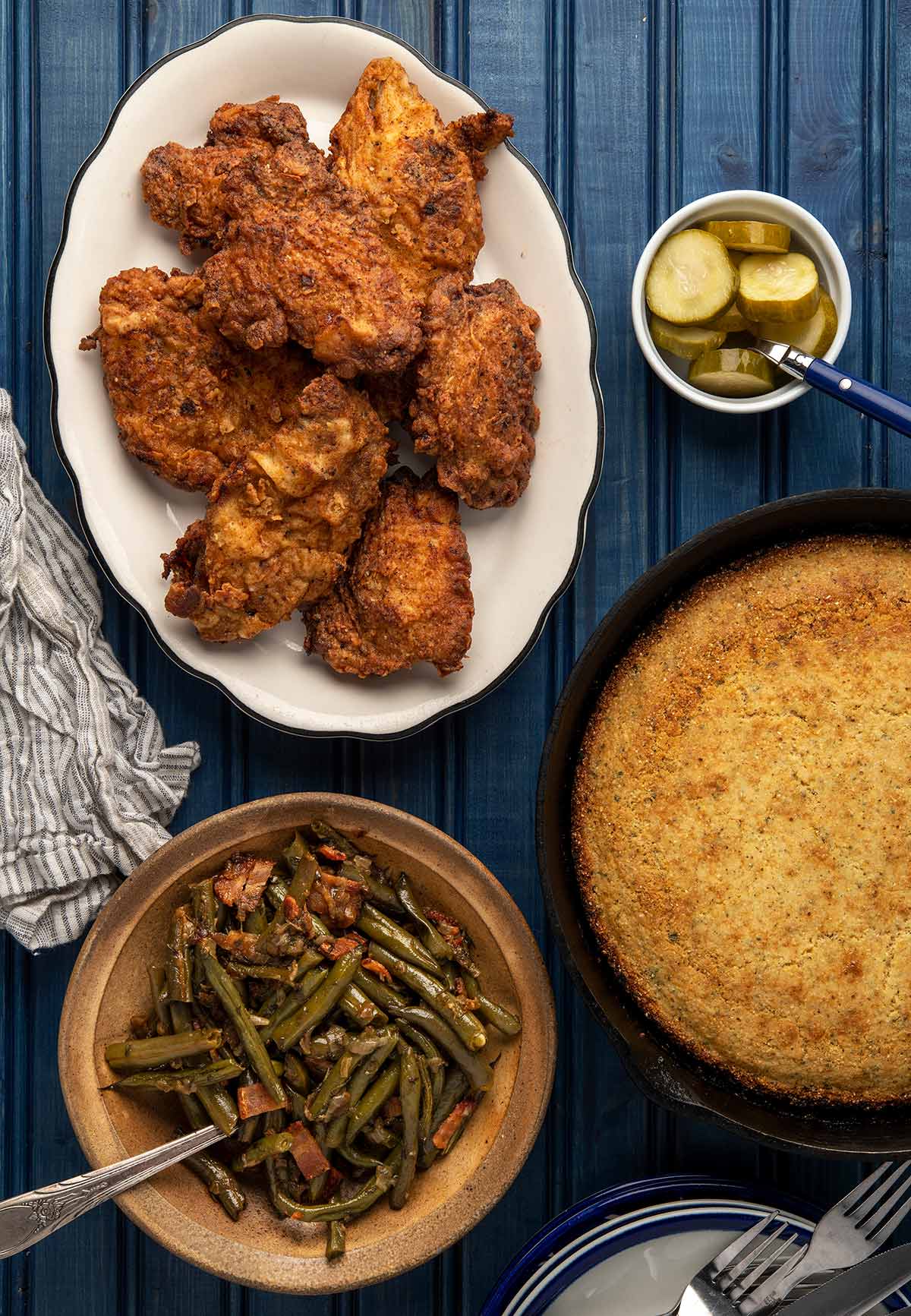 Frying the Pheasant
You'll want a heavy pan, like cast iron, and about 2 inches' worth of oil. Peanut oil is my choice, but anything with a high smoke point is fine. Heat it to just 325F. You want to cook the pheasant without darkening the batter too much, so this is the key temperature.
Always let the oil get back to this temperature in between batches.
I find that the thighs take about 6 minutes per side, and the breasts 5 to 6 minutes per side. Thighs have more connective tissue, but breasts are thicker. Don't crowd the pan when you fry. The pieces should not touch each other.
When a batch is done, move it to a cooling rack set over a baking sheet. Set that in a 200F oven. This gives the fried pheasant air, and will keep it crispy.
If by some freak of chance you have leftovers, they are amazeballz cold for lunch the next day.
If you liked this recipe, please leave a ⭐️⭐️⭐️⭐️⭐️ rating and a comment below; I'd love to hear how everything went. If you're on Instagram, share a picture and tag me at huntgathercook.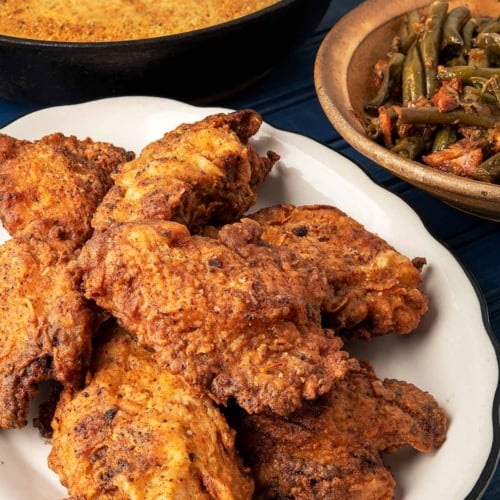 Fried Pheasant
This is a pickle-brined fried pheasant recipe the same way you'd do with chicken, only with a few pointers to handle the wildness of the pheasant meat. The seasonings I have in this recipe are a suggestion. You can alter them as you see fit.
Ingredients
3

cups

pickle brine

(leftover juice from a pickle jar)

2 to 3

pounds

pheasant breasts and thighs

2

cups

buttermilk,

or plain yogurt thinned with milk

1

tablespoon

cayenne, Cajun seasoning or Cavender's,

or any spice mix you like

2

teaspoons

salt

1 to 2

tablespoon

Italian seasoning, or any combination of dried herbs

(optional)

1 1/2

cups

flour

1/2

cup

corn starch

Oil for frying
Instructions
Soak the pheasant breasts and thighs in the pickle brine in the fridge overnight. No less than 4 hours and no more than 12.

Mix the cayenne, Cajun seasoning or whatever spice mix makes you happy into the buttermilk. You can use 2 tablespoons if you want a heavily spiced fried pheasant. Put all the pheasant pieces directly from the brine into the buttermilk. Let this sit at room temperature for a few minutes, up to 30 minutes.

Mix the salt, Italian seasoning or other dried herbs, corn starch and the flour in a large, shallow container or a plastic bag. Put the pheasant pieces in there in batches and really press down on the flour to press it into the meat. You'll want to do this on both sides, pressing hard each time. Lift the pieces out of the flour and shake off the excess. Put them on the counter to sit at room temperature for 30 minutes. You can also set them on a tray in the fridge for up to 6 hours. All of this helps the breading stick to the meat.

Set a cooling rack over a baking sheet in the oven and set the oven to 200°F.

Bring about 2 inches' worth of oil to 325°F in a large, heavy pan. I use cast iron. Fry the pieces in batches, not letting them touch each other, until they are golden brown, roughly 5 to 7 minutes per side. Put the finished fried pheasant on the cooling rack in the oven and repeat with the rest of the pheasant.
Notes
You can reuse the oil several times. Just strain it through a paper towel to remove all the debris.
Keys to Success
I prefer peanut oil for frying, but you can use anything with a high smoke point, like canola, vegetable or corn oil.
If you only have older pheasants, use a jaccard to tenderize the meat before you soak it in the pickle brine. 
If you don't have pickle juice lying around, bring to a boil 2 cups vinegar (any kind), 1 cup water, 1 tablespoon salt, 1 tablespoon sugar, and any spices you like, such as mustard seed, allspice, cloves, black peppercorns, chiles, garlic, dill, etc. 
Anything with paprika or chiles needs to go into the buttermilk, not the flour. If it's in the flour, it can turn the pieces very dark and get bitter. 
What I mean by dried herbs are things like dried thyme, oregano, savory, parsley, basil, cilantro, sage and rosemary. 
Fried pheasant is amazing cold the next day, and will keep a week in the fridge. 
Nutrition
Calories:
479
kcal
|
Carbohydrates:
47
g
|
Protein:
36
g
|
Fat:
15
g
|
Saturated Fat:
5
g
|
Polyunsaturated Fat:
2
g
|
Monounsaturated Fat:
6
g
|
Cholesterol:
101
mg
|
Sodium:
2688
mg
|
Potassium:
495
mg
|
Fiber:
2
g
|
Sugar:
4
g
|
Vitamin A:
951
IU
|
Vitamin C:
7
mg
|
Calcium:
129
mg
|
Iron:
4
mg
Nutrition information is automatically calculated, so should only be used as an approximation.