Buttermilk Fried Quail
April 18, 2013 | Updated June 06, 2022
As an Amazon Associate I earn from qualifying purchases.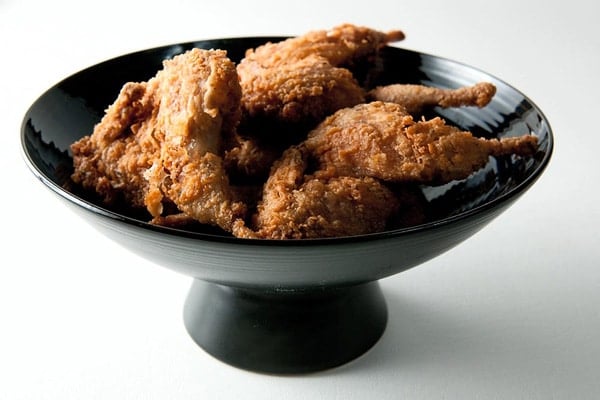 If you don't love a good piece of fried chicken you are not a real American. And if there is anything more fun to eat than fried chicken, it's fried quail.
They taste more or less like chicken (especially when fried), and because they are smaller, it's basically a party when a big bowl of them comes out to the table.
Why? Because there is no way to eat fried quail without just diving in. No forks, knives or other utensils needed. Your fingers are your only tools. Sweet, juicy meat. Salty, spicy, crispy batter. Oh man, you will find yourself scraping the batter off the ribs with your teeth you'll want it so much.
There are a few ways to go about perfecting your fried quail. First should be to minimize bones. To do this, I will either cut the quail in half or spatchcock them, which is to say cut out the backbones to flatten the birds. Either way, I will pull out the ribs and snip the saber bone — which looks like its name — to make the quail easier to eat.
Another trick will be to let your battered quail rest in the fridge for a while, up to a few hours, even. This helps the batter stick to the quail, so it won't all come off with your first bite.
You probable don't want to serve fried quail at a fancy dinner party, unless you want to break the fussiness of the evening and force your friends to get their hands dirty — something I actually wholeheartedly recommend. Just have some extra napkins nearby.
Beware: Holly and I once ate 10 of these little birds by ourselves. So make more than you think you need. A lot more, especially because they are almost as good served the next day as a cold lunch as they are piping hot.
Looking for more game to fry? I have similar recipes for buttermilk fried rabbit, fried pheasant, and fried walleye.)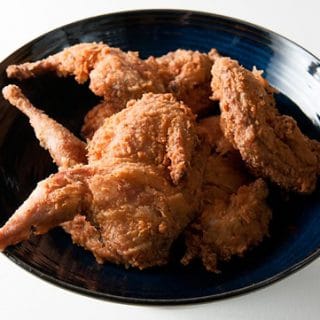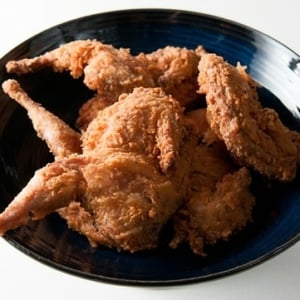 Buttermilk Fried Quail
If you are working with real wild quail, I highly recommend you brine them before frying. A simple brine of 1/4 cup kosher salt to 4 cups water will do — the birds are going to get plenty of seasoning later. Submerge your quail in this brine for 4 to 8 hours. Store-bought quail don't need to be brined. As a general rule, 1 quail is an appetizer, 2 a lunch, 4 a good portion for a hearty eater. You can also do this recipe with chukars and Hungarian partridges. Serve with mashed potatoes, cole slaw, cornbread and collard greens.
Ingredients
8

to 16 quail,

cut in half

2

cups

buttermilk

2

tablespoons

Italian seasoning,

or 1/3 cup of mixed chopped fresh herbs like oregano, thyme and parsley

2

teaspoons

paprika

1

tablespoon

garlic powder

1

teaspoon

cayenne

2

cups

flour

1

tablespoon

salt

3

cups

vegetable oil
Instructions
Mix the buttermilk with the all the spices (except the salt). Coat the quail with the mixture and set in a covered container for as little as an hour, and as much as 8 hours.

When you are ready to fry, pour the oil into a large pan — a big cast iron frying pan or Dutch oven is ideal — and heat over medium-high heat. You want the oil to almost submerge the quail halves.

Meanwhile, take the quail out of the buttermilk and let it drain in a colander. Don't shake off the buttermilk or anything, just leave it there.

Let the oil heat until it is about 325°F; this is the point where a sprinkle of flour will immediately sizzle. Do not let the oil smoke! When the oil is hot, pour the flour and salt into a plastic bag and shake to combine. Put a few quail into the bag and shake to get it coated in flour. NOTE: If you want your quail "extra crispy," let the battered birds sit on a rack until the flour absorbs the moisture of the buttermilk coating. Then give them a second shake in the flour bag. You'll get a much thicker, crunchier crust that way.

Fry for about 4 to 5 minutes. Fry gently — you want a steady sizzle, but nothing raging, and you definitely don't want the quail to just sit in oil. You might need to adjust the heat a bit. Turn the quail over and fry for another 3 to 4 minutes. You will probably need to fry in batches, so just leave the unfried quail in the colander until you are ready to flour them up and fry them. Don't let the floured pieces sit.

When the quail are good and fried, let them rest on a rack set over a paper towel to drain away any excess oil. Serve hot or at room temperature.
Nutrition
Calories:
738
kcal
|
Carbohydrates:
58
g
|
Protein:
54
g
|
Fat:
31
g
|
Saturated Fat:
10
g
|
Cholesterol:
179
mg
|
Sodium:
1990
mg
|
Potassium:
788
mg
|
Fiber:
3
g
|
Sugar:
6
g
|
Vitamin A:
1471
IU
|
Vitamin C:
14
mg
|
Calcium:
216
mg
|
Iron:
13
mg
Nutrition information is automatically calculated, so should only be used as an approximation.