Pheasant Stock
November 29, 2018 | Updated October 29, 2020
As an Amazon Associate I earn from qualifying purchases.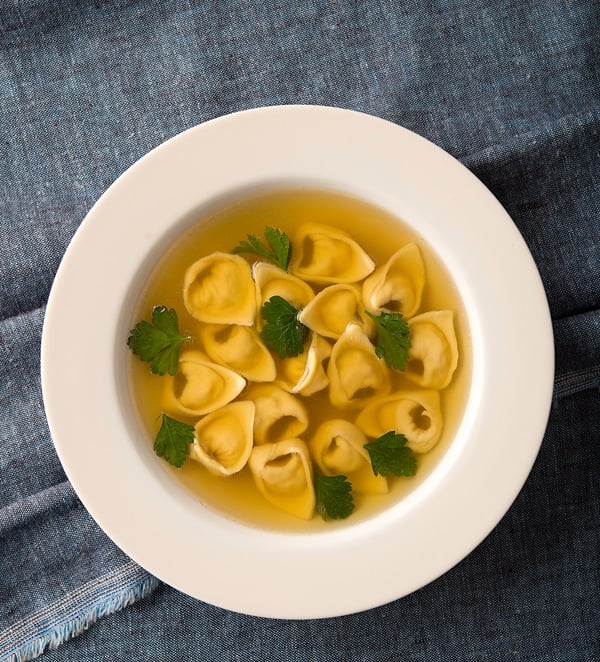 Pheasant stock is a foundational ingredient in any bird hunter's kitchen. If you shoot pheasants, or really any animal, you ought to be making stock from its bones and spare bits.
This recipe for pheasant stock applies for all light-meat animals, and I will use it for wild turkey, quail, partridges, rabbits, squirrels and grouse. And of course you can use chicken.
Whether you've skinned or plucked your birds, roasted them whole or cut them into serving pieces, you will want to save the carcasses for making broth or stock. Why do this? Put simply, it will be the best "chicken broth" you've ever eaten. Everyone has a favorite way to make stock, but here are a few tips:
Roast the carcasses at 400°F until they are a deep brown, at least 1 hour. Or, to make a light stock, simmer the carcasses and skim any froth that forms at the top of the water.
Use more meat and carcasses than you might think; it makes the stock taste better. Only cover them by 1 or 2 inches of water.
Never boil a stock. It should barely even simmer. I cook my stocks at around 170°F – the surface barely bubbles.
Consider adding a pig's foot, which you can buy at Asian or Latin markets. It adds a lot of collagen to the stock, which gives it body and heft.
Cook the meat and bones until they fall apart, which takes several hours or even overnight. Only then do you add vegetables, herbs and spices. Cook vegetables for only 90 minutes to 2 hours.
Strain your stock like this: Set a plain paper towel or cheesecloth in a fine-mesh strainer. Set the strainer over a large pot or bowl. Ladle the broth from the stockpot through this set-up into the bowl. This strains out debris and keeps the stock clear.
Use your stock within a week or freeze it for up to a year. You can also pressure-can stock. Follow your canner's directions for doing so, but the normal procedure is to pressure can for 25 minutes at 10 PSI.
Some other thoughts on adding this or that.
Always mirepoix, which consists of onions, celery and carrots. Chop them roughly.
I like a golden stock, so I don't add tomato products. Adding some will turn the stock amber, which is nice, but in my world, where there's always a lot of duck, goose or venison stock around, I find myself needing lighter stocks when I can get them.
Parsnips are added a lot, but can add quite a lot of sweetness. If you like that, add a few. Fennel bulbs will do something similar. As do carrots, which I always add.
Spices and herbs. I have a set I typically like, which includes lots of bay leaves, thyme, cracked peppercorns, juniper berries when I have them, smashed garlic cloves, and maybe some lovage, if I happen to be growing it that year. Always the leaves from the celery, too.
If you want to go Asian, add a little soy sauce or miso, some sliced fresh ginger and a couple bunches of green onions.
One more thing: Want to be thrifty?
Do a second stock, called remouillage in French cooking. Simply ladle off all your normal stock, leaving, as I'd mentioned, maybe an inch's worth of liquid at the bottom of the pot, then refill the pot with more cold water. Don't go more than 1 inch above the level of the now heavily-cooked stuff in the pot, and let this simmer gently for another 4 to 8 hours.
Voila! Several more quarts of a nice base stock for cooking rice, beans, or as a soup base.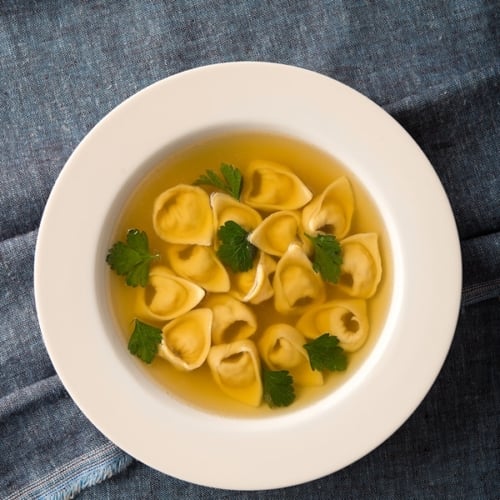 Pheasant Stock
This is a baseline recipe for pheasant stock, or really stock from any light-meat animal. Turkey, quail, partridge, grouse, rabbit, etc. all work.
Ingredients
6

pheasant carcasses, with hearts, gizzards, and drumsticks

3

tablespoons

sunflower or other vegetable oil

Salt

1

pig's foot

(optional)

1

large white or yellow onion, chopped

3

carrots, chopped

4

celery stalks, chopped

4

smashed garlic cloves

Stalks from 1 bunch parsley, chopped

4

bay leaves

2

teaspoons

dried thyme

1

tablespoon

cracked peppercorns

1

tablespoon

crushed juniper berries

(optional)

1

tablespoon

lovage leaves

(optional)

1

handful

dried mushrooms, any kind

(optional)
Instructions
Set all the pheasant bits in a large roasting pan and turn the oven to 400F. Coat the pheasant bits in the oil and salt well. Roast in the oven for 1 hour, or until deeply browned.

Get a large stockpot and add the pig's foot, if using. Fill it two-thirds of the way full with cold water. When the pheasant bits are browned, crush them up a bit and add to the stockpot. Pour some water into the roasting pan. Set the stockpot over medium heat.

After a few minutes, the water in the roasting pan will loosen all the brown bits stuck to it. Use a wooden spoon to scrape everything up and pour all this into the stockpot. Bring the stock to a bare simmer -- you want it to barely shimmy, not bubble strongly -- halfway cover it and let this steep for as long as you can take it. I often will go 12 hours. You need to go at least 4 hours.

When you are ready, stir in all the remaining ingredients and continue cooking gently for 90 minutes to 2 hours.

To strain, set a paper towel in a strainer. Set the strainer over a large bowl or other container. Turn the heat off the stock and ladle it through the strainer. Leave the last inch or so of stock at the bottom, as it will be full of sediment. If your birds were fatty, you might need to change the paper towel once or twice.

Taste the finished stock for salt and add it to taste. If you decide to reduce the stock further -- you can do so another few hours and it will set up like jello when cold -- do not add salt until you've taken the stock as far as you want it.

Use within a week in the fridge, a year in the freezer, or 2 years when pressure canned.
Nutrition
Serving:
1
cup
|
Calories:
36
kcal
|
Carbohydrates:
7
g
|
Protein:
1
g
|
Fat:
1
g
|
Saturated Fat:
1
g
|
Sodium:
44
mg
|
Potassium:
202
mg
|
Fiber:
2
g
|
Sugar:
3
g
|
Vitamin A:
5228
IU
|
Vitamin C:
5
mg
|
Calcium:
35
mg
|
Iron:
1
mg
Nutrition information is automatically calculated, so should only be used as an approximation.