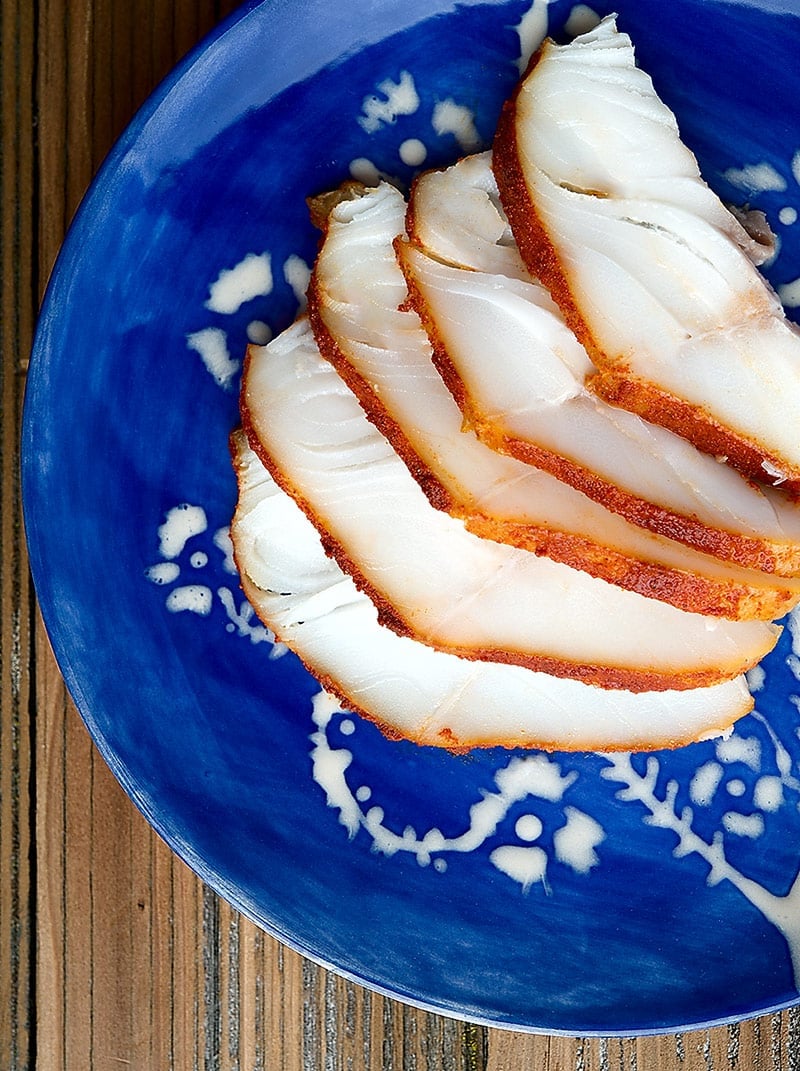 Smoked sablefish, a stalwart of the smoked fish case in Jewish delis all over New York City. It usually sits next to the smoked sturgeon and in front of the smoked whitefish.  For decades I had no idea what sablefish was. None. I thought it was a market name for something European. All I knew is that there sure weren't any sablefish around where I lived.
I was right. Anoplopoma fimbria, the sablefish, a/k/a black cod (they're not related to cod, though) or butterfish (nothing like the butterfish we ate back in New York), only lives in the the North Pacific, and for that matter pretty much only on our side of the ocean, too.
So all the sablefish you will ever eat comes from the depths of the Bering Sea, British Columbia, the Pacific Northwest, and from California. And when I say depths I mean it. They're rarely found shallower than 650 feet.
My friend Paul, who lives in Portland, will sometimes catch them while fishing for halibut in 900 feet of water, and I've heard of a few other guys catching sable when they've got gear down that far. But for the most part, black cod is a commercial fishery only. (It's certified as sustainable by various watchdog groups, in case this matters to you.)
That's why, when I was up in Alaska last year as a guest of Alaska Seafood, my ears pricked up when the guys started talking about setting a long line for sable. Apparently only Alaska residents are allowed to set the lines, so I had to be a spectator only. Bummer.
Keegan McCarthy, captain of the M/V Sikumi (the boat we were traveling on) and my friend Tyson Fick are Alaskans, however, so they said they'd set a recreational (technically "subsistence") long line to show us how it's done.
If you've ever seen The Perfect Storm, you've seen a long line. It's basically a main line that's anchored to the bottom, with lots of little leaders with baited hooks clipped onto it. Commercial long lines can be longer than a mile. Ours was a couple hundred yards.
Remember that part about sablefish only living in deep water? Well, one of the freaky things about Alaska is that in some places, you can swim several hundred yards offshore and be in 1000 feet of water. Crazy, eh?
So within yards of a heavily forest shoreline, Keegan and Tyson set their line from the back of the Sikumi. It's no picnic. You have an anchor hurtling down to the bottom of the sea, the main line screaming out of its barrel. Keegan clipped bait hooks on it as fast as he could, while Tyson held onto the main line for dear life.
It became clear why they didn't want newbies doing this. I've had hooks embed themselves in me before, but an accident here would be catastrophic: In an instant you'd get thrown overboard and be heading 1000 feet down. No bueno.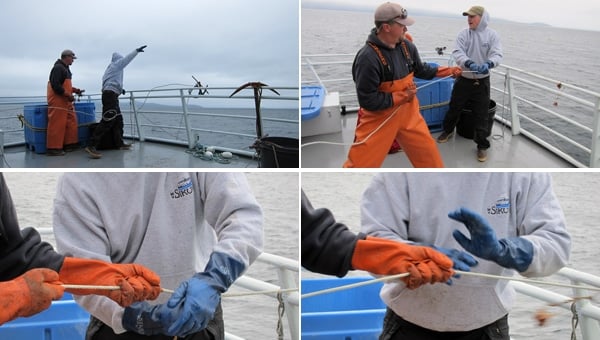 By the time they'd set their line, Tyson's gloves were shredded.
Now we waited. Unlike commercial fishermen, we sat around and told fishing stories while we let the gear soak.
Sablefish, if you've never eaten it, is incredibly rich. It's as fatty as good salmon but with a more neutral, white fish flavor. It has a very fine flake, edible skin and pin bones that are brutal to remove when the fish is uncooked.
My favorite way to cook it is with the skin on, seared heavily on that skin side and just basted with butter on the meat side — you need the skin on or the flakes will separate. Sable is that delicate.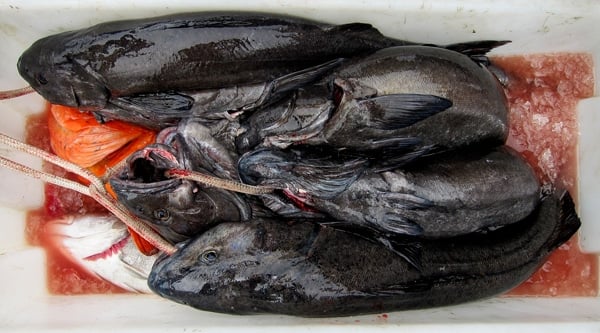 Smoked sablefish is like eating silk. It makes you feel wealthy, like you're eating something only royalty has the right to consume. Fortunately it's not that spendy — way cheaper than good wild Pacific salmon, and arguably better. I suppose you could eat smoked sable with something fancy, but I like it on crackers while watching TV.
Finally it came time to haul the line. We all gathered at the rail to watch as Tyson and Keegan got into the skiff and got the winch ready.
You have no soul if you don't get excited watching the pots come up when you watch Deadliest Catch. It's the same when you haul any gear. Will it be full? A bonanza? Disaster? The winch began to whine. Up came a hook. Empty. Another. Empty. Our hearts sank. No sable for us.
Then we saw a coal-black fish come over the rail. A sable! Woo hoo! We all cheered. Then another came up. And another. All told we had seven nice sized black cod. Tyson and Keegan sent us home with one each. They kept the rest; they're no dummies.