As an Amazon Associate I earn from qualifying purchases.
Salpicón de venado, a shredded venison salad with lots of fresh vegetables, is a specialty of the Mexican state of Tamaulipas. It's easy to make, cooling and perfect for hot weather.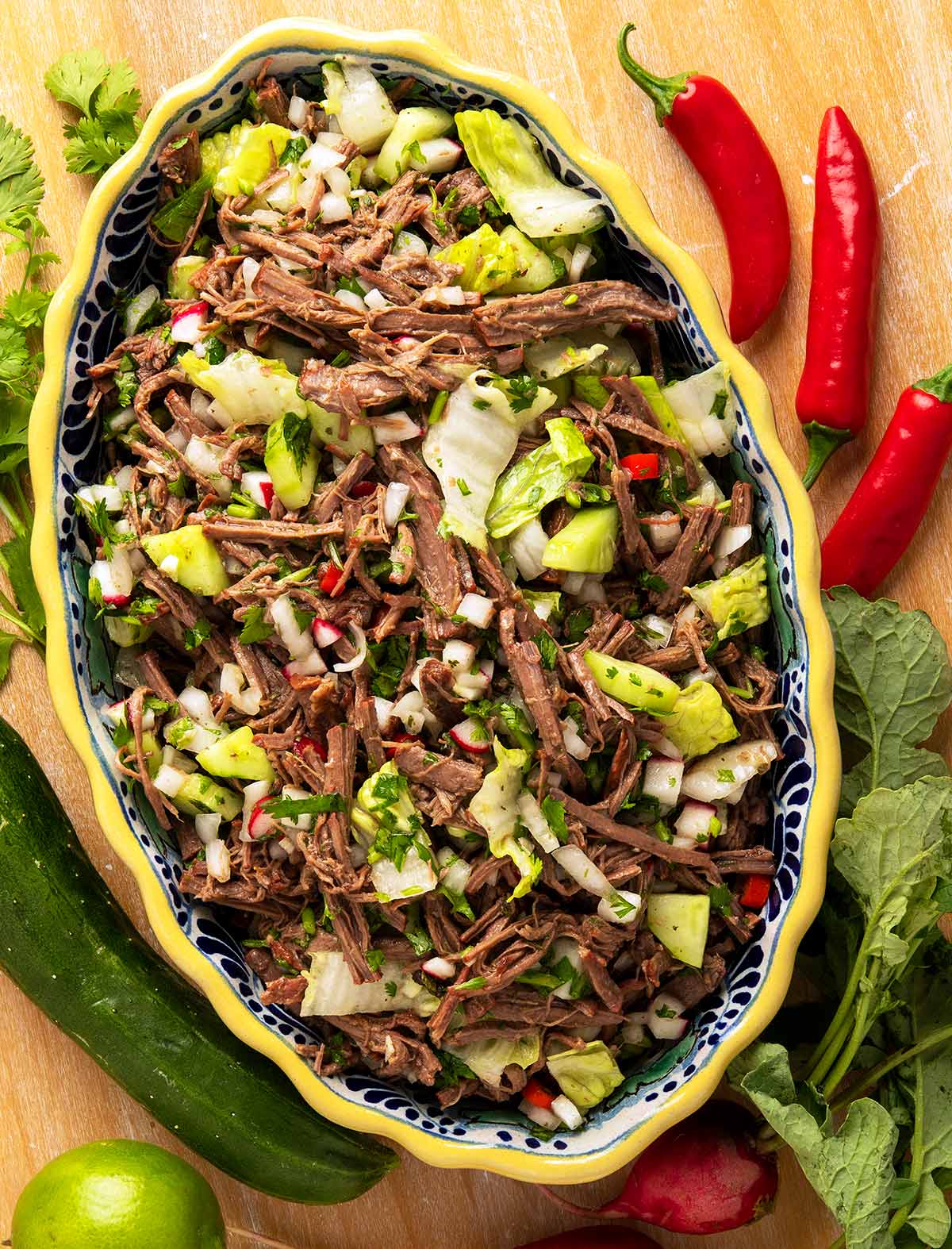 Pronounced something like "sahl-pee-CONE," salpicón basically means "hodgepodge" or a random mix of things. There are a number of dishes called salpicón in Latin America, including a salsa in Yucatan.
The most common version is salpicón de res, with beef, but you can see this done with shredded chicken as well as fish and seafood. The cool thing about salpicón de venado is that it's a real dish — I didn't just modify a beef recipe for venison.
Actually there are two versions of this venison salad. One is called dzik, and it's from the Yucatan. I have a dzik recipe here on Hunter Angler Gardener Cook. The other is this recipe, and it's from Tamaulipas, the state of Mexico that borders Brownsville, Texas.
This rendition of salpicón de venado is a little simpler than the Yucatecan version, and it's normally done with whitetail deer. I used nilgai, from a hunt I did in Brownsville just across the border. Beef or any other kind of venison will work fine.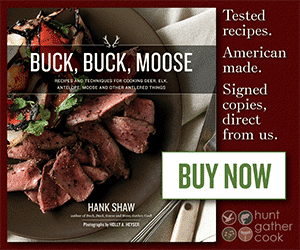 What Cuts are Best for Salpicón?
I used nilgai brisket because that cut has a very defined grain to it, and it's lean — unlike beef brisket. That said, if you get a beef brisket trimmed of most of the fat, you're good to go.
Other excellent cuts would be the eye of round from the hind leg, the skirt steak off a large animal like elk, moose, or beef of course. Flank steak works really well, too.
If you need to, chuck roast will also work for salpicón.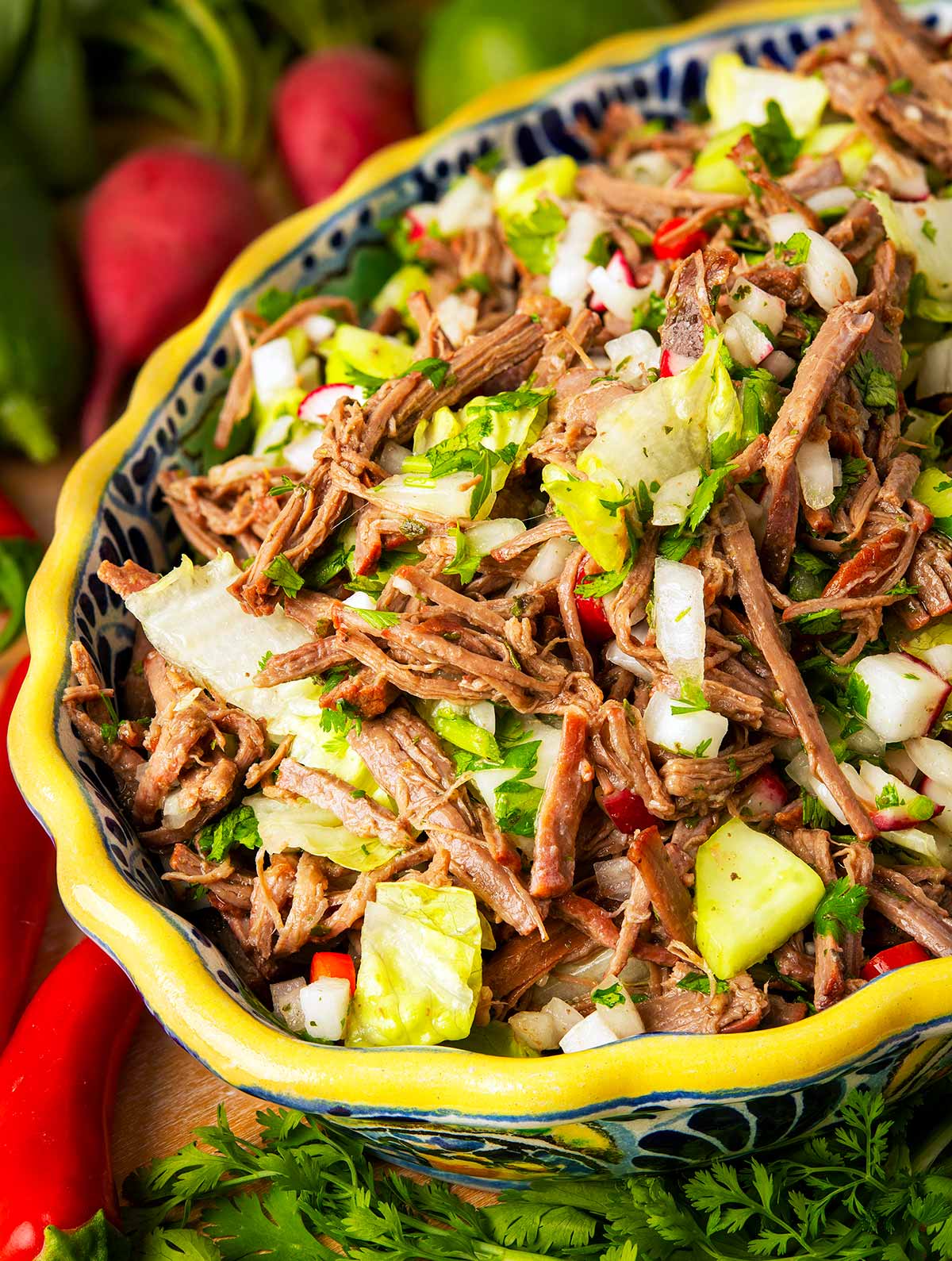 Cooking the Meat
This is super easy. You don't brown the venison or beef. It just goes into a pot with some aromatics — onion, garlic, bay leaves, etc. — and simmers until it wants to fall apart.
Or you can use an Instant Pot. Pressure cook on high for 25 minutes or so, then do the natural release of pressure for 15 minutes. If you have a slow cooker, set it on high and go to work because it'll take about six to eight hours.
Remove the meat from wherever it was cooked, let it cool a bit, then shred it finely. This can be done up to a day or two in advance.
Making the Salpicón
Once you have your shredded venison, beef, goat, bison, lamb, or whatever, making the salpicón is super easy: Chop vegetables, add lime juice and olive oil, and you're good to go.
What vegetables? In the traditional Tamaulipas salpicón de venado, it's romaine lettuce, serrano chiles, minced white onions, cilantro and diced radishes. Always lime juice and sometimes olive oil.
My rendition of this venison salad hews pretty close to the traditional, only I added some cucumbers from the garden and some random hot peppers because I didn't have serranos.
All this said, you do you with your salpicón. Avocado is a good addition, as are ripe tomatoes. I like to add a hit of Mexican oregano, too.
I've seen mint instead of cilantro, habaneros instead of serranos and cabbage instead of romaine lettuce.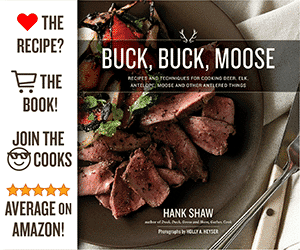 Storing the Venison Salad
Fair warning: Salpicón doesn't age well, so I like to shred tons of meat beforehand, then make batches of salad as I go. The meat will keep a week.
If you liked this recipe, please leave a ⭐️⭐️⭐️⭐️⭐️ rating and a comment below; I'd love to hear how everything went. If you're on Instagram, share a picture and tag me at huntgathercook.
Venison Salad, Salpicón de Venado
Use brisket, chuck, flank, skirt or eye of round for this, from really any red meat animal, from beef and bison to deer, elk, pronghorn or moose.
Ingredients
VENISON
2

pounds

venison

(see headnotes)

Salt

4

bay leaves

2

cloves

garlic,

smashed

1

tablespoon

allspice berries,

cracked

1/2

onion,

sliced
SALAD
6

ribs

romaine lettuce,

chopped

3

radishes,

diced

1 to 4

serrano chiles,

diced

1/2

cup

chopped cilantro

1

teaspoon

Mexican oregano

(optional)

1

cucumber,

peeled and diced

4

limes,

juiced

1/4

cup

olive oil
Instructions
Put all the venison ingredients in a large pot and cover with water by about 2 inches. Bring to a simmer. Taste the water, and add more salt if needed. Simmer, covered, until the meat can be easily shredded, about 2 to 4 hours.

Fish the meat out of the pot and let it cool a bit. Shred finely with two forks or your fingers. This can be done up to 3 days before you make the salad.

To make the salad, chop all the vegetables, toss with the shredded meat, and then dress with salt, olive oil and the lime juice. Serve cool.
Notes
Once shredded, the meat will keep in the fridge a week. Once the salad is made, however, it needs to be eaten that day. It will wilt overnight. 
Nutrition
Calories:
291
kcal
|
Carbohydrates:
8
g
|
Protein:
36
g
|
Fat:
13
g
|
Saturated Fat:
3
g
|
Polyunsaturated Fat:
2
g
|
Monounsaturated Fat:
8
g
|
Cholesterol:
129
mg
|
Sodium:
82
mg
|
Potassium:
646
mg
|
Fiber:
2
g
|
Sugar:
2
g
|
Vitamin A:
261
IU
|
Vitamin C:
17
mg
|
Calcium:
49
mg
|
Iron:
6
mg
Nutrition information is automatically calculated, so should only be used as an approximation.