Duck Stock
January 15, 2022 | Updated May 26, 2022
As an Amazon Associate I earn from qualifying purchases.
Duck stock is a foundational ingredient in my kitchen. It stands in for beef stock around these parts.
And even if you only find yourself with a duck or goose carcass once in a while, you'll want to know how to make this, so you can get more out of your purchase.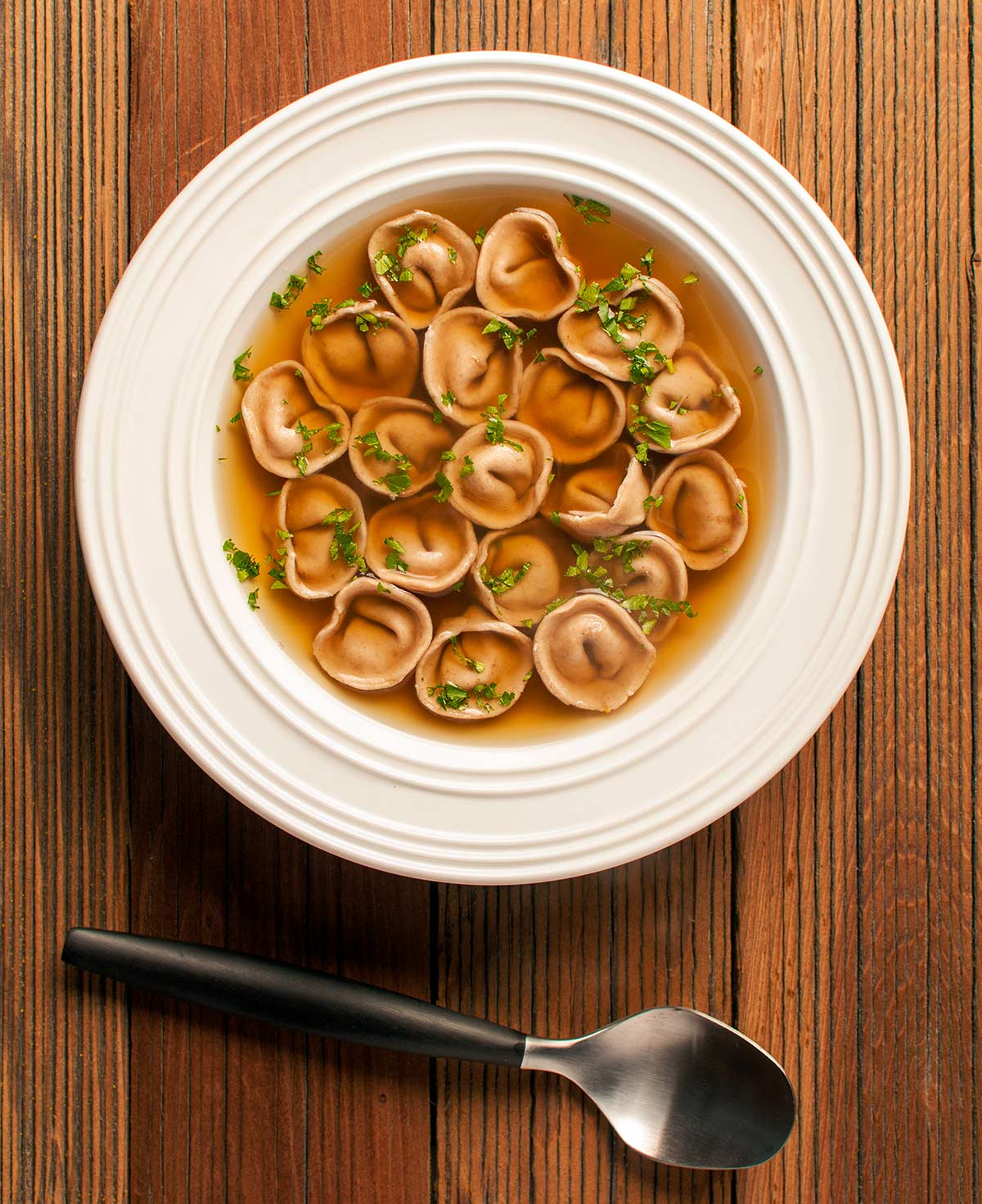 Duck stock plays such an important role for me because I am a duck hunter. I want to use as much of every animal I bring home as I can, from beak to feet. That means I roast a lot of duck carcasses for stocks.
The process is easy: Roast your carcasses, ideally with a little meat on them, until well browned — about 1 hour at 400°F. I like to use the flats (the second digit in the wing), the necks, and any parts that are a little shot up for duck broth.
Once they are roasted, put the bones in a stockpot, cover with water and simmer very gently for as long as you can stand it, up to overnight.
Pro tip: Wet down your roasting pan with water, scrape all the browned bits off it with a wooden spoon, then add it to the stockpot for added flavor.
I generally only add vegetables late in the game, usually the last 2 hours or thereabouts. This keeps their flavors brighter and more distinct. If you put everything in at once, it'll be fine, but a bit muddied in flavor.
When you strain your stock, I set a strainer over a big bowl, then set a paper towel in the strainer. I then ladle the stock through this, which keeps it very clear.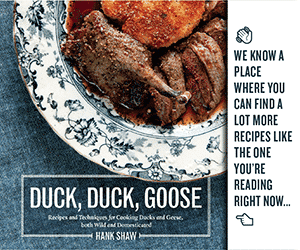 How do you use duck broth? Typically as a base for soups and stews and sauces. Here are some recipes on Hunter Angler Gardener Cook that use duck stock:
Duck stock is great to cook rice in, as a base for ramen noodles, you can use it to make polenta, braise meats in, you know, like more duck, and if you up the gelatin content with a pig's foot or some chicken feet (or duck feet), you can cook it down into a nice glace de viande.
It's the co-star in a beautiful bowl of duck cappelletti in the picture above. It's definitely good enough to be drunk as a clear soup, too.
You can keep your duck stock in the fridge for a week or so, or you can freeze it for a year. I often pressure can my stock, too. I can it for 20 minutes at 10 PSI, but follow your pressure canner's directions.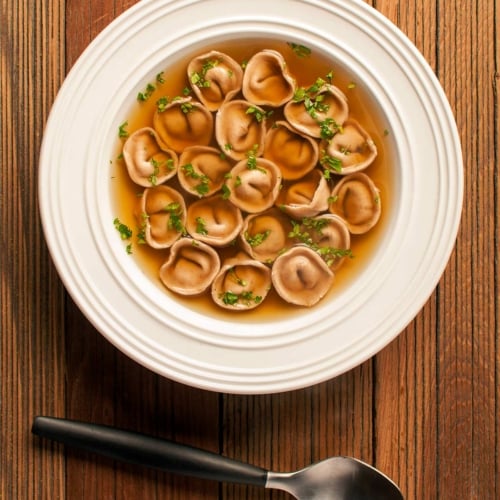 Duck Stock
I make a variety of duck stocks, broths and consommes, and this is the one I make the most. You roast the duck or goose bones, and roast the veggies, too. Make this broth when you have a day off, as it takes all day. The good news is you will be rewarded with a gallon or more of rich stock that is a perfect base for stews, soups or wintertime risottos or polenta.
Ingredients
3 to 5

pounds

duck or goose carcasses,

include wingtips, neck, and hearts if possible

Salt

1

onion,

chopped

2

celery stalks,

chopped

2

carrots,

chopped

1

fennel bulb, chopped

(optional)

20

to 30 duck or goose feet or 1 pig's foot

(optional)

1

large sprig rosemary

2

teaspoons

dried thyme

3

bay leaves

1

tablespoon

black peppercorns,

cracked

1

tablespoon

juniper berries, crushed

(optional)
Instructions
Chop the carcasses and various duck bits — except for the feet, if using and salt them well. Arrange in a large roasting pan in one layer if possible; leave out the feet. Roast in a 400°F oven until well browned.

If you have duck feet, chop them with a cleaver or heavy knife to break the skin and expose the joints and bones. There is collagen in the feet that will seep into the water and give the finished broth more body. Put the duck feet into the pot you are making the stock in. If you're using a pig's foot, just put it into the pot.

When the duck bits are browned, put into the large stockpot and cover with cold water leaving about 2 to 3 inches of room at the top of the pot. If the roasting pan has a lot of fat in it, drain it off. Add some more water to the roasting pan and scrape up any browned bits with a wooden spoon. Add this to the stockpot.

Cover the pot and bring it to a boil, but as soon as it hits a boil, drop the heat to a bare simmer and move the pot lid slightly ajar. Let this cook very, very gently — more steaming than simmering — for as long as you can handle. I let it go overnight.

When you are ready to add the vegetables, toss them all in and stir to combine. Note that this is the only time you stir this stock. Let them simmer gently for 2 hours.

Turn off the heat and strain the stock. I do it this way: I set up a big container for the strained stock, like a big Tupperware tub. Over this I set a strainer, and in the strainer I lay a piece of regular paper towel. Now, using a ladle, ladle out your stock so it strains through the paper towel. Doing it this way keeps the stock clear.

Your broth is ready now. Salt it to taste, adding a little at a time. You can further concentrate flavors by simmering the strained stock for as long as you'd like. Check every 15 minutes or so.

Pour into Mason jars and refrigerate for up to 2 weeks, or freeze for up to 9 months. If you freeze, leave at least 1 1/2 inches of headspace in the jars or they will crack. You can also pressure can your stock at 10 psi for 25 minutes (follow your canner's directions for this).
Notes
You can of course use this recipe for any goose. This recipe makes about 5 quarts.  If you are working with smelly ducks, like sea ducks, spoonies or many divers, you will want to remove as much fat as you can and all the skin. That is the source of off flavors. 
Nutrition
Calories:
13
kcal
|
Carbohydrates:
3
g
|
Protein:
1
g
|
Fat:
1
g
|
Saturated Fat:
1
g
|
Sodium:
14
mg
|
Potassium:
93
mg
|
Fiber:
1
g
|
Sugar:
1
g
|
Vitamin A:
1059
IU
|
Vitamin C:
2
mg
|
Calcium:
15
mg
|
Iron:
1
mg
Nutrition information is automatically calculated, so should only be used as an approximation.