Cappelletti Pasta in Broth
February 07, 2013 | Updated March 25, 2021
As an Amazon Associate I earn from qualifying purchases.
Cappelletti pasta is a variant of the better-known tortellini, only for whatever reason they are almost always served in broth, or en brodo, as the Italians say. A particularly luxurious version, where the pasta is stuffed with chicken and cheese and served in a rich capon broth, is a Christmas Eve classic in Northern Italy.
Filled pasta in a clear broth is a masterpiece of subtlety. To look at it, the dish could not be simpler: Broth, pasta, possibly a finely chopped green thing floating around. Therein lies its genius. With so few singers on stage, each one must have perfect pitch or the whole ensemble fails. This is a hallmark of Italian cuisine.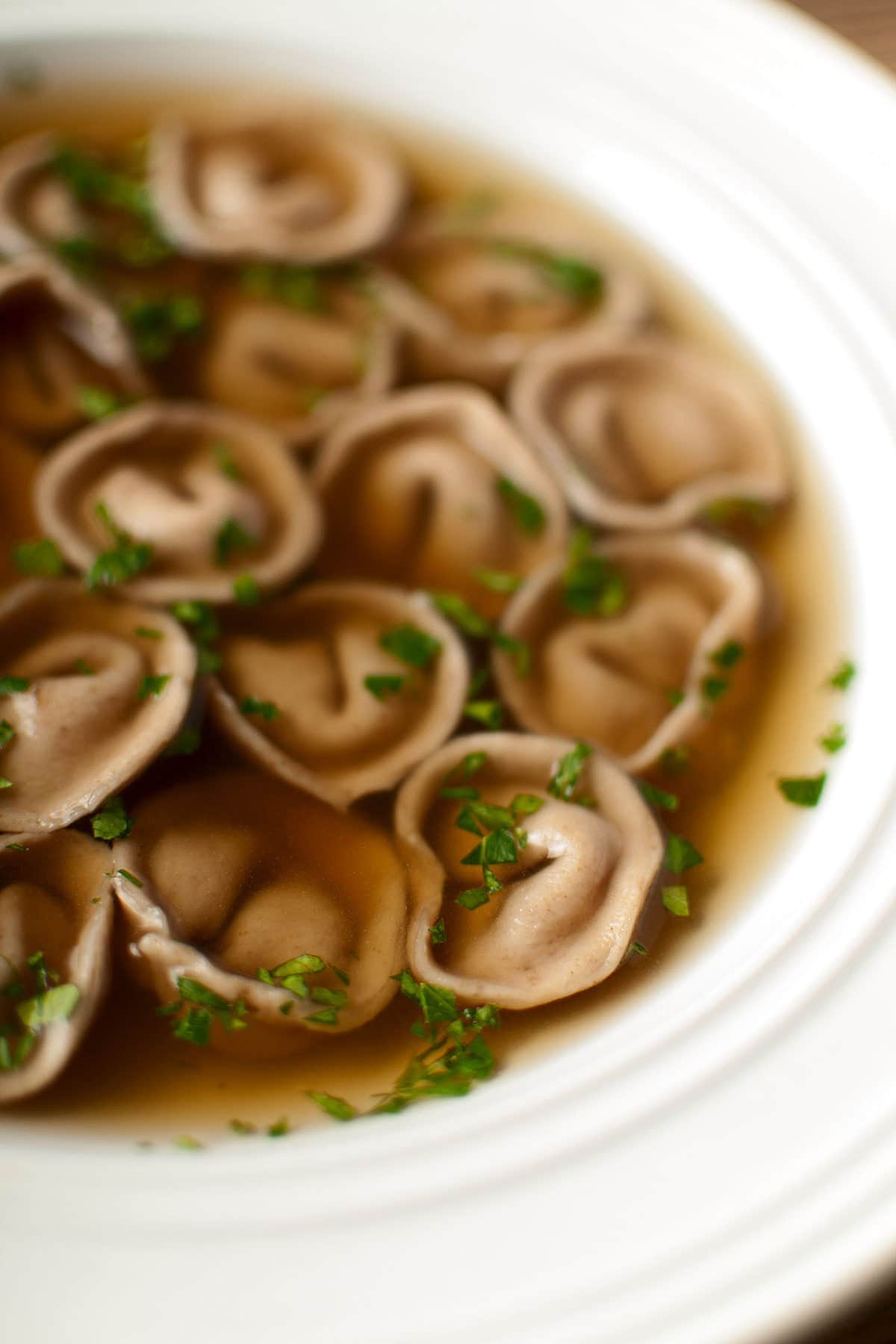 The broth must be immaculately clear, with flavor as deep as the sea. To achieve this, you need to know how to make a perfect meat broth. Mine may or may not be perfect — that is for others to decide — but I have made more than my share of broths and am pretty proud of this one.
As for the pasta, I need to make it more often. I've been making pasta for two decades, but sometimes I go long periods without reaching for the rolling pin. Yet each time I come back to it, I fall into the same, Zen-like state: Roll, shape, fill, seal. Repeat. Making pasta calms my worried mind in a way that nothing else ever does. Consider it culinary yoga.
Tortellini or cappelletti pasta — there is no structural difference — are especially absorbing. It's their complexity. Once you make a few hundred or so, you can do them without conscious thought, all the while focusing on the task at hand. Roll, shape, fill, seal. Repeat. Time falls away.
Typically cappelletti pasta is made with plain flour, but I always match my flours to the rest of the dish. When I work with duck, goose, venison or any other dark game meat, I like to add dark, rustic flour to the mix. In this case, spelt and acorn flour. Yes, I happen to have acorn flour kicking around. Chestnut flour is a nice substitute, if you can find it, but simple whole wheat will do. The earthier flavor bridges the gap between the broth and the pasta.
As for a filling, I thought about using duck meat, but I wanted something lighter, so I decided to make a very traditional lemon-ricotta-nutmeg filling. Nutmeg carries through the warmth of the rest of the dish, and the lemon zest adds a zephyr of brightness, like a raised eyebrow in a grin.
Making this dish forces you to slow down, to savor the smell of roasting bones. To smile at the soothing sound of stock burbling gently, to stop and linger at the touch of freshly kneaded pasta, which feels like the inside of a woman's arm. To admire your handiwork when you've finished a tray teeming with little cappelletti, waiting to bathe in boiling water.
And as the sun slips down and evening comes, it all comes ready. The broth reminds you of the season just passed, shots missed and shots made. The pasta, soft and rich, comforts you in that mystical way all dumplings do: Eating them feels like a mother's hug, or a father's approval. You eat silently, remembering this moment. And then you're down to your last little dumpling.
One more bite, and it's gone. A memory of a day well spent.
For a similarly zen experience, try making my mushroom tortellini, or meat-filled agnolotti, or pigeon tortellini.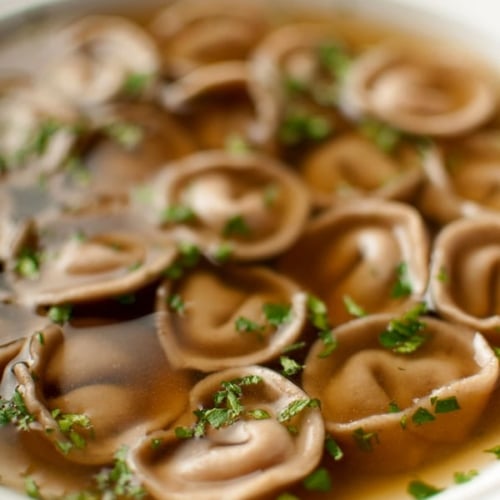 Cappelletti Pasta in Broth
Both the pasta and the broth take some time to make, but each can be made separately, stored and brought together when needed. If you plan on making this all in one day, do it on a weekend. Serve this either as a light dinner or as an elegant combination of a soup and pasta course in a larger meal, ideally right before a main course or meat or fish. Vegetarians, you can make this recipe with a mushroom broth instead of a meat broth and it will be every bit as good.
Ingredients
BROTH
3-4

pounds

duck or goose carcasses

Vegetable oil

Salt

1-2

pounds

duck or chicken feet,

chopped roughly (optional)

1

large onion,

chopped

2

large carrots,

chopped

3

celery stalks,

chopped

1

ounce

dried mushrooms,

such as porcini or yellowfoot chanterelles

4

bay leaves

1

rosemary sprig

10

to 15 juniper berries,

crushed

1

tablespoon

black peppercorns,

cracked

1

tablespoon

dried thyme

Salt
PASTA
1 1/2

cups

all-purpose or Italian "oo" flour

1/2

cup

whole wheat,

spelt or farro flour

1/4

cup

acorn flour

(or more whole wheat flour)

Pinch of salt

3

eggs
FILLING
1

cup

whole milk ricotta

1/2

cup

grated pecorino or parmesan cheese

1/2

teaspoon

nutmeg

1/2

teaspoon

black pepper

Grated zest of a lemon

1

egg

Salt
Instructions
To Make the Broth:
Preheat the oven to 400°F. Put the duck bits in a large roasting pan and drizzle a little oil over them. Mix to coat, then salt well. Roast until nicely browned, about 45 minutes to an hour.

Move the roasted duck pieces to a large stockpot, add the roughly chopped chicken or duck feet and cover with cool water by 2 inches. The reason you use feet in this stock is for their collagen, which adds a tremendous amount of body to the broth. A pig's foot will do the same thing. Bring the stock to a gentle simmer and cook for at least 2 hours, and up to 8 hours if you'd like. Do not let it boil.

Add the vegetables, herbs and spices and simmer gently for another 90 minutes to 2 hours. Turn off the heat.

To strain your broth, set a strainer over a large container and put a paper towel or cheesecloth inside the strainer. Ladle the broth from the stockpot into the large container through the strainer. Keep doing this until you get to the bottom of the pot. Do not pour the pot into the container and do not try to get the last inch or so of broth from the pot -- if you do this, you will cloud your broth, and a clear broth is what we are looking for.

Chill the broth and set in the fridge. You can make the broth up to 5 days ahead of time before you need to freeze it.
To Make the Filling:
In a large bowl, mix together all the ingredients and add salt to taste. Keep chilled until ready to use. You can make this a hour or two in advance.
To Make the Pasta:
Get out a baking sheet and sprinkle semolina flour or cornmeal on it. This is for your completed cappelletti.

Whisk together all the flours with the salt. Make a well in the center and crack the eggs inside. Using a fork, beat the eggs and then incorporate the flour until you get a shaggy mass. Get all the flour off the fork and switch to your hands. Knead the dough for 4 to 6 minutes, then coat with a little oil. Wrap tightly in plastic wrap and let the dough rest for 1 to 2 hours on the counter.

Cut the dough into 4 equal pieces. Start with one and leave the others under the plastic wrap. Roll the dough out thin; on my Atlas machine I go to No. 7, where No. 9 is the thinnest.

Get a small bowl of cool water handy. Use a 3-inch circle mold, or a wineglass, to cut out circles of dough. Put about a teaspoon of filling in the center. Dip your finger into the water and moisten the top half of each circle. Fold the pasta into a half-moon and seal it.

To make a cappelletto, moisten one sealed end of the half-moon with a little water. Fold both ends back towards each other, letting the sealed part on the top of the "moon" fold upwards. Press the ends of the "moon" together with your fingers to seal. Repeat until you're done.
To Finish the Dish:
Bring to a simmer enough broth to feed everyone (the recipe makes more than a gallon, so you will have plenty). Drop the heat to its lowest setting to just keep the broth warm. Don't let it boil.

Fill your largest stockpot 3/4 full of water and bring it to a boil. Add a palm's worth of salt to the water; you need more salt than you might think to cook pasta. The water should taste like the sea.

Boil the cappelletti until they float, and then for 1 more minute. Arrange them in shallow bowls for everyone and ladle over the broth. Garnish with minced chives or parsley.
Notes
Note that cook time reflects making the broth.
Nutrition
Calories:
350
kcal
|
Carbohydrates:
46
g
|
Protein:
17
g
|
Fat:
11
g
|
Saturated Fat:
6
g
|
Cholesterol:
139
mg
|
Sodium:
209
mg
|
Potassium:
374
mg
|
Fiber:
5
g
|
Sugar:
3
g
|
Vitamin A:
3897
IU
|
Vitamin C:
4
mg
|
Calcium:
244
mg
|
Iron:
4
mg
Nutrition information is automatically calculated, so should only be used as an approximation.