As an Amazon Associate I earn from qualifying purchases.
Asado de puerco, or asado de boda, is a classic of Northern Mexico. Rich chiles that aren't too hot, lots of pork and some super cool spices make up this dish.
Asado de puerco exists all over the northern part of Mexico and has lots of interpretations, depending on where you are, and who's cooking it. The recipe is slightly different in Nuevo Leon from Sonora, and it changes in Durango and Chihuahua, too.
You'll also see the dish called asado de boda, because it's one of the traditional wedding dishes in that part of the country. And slide over to Sinaloa, and you'll see chilorio, which, while not the same dish, is similar. (Chilorio tends to be shredded.)
Head across the border to New Mexico, and you'll notice that asado de puerco bears a strong resemblance to chile colorado. I never make that particular dish with pork, but others do.
Cuts of Pork
I've seen asado de puerco made with all sorts of cuts of pork, from shoulder — the most common — to hams to even loin. For me, this dish should be all about the shoulder.
In the US, my favorite is to work with country ribs, which are perfect, but chunked-up shoulder is great, too.
Wild hog is a great choice here as well because asado de boda is a long-simmering dish, so tougher cuts work fine. Javelina is another option.
I imagine you could use a mix, too, like I do with my carnitas Michoacanas recipe. The mix of cuts, some tender, some tough, some fatty, some a little slippery, really adds to the allure.
Ingredients for Asado de Puerco
Depends on where you go, but they are usually a mix of ancho and guajillo chiles, sometimes with pasilla chiles tossed in. Those are common no matter where you go.
Two other flavors show up in asado de puerco that do vary from place to place: orange rind and avocado pit.
I can hear you: Who eats avocado pits?! It is a rare ingredient, one I rarely see in recipes anywhere in Mexico. But adding a little bit of the pit — less than 1/2 for sure, and really more like 1/4 of a pit — adds a singular flavor that sets those versions of asado de boda apart.
The flavor of an avocado pit is bitter, fatty and floral all at once. I've never tasted anything like it. Start by adding no more than 1/8 of a pit to see how you like it. Too much will ruin the dish.
Some recipes toss in another part of the avocado, too: the leaves. Mexican avocado leaves impart a subtle anise flavor to whatever they are in, and if you can find them, use them. But they must be Mexican, because the leaves from the sorts of avocados that live in the US are not edible.
Bay leaves are your obvious substitute.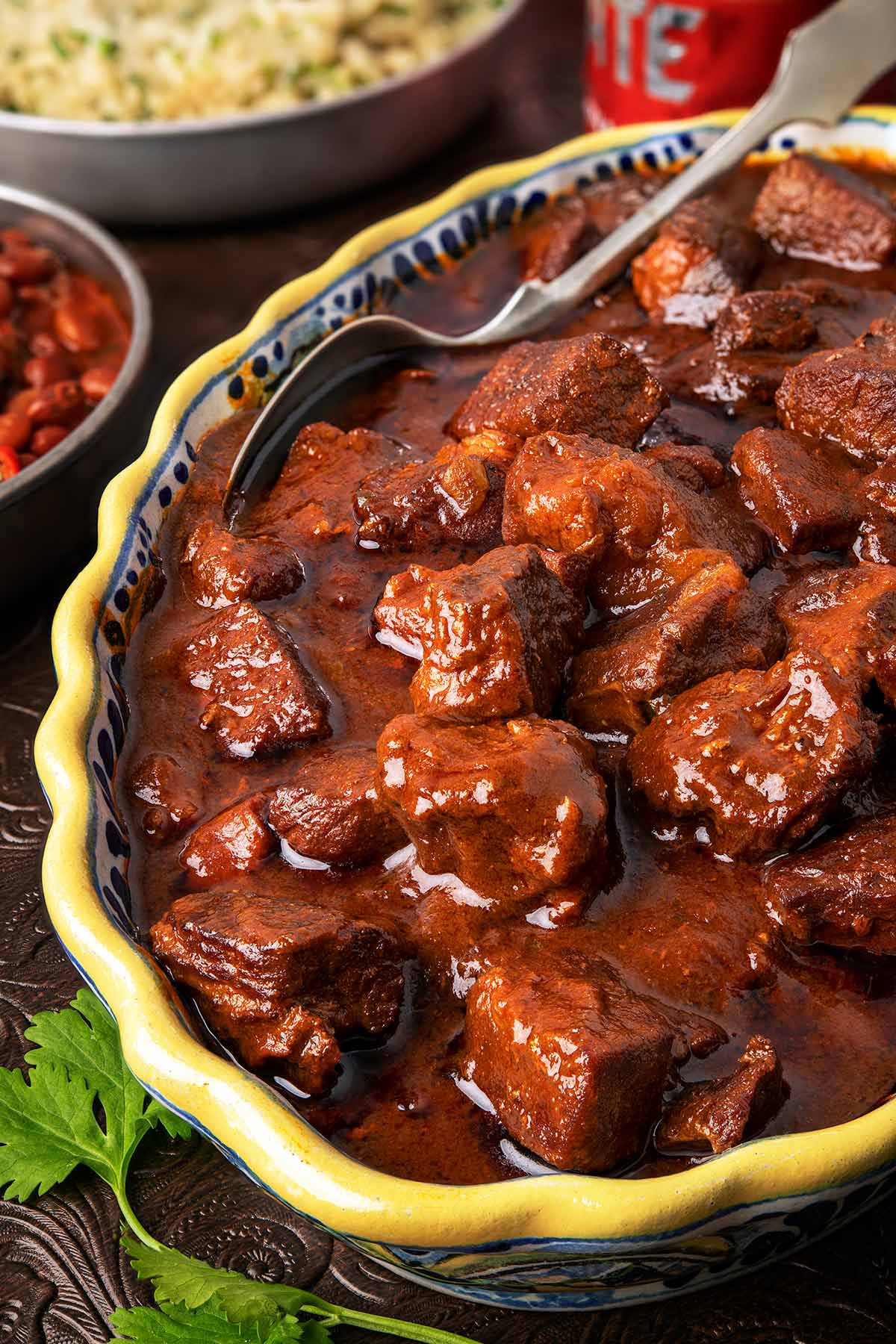 Cooking, Serving and Storing
You can either fry the pork in lard and add the sauce, then cook until tender, or braise the pork in some stock or water, let that simmer down, then fry it in the fat that renders; you'll need to add lard if you're using wild hogs or lean store-bought pork.
I prefer the latter method because the pork gets more tender and the sauce you make keeps its bright flavors. If you cook the sauce for hours, it's still good, but it becomes muted.
I have eaten asado de puerco on corn tortillas as tacos, but mostly I see it as part of the standard platter with rice and beans. A little cotija cheese crumbled on it is a nice touch. If you're wondering about the beans in the picture, those are my "border beans."
Leftovers will keep in the fridge for a week, and it freezes well.
If you liked this recipe, please leave a ⭐️⭐️⭐️⭐️⭐️ rating and a comment below; I'd love to hear how everything went. If you're on Instagram, share a picture and tag me at huntgathercook.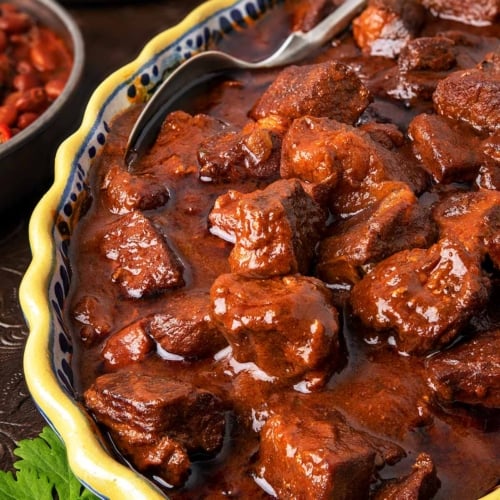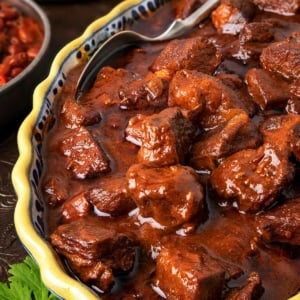 Asado de Puerco
There are two unusual avocado ingredients in this recipe, leaves and a bit of the pit: You can skip both or just one, if you want, but they add flavor.
Ingredients
3

pounds

pork shoulder

(see above for alternatives)

Salt

3

avocado leaves,

or bay leaves

1/4

cup

lard, bacon fat or oil

100

grams

dried guajillo chiles,

3.5 ounces

100

grams

dried pasilla or ancho chiles,

3.5 ounces

10

grams

arbol or cascabel chiles,

about 5 to 7

4

cloves

garlic,

minced

1

teaspoon

ground cumin

1

teaspoon

dried thyme

5

crushed cloves,

or 1/4 teaspoon ground

1/8 to 1/4

avocado pit

(optional)

Zest of an orange

Juice of an orange
Instructions
Cut the pork into chunks between 1 and 2 inches across. Just barely cover with water and bring this to a simmer. Skim any froth. Add salt to taste and the avocado leaves and simmer uncovered until the water has almost cooked away.

Meanwhile, pour boiling water over the guajillo, ancho and arbol chiles and let them steep to rehydrate.

When they're soft, add the chiles, the garlic, cumin, thyme, cloves and avocado pit to a blender. Add some water or stock and puree. You want this to be about as thick as melted ice cream or housepaint.

When the water is almost all gone, remove the avocado leaves and add the lard. Turn the heat to medium-high and brown the pork, stirring often.

Once the pork has browned, pour in a little water or stock and use a wooden spoon to remove any browned bits off the bottom of the pot. Now pour in the contents of the blender and stir. Add a little water to the blender to get any good stuff out of it and add that to the pot, too. Return the avocado leaves to the pot, add the orange juice and zest and salt everything to taste. Let this simmer until the sauce thickens a bit, about 15 to 20 minutes.

Serve alongside rice and beans, or in a corn tortilla.
Notes
Variations
Some cooks add a bottle of Mexican coke to the mix; this is most common in Coahuila. 
You can skip the orange juice and use 1/4 cup of cider vinegar.
Sometimes you will see a little Mexican chocolate added. If you want to do this, grate 1/2 a Mexican chocolate tablet and add it to the blender. 
Nutrition
Calories:
309
kcal
|
Carbohydrates:
19
g
|
Protein:
23
g
|
Fat:
16
g
|
Saturated Fat:
6
g
|
Polyunsaturated Fat:
2
g
|
Monounsaturated Fat:
7
g
|
Cholesterol:
77
mg
|
Sodium:
115
mg
|
Potassium:
857
mg
|
Fiber:
8
g
|
Sugar:
11
g
|
Vitamin A:
6968
IU
|
Vitamin C:
10
mg
|
Calcium:
35
mg
|
Iron:
3
mg
Nutrition information is automatically calculated, so should only be used as an approximation.