As an Amazon Associate I earn from qualifying purchases.
If you've ever had the pumpkin bread at Starbucks, this butternut squash bread is very similar: tender, slightly sweet, moist and full of roasted squash seeds for a little crunch. It's easy to make and keeps for days.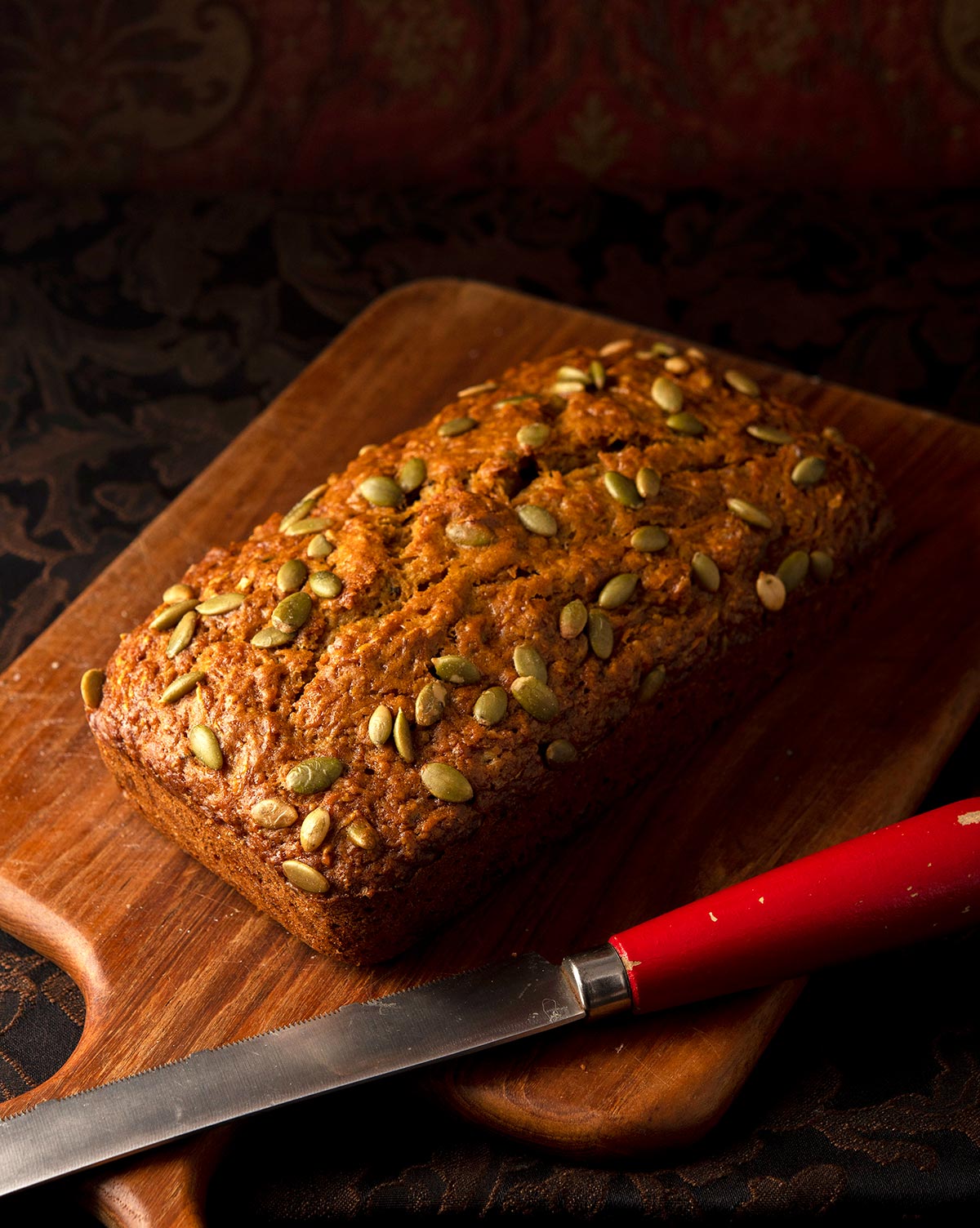 My rendition of butternut squash bread is a simple quick bread, so no yeast. It's a super easy, "dump and stir" bread you can make even while distracted, and since it has a fair amount of melted butter or oil in it, it will stay fresh for days.
I mostly eat this bread at breakfast with coffee, but it's a good road or trail snack, too. My recipes for fig bread and persimmon bread are very similar.
As you might expect with an autumn bread featuring winter squash, this has all the "pumpkin spice" flavors: clove, nutmeg, cinnamon, and even a little cardamom if you are so inclined.
It's reasonably sweet but not terribly so — the recipe I took my inspiration from, a pan de calabaza recipe in the book La Cocina Familiar en el Estado de Guanajuato, is much sweeter.
I also add a few touches, such as the pepitas (roasted, hulled pumpkin seeds) and a little of the dark squash seed oil from Austria I love so much. You can skip the oil, but you definitely want the pepitas, especially if you are trying to get close to the Starbucks pumpkin bread.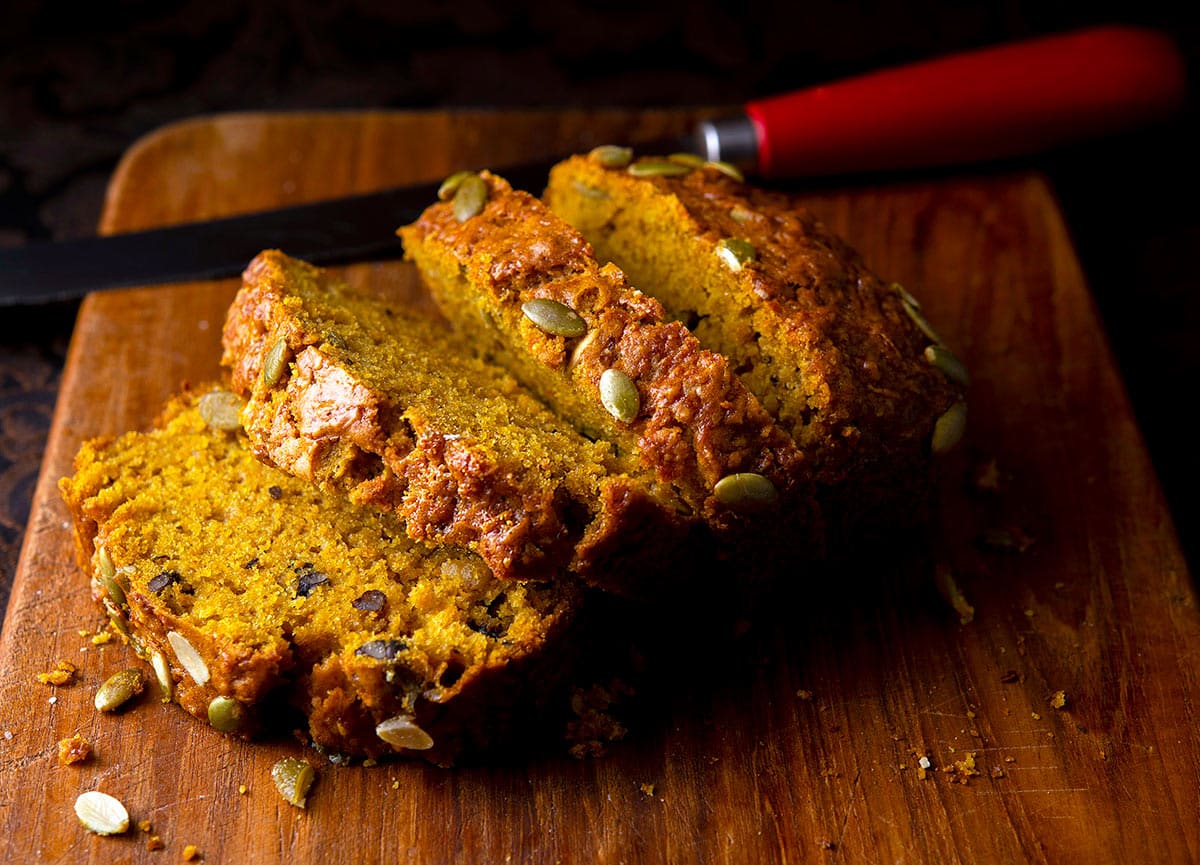 A word on the squash. I use butternut squash because I like growing them, and they are fairly dry for a winter squash. That lets me make a butternut bread with less flour than I would if I were to use actual pumpkins, which are much wetter.
Kabocha squash is an excellent alternative, but really any winter squash will do, except for spaghetti squash. The batter you make to make a butternut squash bread needs to be thick but pourable, so in some cases you will need to add as much as another half cup of flour for wet squashes.
Oh, and while technically you can use canned pumpkin, I don't like the stuff. My recipe also calls for grated squash, not puree, so you kinda do need a real butternut.
Additions for Butternut Squash Bread
So I use pepitas for my butternut squash bread, but most nuts would work just as well. Hickory nuts, butternuts — now there's a cool one, butternut butternut squash bread — black or regular walnuts, pecans, pine nuts, hazel nuts would all be nice. Hell, even peanuts would be pretty cool.
Some people like to add chocolate chips, and they'll work well here. Even white chocolate chips are good in this case, and I normally don't like them.
Berries or dried fruit is an option, too. Lingonberries or cranberries or red huckleberries would be my top choices, but blueberries or purple huckleberries are also nice, as are currants, small gooseberries, or saskatoons. Chopped dried apricots work, too.
Storing Butternut Bread
After it cools and I eat a piece or two, butternut squash bread keeps in a plastic produce bag on the kitchen table about five days or so. I don't refrigerate it, because while I like this bread at room temperature, I don't like it cold.
It is great toasted with butter, however.
You can freeze butternut squash bread — or any other quick bread — really well. Just let it cool completely over a few hours before you wrap it plastic wrap, then another layer of either foil or freezer paper. It will keep, frozen, about 6 months. After that the texture will get a little weird.
If you liked this recipe, please leave a ⭐️⭐️⭐️⭐️⭐️ rating and a comment below; I'd love to hear how everything went. If you're on Instagram, share a picture and tag me at huntgathercook.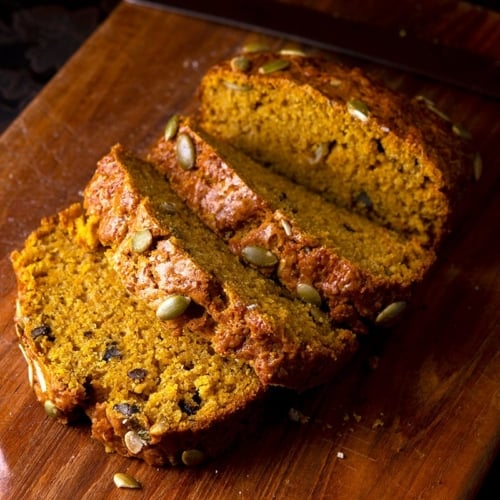 Butternut Squash Bread
Keep in mind this recipe works with most winter squash. Butternuts are drier, though, so if you use a pumpkin you might need some more flour.
Ingredients
3

cups

flour

1

teaspoon

baking soda

1/2

teaspoon

baking powder

1

teaspoon

salt

1

teaspoon

cinnamon

1/2

teaspoon

clove

1/2

teaspoon

nutmeg

1/4

teaspoon

cardamom

(optional)

1/2

cup

brown sugar

1/2

cup

sugar or honey

500

grams

finely grated squash

(17 1/2 ounces)

3

eggs,

beaten

2

tablespoons

squash seed oil

(optional)

1

cup

melted butter,

or vegetable oil

1/4

cup

milk

(skip if using pumpkin instead of squash)

3/4

cup

pepitas or nuts
Instructions
Preheat the oven to 350°F. Grease a loaf pan with butter.

In a large bowl, mix together the flour, baking soda and powder, salt, spices and sugar. In another bowl, mix together the eggs, milk, squash, melted butter, and the squash oil if using. Pour the wet into the dry and mix well. Fold in the pepitas.

The mixture should be a pourable but very thick batter. If it's too dry, add milk. Too wet, add flour. Pour this into a loaf pan, and sprinkle some more pepitas on top. Bake for 1 hour, or until a toothpick stuck into the center comes out clean.

Let the bread stand 10 minutes out of the oven once it's done, then turn it onto a cooling rack.
Notes
This recipe makes one loaf. 
Nutrition
Calories:
490
kcal
|
Carbohydrates:
61
g
|
Protein:
9
g
|
Fat:
25
g
|
Saturated Fat:
13
g
|
Polyunsaturated Fat:
3
g
|
Monounsaturated Fat:
7
g
|
Trans Fat:
1
g
|
Cholesterol:
99
mg
|
Sodium:
517
mg
|
Potassium:
365
mg
|
Fiber:
3
g
|
Sugar:
26
g
|
Vitamin A:
5965
IU
|
Vitamin C:
11
mg
|
Calcium:
76
mg
|
Iron:
3
mg
Nutrition information is automatically calculated, so should only be used as an approximation.