Persimmon Bread with Nuts and Fruit
December 26, 2016 | Updated April 06, 2021
As an Amazon Associate I earn from qualifying purchases.
I am not an expert baker. But you don't need to be to make this persimmon bread.
I love easy quick breads, breads where exactitude isn't needed, and where you can play a bit with ingredients. Baking can be, well, persnickety, and in general I am too loose a cook to do it well. Especially pastry. But this sweet bread is right up my alley.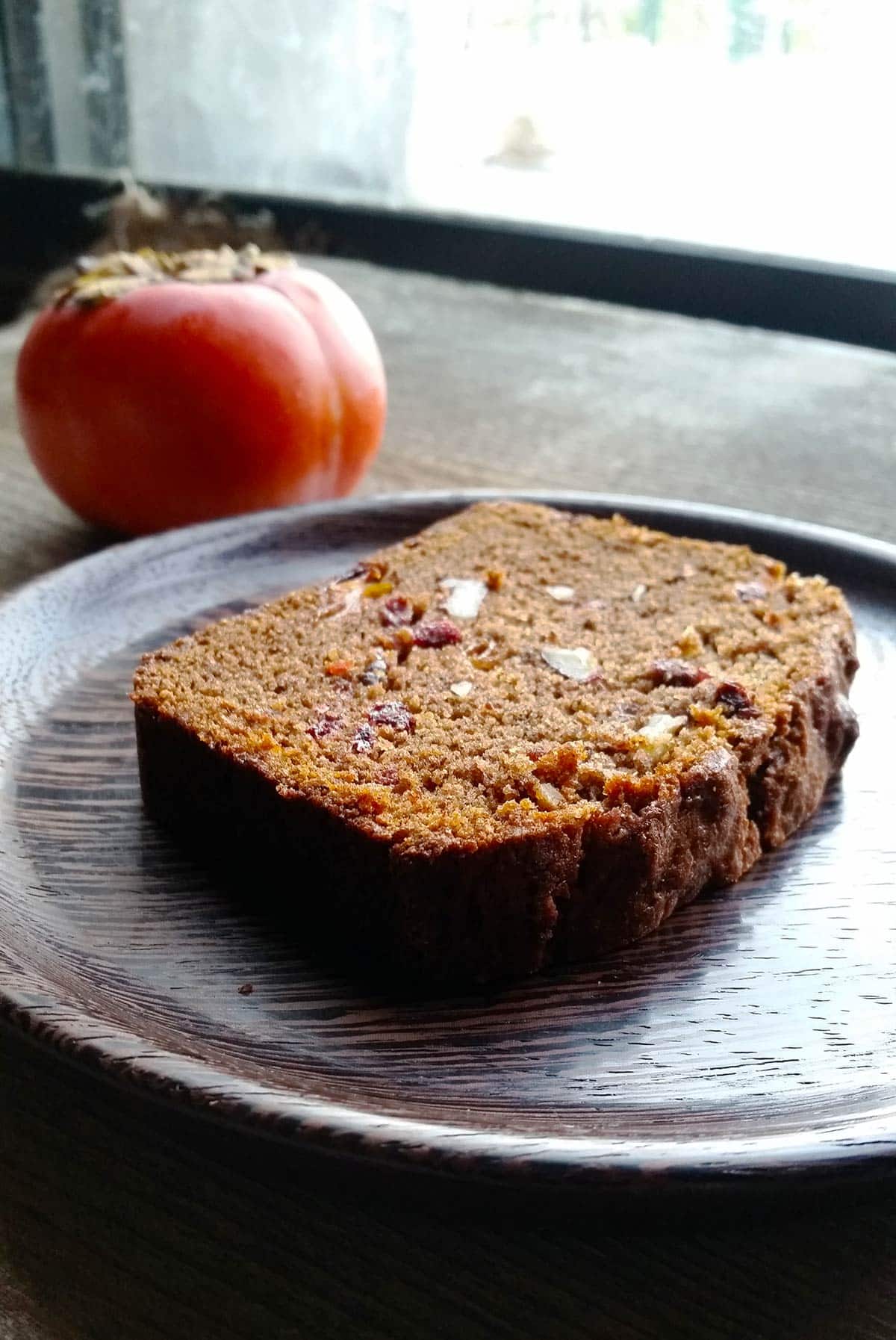 It is essentially James Beard's walnut persimmon bread, from his classic book Beard On Bread. But I omitted the huge amount of brandy he adds — feel free to add up to 2/3 of a cup if you'd like — and made this recipe a bit wilder. I am, after all, a gatherer.
The persimmons were, er, "foraged" from my neighbor's backyard tree; we don't have Diospyros virginiana, the native American persimmon, here in the West. That is the best persimmon for making persimmon bread, in my opinion.
In this case, I used over-ripe fuyu, as well as perfectly ripe hachiya persimmons here, Japanese varieties widely available in California. I'd say hachiya are the second best persimmon for bread.
The nuts are the last of the wild hickory nuts I gathered from my travels back East. Wild black walnuts are another good option, as are pecans or butternuts, both wild or cultivated.
The fruit? Dried wild lingonberries from, well… if I told you I'd have to kill you. Any dried fruit works. "Craisins" are a great option, as are dried blueberries.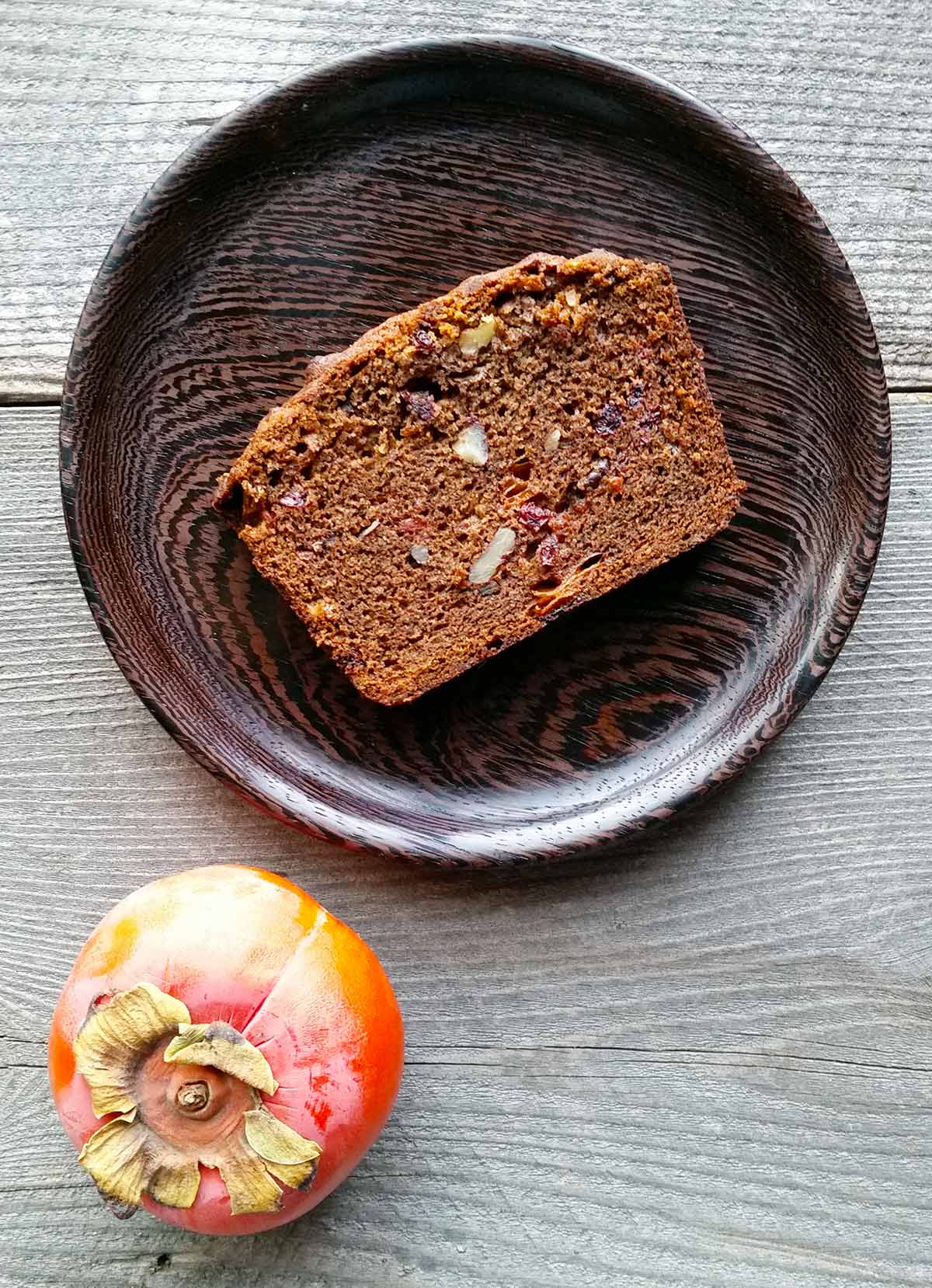 I also added homemade acorn flour to the bread, which adds an earthy touch and darkens the bread a bit. Chestnut flour, available in Italian markets, is the closest to this, but don't get all hung on on making persimmon bread with acorn flour. It's just me being me. Go ahead and use a little whole wheat, spelt, barley or rye flour.
As if this persimmon bread wasn't weird enough, I subbed in wild, fresh rendered duck fat for half the butter. Yeah, I went there. It was good. And I am shiny-happy. Feel free to use all butter if you want. It's also fantastic.
Net result? An addictive breakfast bread or accompaniment to coffee, or duck blind snack, in the deer stand or wherever.
Make this persimmon bread. It's super easy, malleable to your ingredients, and it would make that icon of real American cooking, the late, great James Beard, a proud man.
This bread is all about autumn, as is my butternut squash bread, but if you're looking for a late-summer option, fig bread is what I make when our fig tree goes bonkers.
Persimmon Bread with Nuts and Fruit
There are plenty of ways to freestyle with this bread. You can use American persimmons, or Japanese hachiya persimmons, both of which need to be gooshy before you can really eat them -- otherwise they are astringent. As for the fruits and nuts, I prefer either black walnuts or hickory nuts, but regular walnuts or pecans are also nice. I happen to have lots of dried lingonberries lying around, so I used them. They can be tough to find, though, so "craisins," the dried cranberries you can buy, will get you close. But really any dried fruit works. If they are large, like apricots or dates, chop them small.
Ingredients
3

cups

all-purpose flour

1/2

cup

acorn flour,

chestnut flour, or whole wheat flour

1 1/2

teaspoons

salt

2

teaspoons

baking soda

1

teaspoon

nutmeg or mace

2

cups

white sugar

1/2

cup

unsalted butter,

melted and cooled

1/2

cup

duck fat or leaf lard,

melted and cooled

4

eggs,

slightly beaten

2

cups

persimmon puree

2

cups

chopped nuts

(walnuts, hickory nuts, pecans)

2

cups

dried fruit

(raisins, lingonberries, cranberries, etc)
Instructions
Prep the pans. Butter two 9-inch loaf pans and then dust them with a little flour, shaking out any excess. Preheat the oven to 350°F.

Mix the dry ingredients. Whisk together the flours, salt, baking soda, nutmeg and sugar.

Mix the wet ingredients. Whisk together the cooled, melted butter and duck fat, the persimmon puree and the eggs.

Make the batter. Add the wet ingredients to the dry and mix together. As you are doing this, add the nuts and fruit. Pour the batter into the loaf pans and bake for about 1 hour, until a toothpick comes out of the bread clean. Let rest a few minutes, then turn out gently onto cooling racks.
Notes
This bread keeps wonderfully. At least a week at room temperature, wrapped up, and basically forever in the freezer.
Nutrition
Calories:
371
kcal
|
Carbohydrates:
49
g
|
Protein:
6
g
|
Fat:
19
g
|
Saturated Fat:
6
g
|
Cholesterol:
50
mg
|
Sodium:
298
mg
|
Potassium:
188
mg
|
Fiber:
2
g
|
Sugar:
22
g
|
Vitamin A:
189
IU
|
Vitamin C:
16
mg
|
Calcium:
35
mg
|
Iron:
2
mg
Nutrition information is automatically calculated, so should only be used as an approximation.