As an Amazon Associate I earn from qualifying purchases.
I am a huge fan of cake-like breakfast quick breads, risen without yeast, easy to make, and only semi-sweet. This fig bread is a great example of that.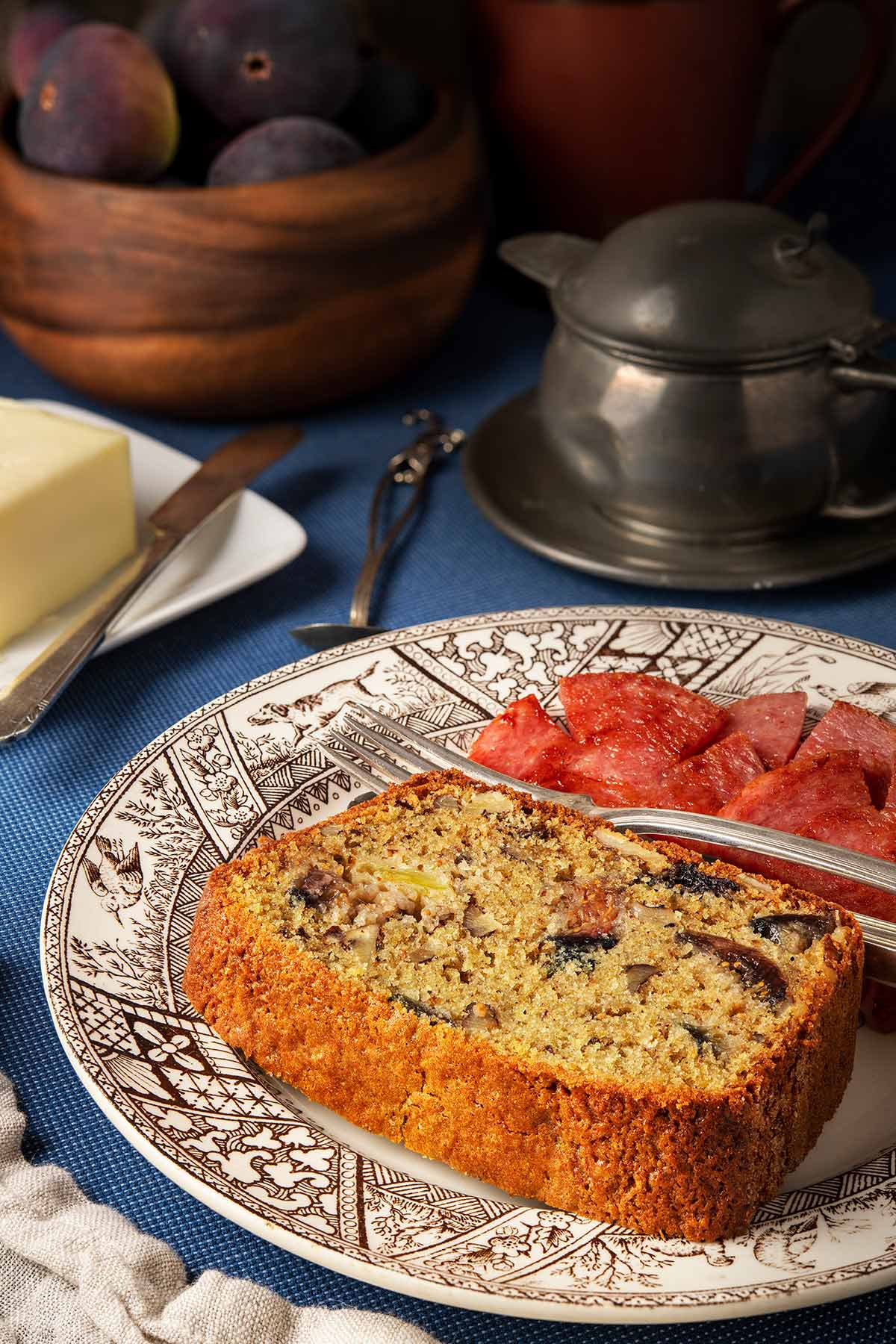 The very first "easy bread" I learned how to make was beer bread, way back in college; appropriate, right? Beer, sugar and self-rising flour. Even a college kid could make it. From there I got better at making quick breads, playing with seasonal ingredients.
For autumn, I love my persimmon bread with walnuts and butternut squash bread. But this fig bread is all about late summer, when our fig tree goes bonkers. Fig smoothies, fig syrup, fig leather, fig jam, you name it.
It's crazy easy to make. Dry ingredients in one bowl, wet in another. Mix the two, add the chopped figs, and scrape the batter — it's a batter, not a dough — into a buttered and floured loaf pan, bake, pop it out to cool, eat. Repeat as necessary.
While baking a fig bread takes close to an hour, the prep comes together in minutes.
I use fresh Mission figs because that's what I have, but any kind of fresh fig will work. If you are using dried figs, mince them finer so they have more surface area to absorb moisture.
And some people use thawed, frozen figs. They get wet, so thaw and drain them before adding to the batter.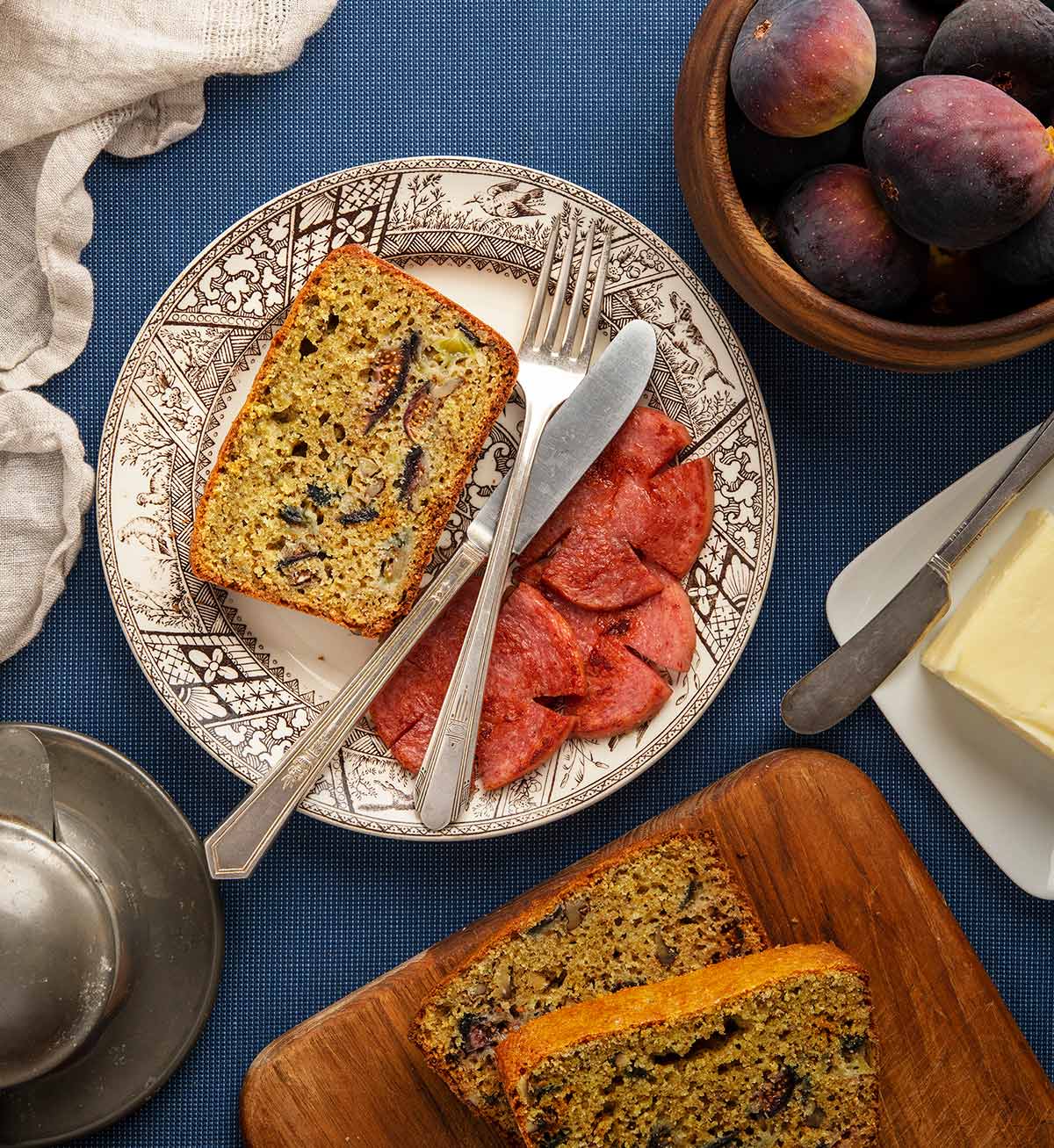 Variables
I used hickory nuts in my fig bread because I have them. Walnuts, pecans, butternuts are all excellent options. I imagine almonds and Brazil nuts would be good, too, although I've not tried them.
For the oil, I use melted butter because I like it. Vegetable oil or coconut oil are other options.
I used 50-50 brown sugar and white sugar, but any sort of sugar will work fine. I've not tried this fig bread with honey, but I imagine it would work.
As for flour, I added some mesquite bean flour in there for aroma and color, but I realize that's an odd ingredient. Adding a little whole wheat, rye, barley or other darker flour adds an earthy touch that's welcome in fig bread.
Storing Fig Bread
The cool thing about breakfast breads in general, and this fig bread in particular, is that they keep for days at room temperature. The fat content is what does it. I put whatever I don't eat that morning in an old produce bag, and let it sit on the counter, slicing off pieces as needed.
You can also freeze fig bread. I would wrap the loaf in plastic wrap, then again in foil.
If you liked this recipe, please leave a ⭐️⭐️⭐️⭐️⭐️ rating and a comment below; I'd love to hear how everything went. If you're on Instagram, share a picture and tag me at huntgathercook.
Fig Bread with Nuts
This is a quick and easy bread to make for breakfast or a snack. You can add nuts if you want, and can vary the sugars, oils, and flours as you see fit. Just keep the same proportions.
Ingredients
1/2

cup

butter

1 1/2

cups

all-purpose flour

1/2

cup

whole wheat, rye, barley or emmer flour

1

teaspoon

baking powder

1

teaspoon

baking soda

1/2

cup

chopped walnuts,

pecans, hickory nuts or butternuts

A pinch of salt

3

eggs

1/2

cup

sugar

1/2

cup

brown sugar

1

cup

chopped figs,

about 6 ounces
Instructions
Preheat your oven to 350°F. Use some butter to grease the inside of a loaf pan. Dust the inside with flour; this helps prevent the bread from sticking to the pan. Melt the 1/2 cup of butter.

Mix the flours, baking soda and powder, salt and nuts in a bowl.

In another bowl, beat the eggs with the sugars until well combined. Stirring constantly, incorporate the butter. Add this to the bowl with the flour, stir once, then add the figs. Stir until combined.

Pour the batter into the loaf pan, using a spatula to get everything out of the bowl. Bake uncovered for about 50 minutes, until a toothpick comes out of the loaf cleanly. Let the bread rest 10 minutes, then pop it out of the pan to cool on a rack.
Notes
I use hickory nuts, but any walnut-type nut will work well here. 
Variations
You can sub in vegetable oil or coconut oil for the melted butter. 
That 1/2 cup of whole wheat flour can be any flour you like. 
You can use 100% brown sugar if you want, or any combination of sugars. 
If you use dried figs, chop them fine. If they are really hard, soak them in brandy or hot water to soften and then chop. 
Nutrition
Calories:
407
kcal
|
Carbohydrates:
56
g
|
Protein:
8
g
|
Fat:
18
g
|
Saturated Fat:
8
g
|
Polyunsaturated Fat:
4
g
|
Monounsaturated Fat:
5
g
|
Trans Fat:
0.5
g
|
Cholesterol:
92
mg
|
Sodium:
257
mg
|
Potassium:
257
mg
|
Fiber:
3
g
|
Sugar:
31
g
|
Vitamin A:
490
IU
|
Vitamin C:
1
mg
|
Calcium:
67
mg
|
Iron:
2
mg
Nutrition information is automatically calculated, so should only be used as an approximation.