As an Amazon Associate I earn from qualifying purchases.
Buffalo meatballs are easy to make, take less than an hour, and are very, very versatile.
Since they work with any finely ground meat, you could of course make Buffalo chicken meatballs with ground chicken, or buffalo Buffalo meatballs with bison meat. Ground turkey is common. I used ground venison here.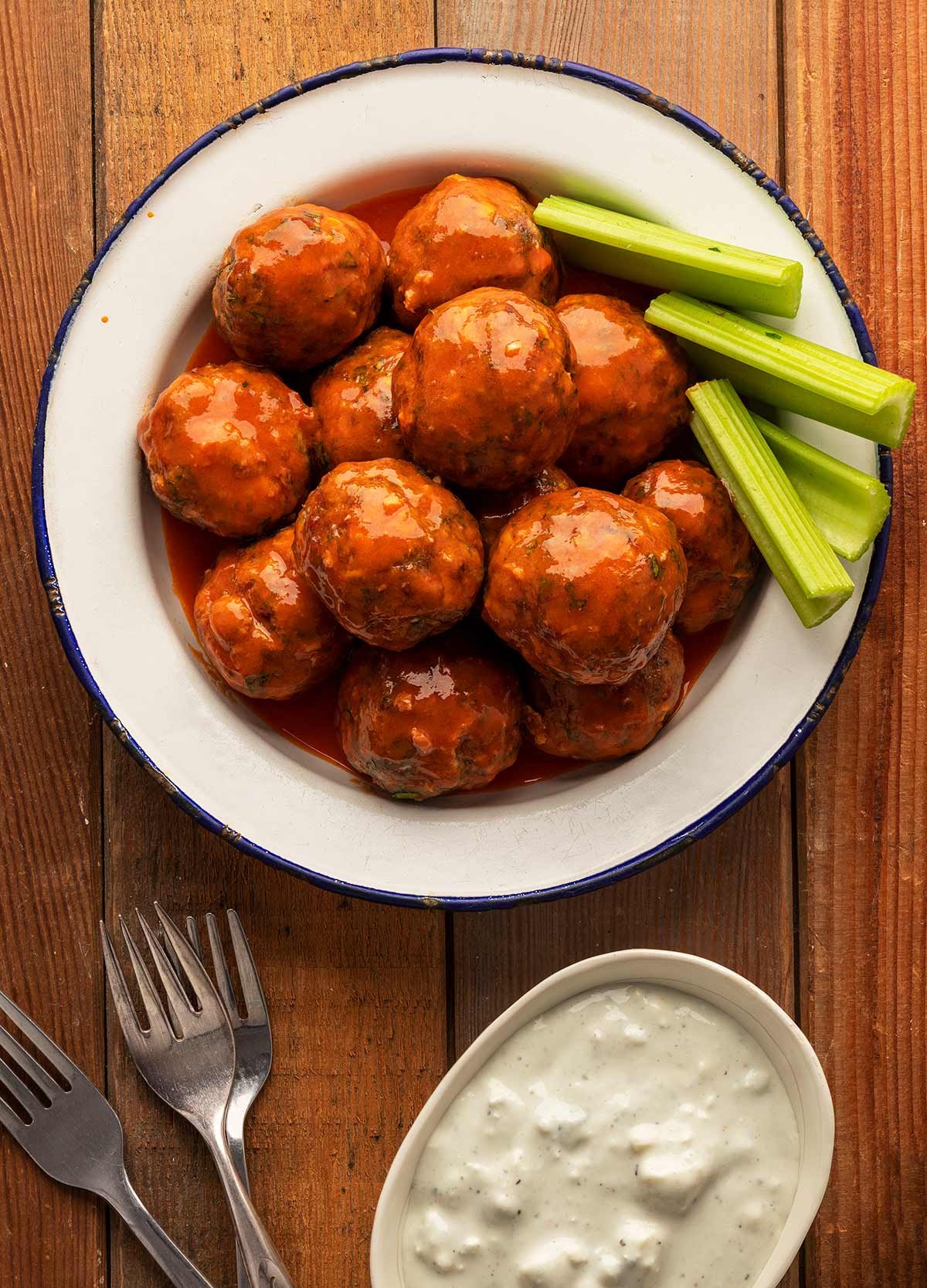 At it's core, this recipe is simply classic Buffalo sauce — Frank's hot sauce, butter, and, if you really want to, some honey — coating equally simple meatballs. Serve this as an appetizer with the usual sides of celery and a blue cheese sauce.
I'll leave the blue cheese sauce up to you, but I am partial to this one. Ranch dressing is another option, although I don't much like it.
Frank's hot sauce is what you need for a real Buffalo sauce. There is no real substitute, but if you can't find it, any cayenne hot sauce will do in a pinch. That said, Frank's is in pretty much every supermarket in America.
The meatballs are a standard recipe I use a lot, and so even if you hate Buffalo wings, you'll want to learn the recipe for these meatballs so you can use them with spaghetti sauce, or whatever sauce, or use, you want. It's basically meat, breadcrumbs, a little grated cheese, onion, garlic and parsley, with an egg to help bind it.
One important tip here is to let your meatballs rest in the fridge if you can: This lets the breadcrumbs hydrate, which is important if you don't want tough meatballs.
I do go a little healthy here by baking the meatballs on a prepared baking sheet; that is to say, slicked with cooking spray or oil. Baked meatballs are less fatty than fried meatballs, which in this case is a good thing because there's so much butter in the Buffalo sauce.
Once you have your Buffalo meatballs, you can pair them with other "Buffalo'd" things, like duck wings, pheasant wings, or yes, chicken wings, or you can have a meatball party and serve these alongside things like maple glazed turkey meatballs, or Thai style meatballs, or Greek meatballs. Mixing flavors and meats makes for a fun presentation.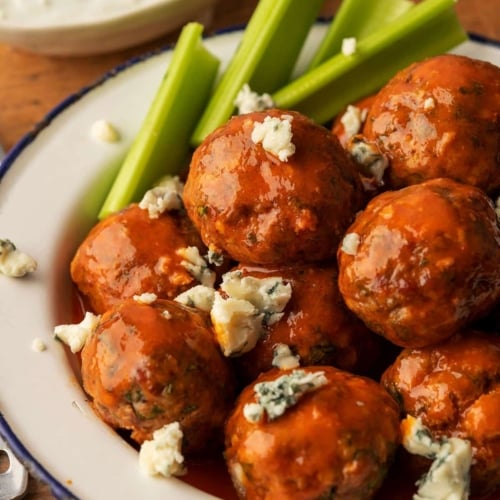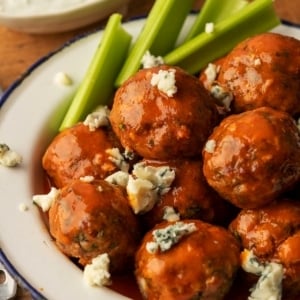 Buffalo Meatballs
Any meat works here, so long as it has at least a little fat. I used ground venison for this batch, but you do you. Once made, these reheat well and will keep for a week in the fridge.
Ingredients
SAUCE
1/4

cup

butter

1/2

cup

Frank's hot sauce

(see above for alternatives)

3

tablespoons

honey

(optional)
MEATBALLS
2

tablespoons

vegetable oil

1/2

cup

minced onion

1 1/2

pounds

ground meat

2/3

cup

breadcrumbs

(plain or Italian style)

1/4

cup

finely grated pecorino or parmesan

2

cloves

garlic, minced

1/4

cup

minced parsley

1/2

teaspoon

salt

1/2

teaspoon

black pepper

1

egg,

lightly beaten
Instructions
Sauté the onion in a small pan in the vegetable oil until soft. Remove and allow to cool. Preheat the oven to 425°F.

Heat the hot sauce in the same pan, over medium-low heat. Add the honey, if you are using it. Whisk in the butter little by little, about 1 tablespoon at a time, until incorporated. Keep warm, but do not let this simmer or it will break.

Put all the meatball ingredients in a bowl and mix well. If you can, let this mixture rest in the fridge for 30 minutes so the breadcrumbs can absorb the moisture. When you are ready, form into meatballs. I like them small so I use a tablespoon to scoop out the mixture. Roll them into balls and set them so they do not touch on a greased baking sheet.

Bake the meatballs for 25 minutes. Move them to a large bowl and pour the Buffalo sauce on them. Toss to coat and serve with celery sticks and blue cheese sauce.
Nutrition
Calories:
383
kcal
|
Carbohydrates:
15
g
|
Protein:
18
g
|
Fat:
28
g
|
Saturated Fat:
14
g
|
Trans Fat:
1
g
|
Cholesterol:
99
mg
|
Sodium:
826
mg
|
Potassium:
293
mg
|
Fiber:
1
g
|
Sugar:
8
g
|
Vitamin A:
379
IU
|
Vitamin C:
4
mg
|
Calcium:
77
mg
|
Iron:
2
mg
Nutrition information is automatically calculated, so should only be used as an approximation.