Southern Fish and Grits
June 26, 2017 | Updated June 06, 2022
As an Amazon Associate I earn from qualifying purchases.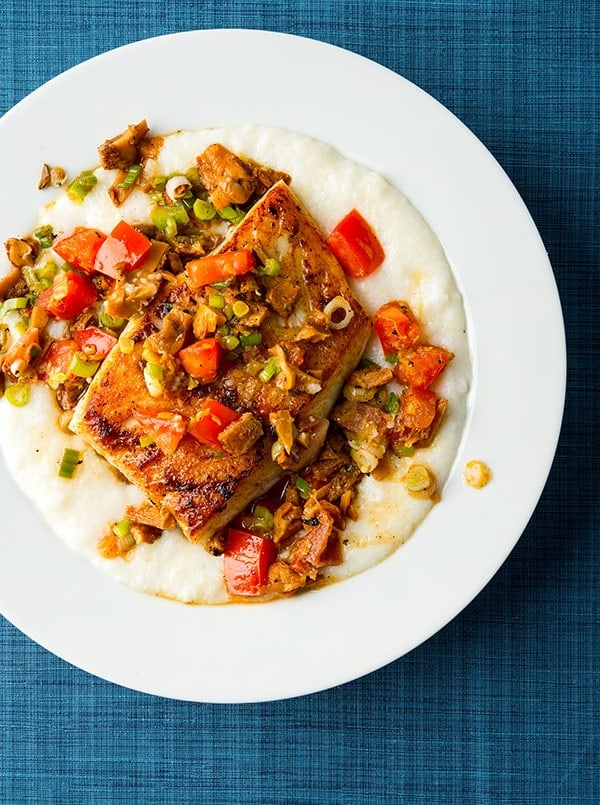 Several years ago, I saw a painting on the wall of the hunting lodge my friend Larry Robinson owns in Texas. The painting showed a gray fish leaping out of the water near a buoy. It looked like the prehistoric ancestor of a bluegill, only larger. I asked Larry what it was. "That's a tripletail," he said. "Best eating fish out there."
That's when I knew I had to catch one.
I've caught and eaten most of the fish that swim in North America's lakes, streams and oceans. But somehow this tripletail fish had not only eluded my hook, but even my notice. How on earth was it possible that there was fish with this reputation as table fare that I didn't even know about? It's probably because when I fish the waters of the Deep South, it's normally either inshore for redfish and speckled trout, or over wrecks for snapper.
Tripletail, Lobotes surinamensis, likes to live inshore, but it's pelagic, meaning it hangs out in the middle or top of the water column. And, just like the painting, it loves structure, like buoys or pylons. Sometimes they float around on their sides, looking like debris — small fish congregate underneath them to get some shade, and whump! Dinner.
Somehow I never really got a chance to fish for them. Life happens. Until, finally, in 2017, I got my chance. My friend Joe Baya of the magazine Great Days Outdoors offered to take me out to experience what the Alabama coast had to offer. He added, somewhat offhandedly, that he and his dad were good at catching tripletail.
I think there was some other talk about shrimp and tuna, but at the time all I could hear was the word "tripletail." Yes, I'm in. Name the time. I'll be there.
As it happened, the weather wasn't great for tripletail before our planned offshore tuna trip, and, well, the day after wasn't so hot, either.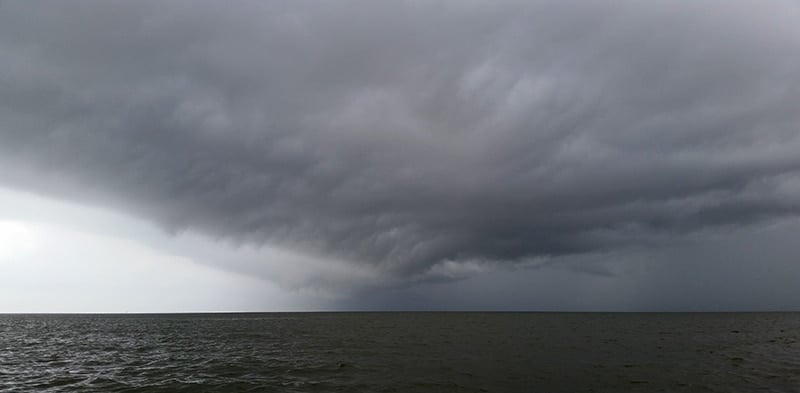 But we figured we could zoom in on a few of Joe's good spots and try before the storm hit us.
Fishing for tripletail is a lot like bluegill fishing, oddly enough. You use a bobber and bait, only much bigger, We used live shrimp for bait. You cast toward some sort of structure, let the current take the bait past the object, and watch the bobber. Tripletail don't always strike hard.
We dodged the storm for about an hour, going from pylon to buoy. No dice. Eventually, we got to a red nun bobbing in the increasingly choppy waters of the Mississippi Sound. I cast out to a buoy and immediately got wrapped around the chain. Damn.
"I think that's a fish," Joe said. No way, it's just the chain. I reeled in gently, trying not to snag the hook. The chain pumped its head twice. Hard. Holy crap!
Now I felt the fish, and it was a good one. I finessed it in closer to the boat, a gray hubcap. Huh. Not much of a fighter. Then it saw the boat, tore off about fifty yards of line and changed my mind about the fighting abilities of Lobotes surinamensis. Now all I felt was nervousness. This might be the only chance I get. Don't. Screw. It. Up.
Fortunately, I didn't, and Joe netted the fish with the skill earned by netting scores of these things. And all of a sudden, I had my first tripletail, a spectacular 15-pounder!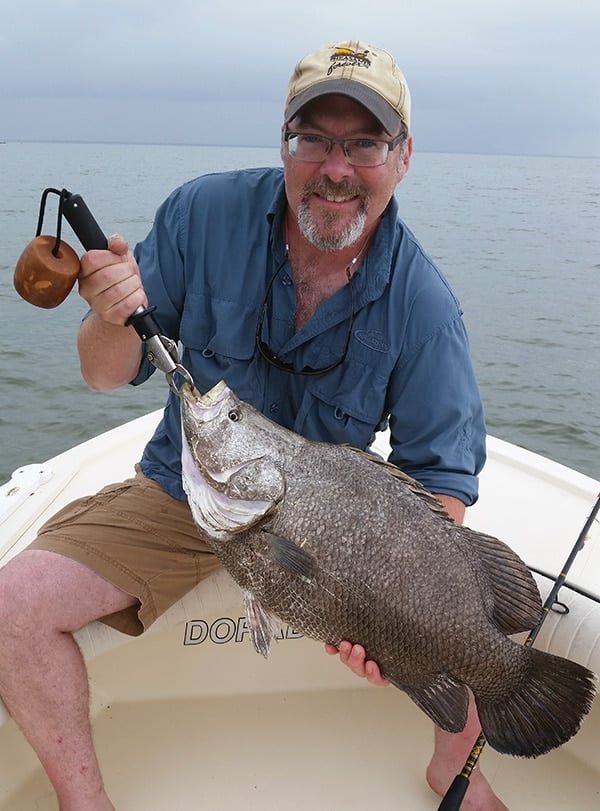 To say I was excited is an understatement. To not only catch a tripletail, but a really good one, was awesome. It still gets my blood up writing this, weeks later.
Just in time, too. The storm hit us on the way in. But I didn't even notice the rain. All I was thinking about was tripletail on the grill, fish and grits, sweet and sour tripletail, tripletail skin chicharrones, fried tripletail, butter-poached tripletail…
I decided on fish and grits, as I happened to have some seriously great grits
hanging around.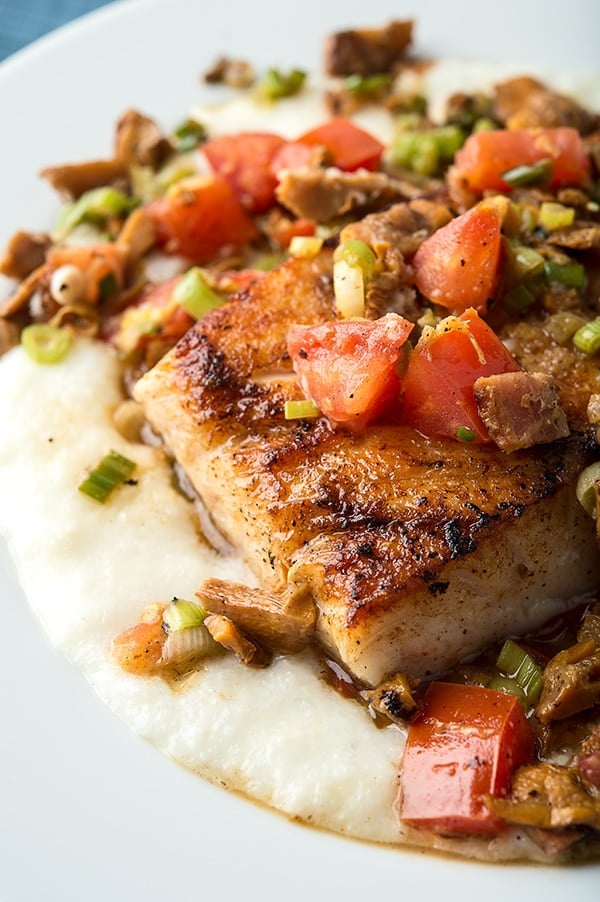 I love most things on good grits, and this fish and grits recipe is a riff off Low Country shrimp and grits. Bacon, fresh tomatoes, some chanterelle mushrooms, which are in season in the South right now, green onions and lots of lemon. The tripetail itself is seared simply in bacon fat.
The tripletail lived up to its reputation. Firm, clean-tasting, with a meaty texture very close to grouper, and reminiscent of striped bass. Tripletail has thick, wide flakes, and the meat is pearly white. It was worth the wait.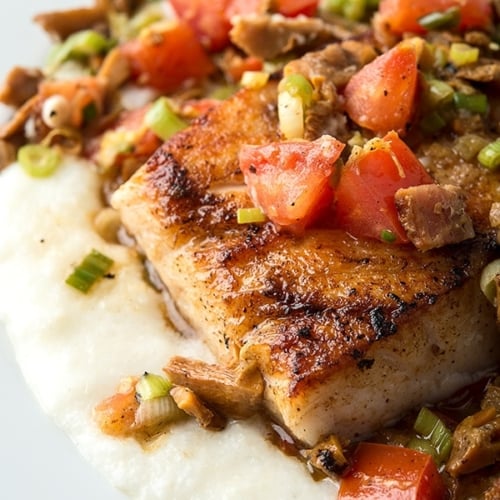 Fish and Grits
As I mentioned above, you can use any firm, white fish here. Grouper or striped bass are ideal substitutes, but snapper, catfish, walleye, redfish, seabass or Pacific rockfish or lingcod are great, too. Get the best grits you can afford.
Ingredients
2

cups

grits

2

cups

fish or chicken stock

3

cups

water

salt

4

tablespoons

butter

1/4

cup

cream

1/4

cup

shredded cheese

(I use white cheddar)

1 1/2

pounds

tripletail fillets,

or similar fish

1/4

pound

bacon

1

pound

fresh mushrooms,

chopped

5 or 6

plum tomatoes,

diced

3 or 4

green onions,

chopped

zest and juice of 2 lemons

Worcestershire sauce to taste

black pepper to taste
Instructions
Boil the water and stock and add salt to taste. Start stirring it and pour the grits in slowly; this prevents lumps. Drop the heat to a simmer and cook, stirring frequently, for about 20 to 30 minutes.

Meanwhile, salt the fish fillets and set aside on the counter. Fry the bacon in a large pan to render the fat. Remove the bacon, chop and set aside.

Pat the fish dry with paper towels and place in the hot bacon fat, the flattest side down. Keep the heat at medium-high. Use a spoon to ladle bacon fat over the top of the fillets until they turn opaque. Keep doing this for about 1 minute. Do not flip your fish unless the pieces are more than 1 inch thick. When you have a nice sear (see picture above), remove the fish from the pan and set, seared side up, on a cutting board.

If you have less than about 2 tablespoons of bacon fat in the pan, add some more. Add the mushrooms and sear them well. They'll sear, then give up their water. Let this happen without moving the mushrooms. This should all take about 3 minutes or so.

Right before serving, stir the butter, cream and cheese into the grits until the butter and cheese melts in.

When the mushroom water subsides, add the remaining ingredients and stir-fry them about 90 seconds. To serve, give everyone some grits, then some fish, then pour the mushroom-tomato mixture over.
Nutrition
Calories:
688
kcal
|
Carbohydrates:
44
g
|
Protein:
52
g
|
Fat:
34
g
|
Saturated Fat:
16
g
|
Cholesterol:
138
mg
|
Sodium:
861
mg
|
Potassium:
1758
mg
|
Fiber:
4
g
|
Sugar:
8
g
|
Vitamin A:
2509
IU
|
Vitamin C:
32
mg
|
Calcium:
180
mg
|
Iron:
2
mg
Nutrition information is automatically calculated, so should only be used as an approximation.