Thai Meatballs
September 30, 2020 | Updated March 29, 2021
As an Amazon Associate I earn from qualifying purchases.
When life gives you ground pork, or in my case javelina, make meatballs. But whose? Pretty much every nation in the world makes some sort of meatball, but I was in the mood for something zippy, and I happen to be growing both Thai chiles and rau ram, so Thai meatballs it would be.
I was not disappointed. Thai meatballs are spicy, salty, sour and a touch sweet — in no small part because they are doused with a dipping sauce that has all of those flavors.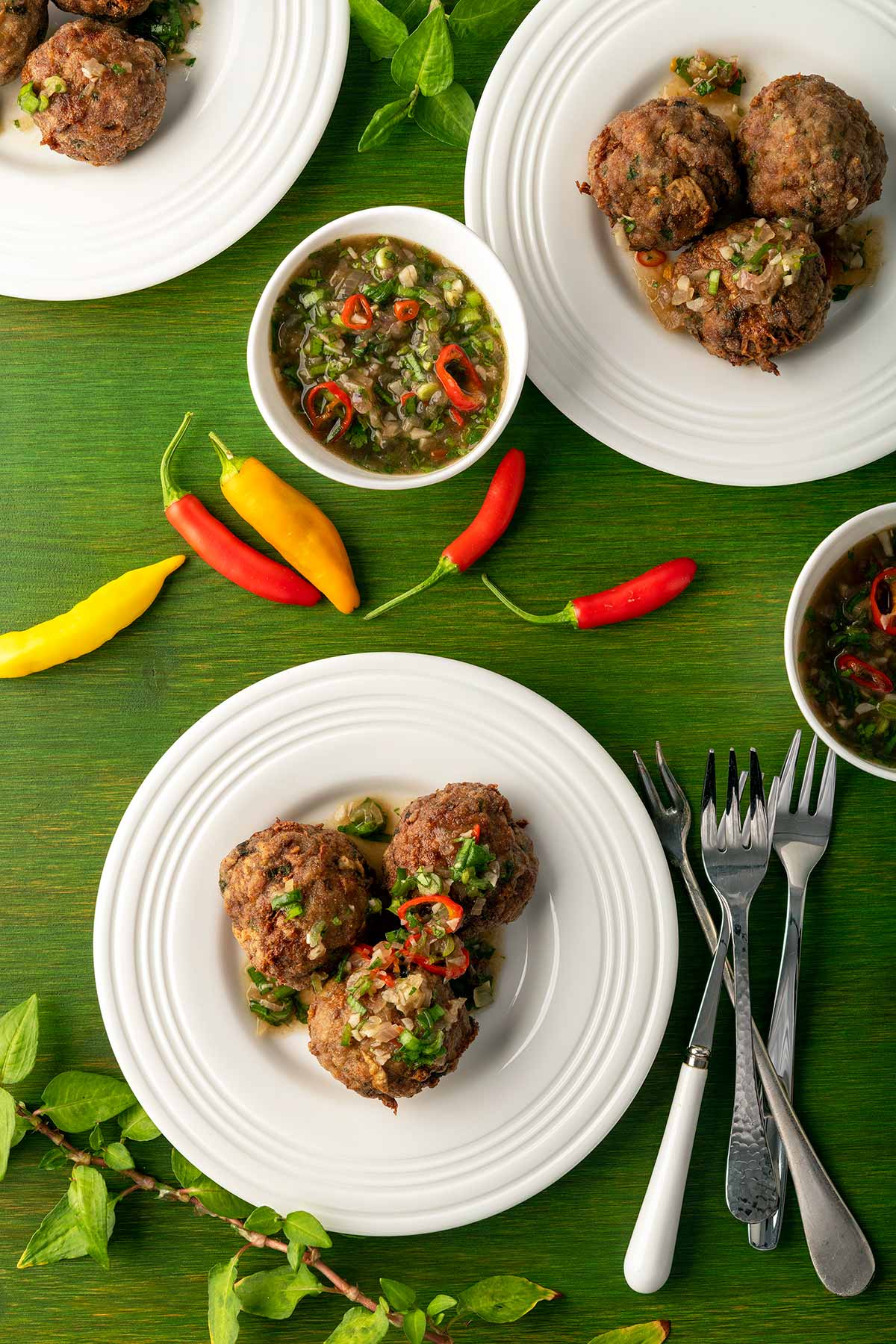 My recipe is inspired by one in what is largely thought of as the first decent Thai cookbook published in the US, Jennifer Brennan's The Original Thai Cookbook
, published back in 1981. This was the era of no photos and barebones recipes, so you pretty much needed to be able to cook to pull them off.
I happen to be able to cook, so I've found this book useful for decades. Back then, Brennan had to offer all sorts of substitutions because many Thai ingredients could not be bought here in the US. Now they can, even in some regular supermarkets. And really the only "weird" ingredients here are fish sauce and tamarind, and you can leave out the tamarind.
Thai meatballs are meant to be a snack or appetizer more than a full meal, although they can be part of a multi-course meal. They are best fried in peanut oil, but I suppose you could bake them, too, although they will not be nearly as good.
Use ground pork, beef, veal, chicken, venison — really anything you want, or even a combination of meats.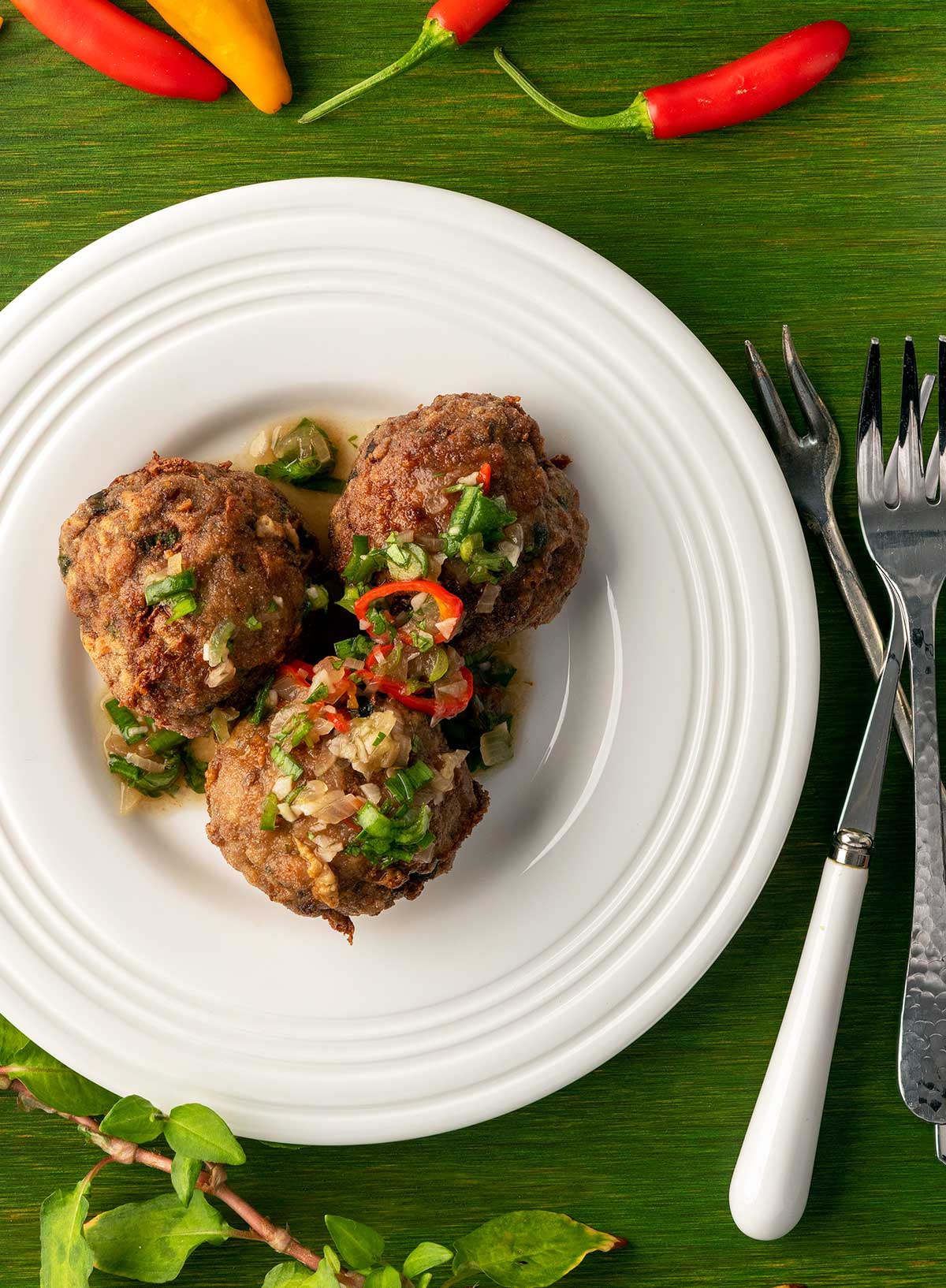 The key flavors of these meatballs are cilantro or rau ram, which tastes similar, garlic and hot chiles. You can skimp on the chiles if you want, but do not skimp on the garlic and cilantro. If you despise cilantro, use mint.
There is one other important ingredient: Fish sauce. Yeah, you pretty much need it for these to taste like real Thai meatballs, but you can use soy if you cannot find fish sauce anywhere. But at least try to find it. My favorite is Three Crabs brand, although I make my own fish sauce these days.
As for the dipping sauce, it too relies on fish sauce, garlic, cilantro and chiles. It's also sweet from palm sugar (brown sugar is a fine alternative) as well as tamarind paste. You can skip the tamarind paste if you can't find it, but both Latin and Asian markets sell it, as do Middle Eastern markets.
How spicy is this? Up to you. I like it so hot my eyelids sweat. Your mileage may vary.
Serve these Thai meatballs as an appetizer in a larger Thai meal, with, say, red coconut curry, or a Thai green curry with fish.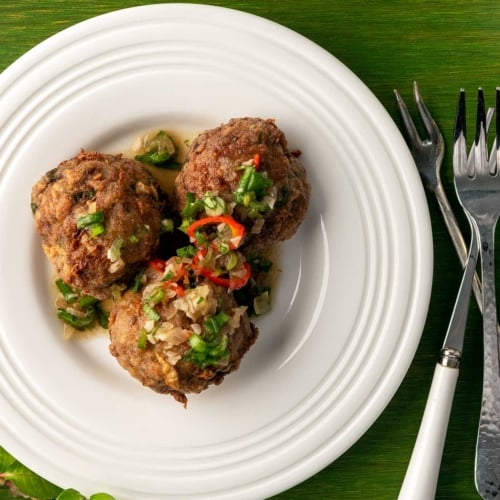 Thai Meatballs
Serve these as an appetizer or as part of a larger Thai meal. I prefer using ground pork (I actually used javelina, but it's very similar), but you can use whatever ground meat you like.
Ingredients
DIPPING SAUCE
1

tablespoon

peanut oil

1

large shallot, minced

4

cloves

garlic, minced

As many Thai chiles (or similar) as you can handle, chopped

1/4

cup

fish sauce

1

tablespoon

palm sugar or brown sugar

1

teaspoon

tamarind paste, dissolved in 1/4 cup water

(optional)

2

scallions, minced

2

tablespoons

cilantro or rau ram, minced
MEATBALLS
1 1/2

pounds

ground meat

(see above)

1

teaspoon

freshly ground black pepper

1/2

cup

stems from a bunch of cilantro, minced

6

cloves

garlic, minced

2

scallions, minced

3

tablespoons

fish sauce

3

tablespoons

cilantro leaves or rau ram leaves, chopped

2

eggs, beaten

1

cup

rice flour or regular flour,

for coating

Oil for frying
Instructions
DIPPING SAUCE
Heat the oil in a small pan and sauté the shallots and garlic until golden. Move them to a bowl and add the remaining ingredients. If you are not using the tamarind, use 3 tablespoons of water in the sauce instead. Let this sit at room temperature.
MEATBALLS
Mix all the meatball ingredients together except the rice flour. Knead this well. If it's too wet, add some rice flour. Roll into balls and coat with more rice flour. You can either deep fry these, or fry them in about 1 inch of oil. You want the oil to be at least 325°F, and 350°F is better. Fry until nicely browned and keep in a warm oven until you've cooked them all. Serve with the dipping sauce.
Nutrition
Calories:
458
kcal
|
Carbohydrates:
28
g
|
Protein:
24
g
|
Fat:
27
g
|
Saturated Fat:
10
g
|
Cholesterol:
135
mg
|
Sodium:
1566
mg
|
Potassium:
464
mg
|
Fiber:
1
g
|
Sugar:
4
g
|
Vitamin A:
181
IU
|
Vitamin C:
3
mg
|
Calcium:
54
mg
|
Iron:
3
mg
Nutrition information is automatically calculated, so should only be used as an approximation.