Greek Meatballs
February 24, 2013 | Updated March 20, 2021
As an Amazon Associate I earn from qualifying purchases.
Every culture that eats meat makes meatballs, and keftedes, Greek meatballs, are some of the best.
I grew up in New Jersey, where spaghetti and meatballs is on someone's table 365 days a year, and everyone has his own version: Vermicelli instead of spaghetti. Pecorino cheese. No, Parmesan.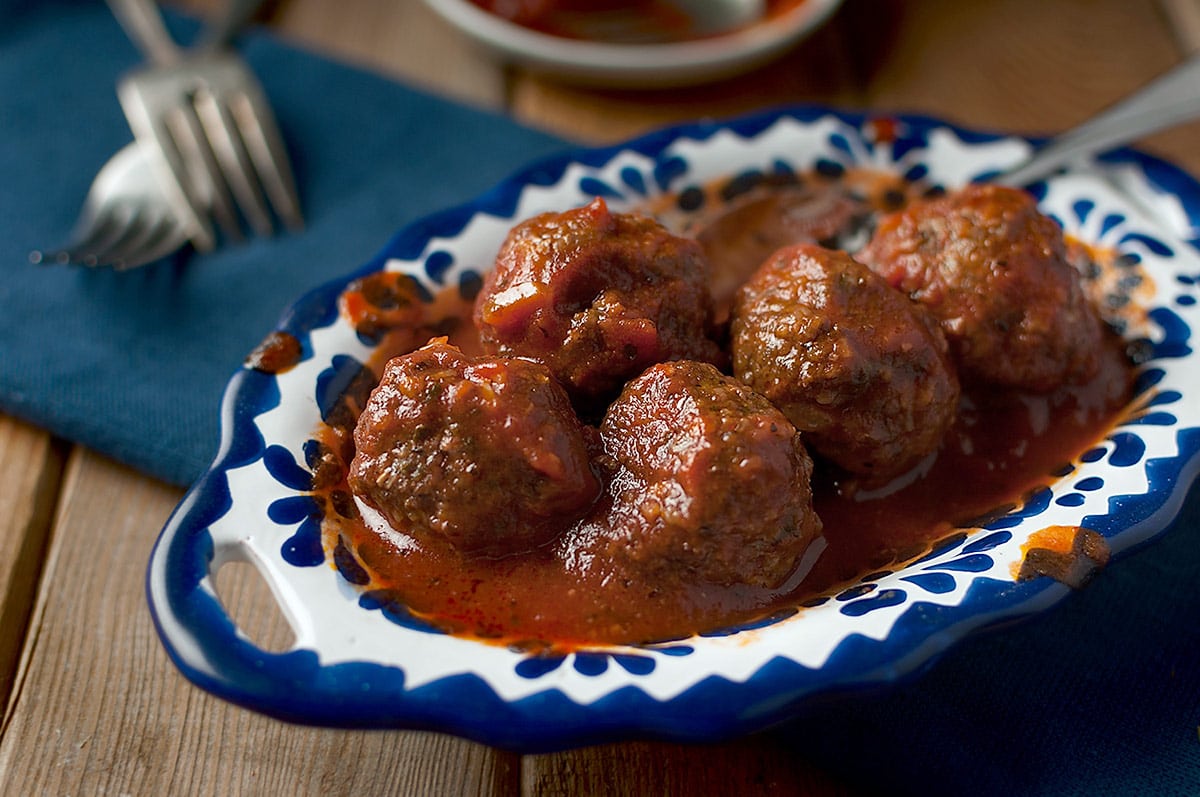 Some people use lots of bread in meatballs to make them fluffy. Some use cooked rice. Red pepper flakes? Loathed or loved. Meat in the sauce? Blasphemy with spaghetti and meatballs. You just don't eat meat with meat sauce, paisan. Capisce?
But these are not traditional Italian meatballs. They are Greek meatballs, and there is a difference, as you will soon see. I make my keftedes with venison, but pork, lamb, beef or really any ground meat will work fine.
What makes these Greek? I use bulgur wheat instead of bread. If you've ever had tabbouleh, you've had bulgur. I like bulgur, its coarse earthiness compliments the venison. Using it changes the texture of the meatballs, making them firmer and a little meatier-tasting than those with bread. No bulgur on hand? Use breadcrumbs.
Traditionally these Greek meatballs are walnut-sized, more or less. It is a good size, big enough to retain moisture, and you get to cut the ball with your fork, making sure every freshly cut side gets anointed with the tomato sauce that accompanies this dish.
Are they are light as a perfect Italian meatball? No, but they are not supposed to be. These are substantial meatballs, flavored with lots of garlic, parsley and oregano. Mint is an excellent substitution for the oregano if you prefer.
If you want to make your traditional tomato sauce more Hellenic, try adding sweet wine and cinnamon, and grate some mizithra cheese on it instead of parmesan or pecorino. Kali Orexi! You can also serve Greek meatballs with a tzatziki sauce.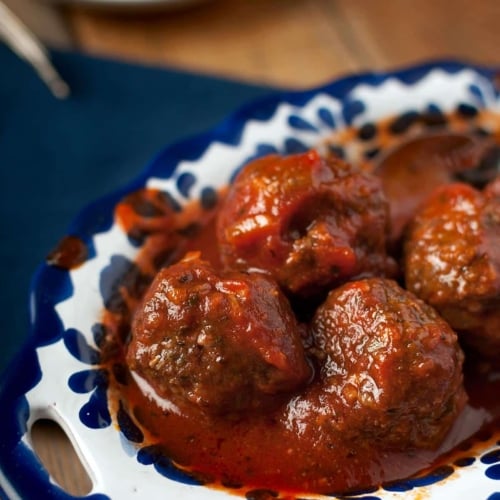 Greek Meatballs with Venison
This is a riff off traditional spaghetti and meatballs, with a Hellenic touch. It jazzes up one of my favorite comfort foods with a bit more garlic, a bit more sweetness and a chewiness from the bulgur wheat. These are not the fluffy meatballs of an old "red sauce" restaurant, nor the dry orbs that most wild game meatballs become. Any meat works here, by the way. Serve this with spaghetti and grated mizithra cheese, if you can find it. Pecorino or parmesan is just fine, too.
Ingredients
MEATBALLS
1 1/2

pounds

ground vension

1/2

cup

bulgur wheat

1/2

cup

red onion,

minced

5

cloves

garlic,

minced

1/4

cup

minced parsley

2

tablespoons

minced fresh oregano

1

tablespoons

salt

1

tablespoon

fresh ground pepper

1

egg,

lightly beaten

1/2

teaspoon

nutmeg,

grated

Olive oil for frying,

about 1 cup
GREEK TOMATO SAUCE
1 28-

ounce

can crushed tomatoes

2

tablespoons

tomato paste

1/2

minced onion

1

can anchovies in olive oil

1/2

cup

sweet red wine,

Port or Mavrodaphne

1

cinnamon stick

1

tablespoon

dried oregano,

crushed

salt to taste
Instructions
Start by getting the meatball mixture ready. Mix all ingredients in a large bowl. Cover and refrigerate for at least an hour to let the bulgur absorb moisture. Two hours is better.

To make the sauce, drain the olive oil from the anchovies into a large saute pan. Over medium-high heat, saute the onions until they are translucent, about 3 to 5 minutes. Add anchovies, mash in the pan and combine with the onions. Add the tomato paste and stir to combine. Cook this until it turns a deep maroon, about 4 minutes.

Add the wine and stir to combine. Add the cinnamon stick and bring to a boil. Pour in the crushed tomatoes, combine well and add the oregano and salt. Cook this uncovered over medium-low heat for about 10 minutes. Stir occasionally. If you feel adventurous, run this sauce through a food mill on a medium setting – after you remove the cinnamon stick. Keep warm while you make the meatballs.

To make the meatballs, take the meat out and knead it until it forms a cohesive mass. Take an ice cream scoop or tablespoon and make your meatballs.

Heat the olive oil in a large saute pan over medium-high heat. Brown the meatballs well in batches so you don't crowd the pan. Set each browned meatball in the sauce to simmer as they come ready. When they are all in, cover the sauce and simmer gently over low heat for 15 minutes before serving.
Notes
NOTE: My ground venison always has pork fat ground with it. If yours has no fat in it, you will need to add some. I'd recommend adding 1/4 pound of bacon to your grind in this case. Some people like ultra lean ground venison, but I am not among them. 
Nutrition
Calories:
240
kcal
|
Carbohydrates:
20
g
|
Protein:
23
g
|
Fat:
7
g
|
Saturated Fat:
3
g
|
Cholesterol:
89
mg
|
Sodium:
1134
mg
|
Potassium:
761
mg
|
Fiber:
5
g
|
Sugar:
6
g
|
Vitamin A:
501
IU
|
Vitamin C:
15
mg
|
Calcium:
99
mg
|
Iron:
5
mg
Nutrition information is automatically calculated, so should only be used as an approximation.