French Consommé
January 21, 2011 | Updated January 31, 2022
As an Amazon Associate I earn from qualifying purchases.
Consommé is one of those classic French techniques anyone who attends culinary school learns to do. I've heard all sorts of chefs roll their eyes at consommé as boring or overly fussy. But at its best, this powerfully flavored broth is so clear you can read the Bible through it. I'm here to walk you through a real-deal French consommé recipe.
A well-made consommé is also one of those dishes that is far harder to execute than it looks. It shows skill and panache without shouting, like a Saville Row shirt: Crisp, understated, but oozing style and class. Consommé is the Grace Kelly of soups.
Tragically, consommé died about the same time as Princess Grace, in the early 1980s. What happened? Why do we not see it on menus anymore? To too many chefs, consommé is passé, like sole meuniere or steak Diane. But I ask you to consider consommé with fresh eyes.
Broth is lovely, and I have lots and lots of recipes for various broths on this site. But the difference between broth and consommé is clarity and flavor. Broth is easy, consommé is not.
A perfectly executed consommé is almost entirely devoid of fat — although I prefer just enough fat floating on the surface to make it look like there are a sprinkling of gleaming jewels adorning the broth. It will taste powerfully of whatever it is made from, and, of course it will be crystal clear.
It is that clarity that is so difficult to achieve — in life, in writing and in soup.
How to Make Consommé
For years, I'd had the basic consommé recipe in my head, but never dared try it. It seemed impossibly difficult, and, more importantly, expensive. And this may be why few restaurants make it anymore.
Yet it was at a restaurant where I first learned the technique. Those of you who ate at Grange's Duck Dinner years ago will remember that Chef Michael Tuohy and I did dueling consommé courses. Mine was a classic duck consommé with duck liver ravioli.
Back home, I made the dish again. And again. I finally nailed it, and this version is even better than the one we made at Grange. Walk with me for a bit, and I will show you how to make magic with bones and broth.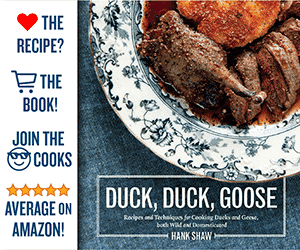 Every proper consommé recipe requires two days, but most of the time you can be doing other things, and you can store the initial broth in the fridge for several days if you get busy. Ideally, you start on a weekend and finish the consommé either during the week or even the following weekend. Sound like a lot of work? It's worth it.
First, you need to make stock. Pretty much any animal can be made into consommé, as can many vegetables. Here I am starting with duck stock, but other good options are venison stock, pheasant stock, crab stock, shrimp stock or fish stock. Once you have your stock you must chill it in the fridge, preferably overnight or up to several days.
The Raft
Now you must make a raft. A wha? A raft. You'll see why it's called that in a minute. Remember I said how hard it is to achieve clarity? This is where the raft comes in. You cannot make a perfectly clear consommé without some sort of fining agent. Nowadays I hear there are high-tech hydrocolloids you can use in modernist cuisine to clarify broths, but for centuries the answer has been egg whites.
Egg whites are primarily protein and water, but it's the proteins we're looking for. Put egg whites into a liquid and heat it and the proteins will form a molecular mesh that will act like a magnet, attracting the suspended solids that cloud your broth. The egg whites will rise to the surface of the liquid, drawing all the solids with them. Once strained, the liquid will be clear.
But it will also have less flavor, because a lot of those suspended solids taste good. This is why a raft is made from not just egg whites, but also finely chopped vegetables, tomato for acid, herbs and some spices, plus an additional hit of meat.
This is another reason I suspect restaurants don't make consommé: It is undeniably expensive. You not only need meat and bones to make the stock, but you also need lean meat to grind with the raft to finish the consommé. If your customers don't appreciate the work that goes into consommé, then charging them $13 for a bowl — for what looks like clear, unadorned soup — might cause a ruckus.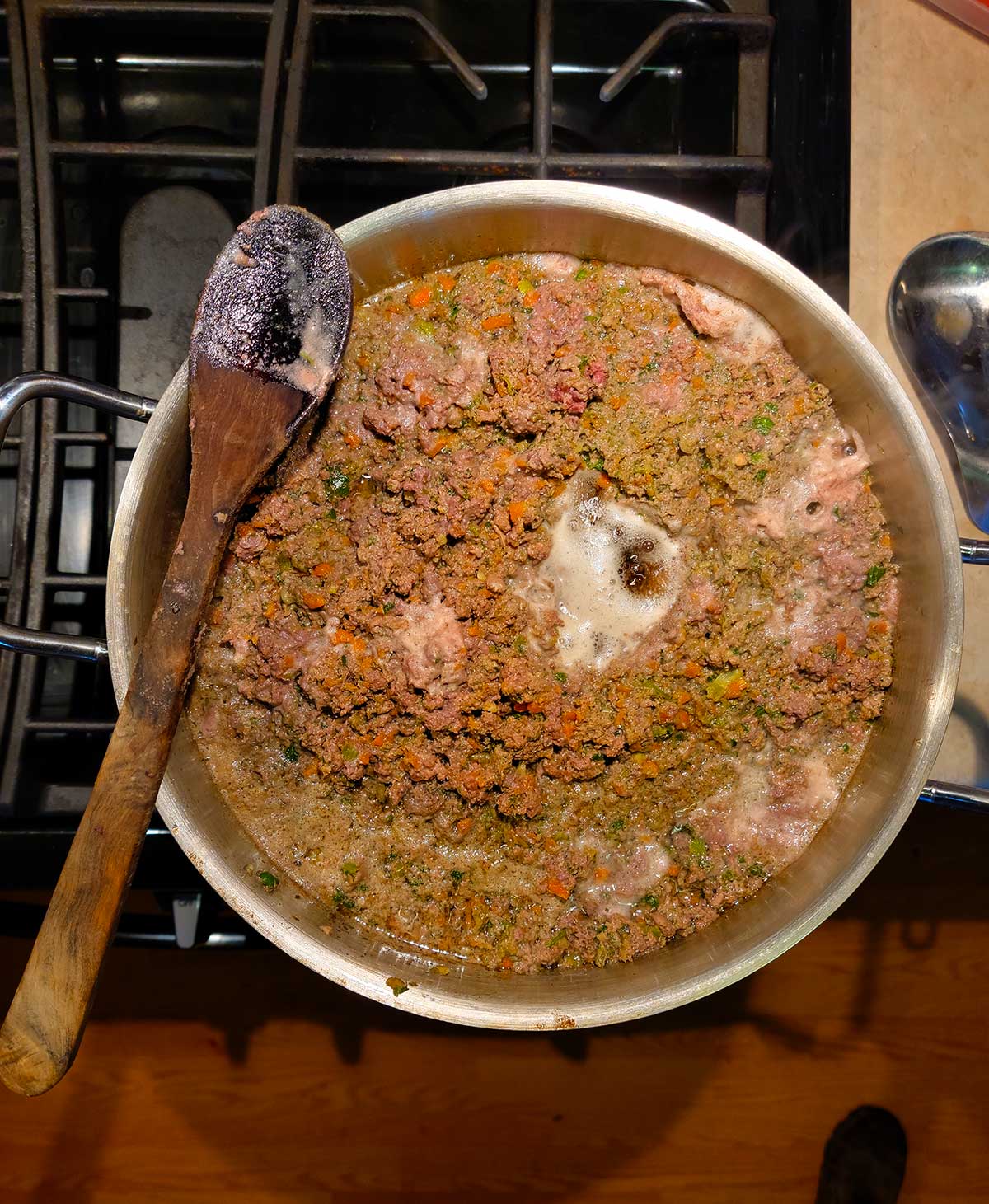 To finish a consommé, you pour your cold stock into a stockpot — the pot needs to be taller than it is wide — stir in the cold raft and turn the heat to medium. It is vital that the stock heat up gradually, and it is important to stir everything frequently until you see the raft start collecting on the surface of the stock.
Once the raft forms, simmer very gently for at least 1 hour, and no more than 90 minutes. If you are making fish or seafood consommé, no more than 45 minutes.
Finally, you ladle your consommé through the raft into a clean container — the soup needs to be poured through a paper towel set in a sieve. Here's a short video showing you what it is supposed to look like.
Unless I am making it as a base for pasta, like I did at Grange, I don't garnish it. I want those who drink it (yes, you can drink consommé, without a spoon) to experience the full glory of the soup. But you can garnish if you want. A traditional garnish for wild game consommé is julienned mushrooms.
I urge you to try making this consommé recipe, whether you use duck or chicken, venison or beef, or fish, seafood or mushrooms. Serve it to people you love, and take a little pride in explaining to them what you went through to achieve clarity. It can be a religious experience.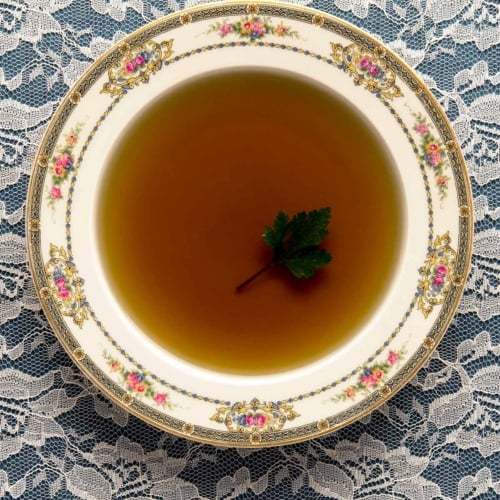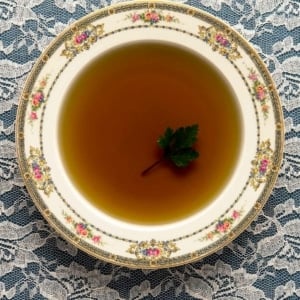 Classic French Consommé
My method for consommé uses a meat grinder, but you can use a food processor and it works fine. If you don't have enough extra meat for the raft, use skinless chicken breasts or lean beef. You can make this ahead and store it in the fridge for up to a week. This general method works with any meat or fish. 
Ingredients
5

quarts

duck broth

(or other broth, see above)

1

large onion,

chopped

2

large carrots,

chopped

2

large celery stalks,

chopped

2

pounds

lean meat,

cut into 1-inch chunks

1

ounce

dried mushrooms,

any kind, soaked and chopped

10

egg whites

A 2-inch piece of fresh rosemary,

chopped

4

bay leaves

2

tablespoons

kosher salt

12

ounces

tomato puree
Instructions
Make the raft by running the onion, carrot, celery, mushrooms and lean meat through a meat grinder, or by pulsing in a food processor until you have a rough mash. Don't puree it. Mix in the egg whites, rosemary, and bay leaves and chill for at least 4 hours, or up to overnight.

Pour the cold duck broth into a stockpot and add the salt.

Mix the tomato puree with the raft and add to the stock. Turn heat to medium and bring slowly to a simmer. Do not let it boil under any circumstances or you will ruin your consommé. Stir every couple of minutes until the raft begins to float on the surface. This takes a while, like 45 minutes.

When the raft has formed, poke a 1-inch hole in its center and let the consommé simmer gently for 1 hour and 15 minutes. Keep an eye on the hole and clear it if it gets clogged with debris.

Put a fine-meshed sieve over a container large enough to hold the consommé and line the sieve with a paper towel. Turn the heat to low on the consommé and ladle the soup through the sieve into the container. When you get to the bottom of the stockpot, pick out the raft and discard, then pour the remaining consommé through the sieve.

Chill the consommé or serve immediately. Add salt to taste before serving.
Notes
Note that this recipe starts with already made stock. If you need to make some, here is my recipe for duck broth.
Keys to Success
Classically, you would use the same meat in the raft as you would in the stock, but so long as you are vaguely close it'll work, i.e., meat with meat, fish with fish. Poultry can go with red meat, and seafood can go with fish, but don't get any weirder than that. 
I can't stress enough how much you need to be patient. It takes a while for the raft to form, and then you need to make sure the broth doesn't boil furiously or it will break that raft. 
If you are determined to do something with the leftover raft, feed it to your animals. Dogs love it, as do pigs, and maybe your cat will give it a go. It's no longer super tasty for humans, but it's safe to eat. 
Consommé freezes well, and you can pressure can it. Follow your canner's directions, and shoot for 25 minutes at 10 PSI if you live from sea level to about 1000 feet. 
Nutrition
Calories:
182
kcal
|
Carbohydrates:
5
g
|
Protein:
26
g
|
Fat:
6
g
|
Saturated Fat:
3
g
|
Cholesterol:
68
mg
|
Sodium:
1521
mg
|
Potassium:
1061
mg
|
Fiber:
1
g
|
Sugar:
2
g
|
Vitamin A:
1382
IU
|
Vitamin C:
4
mg
|
Calcium:
20
mg
|
Iron:
3
mg
Nutrition information is automatically calculated, so should only be used as an approximation.