Pasta Primavera
April 09, 2020 | Updated March 13, 2021
As an Amazon Associate I earn from qualifying purchases.
Pasta primavera is an icon of my culinary childhood. My mom used to make it all the time, not just in spring, almost always with angel hair pasta.
There was a reason Mom made it so often: She first ate this iconic dish at the legendary Manhattan restaurant Le Cirque back in the 1970s, and, when the New York Times printed the recipe in the early 1980s, she clipped it and pasta primavera became part of our family rotation thereafter.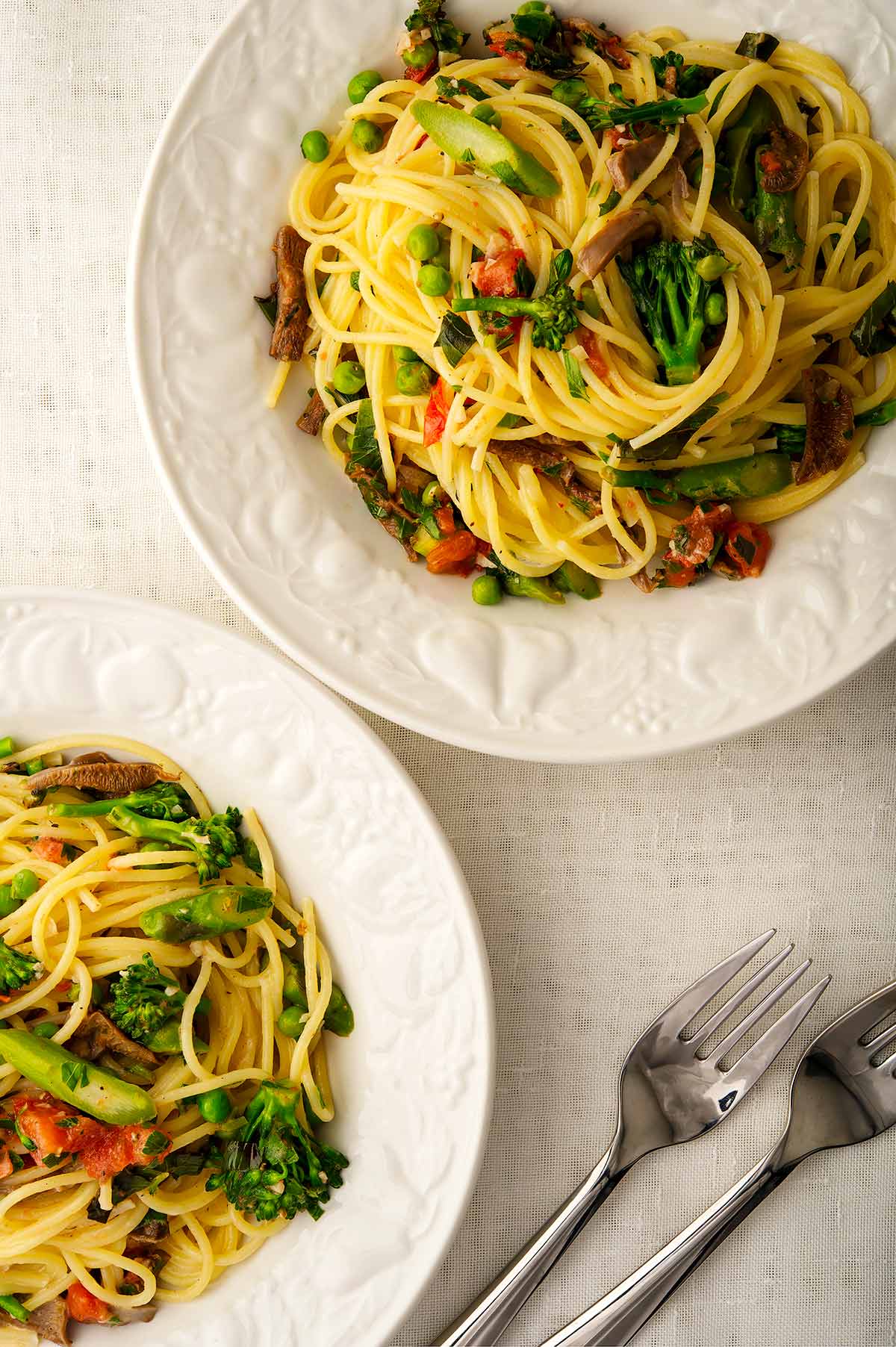 I learned this recipe quickly, and it became a main part of Hank's Date Night Dinners back when I was a student at Stony Brook University. Then, at some point, likely when I started working in professional kitchens myself, I stopped making pasta primavera.
So did everyone else, apparently. But this vegetable-filled fusion of French and Italian cuisine deserves to live again.
Pasta primavera is at its core a mix of spring vegetables, mushrooms and long pasta. I chose spaghetti here, because, well, while Mom preferred angel hair, I like a good spaghetti more. Angel hair, to my mind, requires less "stuff" in the sauce to really work.
What follows is, more or less, how Le Cirque made pasta primavera. It is mildly involved, but not overly so. I'll also give you shortcuts for weeknights.
First, you need to blanch your vegetables individually, so each is cooked al dente when they're tossed in the pasta. The chefs at Le Cirque would toss the salted water after each vegetable, but that's insane. Easier to get a big pot of salty water rolling and move your vegetables in and out as needed.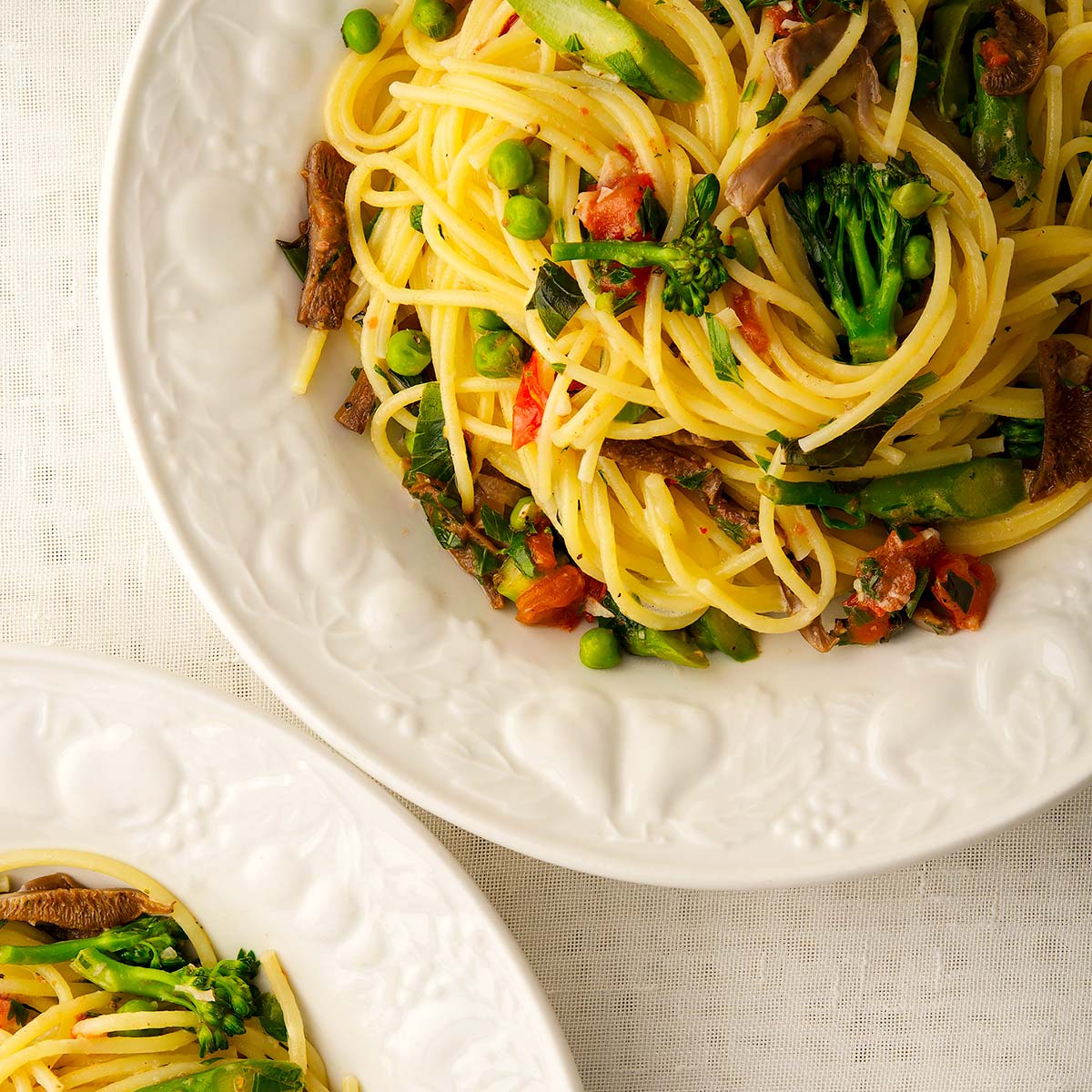 What vegetables? Broccoli or broccolini or broccoli raab are a must, as is asparagus. Fresh or frozen peas are vital, too. You could throw in some thin green beans, too. Garlic, plum tomatoes and herbs like basil and parsley are also traditional.
As are mushrooms. Regular button mushrooms are fine, but I use whatever fresh wild mushroom that happens to be popping at the moment. I used blewits in the pictures. Morels are another great choice.
After all your ingredients are ready, you finish your pasta primavera with lots of grated parmigiano cheese and yes, cream. Heavy cream, to be exact. This is not a low-fat fish. It's a celebration of spring. Alas, pasta primavera does not keep well, although you can reheat it maybe once.
For some other fun spring pasta recipes, try my Ramp Pasta with Morels, Arugula Pesto with Pasta, or Linguine with White Clam Sauce.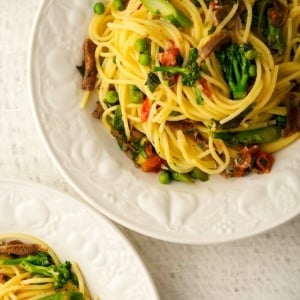 Pasta Primavera
This is the classic spaghetti primavera from the legendary restaurant Le Cirque back in the 1980s, with only a couple shortcuts to make it easier for the home cook.
Ingredients
2

cups

broccoli florets, broken into bite-sized pieces

8 to 10

asparagus spears

1

cup

green beans

(optional)

1

cup

fresh or frozen peas

2

cups

sliced mushrooms

(button, blewits, oysters, chanterelles, etc.)

1

tablespoon

olive oil

1/2

teaspoon

red pepper flakes

4

tablespoons

butter

2

teaspoons

garlic, sliced thin

4

plum tomatoes, diced

3

tablespoons

chicken or vegetable broth

1/4

cup

fresh basil, torn

1/4

cup

fresh parsley, minced

1/2

cup

heavy cream

1/2

cup

finely grated parmigiano or pecorino cheese

Freshly ground black pepper

1

pound

spaghetti or other long pasta
Instructions
Get a large pot of water boiling, then add enough salt to make it taste salty. Boil the asparagus spears for about 1 to 2 minutes, then remove and slice into bite-sized pieces. Boil the broccoli florets for about 3 minutes, remove and spread on a baking sheet to cool. If you are using green beans, boil them for about 2 to 3 minutes, then add them to the baking sheet. If you are using frozen peas, set them out to thaw. If fresh, boil them for 1 minute, then move to the baking sheet.

When this is done, dump the water from the pot and refill it to boil the pasta. You'll need to add more salt, too. You don't want to use the vegetable water for the pasta because it'll give it an off taste. Cook the pasta until it's almost done -- just a shade too much al dente to enjoy, but still mostly cooked.

Meanwhile, get a large saute pan hot and add the olive oil and sliced mushrooms. Toss to combine and sear the mushrooms over high heat. Sprinkle salt over them now. You want them to release their water. When that water has mostly boiled away, move to the next step.

Add the butter, red pepper flakes, garlic and tomatoes and toss to combine. Cook this with the mushrooms for 2 minutes, then add all the vegetables and toss to combine. Pour in the chicken broth and get this boiling.

To finish, add the herbs, pasta, grated cheese and half the cream. Toss to combine well, and add the rest of the cream if the sauce looks dry. Grate lots of black pepper over everything and serve.
Nutrition
Calories:
790
kcal
|
Carbohydrates:
102
g
|
Protein:
26
g
|
Fat:
32
g
|
Saturated Fat:
17
g
|
Cholesterol:
84
mg
|
Sodium:
340
mg
|
Potassium:
970
mg
|
Fiber:
10
g
|
Sugar:
10
g
|
Vitamin A:
2817
IU
|
Vitamin C:
76
mg
|
Calcium:
245
mg
|
Iron:
4
mg
Nutrition information is automatically calculated, so should only be used as an approximation.