As an Amazon Associate I earn from qualifying purchases.
An old school recipe for braised beef cheeks where the meat is marinated in red wine, herbs and spices, and then slow cooked until it's meltingly tender. Any slow-cooking cut will work if you don't have beef cheeks.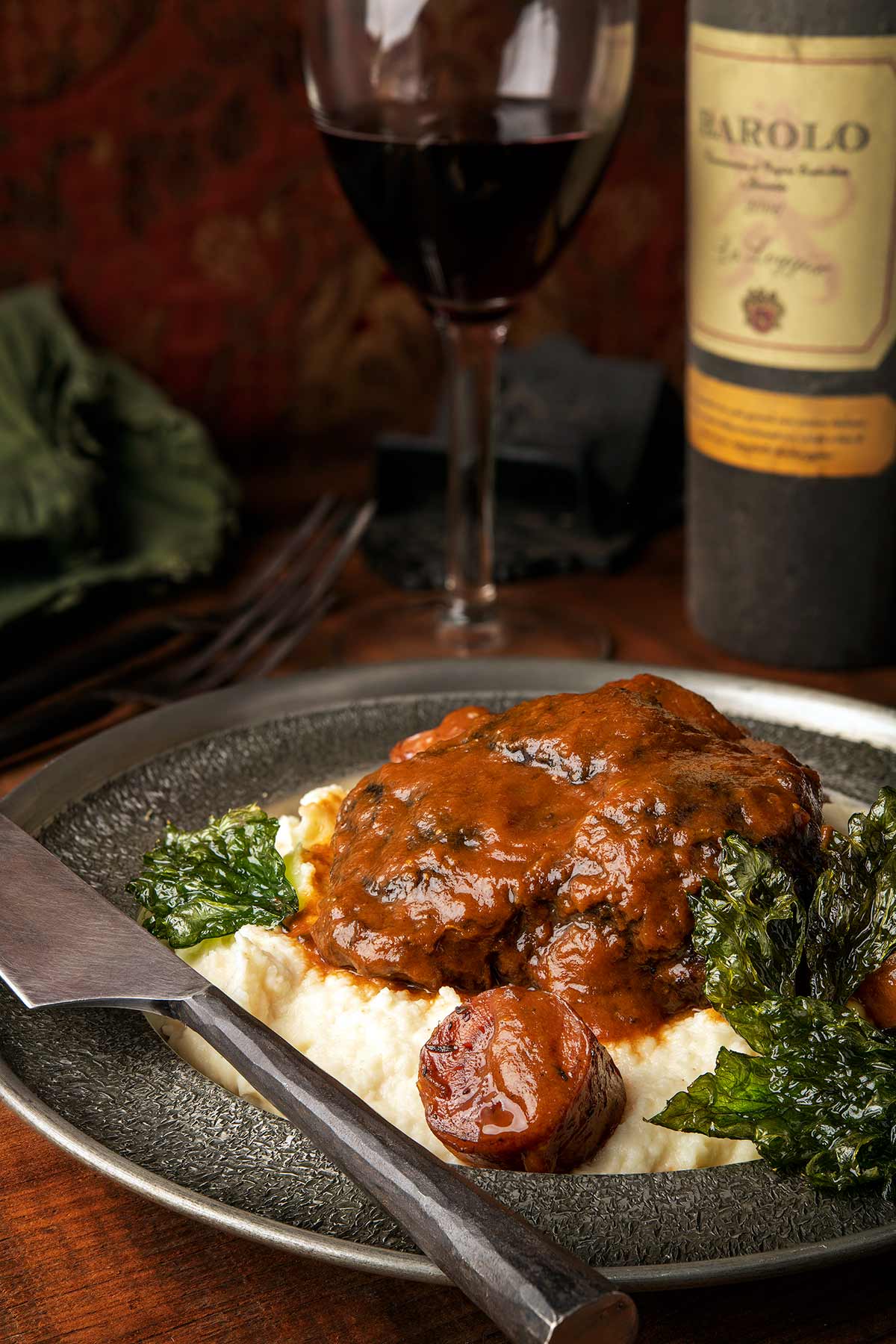 To be perfectly honest, I used bison instead of beef cheeks for this recipe — they are basically the same. You can harvest cheek meat off moose and elk, but if you're not going to use beef cheeks and are a hunter, neck meat, shoulder or shanks will do fine.
Beef cheeks are very tough cuts of meat, which makes sense when you consider that cows spend much of their day chewing. The paradox is that working muscles, while tough, are the most flavorful on the animal. And nothing works harder on a ruminant than a cheek muscle.
The trick to braised beef cheeks is that braising: slow, patient cooking in a rich broth until all that tough connective tissue melts. You're left with incredibly flavorful meat that's silky and so tender you barely need teeth to eat it.
With beef, cheeks and short ribs are interchangeable in the kitchen, even though they are from different parts of the animal; I have a recipe for beer-braised short ribs that would work very well with cheeks.
Deer hunters are out of luck in the cheek department; they're too small, unless you shoot lots of deer and can collect a bunch. You need to get to things like a moose, bison, oryx or maybe a bull elk to get a nice pair. So, sub in shanks, neck or shoulder here.
Marinating Beef Cheeks
An old-school practice with game is to marinate it in a mix of wine, vegetables and herbs for a day or three before using that marinade to braise in. My recipe for braised beef cheeks uses this method.
I use decent wine for marinating. Don't use expensive wine, but don't use crappy wine, either. A general rule is to use red wine you would be perfectly OK with drinking on a Wednesday. Any dry variety will do.
One trick with this marinade is to boil it hard, then let it cool before soaking the beef cheeks in it. Why? Because heat brings to life all the flavors in the marinade, and it burns off most of the alcohol, which can give meats a tinny flavor.
You can leave the cheeks in the marinade up to five days, but overnight is fine.
Making Braised Beef Cheeks
After the marinade, you pat the meat dry — save the marinade — brown it well, ideally in beef fat, brown some onions, and then return it to the pot with the marinade, maybe with some beef stock in there, cover it and braise for several hours.
When the meat is tender, and this can range from 2 hours to 4 hours, depending on the animal, you carefully remove the cheeks and set them aside.
Pick the herbs from the braising liquid, then puree to make a smooth sauce. This is not strictly necessary, but it is custom to serve braised beef cheeks with a pureed braising sauce; the bonus is that the leftover sauce is amazeballz on pasta the next day.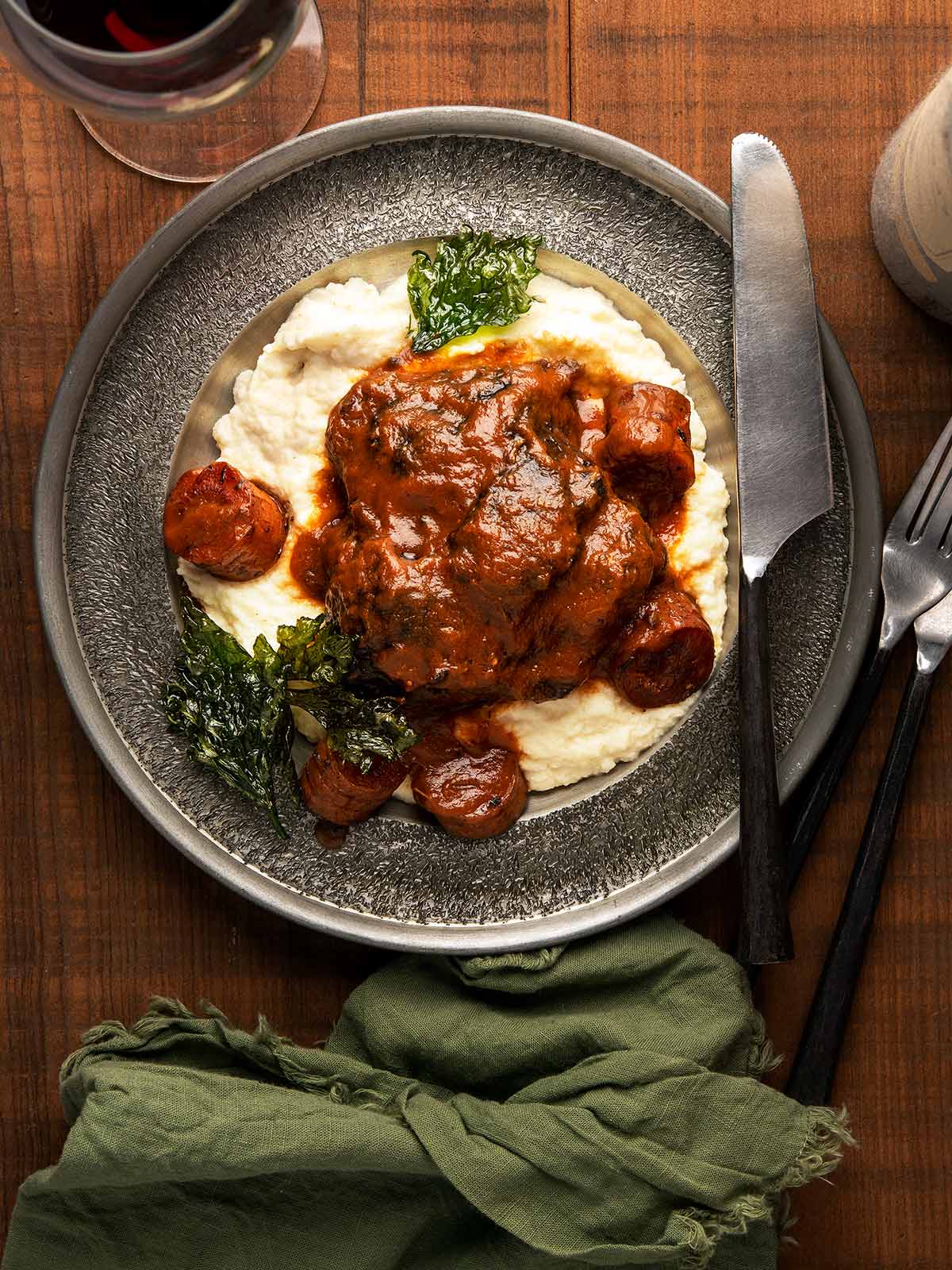 What to Serve with Beef Cheeks
Pretty much everyone serves braised beef cheeks with mashed potatoes, or some other mashed vegetable. The mashed potatoes in my recipe for shepherd's pie is the model I always use.
Other great sides that take advantage of that amazing sauce include:
Bread. Yep, simple crusty bread. I really like darker, whole grain loaves with braised beef cheeks.
Mashed celery root, sweet potato, yam or other root veg of your choice. Jerusalem artichokes make a great mash for this recipe.
Roasted new potatoes. The little ones. If you want, roast, then smash them once with a potato masher to break them. This lets the potato soak up more sauce.
Boiled potatoes. Meh, but hey, it'll work.
Pasta. Normally this is for later in the week with leftovers, but you can go with it on Day One, too. I'd go with a sturdy pasta, like pappardelle or penne rigate.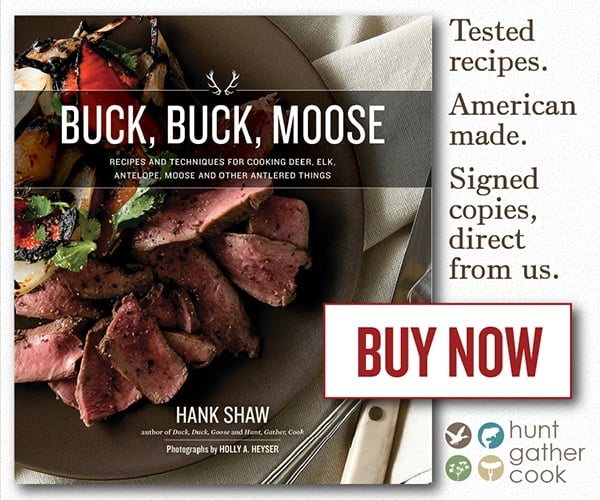 Storage and Leftovers
Once cooked, braised beef cheeks will keep in the fridge a week. You can definitely freeze leftovers, too. Or you can shred out the meat, mix it with the sauce and pressure can it as if it were beef stew.
If you liked this recipe, please leave a ⭐️⭐️⭐️⭐️⭐️ rating and a comment below; I'd love to hear how everything went. If you're on Instagram, share a picture and tag me at huntgathercook.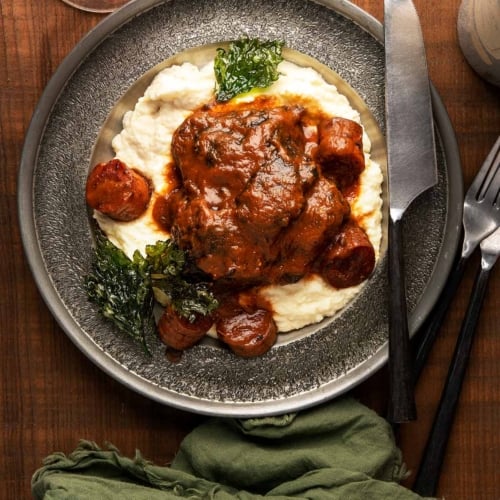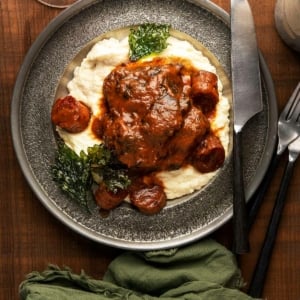 Braised Beef Cheeks
This recipe works with the cheeks of any large animal, from beef and bison to elk and moose. You could also use short ribs, or multiple cheeks from smaller animals like deer or pigs, or venison shoulder, neck or shanks.
Ingredients
MARINADE
1

bottle

red wine

12

black peppercorns,

cracked

12

juniper berries,

crushed (optional)

3

bay leaves

1

small onion,

sliced
BRAISE
2 to 3

pounds

beef cheeks,

or see headnotes for alternatives

Salt

3

tablespoons

beef fat, lard, butter or oil

2

onions,

chopped

2

ribs

celery,

chopped

2

carrots,

sliced thick

1

sprig

rosemary

2

tablespoons

tomato paste
Instructions
Bring the marinade to a boil, let it cool to at least room temperature, then submerge the beef cheeks in it at least 6 hours, and up to several days. I prefer a solid 24 hours.

When you're ready to make the dish, remove the meat from the marinade and pat it dry. Salt it well. Strain the marinade, keeping the liquid and bay leaves.

Heat the beef fat or whatever fat or oil you're using in a Dutch oven or similar heavy, lidded pot set over medium-high heat. Brown the beef cheeks well. Don't crowd the pan, and do this in batches if you need to. Remove the meat as it browns and set it aside.

When the meat has browned, add the chopped onions and celery and brown these as well. Turn the oven to 325°F.

Add some of the reserved marinade to the pot and use a wooden spoon to scrape up the browned bits. Return the meat to the pot, along with any juices that collected where they were sitting. Add the carrots, rosemary and the rest of the marinade as well as the bay leaves. If the meat isn't totally covered, add enough beef, game, or vegetable stock (or water) to just barely cover them. Bring to a simmer and add salt to taste. Cover the pot and put it in the oven. Let this cook at least 2 hours, and it could take more than that. Start checking at 2 hours.

When the meat is tender, carefully remove it to a pan or plate. Fish out the rosemary and bay leaves and discard. Puree the braising liquid with the tomato paste and add salt if needed.

Coat the meat with the sauce, serve it over mashed potatoes (see above for options) and pour some more sauce over it all.
Notes
Use leftover meat and sauce for pasta, potatoes, or for a pot pie. 
Nutrition
Calories:
649
kcal
|
Carbohydrates:
18
g
|
Protein:
35
g
|
Fat:
35
g
|
Saturated Fat:
18
g
|
Polyunsaturated Fat:
0.4
g
|
Monounsaturated Fat:
2
g
|
Trans Fat:
0.3
g
|
Cholesterol:
125
mg
|
Sodium:
427
mg
|
Potassium:
596
mg
|
Fiber:
3
g
|
Sugar:
7
g
|
Vitamin A:
5582
IU
|
Vitamin C:
10
mg
|
Calcium:
225
mg
|
Iron:
6
mg
Nutrition information is automatically calculated, so should only be used as an approximation.