German Fish Balls with Green Sauce
June 17, 2013 | Updated June 06, 2022
As an Amazon Associate I earn from qualifying purchases.
German food in warm weather seems like an oxymoron. But the more you know about German food, the less this seems so. Yes, the Germans need not contend with the sort of apocalyptic summers you might endure in, say, Phoenix or Bakersfield, but it does get kinda-sorta hot up there, and they do have dishes for when that happens.
Fish meatballs are one of them.
Anyone who reads this site with any regularity knows how much as I love meatballs in all their forms. And I love fish balls just as much. My Laotian style fish balls are a favorite, and my Sicilian tuna meatballs are so good you'd be hard pressed to tell them apart from a properly made meatball made of pork and veal. So why not do a German one?
I got the inspiration from the always inspirational Mimi Sheraton's The German Cookbook: A Complete Guide to Mastering Authentic German Cooking. This is not a direct adaptation from anything in her book, but if you are even remotely interested in German cooking beyond schnitzel and sauerbraten, you need this book.
The fish meatballs could not be simpler: Ground fish (of any type), mixed with egg, breadcrumbs and herbs. Poached very gently in salty water, they come out light and fluffy. The green sauce adds several layers of flavor round things out.
You should know that this is not a traditional Hessian green sauce. That sauce has crushed up hard-boiled eggs in it, or sometimes mayonnaise.
My version is lighter, and much better for the kind of hot days we get here in Sacramento. But I really like the German tradition of using lots of different herbs to make the sauce, so I kept that in my rendition.
It is a lovely, light supper. The fish is moist and almost bouncy, the sauce an equal combination of buttery goodness, tangy creaminess from the sour cream, and a rat-a-tat jolt of the various bitter-sweet-aromatic herbs as you taste each one. As a main course, I'd serve this with new potatoes or bread. But it'd be fantastic alone as a summertime appetizer.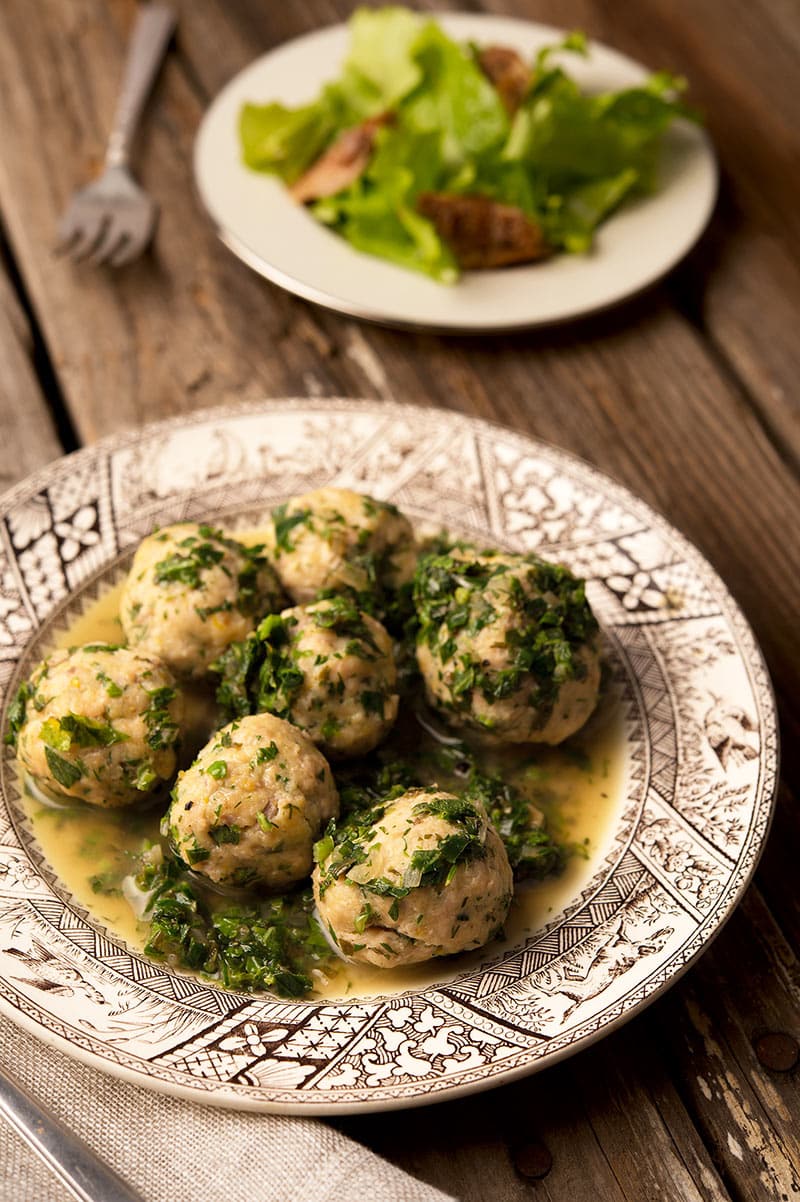 Keep in mind that pretty much any fish will work.
The Germans do fish meatballs a lot with freshwater fish like pike, perch and the like, but I made this version with trout. I think literally any fish you can get a fillet off of will work here, down to about herring. Walleye, trout, bass, perch, striped bass, flounder, small redfish, etc — it's pretty versatile.
So is the sauce. Feel free to mix and match herbs to your liking. Other good candidates for the sauce would be tarragon, thyme, cilantro (although not very German), radish or turnip greens, watercress, basil, borage, New Zealand spinach… you get the point.
German Fish Meatballs with Green Sauce
This is a surprisingly quick dish to put together, once you know what you're doing. If you have a meat grinder, the meatballs come together in a flash (If you don't have a meat grinder, pulse fish fillets in a food processor, or chop finely with a knife), and the sauce really doesn't take more than a few minutes to make. And if you pre-grind the fish and keep it in the fridge, you could easily whip this up in less than 30 minutes.
Ingredients
FISH BALLS
1

pound

ground fish

2

eggs,

lightly beaten

2

teaspoons

salt

6

tablespoons

plain breadcrumbs

2

teaspoons

minced fresh dill

2

teaspoons

minced fresh parsley
GREEN SAUCE
1/4

cup

unsalted butter

1

large shallot,

about 1/3 cup, minced

1

cup

fish stock or chicken stock

2

tablespoons

minced spinach,

amaranth or lamb's quarters

1/4

cup

chopped sorrel

optional

1/4

cup

minced parsley

2

tablespoons

chopped dill

2

tablespoons

minced garlic chives or regular chives

1

sage leaf

minced

Salt and black pepper

1/2

cup

sour cream,

at room temperature
Instructions
To make the meatballs, simply mix all the ingredients in a bowl and form into small meatballs, about the size of a walnut. To cook, bring a large pot of salty water to a boil and gently lower the fish balls one at a time into the water. They will sink. Turn the heat down to a bare simmer -- if you let it boil again, it can destroy your fish balls. Simmer gently until the meatballs float. Look for a total cooking time of about 10 minutes or so.

Remove the fish balls from the hot water and set aside.

While you are heating up the poaching water, make the green sauce. Heat the butter in a large saute pan over medium-high heat. When it's hot, add the shallot and saute until it's translucent and soft, about 3 minutes or so. Don't let them brown. Add the stock and bring to a boil. Boil hard for a few minutes until the sauce reduces by about one-third.

Turn the heat as low as it will go and stir in all the herbs. Let them all wilt. Add salt and black pepper to taste and turn the heat off.

When all the fish balls are ready, turn the heat back onto the sauce to warm it, and coat the fish balls with the sauce. When the sauce boils again, turn off the heat, let the bubbling subside and add the sour cream, stirring constantly. Adjust for salt and black pepper once more and serve at once.
Nutrition
Calories:
375
kcal
|
Carbohydrates:
14
g
|
Protein:
30
g
|
Fat:
22
g
|
Saturated Fat:
12
g
|
Cholesterol:
184
mg
|
Sodium:
1590
mg
|
Potassium:
578
mg
|
Fiber:
1
g
|
Sugar:
2
g
|
Vitamin A:
1817
IU
|
Vitamin C:
10
mg
|
Calcium:
117
mg
|
Iron:
3
mg
Nutrition information is automatically calculated, so should only be used as an approximation.