As an Amazon Associate I earn from qualifying purchases.
Sometimes the whole is far more than the sum of its parts. Such is the case with this clam soup. It's Japanese, and its simple elegance won me over, and I hope it does for you, too.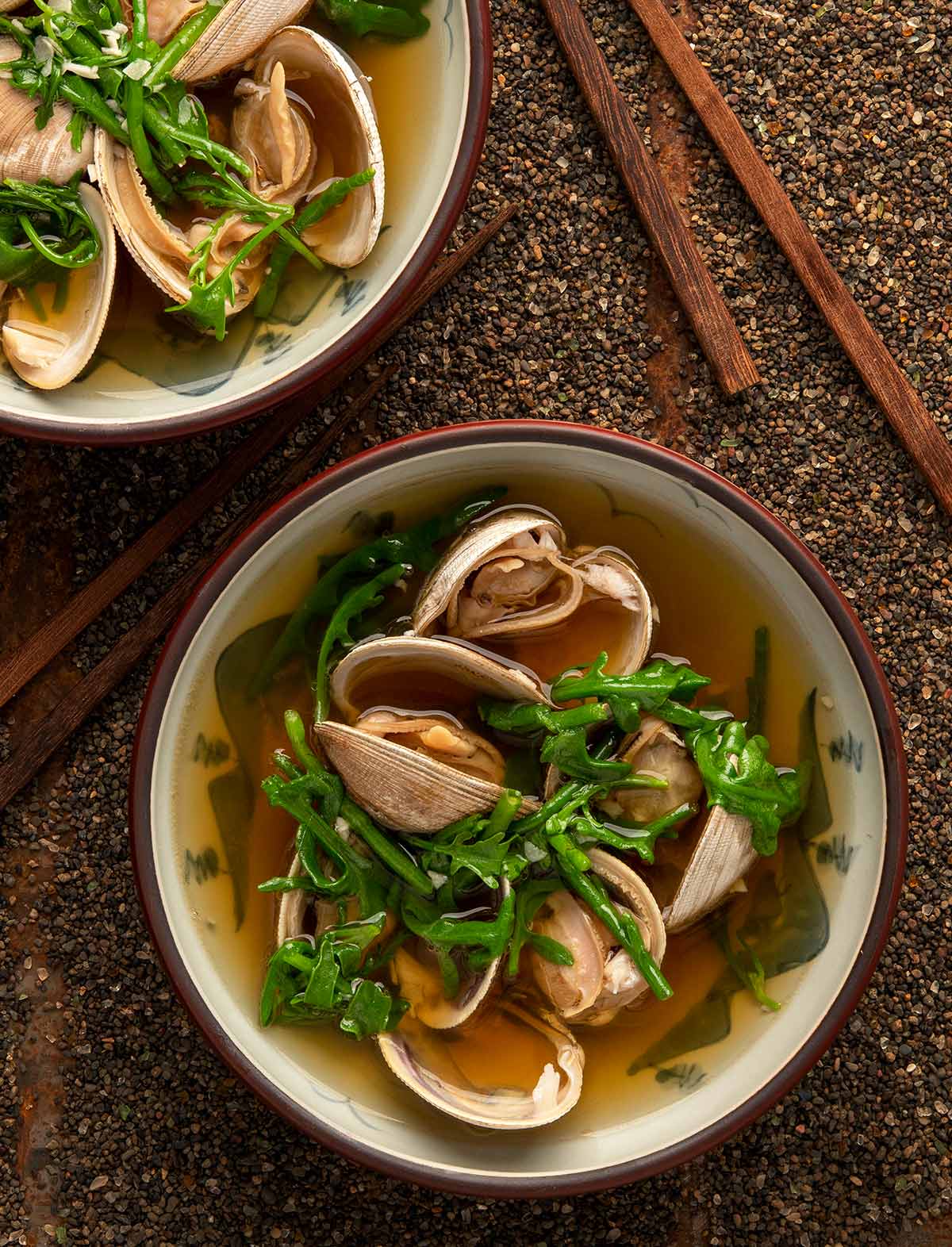 When most people think about a clam soup, they think clam chowder. This is most definitely not that, but if you want one, I have a recipe for Maine clam chowder here.
I first heard about clear, simple Japanese clam soups decades ago, while watching the Japanese version of Iron Chef, which is the original, by the way. I later saw them on one of my favorite TV shows, "Midnight Diner," and I finally got around to making one after I bought Sonoko Sakai's wonderful cookbook Japanese Home Cooking. This recipe is inspired by hers.
The soul of this type of clam soup is dashi, the simple seaweed-and-dried-fish-flakes broth so common in Japan; fresh, small clams; and a green thing. Each ingredient needs to be good to really appreciate this dish.
Sakai has a recipe for clam soup with wakame seaweed, which you can find if you happen to have a decent Asian market in your town, or you can buy online. I actually skipped it because I had something I like better: sea rocket and sea beans.
Both are seaside wild greens I've eaten since I was a little boy — digging clams is also something I've done since I was a toddler. Sea rocket, Cakile maritima, is a salty cousin of arugula, while sea beans, which are any one of the salicornia species, are crunchy, salty green things.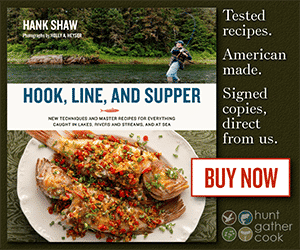 Sea rocket is an invasive species in California, so I feel good about eating it, and sea beans are wildly abundant. Both were growing near where I dug the clams for this clam soup.
Another sea green, sea orache, lives there, too. You could use that if you want, or it's common weed cousin, lambsquarters.
Other than the seaweed — wakame or sea lettuce would be what you'll want to use — or sea greens if they're around where you live, this clam soup is austere: The only other ingredients are the clams and a little garlic and sesame oil. Chives for garnish if you want.
Use small, hard-shelled clams. I used Western littlenecks, which is what we have here, but Manila clams, venus clams, Eastern littlenecks or topnecks also would be good.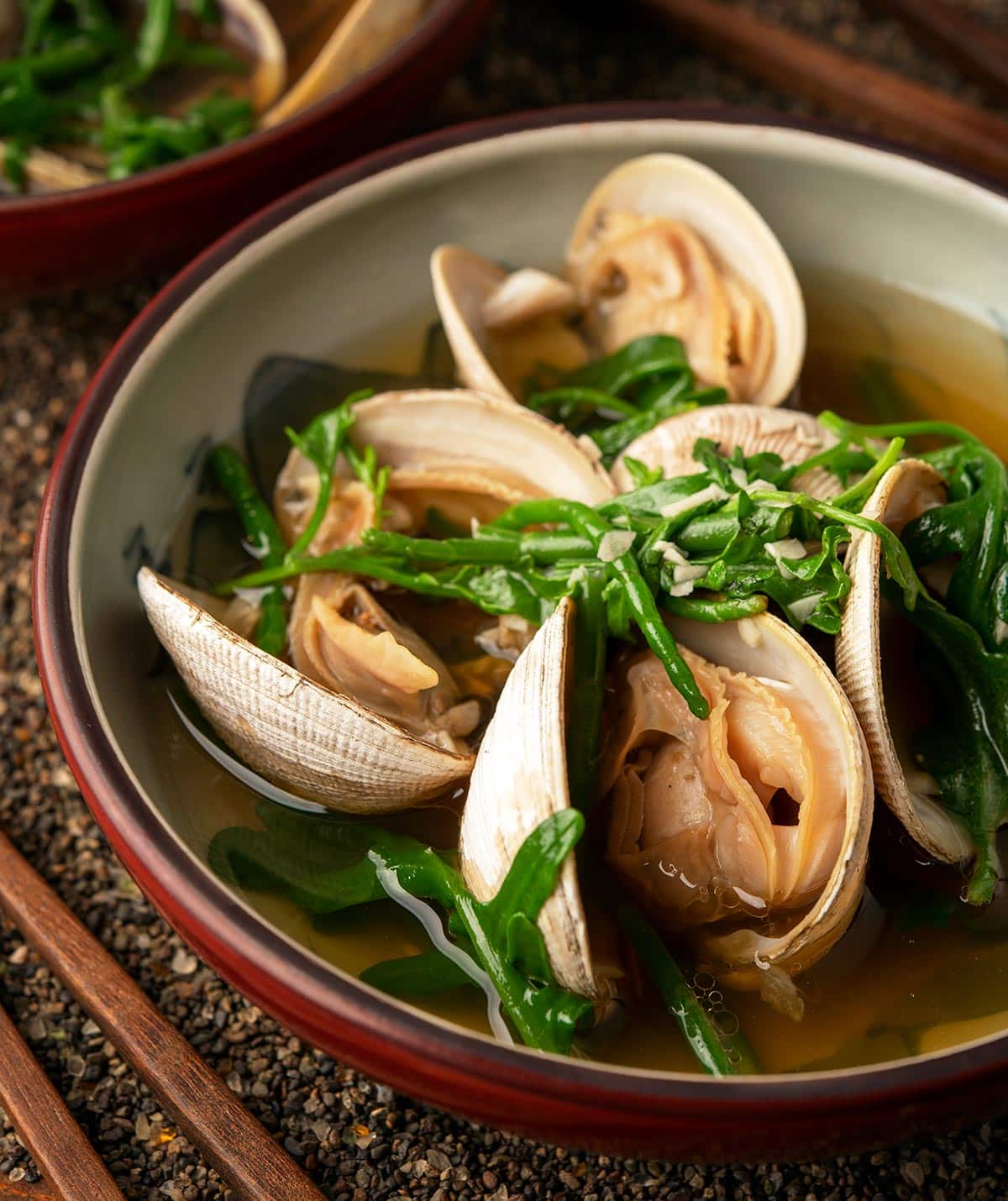 Clam Soup Ingredients
So to sum up, making this clam soup is easy, but it does require a few ingredients not in standard American supermarkets — that said, here in California where there is a sizable Japanese-American population, these ingredients are in most supermarkets, but that's the exception.
You'll need:
Kombu, which is dried kelp, for the dashi broth.
Bonito flakes, shaved, dried and salted fish, also for the broth.
Sesame oil, for the soup base. This one is in pretty much every American supermarket.
A green thing. Ideally it's the wakame seaweed I linked to above, but sea rocket and sea beans are great options if you find them while digging clams. If you bought your clams for the clam soup, I'd suggest either regular spinach, chard, or a packet of seaweed salad, which are often sold in the produce section.
Clams. As I mention above, any small, hard-shelled clam will do. Please don't use canned clams.
Once made, this clam soup needs to be eaten. It doesn't keep well. If you do need to do this in stages, the easiest thing to do is make the dashi broth, then keep it in the fridge for up to a week. Everything else comes together in minutes.
Japanese Clam Soup
This is a very simple clam soup that comes together fast, but you do need some special ingredients. They are listed above, along with tips on how to get them.
Ingredients
DASHI BROTH
1

piece

dried kombu (kelp),

roughly 3×3 inches square

20

grams

bonito flakes,

about 3 very loose cups
SOUP
1

tablespoon

sesame oil

1

clove

garlic, minced

1/3

cup

sake

4

teaspoons

soy sauce

24 to 36

small, hard-shelled clams

1/3

pound

sea beans, sea rocket, orache or spinach

(See note below if using seaweed)

1/4

cup

minced chives

(optional)
Instructions
DASHI
Put the dried kombu in a pot with 6 cups of water. Turn the heat to medium-low and let the water warm slowly. Eventually you will see small bubbles form at the edges of the kombu. When you see this, remove the seaweed.

Turn the heat to high and bring the broth to a boil. Drop in the bonito flakes and stir to combine. Turn off the heat, cover the pot and let this steep for 2 to 3 minutes, no more.

Strain the broth into a container and reserve. (See notes below if you want to make a secondary dashi with the leftover kombu and fish flakes.)
SOUP
In a medium pot, heat the sesame oil over medium-high heat. Cook the minced garlic for a minute, maybe two, but don't let it brown. As soon as it starts to look tan, add the sake and soy sauce. As soon as this comes to a boil, add the reserved dashi. Bring this to a gentle simmer.

Add the green thing — wakame, sea vegetable or spinach — and the clams. Bring the pot back to a strong simmer, then cover the pot. Let this cook undisturbed 2 minutes, then check for open clams. Pick each one out as they open. Keep cooking for up to 6 minutes (certain species, like Western Littlenecks, need more time to cook than do Manila or topneck clams), picking out each clam as it opens. Any unopened after that time, discard.

To finish, return all the clams to the broth, drop the heat to low, and add the chives. Serve at once.
Notes
If you want, you can use oysters, scallops, small shrimp or crabmeat for this soup. 
Tips and Substitutions
If you are using the wakame seaweed, use 1 ounce dried. Rehydrate in cool water, then chop roughly. 
Once you make the dashi, it will keep in the fridge a week. 
If you want to make a secondary dashi, put the leftover kombu and bonito flakes in a pot and cover with 1 quart of water. Bring to a boil, then drop to a simmer and let this cook down, uncovered, until you lose about 1/3 of its volume. Strain and store in the fridge. 
Sake is widely available, but if you absolutely can't find it, use a dry white wine. 
Nutrition
Calories:
95
kcal
|
Carbohydrates:
2
g
|
Protein:
6
g
|
Fat:
4
g
|
Saturated Fat:
1
g
|
Polyunsaturated Fat:
1
g
|
Monounsaturated Fat:
1
g
|
Trans Fat:
0.003
g
|
Cholesterol:
7
mg
|
Sodium:
1151
mg
|
Potassium:
78
mg
|
Fiber:
0.5
g
|
Sugar:
0.3
g
|
Vitamin A:
147
IU
|
Vitamin C:
2
mg
|
Calcium:
12
mg
|
Iron:
0.4
mg
Nutrition information is automatically calculated, so should only be used as an approximation.