As an Amazon Associate I earn from qualifying purchases.
God, how I love this soup! I am vaguely aware that salmon miso soup exists in Japan, likely in the northern island of Hokkaido, but I don't know how they make it. So I made my own, and it is a wondrous use of pantry staples and unloved bits.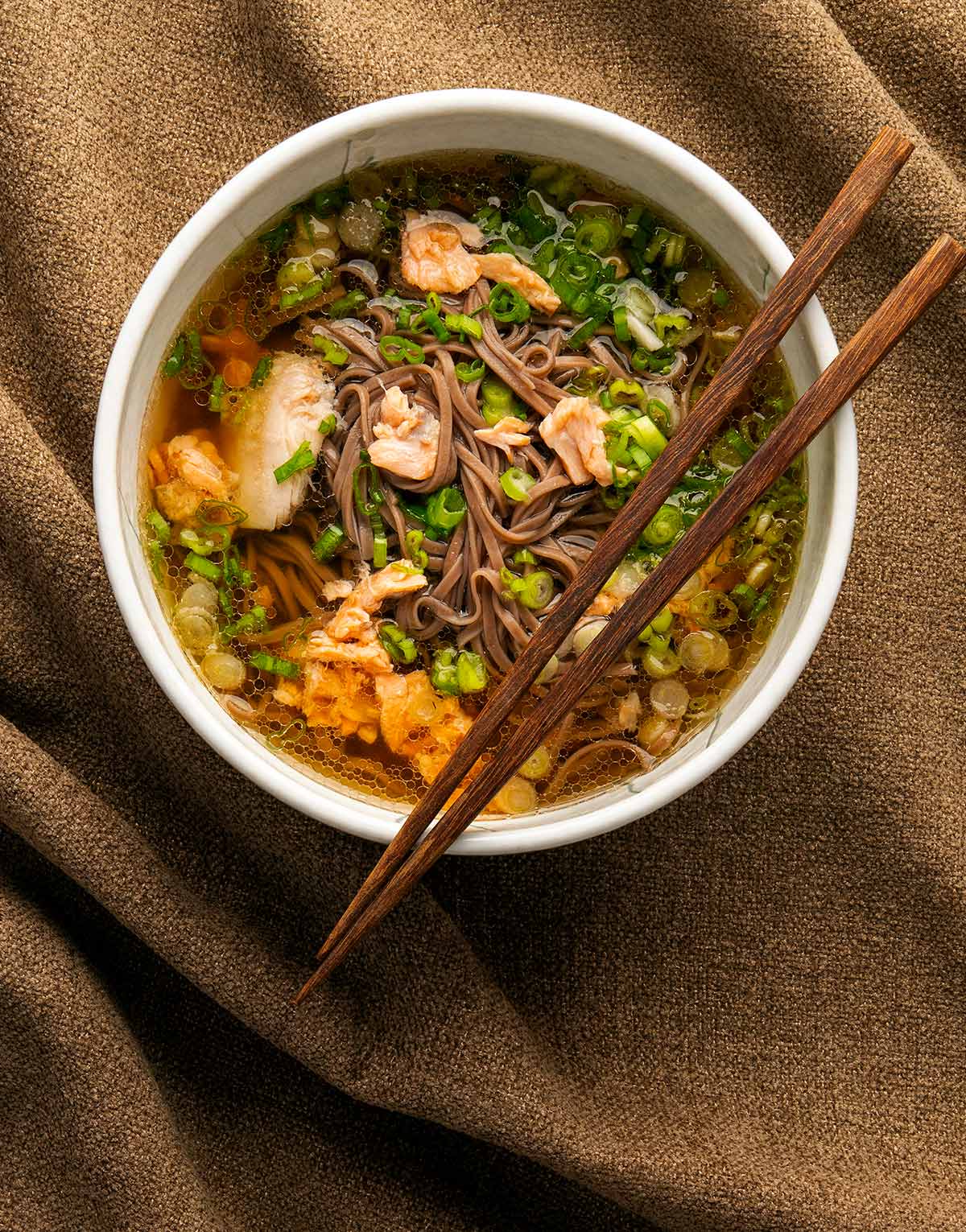 It all started after a great salmon fishing trip near Tomales Bay with friends. I got my limit of two salmon, and so had lots to play with. I have a routine when I get salmon home, but this time I wanted to stretch a bit. So I made a salmon stock from the bones and head.
Afterwards, I picked off all the stray meat from the bones and from inside the head, including those wonderful salmon cheeks, which are the only part of the salmon that is not orange, oddly enough.
After that, it was easy-peasy: Heat the strained broth, cook some soba noodles separately, add them to a bowl, add miso to the broth, scatter the salmon bits in the bowl and top with sliced green onion.
Simple. Perfection.
Every miso soup I've ever had was simple. Often just dashi, miso and maybe a mushroom, or some green onion, or a shrimp. This was so satisfying, and so easy, I really hope you get a chance to make it.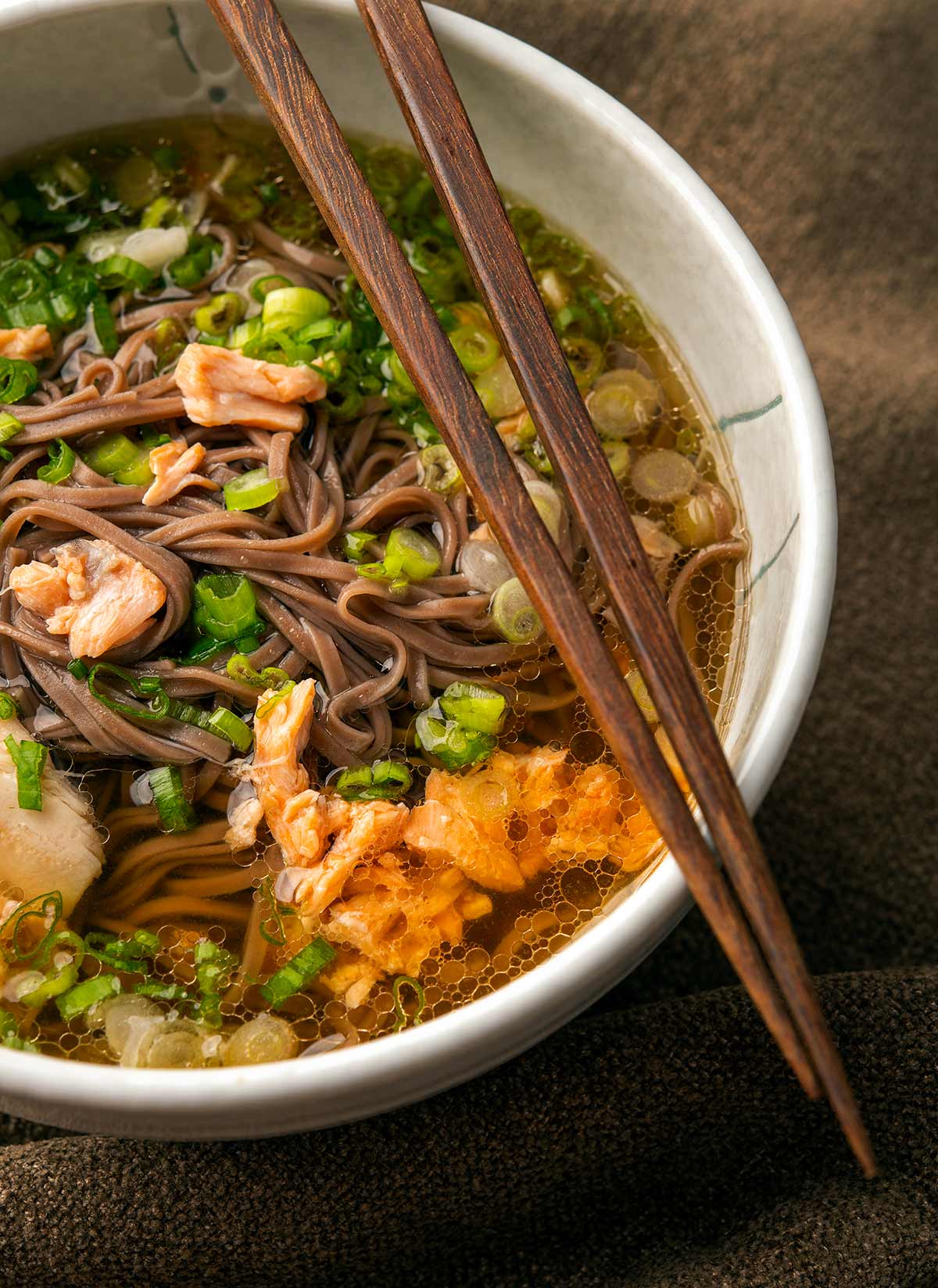 I used red miso for my salmon miso soup with the idea that salmon, being a strongly flavored fish, could stand up to it; red miso is stronger flavored than white miso. I've since made this soup with white miso and I like it just as much — maybe use the white miso on a warm day, red on a cold one.
Ditto for my choice of soba noodles, which are not normally served in hot soups. I really, really like them with salmon, however, and they just work. Other choices would be udon or ramen.
All of these are easily available in my supermarket, but I live in California. You can buy miso and soba noodles online, however. Both miso and the noodles keep a long time, so you can have them handy when you want them.
As for the salmon, we catch kings here in California, and that's what I use. But any variety of salmon will work, as would trout, whitefish, char or hell, even things like jacks or Spanish mackerel or smaller tunas.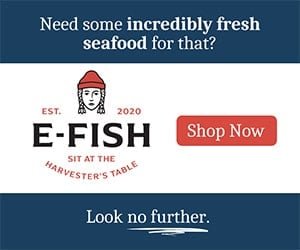 Just don't use primo cuts for salmon miso soup. Use meat scraped from the carcass if you're an angler, or a tail cut or something inexpensive if you are buying fish. You can buy salmon heads in many markets, too.
I also have a slightly different salmon soup here, which also uses carcasses and heads.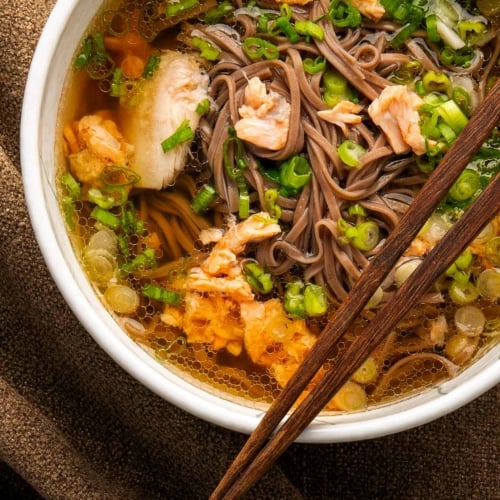 Ingredients
2

quarts

salmon stock or dashi

(see headnotes)

1

pound

soba noodles

1/2

pound

cooked salmon scraps,

or diced salmon

1/2

cup

red or white miso

1/4

cup

sliced green onions
Instructions
Get your salmon stock or dashi warm in a pot. Cook your soba noodles according to the instructions on the package. Drain and set some in each person's bowl.

Add some salmon to each bowl, along with some green onions.

Mix the miso with the stock -- you can double the amount of miso if you'd like -- and pour into each person's bowl. Serve at once.
Notes
I use meat scraps from making the salmon stock for this recipe, but you can use diced salmon if you want. Any type of salmon, trout or char is a good choice here, as is whitefish, sablefish or any of the jacks or small tuna. 
Keys to Success
Since this soup is so simple, your ingredients will make or break it. Get soba from Japan, really good miso, and make the broth yourself and you will be amazed. 
As I mention above, I use red miso on cold days, white on warm ones. Red is stronger flavored. How much you use is variable. Use the amounts in my recipe as a guide, not dogma. 
Alternatives to green onions would be scallions, chives, chrysanthemum leaves, and shiso. 
Nutrition
Calories:
405
kcal
|
Carbohydrates:
64
g
|
Protein:
27
g
|
Fat:
6
g
|
Saturated Fat:
1
g
|
Polyunsaturated Fat:
3
g
|
Monounsaturated Fat:
2
g
|
Cholesterol:
21
mg
|
Sodium:
2474
mg
|
Potassium:
707
mg
|
Fiber:
1
g
|
Sugar:
2
g
|
Vitamin A:
89
IU
|
Vitamin C:
1
mg
|
Calcium:
142
mg
|
Iron:
4
mg
Nutrition information is automatically calculated, so should only be used as an approximation.