Greek Dolmades, Stuffed Grape Leaves
July 08, 2019 | Updated July 17, 2020
As an Amazon Associate I earn from qualifying purchases.
Every year, in early summer, I think about making Greek dolmades, also known as stuffed grape leaves. Dolmades are one of the best vehicles for all sorts of tasty fillings, and there are versions of stuffed grape leaves all over the Mediterranean.
The reason is because wine grapes grow all over the area, and, when you grow grapes of any kind, you have excess vines and leaves from each year's new growth. As you trim your vines, you save the leaves to make stuffed grape leaves fresh, or you preserve them for later.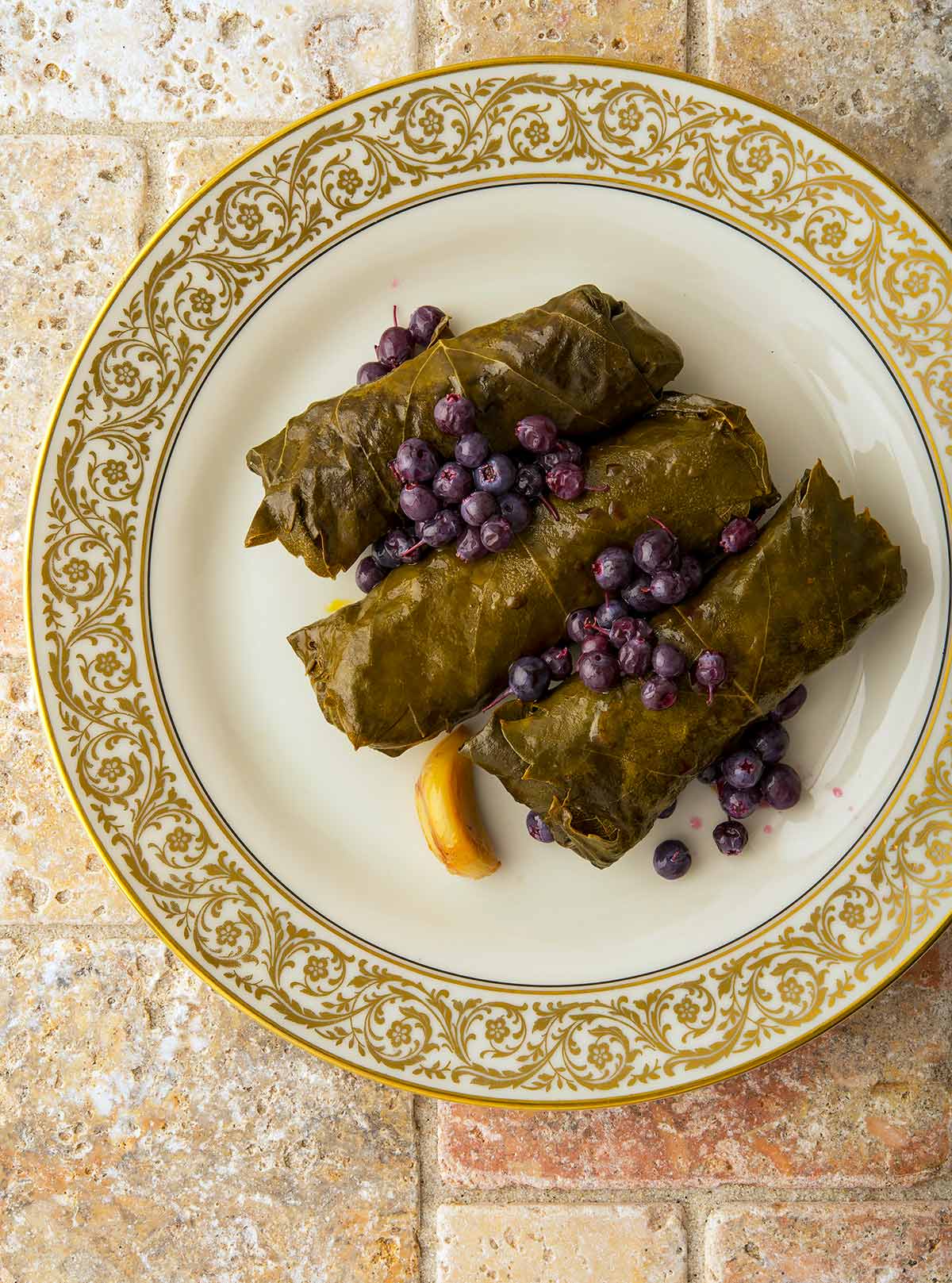 Incidentally, here is my method for preserved grape leaves. And you can of course buy preserved grape leaves, which is what most people do.
Greek Dolmades made with fresh leaves are better than those made with canned ones, so it might be worth it to see if any grapes live near you. Wild grape leaves are perfectly good to use, and some species kick out huge leaves perfect for stuffing.
What to stuff in your grape leaves? Really whatever you want. I've seen recipes for bulgur wheat fillings, ground meat, pumpkin, fish, mushrooms, and, most often, rice. This recipe is for vegetarian, rice-and-herb stuffed grape leaves.
Why? Because I like snacking on cold or room temperature dolmades. And meat or fish filled grape leaves aren't terribly good cold. The general rule with this sort of stuffed grape leaves is to mix the rice with lots of fresh herbs, as well as something else to make it interesting. Sometimes small berries or bits of fruit, sometimes nuts, sometimes a bit of different vegetables.
INGREDIENTS
The Persian stuffed grape leaves I get at my local restaurant always have semi-dried barberries on them, little bright bursts of tart-sweetness. I don't happen to have any, but I do have dried Sierra Nevada blueberries, which are much smaller than store-bought, and dry to a leathery consistency well.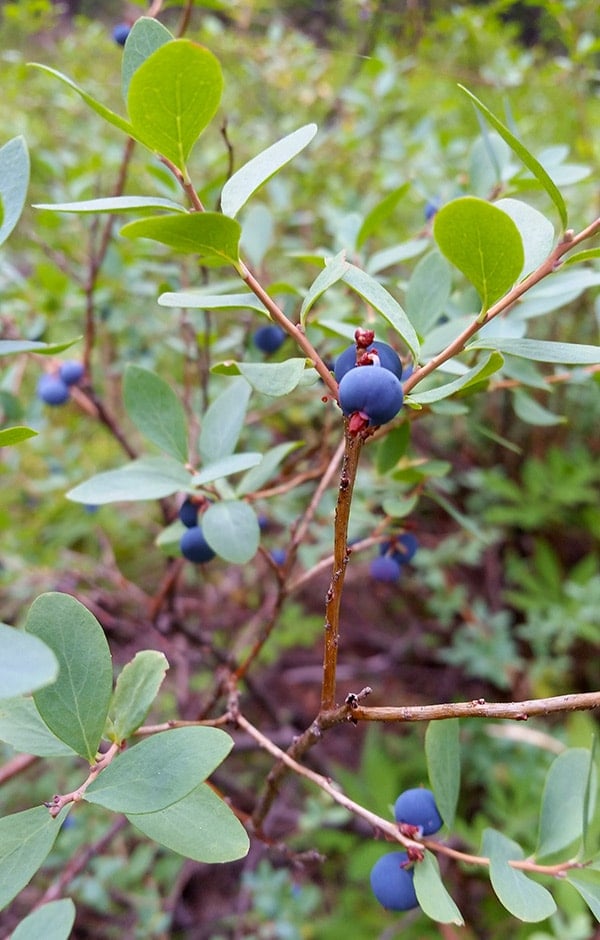 You can use any small, tart berry. Other good choices would be lingonberries, other small wild blueberries, red huckleberries, agarita berries, and, of course, actual barberries.
The herb choice is also up to you. I used mountain pennyroyal, a local species of "wild oregano," as well as parsley and chives from the yard. In general, you want a mint-like thing, an oregano-like thing, and a chive-like thing. And it's always good to add parsley. You have all sorts of choices depending on where you live.
A word on the rice. You absolutely must use medium- or short-grain rice if you want to eat your stuffed grape leaves cold. Cold long-grain rice, which is the most common rice sold in the United States, will taste like cardboard nails in your mouth if you eat it cold. Look for sushi rice or arborio instead.
MAKING GREEK DOLMADES
Now, on to making your stuffed grape leaves. It's easy, but there is a bit of a system you need to learn first. It should only take you a few leaves to get it down.
First, you will mix your uncooked rice with everything else. Yes, uncooked. The rice gets cooked later, when your dolmades are all made. Have that nearby.
If you are using fresh grape leaves, boil them first for about 2 minutes, so they turn army green and soften. If you are using canned, just carefully take them out of the jar or can and unfold them. Preserve grape leaves are more fragile than fresh ones.
Don't toss any ripped leaves! You will use them to line the pot you cook the dolmades in.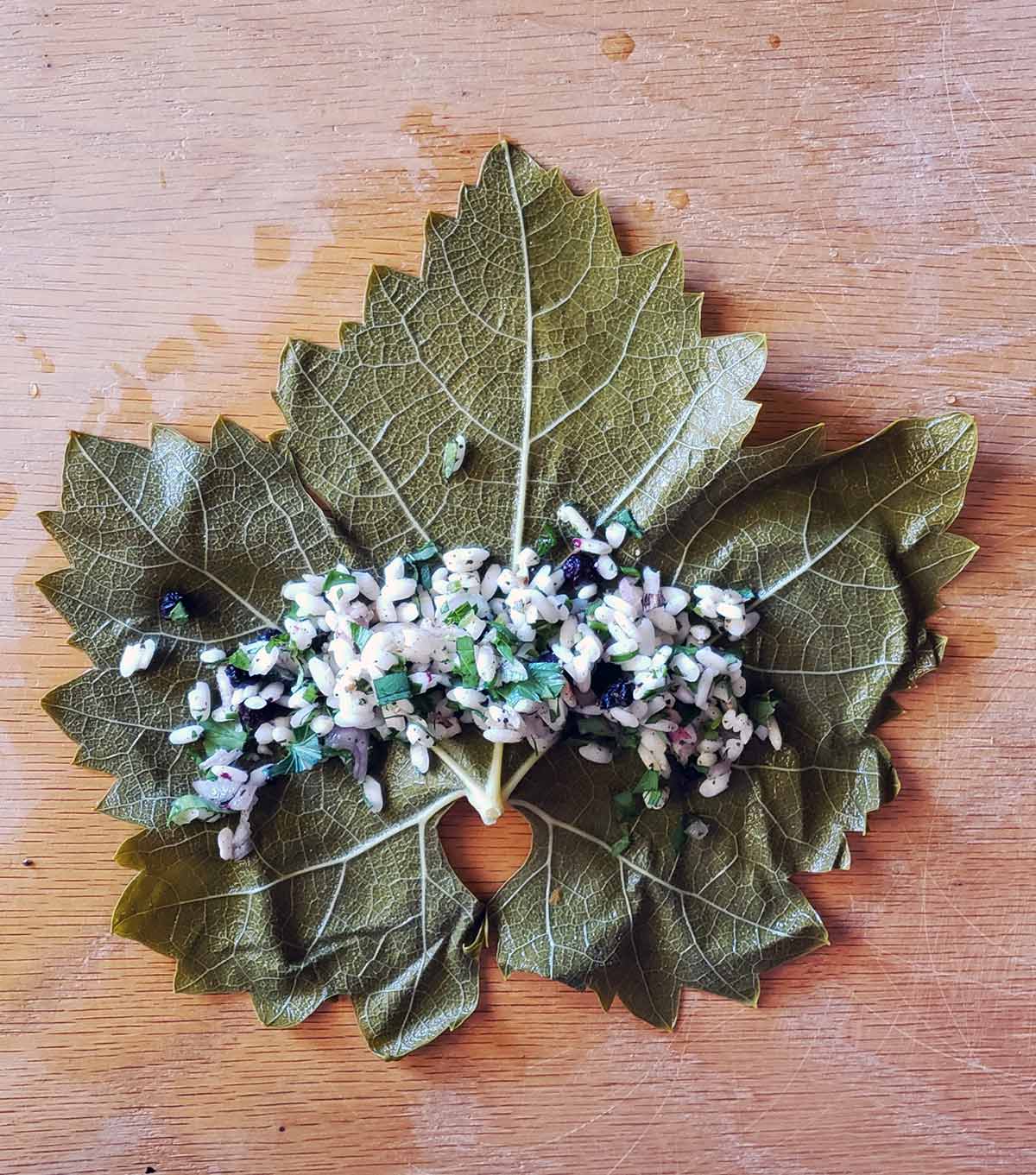 Lay a grape leaf vein side up, facing away from you. Spoon some mixture onto the leaf. How much? Usually about a tablespoon, but your leaves will all be different sizes.
Fold the bottom of the leaf up over the filling, then fold in the sides — this is basically the same as folding a burrito. Tightly roll the grape leaf up toward the point, then set it, seam side down, into your pot lined with grape leaves. Repeat until you've used all your filling.
We did a little video on how to stuff grape leaves here.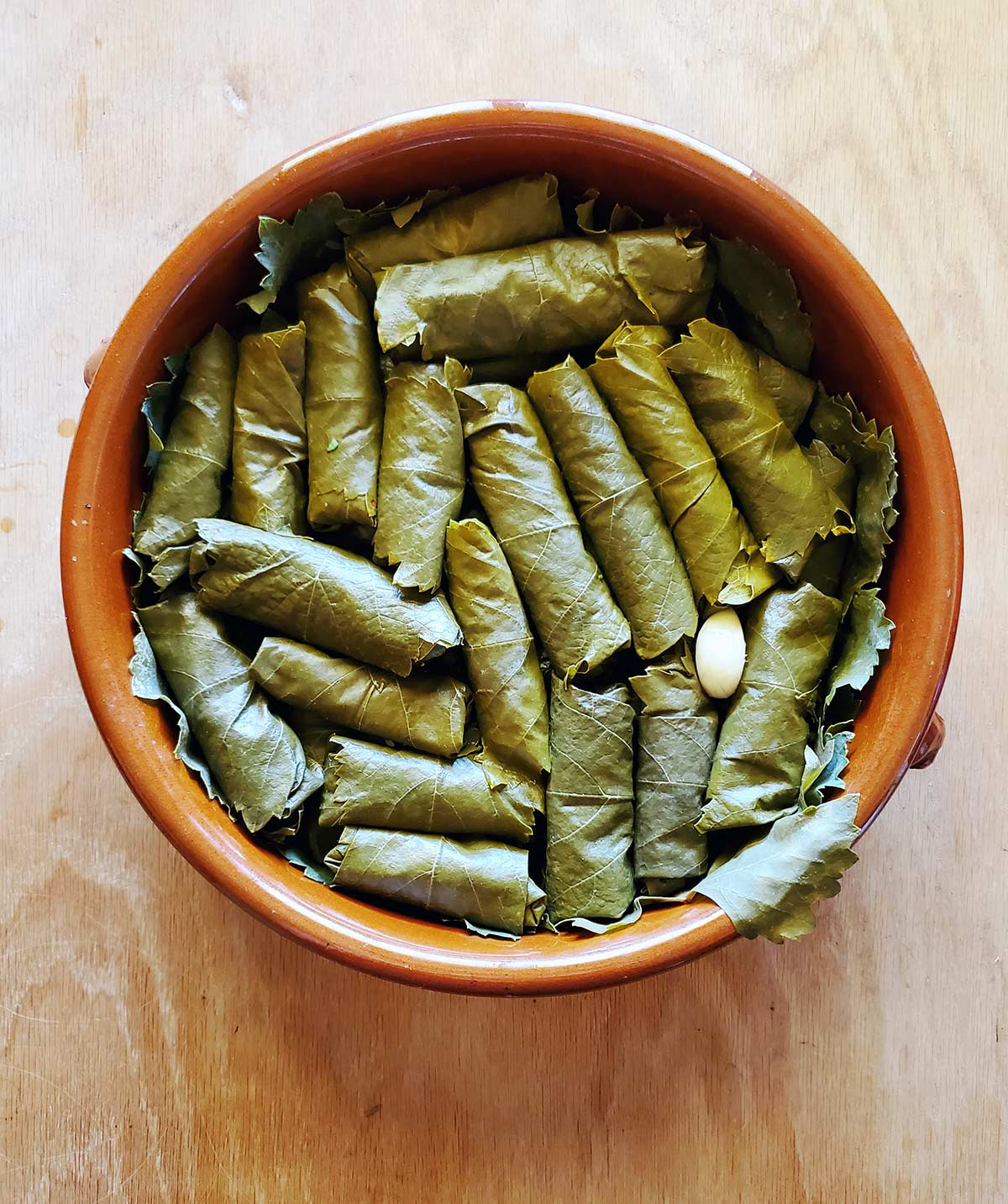 COOKING AND EATING STUFFED GRAPE LEAVES
You cook your stuffed grape leaves by adding water, olive oil and lemon juice, then simmering them until the rice has absorbed all the water. Let them cool in the pot to absorb any excess water or steam, then serve hot at first, then cool thereafter.
Once made, dolmades will keep for a week or more in the fridge.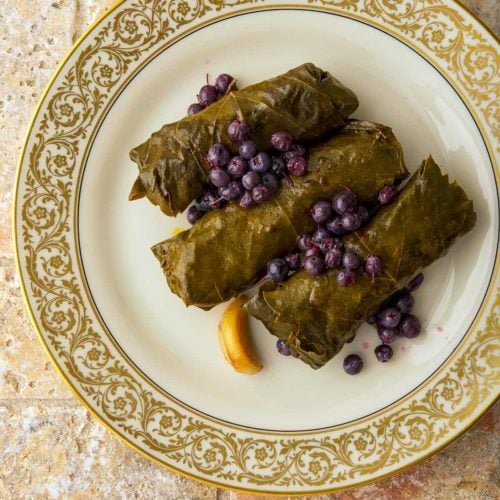 Greek Dolmades
This is a basic recipe for vegetarian stuffed grape leaves with short-grain rice and lots of herbs. See the notes above for details on making your dolmades.
Ingredients
Roughly 50 grape leaves

1 1/2

cups

short- or medium-grain rice,

such as sushi or arborio

2

shallots, minced

2

garlic cloves, minced

2

tablespoons

minced fresh parsley

2

tablespoons

minced fresh mint

2

tablespoons

minced fresh chives

1/2

teaspoon

ground allspice

1/2

teaspoon

ground coriander

1/2

teaspoon

ground cinnamon

3

tablespoons

dried tart berries

(optional)

Salt and black pepper

2/3

cup

olive oil

1

teaspoon

sugar

2

lemons, zest grated and juiced
Instructions
Pour boiling water over the rice and stir well until the water is milky. Drain the rice and rinse it well. Add the shallots, garlic, parsley, mint, chives, allspice, coriander, cinnamon and the berries, if you are using them. If you are zesting the lemons, add the grated zest, too. Mix well and set in a bowl.

Line a shallow pot with grape leaves; this prevents the stuffed grape leaves from sticking to the pot. Stuff the grape leaves as described above, tucking them in snugly into the pot. If you have gaps, it's nice to put in a garlic clove, which adds some flavor, and is tasty once cooked.

Once you have all the grape leaves in the pot -- and it is perfectly OK to add them in layers -- dissolve enough salt into 2 cups of water to make it salty, about a tablespoon, and then dissolve the sugar in the water. Pour this over the stuffed grape leaves. Then pour over the olive oil and the lemon juice.

Set a plate over the dolmades so they don't unravel during cooking. Cover the pot and bring to a gentle simmer. Cook this way for 50 minutes. Turn off the heat and wait at least 20 minutes before eating. If you want, spoon some pickled berries over your stuffed grape leaves when you serve them.
Video
Nutrition
Calories:
249
kcal
|
Carbohydrates:
28
g
|
Protein:
2
g
|
Fat:
15
g
|
Saturated Fat:
2
g
|
Sodium:
3
mg
|
Potassium:
79
mg
|
Fiber:
2
g
|
Sugar:
1
g
|
Vitamin A:
135
IU
|
Vitamin C:
13.8
mg
|
Calcium:
12
mg
|
Iron:
1.6
mg
Nutrition information is automatically calculated, so should only be used as an approximation.