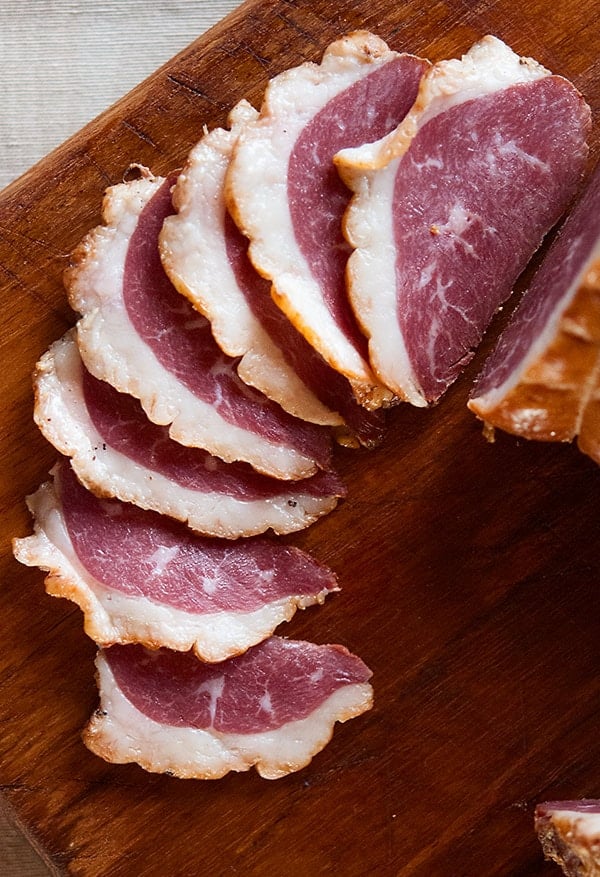 While I was writing my duck cookbook, I reached out to a few purveyors so I could get my hands on some quality domestic geese. One of them, the Schiltz Goose Farm in South Dakota, sent me some smoked goose. I told them I didn't really need any pre-made products, but they insisted. "Just try it," Jim Schiltz told me. "I think you will really like it."
Boy did I ever. It was roll-your-eyes-back-in-your-head good. There was a creamy layer of smoky fat on top, then perfectly cooked, perfectly pink meat. Sliced thin, the fat melted on your tongue. It was insanely good, and I wanted more. But Schiltz holds his recipe for smoked goose close, so I was going to have to reverse engineer the recipe. A tall order.
I was at a loss until I read a throwaway line in an old book on German food, The Cooking of Germany by Time-Life Books. It is a very difficult to find book these days, but it is worth every penny if you are really into German cuisine. In its pages is a reference to something called spickgans, a style of smoked goose breast from Pomerania, on Germany's Baltic coast.
Spickgans is, apparently, a point of pride in this region's cookery. It is a domestic goose breast, cured and smoked over a combination of juniper boughs, beech, alder or oak, and peat moss. Like a lot of regional specialties, each household's version is slightly different.
Interestingly, this style of smoked goose has always been a cut above regular smoked goose.
A menu from New York City's Metropole Hotel and Golden Rod Rathskeller from November 1900 shows both Pomeranian smoked goose, selling for $0.70, and regular smoked goose, selling for only $0.20 an order. Adjusted for inflation, that means an order of Pomeranian smoked goose would set you back a hefty $18.62 today. In 1906 over at Stauch's on Coney Island, you could get an order of Pomeranian smoked goose with asparagus and hollandaise sauce for the equivalent of $18.50 in today's dollars.
A contemporary book written by Elizabeth van Arnim, "Elizabeth and Her Garden," contains an amusing reference to how revered spickgans was in Germany:
"A man must be made comfortable before he will make love to you and though it is true that if you offered him a choice between Spickgans and kisses he would say he would take both yet he would invariably begin with the Spickgans and allow the kisses to wait."
Clearly this is no ordinary cold cut. But was this the origin of Jim Schiltz's smoked goose? At that point, I didn't care. I just had to make spickgans.
Fortunately, I had one more domestic goose on hand, this one sent to me by my friend Ariane Daguin, doyen of D'Artagnan Fine Foods. I broke the bird down and used the legs to make prosciuttina d'oca, an Italian cured goose preparation. That left me with some badass goose breasts. Whoever supplies Ariane with her geese knows what the hell they're doing. Look at the marbling in the meat of this bird: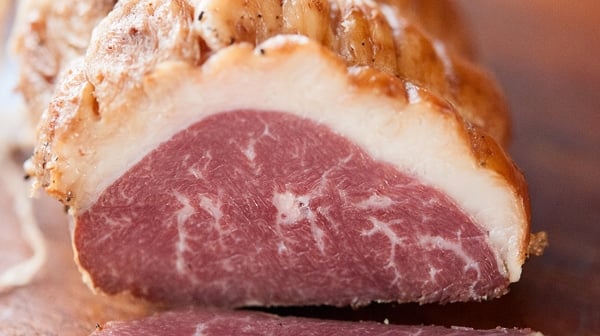 Pretty amazing stuff, considering that waterfowl are not known to accumulate intramuscular fat they way beef does. Reading further about spickgans, I learned that one of the keys to this smoked goose is to truss the breast or stuff it into sausage netting. This keeps the meat compact and results in an almost salami-like cylinder of goosey goodness that is far easier to slice than a typical smoked goose breast. A brilliant idea that I am sorta angry at myself for not having thought of it earlier.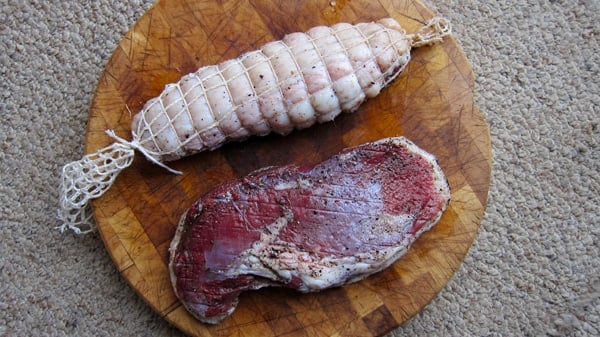 So I cured my goose, stuffed it into the netting and smoked it over alder wood for seven hours. It smelled wonderful. I sliced into it and was immediately taken back to that smoked goose that Jim Schiltz had sent me: The seasonings were a little different, but the smokiness of the meat as well as that melt-in-your-mouth texture were identical.
If you have a smoker, I urge you to try this. If not, this might be reason enough to buy one. Of all the charcuterie recipes I have on this site, this is right up there at the top. It is relevatory. I promise.
To make this correctly, you will need to do a few things you might not normally do:
You need to truss your goose breast or stuff it into sausage netting, which you can buy online. While not absolutely necessary, it does change the end result in a subtle way.
You will definitely need to use nitrites (Instacure No. 1) for safety and to get that pink color.
The safety factor comes in with another thing you need to do to make this recipe — you need to start the goose in a cold smoker and bring the heat up to temperature very slowly. This is easy to do in a Bradley smoker, and it can be done in a Camp Chef smoke vault or in many other smokers. It is, however, very hard to do with a classic smoker; the kind where you start a fire near the meat.
Flavorwise, you are getting a lot of character from juniper berries, black pepper and Scotch. What's with the Scotch? Well, unless you have some means of smoking over peat, the best way to get a little of that peaty flavor into the meat is to soak it overnight in a peaty Scotch. I used Laphroaig. Can you skip this step? Sure, but if you a) like to drink peaty Scotch and b) have it around, by all means use it.