Goose Leg Ham, Prosciutto D'Oca
July 08, 2013 | Updated June 22, 2020
As an Amazon Associate I earn from qualifying purchases.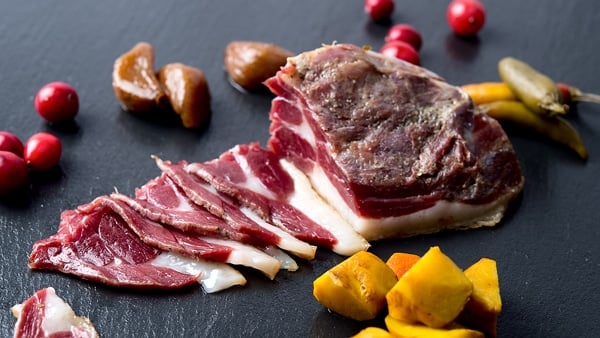 I've always wondered why we all call cured duck breast "duck prosciutto." After all, a ham is the hind leg of a pig, so shouldn't duck or goose ham be the hind leg of the bird?
Apparently the Italians think so, too, because their prosciutto d'oca (oca means goose in Italian) is indeed made from the legs of geese.
I have a couple excellent books on Italian charcuterie written in Italian, which I can read just enough to be dangerous. In these books it describes prosciutto d'oca, also known as prosciuttino d'oca, as a fairly common cured meat found in Friuli, in the far northeast corner of Italy.
Problem is that as a hunter, you need a particular kind of goose leg to make this ham. A leg/thigh from a big Canada goose that had been eating grain — so it had a nice fat layer — would be an ideal wild leg to use. Smaller but better tasting would be a leg from a specklebelly goose.
But I had none lying around.
Fortunately I had some domesticated goose from Schiltz Farms they'd given me to help me with research for my cookbook Duck, Duck, Goose. I'd already used the breasts to make German smoked goose breast, which, by the way is made of awesome. That left the legs.
It takes courage to make this prosciutto. It requires a very long hang time, almost as long as that of a regular ham. Keeping the meat moist over several months without a massive mold invasion was a little tricky, but keeping an eye on the humidity of the curing chamber and of the various molds that developed turned out to be easier than I'd thought.
The long wait was worth it. This ham is nothing short of amazing.
The fat melts on your tongue like a good lardo, and the meat is moist, a little funky and is so smooth it's like eating silk. A little bit goes a long way, which is good because the yield isn't fabulous. You get a nice chunk from the thighs, as you can see in the lead photo up top, and then little shavings here and there.
My guess is that there is a customary way to cut this ham, as there is with Spanish hams like jamon iberico, but I haven't mastered that yet.
Prosciutto d'Oca, Italian Goose Leg Ham
You will note that the salt levels are variable here. That's because you salt the goose legs according to their weight. My general rule is 22 grams (about 3/4 ounce) of kosher salt per pound of meat. Big domesticated goose legs can sometimes weigh as much as 3 pounds each, but a specklebelly goose leg might only weigh a pound. The seasonings that go into the cure aren't as sensitive, so it's not as vital that they be scaled up or down. You do need the curing salt No. 2 here, as it's a food safety thing for long-cured meats.
Ingredients
2

goose leg/thighs,

preferably from a large domestic goose or a fatty Canada or specklebelly

88

to 132 grams of kosher salt,

or 3 to 4 1/2 ounces

5

to 7 grams Instacure No. 2,

about 1 teaspoon

1/3

cup

cracked black pepper,

divided

1

teaspoon

ground nutmeg

1

tablespoon

ground bay leaves

About 1 cup of lard or duck fat

1/4

cup

cracked coriander seeds
Instructions
Start the process by trimming away any large gobs of fat around the leg and thigh. You do want lots of fat on the ham itself, but only that covering the rest of the leg. Fat pockets on the side need to go.

Mix together the salt, Instacure, 2 tablespoons of black pepper, the nutmeg and bay leaves and massage it into the goose legs. Make sure every part of the goose gets a coating of the salt cure, especially around the ball joint that used to attach the thigh to the rest of the goose; this is an area that can go rancid easily if there's no cure on it. Put the goose legs and any remaining cure into a lidded container just about large enough to hold both legs. Cure in the fridge until firm throughout, about 7 to 10 days. Every day, alter the position of the legs so each side of each leg gets good contact with the salty slurry that develops as the cure draws moisture from the goose legs.

When the legs are cured, give the legs a quick rinse under cold water. You want most, but not all, of the cure to be washed away. A little stray bit of cure here and there adds flavor later. Pat the legs dry with paper towels and let them dry out for 24 to 48 hours. Do this either by putting the legs on a rack in the fridge or by hanging in your curing chamber at between 50°F and 55°F.

Now you are ready for the long cure. Use kitchen twine to tie a line from the end of the drumstick so you can hang your legs in the curing chamber. Pat the meat side of each leg dry with a paper towel. Smear on a thick layer of lard or duck fat onto the meat side and sprinkle it heavily with the cracked black pepper and coriander seeds. This process keeps the meat underneath moist over the following months. The spices help prevent spoilage and keep away flies.

Hang the legs at between 50°F and 60°F in a humid environment, between 65 percent and 80 percent humidity, for a minimum of 2 months. I hung mine for 6 months, and it was sublime. Over time in the curing chamber the legs will develop some mold. This is normal. Keep an eye on the mold and remove any black mold as soon as you see it. If this develops on the lard patch (it did on mine), wipe it off and replace the lard and black pepper coating. Just be sure to check the goose legs every few days or so.

Once the ham is ready, wipe off the lard cap, removing as much as you can from the meat side of the goose thigh. Slice thin and serve on a charcuterie plate, or in a sandwich.
Notes
NOTE: Prep time does not include curing time. You will need to be sanguine about mold with this charcuterie project. Hams get mold. Period. Mine have had everything from tight white penicillin mold to gnarly black crap. Be vigilant about black and green mold, and remove it as soon as you see it. I soak a paper towel in red wine vinegar to do the wiping. Works great, and slows the growth of future mold.
Nutrition information is automatically calculated, so should only be used as an approximation.