Seared Fish and Asparagus
April 02, 2015 | Updated April 06, 2021
As an Amazon Associate I earn from qualifying purchases.
Spring is when my hunting life gives way to my fishing life, and a great way to celebrate the turn of the season is simple seared fish and asparagus.
The spring sequence here in NorCal has an alliterative rhythm: sturgeon, steelhead, striped bass, shad. A lot of "s" fish, and each is wonderful to catch and eat in its own way. Sturgeon and steelhead seasons overlap with ducks, so I often miss the best parts of those runs.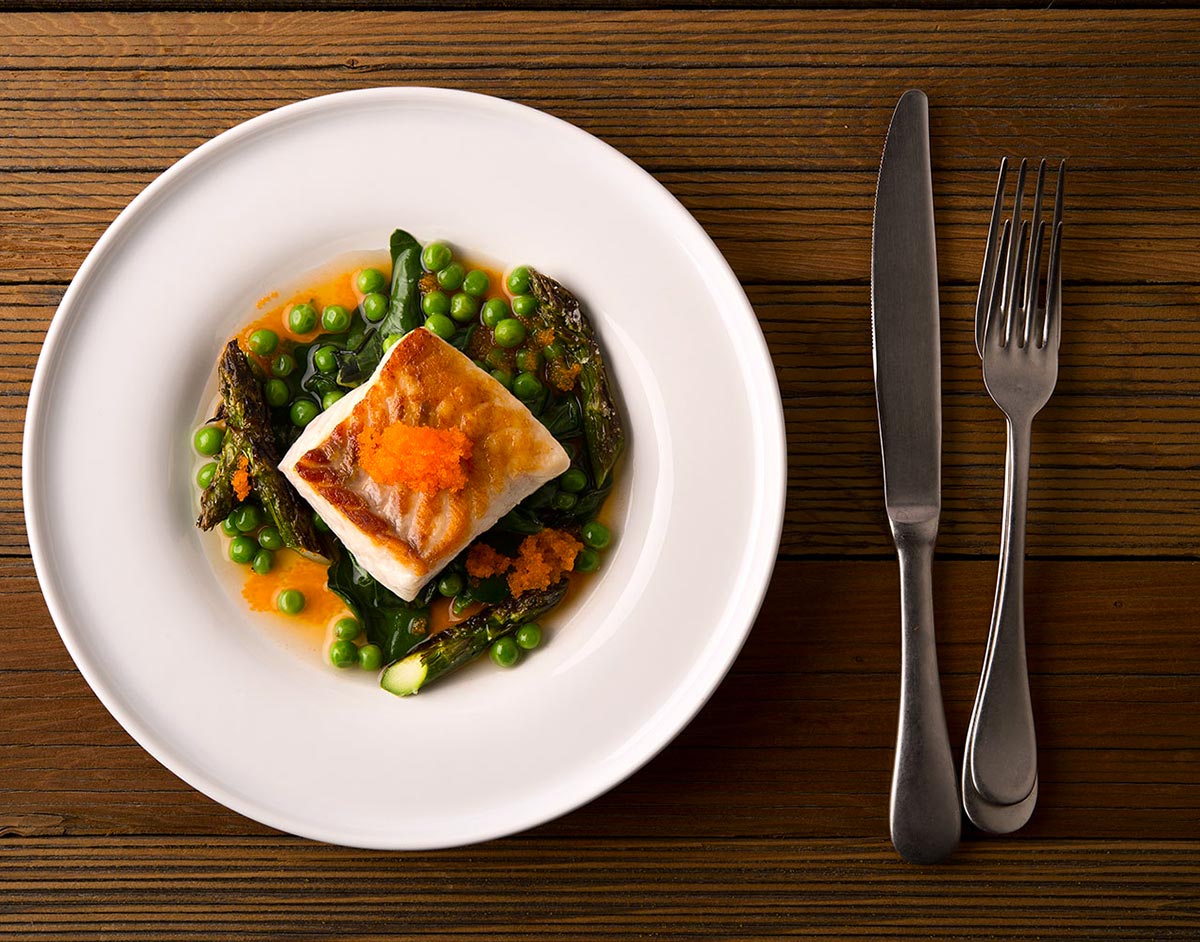 But I always try to get out a few times for sturgeon, usually with my friend Jay Lopes of Right Hook Sportfishing. Jay is an excellent sturgeon guide, and there's a growing suspicion among the fleet that Jay has some sort of juju he applies to his baits of cured salmon roe that drives sturgeon wild.
Or as wild as this dinosaur fish can get. Sturgeon, if you've never caught one, are slow-witted, near-blind and willful. They don't so much fight as just deliberately destroy your gear. A large one can decide to go off in some direction and spool your reel while you watch helplessly.
Catching a sturgeon you can keep to eat is no mean feat. They grow very slowly and live a long time, so the state of California has set a slot limit — 40 to 60 inches, from the fork of the tail to its nose — to protect both juvenile fish and the big breeders that are the quarry of an increasingly organized ring of Russian poachers.
Apparently destroying their own sturgeon grounds was not enough, now they must destroy ours, too. Lawful anglers are only allowed three fish a year; sometimes the wardens catch poachers with three times that in one night. It's enough to make one belligerent.
But I digress. Last week Jay had some room on a sturgeon trip, and my friend Chris wanted to come. He'd been sturgeon fishing many times, but had never caught one. I told him Jay was the man to see about that. Turns out I was right.
We motored out of the Martinez marina in perfect weather and set up shop near the Mothball Fleet, once a great anchorage of rusting World War II merchantmen that has shrunk to just a few remaining boats — the rest having been sold off as scrap. For whatever reason, sturgeon seem to like this place. Anchor down, Jay loaded up the rods with his voodoo salmon roe, and we waited.
For about 15 minutes. Sturgeon bite softly — odd, considering their great size — and we almost missed this bite. Almost. Chris set the hook hard to drive it through the fish's thick lips and the battle was on. Jay and I reminded Chris to keep tension on the line because we weren't using barbed hooks; one lapse and the sturgeon will slip the steel and swim off.
But Chris knows how to catch fish, and in a few minutes had the sturgeon, which we'd all thought was undersized, next to the boat. When Jay first glimpsed its sharklike tail, he bolted for the net. Keeper! Keeper! He'd netted scores of sturgeon that season, and in a splash and a flash we had a 42-inch sturgeon on board.
Chris was beaming, and we spent the rest of the day, which was fruitless save a stray leopard shark I boated, telling him over and over that sturgeon fishing is not like this: You're not supposed to catch a keeper as your first fish, and certainly not in the first hour of fishing. As for me, I've now been three trips without a keeper, which is about right.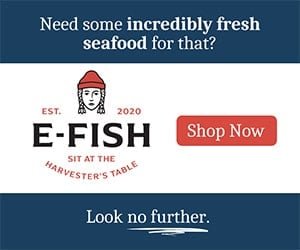 At the end of the day, Chris and I split our fish, so I had half a sturgeon he had half a leopard shark. Sturgeon is a rare gift, and while normally I smoke at least part of it, I wanted to eat some fresh right away. Spring is in full swing here in NorCal, so it just seemed right to whip up something green and clean.
So fish and asparagus it is: Roasted asparagus, seared sturgeon. Fresh peas, some stray smelt caviar I had leftover from a catering gig, and a delicate carrot broth. A lovely end to a lovely day on the water.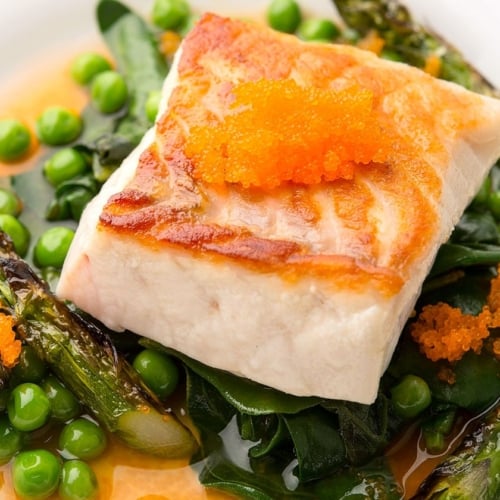 Seared Fish with Spring Vegetables
While I use sturgeon here, there is no reason you cannot use any firm fish. Codfish springs to mind, as would tilefish, snapper, drum, a large pike or walleye, trout or salmon. Use whatever. Go for it.
Ingredients
1

pound

carrots,

chopped

Salt

1

pound

asparagus

1/4

cup

olive oil,

divided

4

portions of sturgeon or other firm fish

1

pound

spinach or other tender greens

1 1/2

cups

peas

Some sort of caviar for garnish

(optional)
Instructions
Salt the fish well and set out on the counter while you prep the other vegetables.

Put the carrots in a food processor and buzz until the pieces are all very small, but it's not a puree. Put the carrots in a small pot with 1 quart of water and bring to a simmer. Simmer gently for 20 minutes and strain through a fine-meshed sieve with a piece of paper towel set inside. Either clean the pot and pour the broth back in or pour it into a new pot. Salt the broth to taste and keep warm.

Preheat the broiler on high. Coat the asparagus with 1 tablespoon of the olive oil and salt well. Put the asparagus in a shallow pan or baking sheet and roast under the broiler until slightly blackened, about 6 minutes. Remove and cut into pieces you can eat in a bite or two. Set back in the turned-off oven to keep warm.

Put 2 tablespoons of olive oil in a saute pan and get it very hot. Pat the fish dry with paper towels and lay the pieces down on the flatter side of the fillet. Let this cook over medium-high heat undisturbed for 2 minutes. Use a spoon to baste the top of the fish pieces with the hot oil; you'll need to tilt the pan to do this. You want to baste the fish until it turns opaque, about 15 seconds or so. Keep searing the fish until you can see the edge begin to brown. Gently use a spatula to try to move the fish. It should come away cleanly, or stick in maybe one spot. If it's still glued to the pan, keep cooking it. When the fish comes cleanly off the pan, move it to a plate and set it in the oven to stay warm.

Add the last tablespoon of olive oil to the saute pan and add the spinach. Saute the spinach until it wilts, and add the peas. Cover the pot and lower the heat all the way. Let the vegetables steam for a minute or two. Uncover the pan, add salt and black pepper.

To serve, put down some of the peas and spinach on everyone's plate and top with a piece of fish. Give everyone some asparagus, pour in some carrot broth and top with the caviar if you are using it. Serve with crusty bread.
Nutrition
Calories:
260
kcal
|
Carbohydrates:
27
g
|
Protein:
10
g
|
Fat:
15
g
|
Saturated Fat:
2
g
|
Cholesterol:
1
mg
|
Sodium:
174
mg
|
Potassium:
1357
mg
|
Fiber:
11
g
|
Sugar:
11
g
|
Vitamin A:
30851
IU
|
Vitamin C:
67
mg
|
Calcium:
190
mg
|
Iron:
7
mg
Nutrition information is automatically calculated, so should only be used as an approximation.