Sausage Stuffed Jalapeños
August 26, 2019 | Updated August 24, 2022
As an Amazon Associate I earn from qualifying purchases.
Everyone loves sausage stuffed jalapeños, and there are many variations on this classic appetizer. I love using the big, mild jalapeños you can buy in the supermarket these days, stuffed with chorizo and melty cheese, served with a light tomato sauce.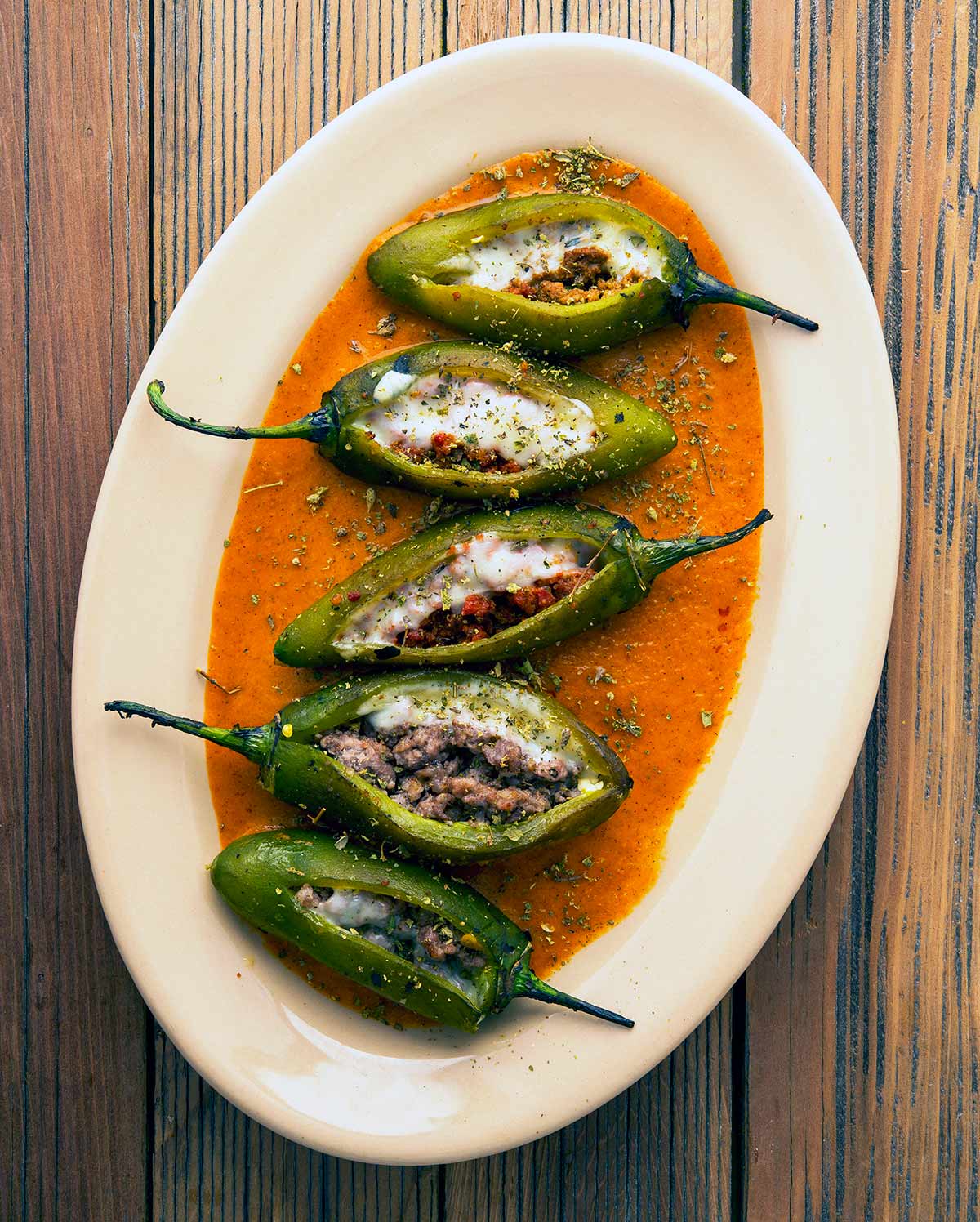 The origins of this recipe are halfway between the American Southwest and Mexico, so consider this a hybrid. You see endless riffs off sausage stuffed peppers in Mexico — like my chile rellenos. Outside the Southwest, most people use bell peppers. And yes, if a sausage stuffed jalapeño scares you, by all means use bell peppers. It'll be fine, just different.
Other good pepper alternatives would be poblanos, Anaheims, or the light green chiles güeros, which are often labeled Hungarian wax peppers for some reason. A sweet option would be those "mini sweet peppers" you can buy now. Or, if you want to get really serious, use chiles manzanos from a Mexican market; amazing flavor, but they can be, well, picoso.
I prefer big fat jalapeños because they are big enough to be a nice two or three bites, have thick walls that hold up to roasting, and are spicy but not overly so.
Many sausage stuffed jalapeños recipes skip the step of roasting the peppers to remove the skins. While I won't come to your house and beat you up if you don't, roasted, skinless peppers are much more fun to eat. You get that roasted flavor, and, in case you didn't know, the skins of chiles are not digestible, so this makes things easier on down the line, if you know what I mean…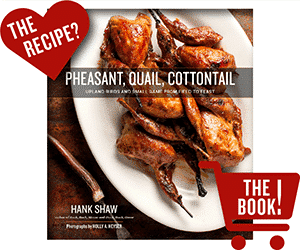 As for what sausage to use, I prefer Mexican chorizo, homemade, of course. Longaniza is another good option, and whatever you use should be finely ground. You don't want big clots of sausage in a small pepper. Honestly any sort of sausage will do; use what makes you happy.
You want a melty cheese to bind it all together. I used Oaxaca cheese here because I was in a Mexican mood, but mozzarella or any of those pre-shredded cheeses are all good. Jack and cheddar spring to mind.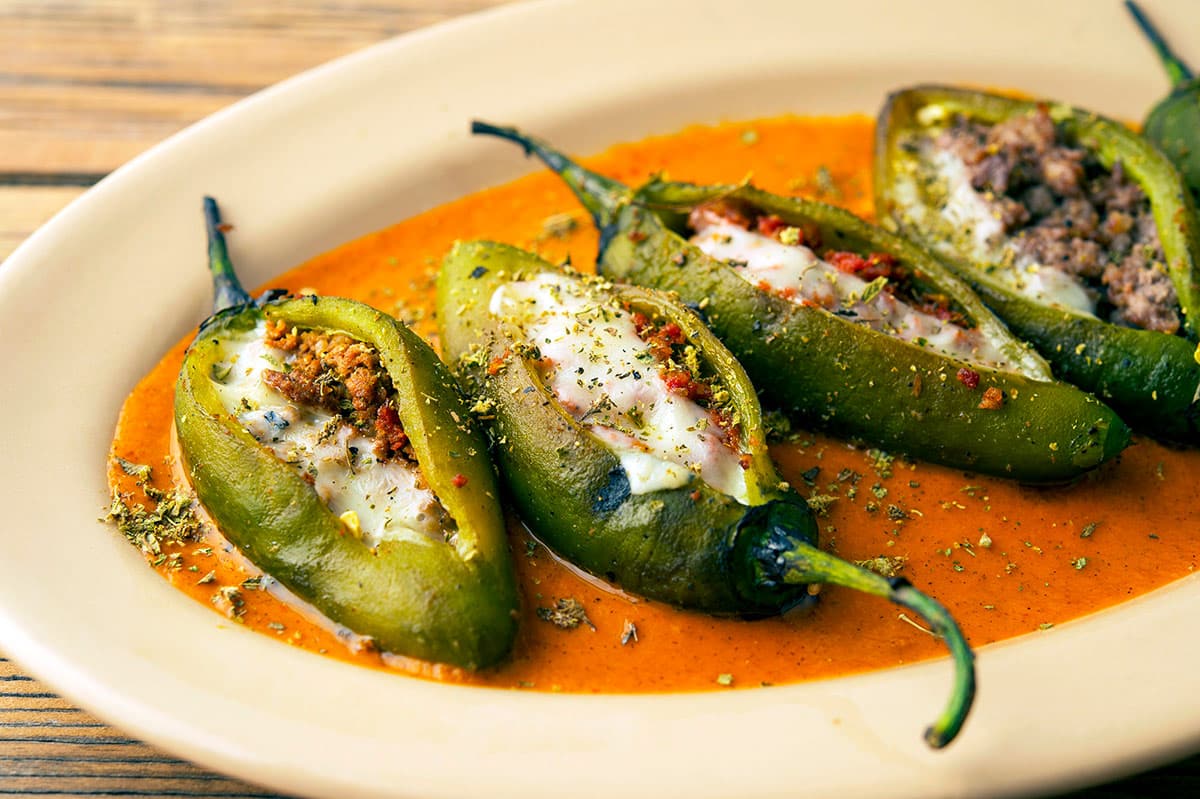 That's all that should be in stuffed jalapeños: sausage and cheese. But that doesn't mean you don't have other good things on the plate. In this case, a sprinkling of dried oregano, and a zippy tomato-habanero sauce. If the idea of sausage stuffed jalapeños with a habanero-tomato sauce seems a bit much to you, skip the habanero.
Making Sausage Stuffed Jalapeños
So my recipe calls for roasted jalapeños with the skins and seeds removed. This isn't terribly hard to do and it really, really makes a better sausage stuffed jalapeño. Carefully removing the seeds, making the pepper a "boat" is just well, better.
But I get it. Sometimes you are in a hurry. If that's the case, leave the skins on and skip the roasting. And if the idea of playing Operation on jalapeños makes you queasy, simply slice the top third of the jalapeños off to open up the pepper. This is actually what I'd do if I didn't roast because it keeps the peppers solid before you bake them.
Make more of these than you think you need, as people tend to eat more than they think they will. Oh, and leftovers? Holly and I ate a few stuffed jalapeños in some homemade corn tortillas the following day. Super good!
Sausage Stuffed Jalapeños
I prefer jalapeños here, but you can use any sturdy pepper: bell peppers, Anaheims, poblanos, Hungarian wax, even chile manzano. Ditto for the sausage, just make sure it has been finely ground.
Ingredients
TOMATO SAUCE
8

plum tomatoes

1

habanero

3

cloves

garlic, unpeeled

1/2

white or yellow onion

1

cup

chicken or other light stock

Salt
PEPPERS
16

large jalapeños

1

pound

loose sausage, ideally chorizo

1/2

pound

jack cheese

(see note above about various cheeses)

Dried oregano, for garnish
Instructions
To make the sauce, start by getting a comal or heavy skillet hot. Slice the tomatoes in half, and cut the half onion into thirds, through the root so the pieces stay together. When the skillet is hot, put the unpeeled garlic cloves, habanero and onion pieces on the hot iron, and arrange the tomato halves around them. Turn each when they are a bit blackened. The tomatoes will take the longest to blacken.

When each vegetable has gotten a good amount of blackening, move it to the cutting board to cool a bit. Peel the garlic and put that in a blender. Slice the habanero in half and remove the seeds and stem, then put that in the blender. Roughly chop the onions and add them to the blender. Finally, peel the tomatoes and put them in the blender with the stock. Puree. You want the consistency of heavy cream, so add more stock if needed. Add salt to taste.

While the vegetables are charring, roast the peppers. Again, you don't have to do this, but it makes for a better end result. To roast the peppers, I arrange them over my gas burners to char and blister. You can get most of the peppers blistered this way, but you'll need to finish them off by holding them with tongs to get any parts of pepper still green. When each pepper is done, put it in a plastic bag to steam. When all the peppers are in the bag, let this steam for a few minutes, then remove the skins from the peppers. I do this with a butter knife. Do not rinse the peppers if you can stand it; doing so washes away a ton of flavor.

Use a paring knife to make a slit in each pepper then carefully slice off where the seeds meet the stem. Carefully remove all the seeds; it's OK if you have a few seeds still in there, but get most of them.

Cook the sausage in a pan, breaking it up as it cooks. Let it cool enough to work with. Heat the oven to 400°F. Spoon it into the peppers, and stuff in some cheese either before the sausage goes in, after, or both.

Grease a baking sheet and set each finished pepper on it. Bake the pepper for about 10 minutes, or until the cheese has melted. Serve with the tomato sauce, which you can heat up if you'd like (it should still be warm by the time the peppers are ready), garnished with the oregano.
Notes
NOTE: You can make the sauce up to a few days beforehand, and you can pre-roast the peppers up to a day before. 
Nutrition
Calories:
310
kcal
|
Carbohydrates:
9
g
|
Protein:
17
g
|
Fat:
23
g
|
Saturated Fat:
11
g
|
Cholesterol:
61
mg
|
Sodium:
572
mg
|
Potassium:
300
mg
|
Fiber:
1
g
|
Sugar:
4
g
|
Vitamin A:
1315
IU
|
Vitamin C:
51.4
mg
|
Calcium:
225
mg
|
Iron:
1.1
mg
Nutrition information is automatically calculated, so should only be used as an approximation.