Salmon Jerky
July 06, 2020 | Updated October 29, 2020
As an Amazon Associate I earn from qualifying purchases.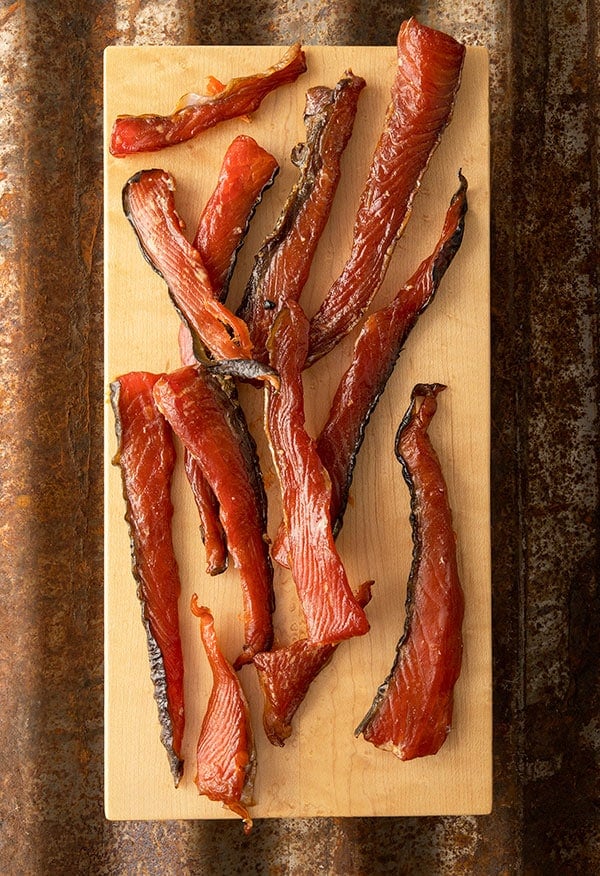 Salmon jerky is the logical extension of both regular smoked salmon as well as salmon candy.
The way I do all three is, more or less, the same. Only the cure, cut and times are different. Let me walk you through it. First, there is my standard smoked salmon recipe, which is well regarded, incidentally. This is hot-smoked salmon fillets or blocks, brined and basted with birch or maple syrup or honey. The intention is tender, lightly smoked but fully cooked salmon.
Then there is my salmon candy recipe. This is a half step towards salmon jerky. Instead of a brine, I salt (and sugar) relatively thick strips of salmon, then smoked them and baste them until they are a bit sturdier than my smoked salmon. This allows them to be carried along on day trips, and they'll keep a long while in cool conditions.
But salmon candy will still go bad at room temperature after a few days. That's where salmon jerky comes in. It's the same basic cure as salmon candy, but for longer, the cuts are thinner and the smoke time is longer.
The most important thing to know about making salmon jerky is to slice it around 1/2 inch thick, from the tail to the head. This is important. If you do cross cuts, i.e., from top to bottom of the fish. the jerky will fall apart. I also would not slice thinner than about 1/4 inch, or you risk the jerky drying too much and turning brittle.
You will also notice I left the skin on. It's perfectly edible, and it helps keep the jerky together. If you don't like it, peel the skin off before you eat it.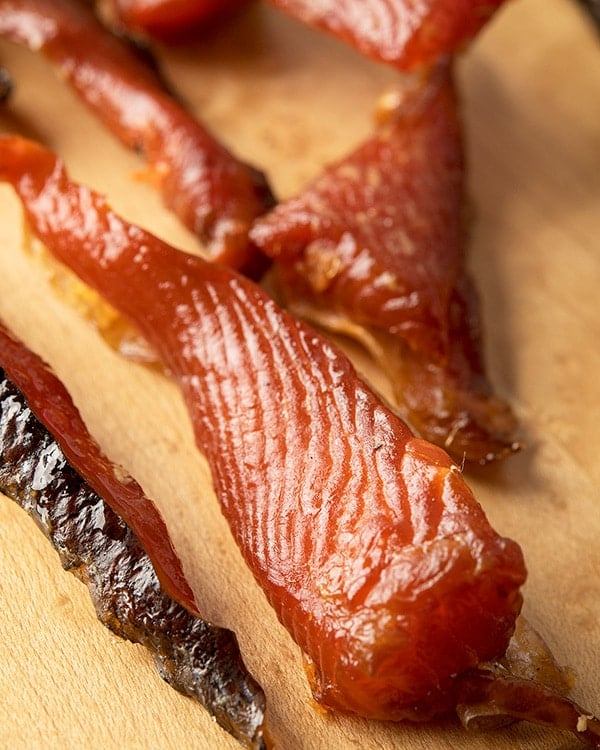 When done right, the finished product is chewy, a bit salty and a bit sweet.
I like it a lot as a trail snack, road trip food, or to eat while catching more salmon.You can play with things a bit, too. The initial amount of sugar in the cure is mostly to remove water from the fish, the same way salt does. Sugar mitigates the harshness of pure salt. But if you can't have sugar at all in your diet, you can replace the sugar with more salt.
If by chance you forget about things and leave the fish in the cure too long, you can dunk them in a bowl of ice water to remove excess cure. In this case, it's better to err on more time in the cure than less, because you are shooting for preservation.
As for the flavoring, I still like my maple or birch syrup baste. (You can buy birch syrup made by my friend Sam Thayer here.) But you can go with black pepper pressed into the fish after it cures and before it's smoked, or chile powder or garlic or really whatever makes you happy. Or do a variety.
Wood choice is up to you, too, but I recommend alder, maple or fruit woods.
Let your salmon jerky cool on a rack after it's been smoked until it hits room temperature, then put it in a container in the fridge.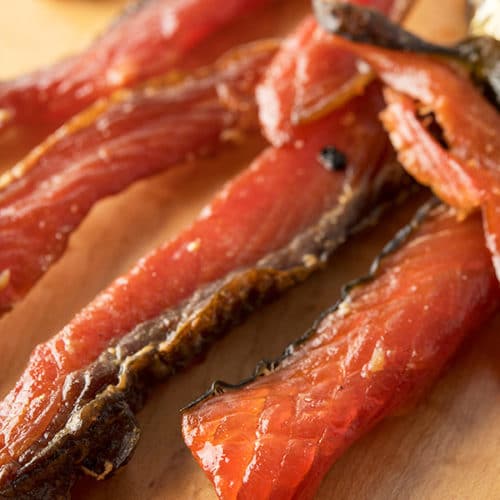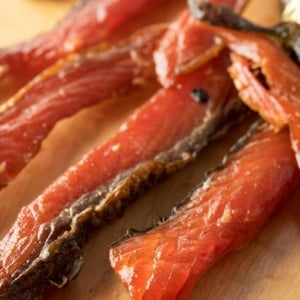 Salmon Jerky
I normally make this with the tail sections of king salmon, but any salmon, trout or char will work here, as would whitefish. Whatever fish you use, it needs to be fatty.
Ingredients
4

pounds

salmon,

cut in strips

1

cup

kosher salt

1

cup

brown sugar

1/2

cup

maple syrup or birch syrup
Instructions
Mix the salt and sugar together. Sprinkle a thin layer of this over the bottom of a lidded container. Arrange the strips of salmon in the container in one layer. Cover with the remaining cure. If you need to do this in more than one layer, heavily dust the first layer with the cure before adding more fish.

Cover the container and let this cure in the fridge for 12 hours. If you can, turn the container upside down once during this time, or mix the salmon pieces around, so you get a more even cure.

Remove your salmon from the cure and quickly dunk it in a large bowl of ice water to rinse off excess cure. Pat the fish dry with paper towels and set on a rack over a baking sheet in the fridge overnight if possible, or in front of a fan or in a cool, shaded, breezy place for at least 1 hour. You want the surface of the salmon to get sticky-tacky, which will help smoke adhere to it.

Fire up your smoker. I generally smoke at about 200°F. See the headnotes for your wood choices. Smoke you salmon for at least 3 hours, and as long as it takes to get dried, but still chewy. It normally takes me 5 hours. If you are using maple syrup, paint it on the fish every 30 minutes or so after 1 hour has elapsed.

Once you have salmon jerky, put it back on the cooling rack to return to room temperature. It will keep in cool room temperature, i.e., 60°F or below, for a long while, but I keep my jerky in small, vacuum sealed packets in the fridge until I need it. It should last like this for months.
Nutrition
Calories:
251
kcal
|
Carbohydrates:
9
g
|
Protein:
30
g
|
Fat:
10
g
|
Saturated Fat:
1
g
|
Cholesterol:
83
mg
|
Sodium:
68
mg
|
Potassium:
771
mg
|
Sugar:
8
g
|
Vitamin A:
60
IU
|
Calcium:
33
mg
|
Iron:
1
mg
Nutrition information is automatically calculated, so should only be used as an approximation.