Salmon Chowder
February 26, 2013 | Updated July 06, 2022
As an Amazon Associate I earn from qualifying purchases.
Ritual and tradition are powerful forces, both for good and for ill. Such it is with me and this salmon chowder.
I grew up eating chowder, all sorts of chowder, really, but my mom's is the best. It is a brothy, Maine-style clam chowder that is always made from the same ingredients. always in the same way. Any deviation is apostasy.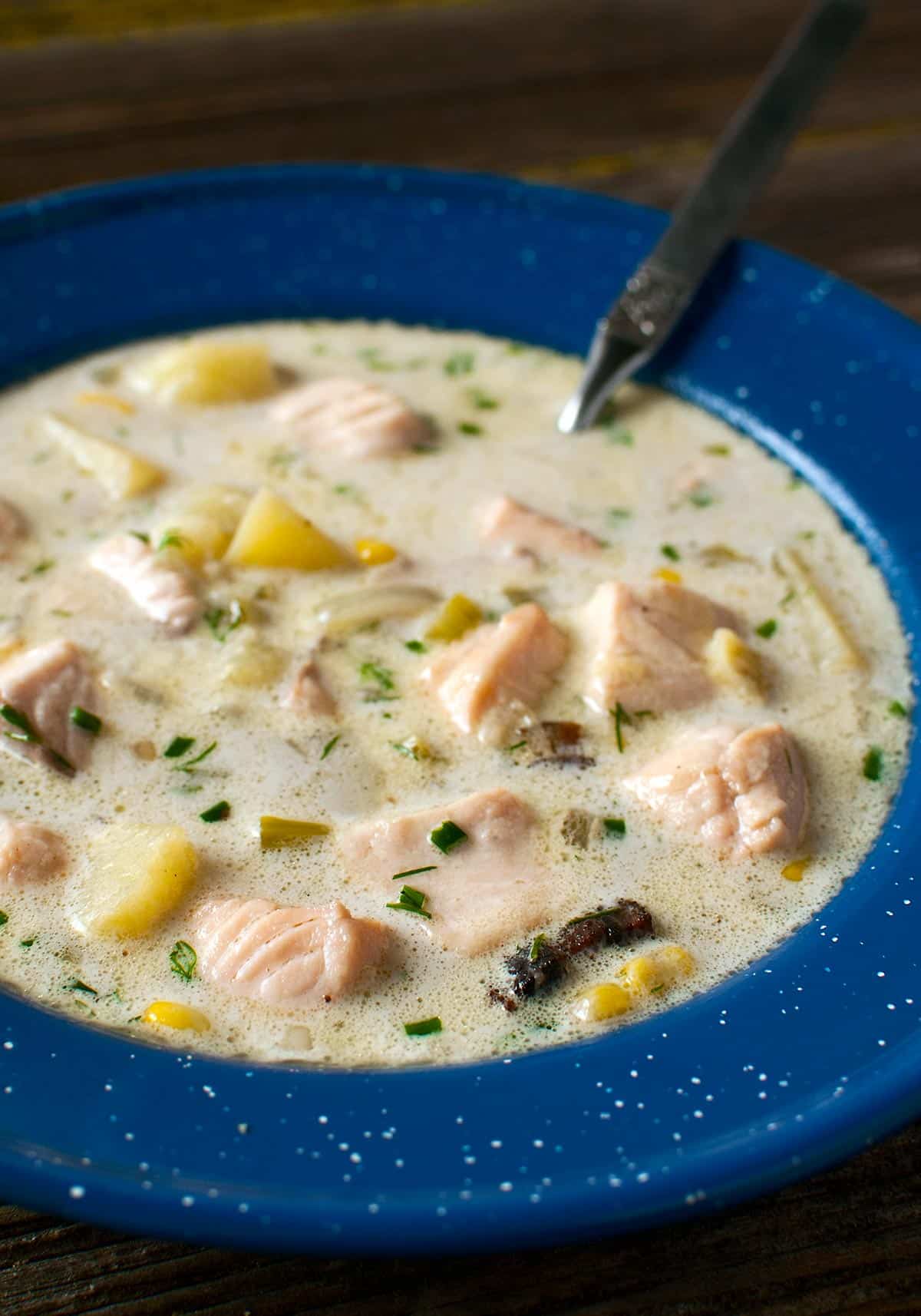 Needless to say I developed a taste for that sort of chowder, no matter if it's made with clams or fish or whatever. Sure, I like Manhattan "clam chowder," but I view it as more of a perfectly nice clam soup than a proper chowder. There is also a Rhode Island style chowder with no tomato or dairy — also a lovely soup, but not a chowder.
There is, however, one incarnation of chowder I loathe: It is that hideous, gloppy monstrosity a particular set of New Englanders are known to concoct, mostly I suspect for Midwestern tourists. And I say "Midwestern" because I recently had a version of this chowder in Minnesota that was so thick you could stand a spoon in it.
My first tentative steps to break from tradition came with a perch chowder I designed specifically for the Great Lakes region. It's made with yellow perch and Polish kielbasa and is damn good if I say so myself. This salmon chowder is my second step.
To me, chowder is different from soup in that it contains dairy products, in most cases cream or whole milk. Some are thickened with a butter-and-flour roux; mine are generally not. If you choose to thicken your salmon chowder with a roux, use equal weights of butter and flour; weight is a better way to do this than tablespoons. I'd suggest an ounce and an ounce. (If you insist on tablespoons, it's about 2 tablespoons butter and roughly 3 tablespoons flour.)
I should start by saying that what you see in the picture is not, strictly speaking, a salmon chowder: It's made with a steelhead trout. Steelhead is very close to salmon, although it is a little leaner and a lot paler (unless you are working with pink salmon, which is the same color). Any salmon, char or trout you feel like using will work here.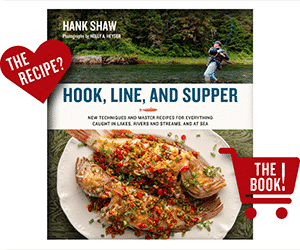 I live in Northern California, where the chinook salmon is king. This is the very southern end of its range, and what, ecologically speaking, could be called the Pacific Northwest — and it is the Pacific Northwest, with its vast salmon runs, trout in the mountains, steelhead in the rivers and char in the snowy North — where I drew my inspiration here.
So my salmon chowder has a salmon stock, bacon, corn, lots of herbs and a homemade stock. None of this would fly in mum's clam chowder. I've even added chanterelle mushrooms, and it was a great choice; if you want to do that, add about 1 cup chopped or torn chanties.
Here's the thing: People move West to escape tradition, to be free to be whomever they wish to be. Why can't their chowder follow suit?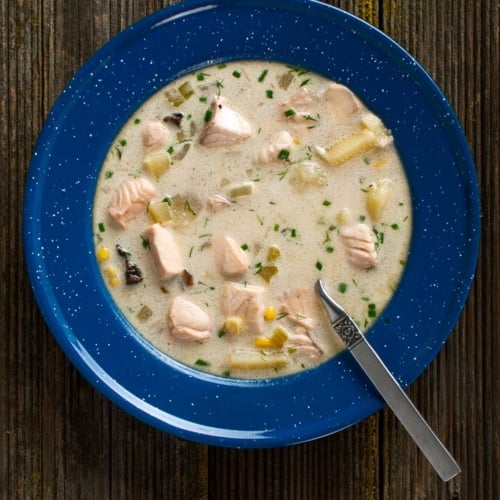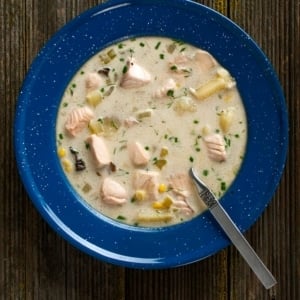 Salmon Chowder
You can use any salmonid fish for this recipe... actually, you can use any fish -- except for something like sardines, mackerel or bluefish. Serve with crusty sourdough bread and a hoppy beer or crisp white wine. Oh, and this chowder is actually better the next day; just heat it up very slowly on the stovetop. Don't let it boil.
Ingredients
SALMON BROTH
3

to 4 pounds salmon heads, fins and bones

, gills removed

Salt

1

onion,

chopped

2

carrots,

chopped

2

celery stalks,

chopped

1

cup

white wine

1

handful of dried mushrooms,

preferably matsutake

2

bay leaves
CHOWDER
1/4

pound

thick bacon

1

cup

chopped yellow or white onion

2

celery stalks,

chopped

1 1/2

pounds

potatoes,

peeled and diced

5 tp 6

cups

fish broth,

or 4 cups chicken broth plus 1 to 2 cups water

1 to 2

pounds

skinless, boneless salmon meat,

cut into chunks

1

cup

corn,

fresh or thawed

2/3

cup

heavy cream

Black pepper to taste

2

tablespoons

chopped fresh dill or chives,

for garnish
Instructions
To make the broth, put all the broth ingredients into the pot and cover with water. Bring to a bare simmer, or even just let it steep like a tea, for 30 to 45 minutes. Strain the broth. Pick any stray salmon meat you want off the bones and reserve. Discard the rest of the solids and reserve the broth.

Wipe out the pot, add the bacon, and turn the heat to medium, and cook the bacon until crispy. Remove the bacon. Eat 1 piece. Chop the rest and reserve.

Sauté the onion and celery in the bacon fat, stirring often, until they are soft, about 4 to 5 minutes. Add the potatoes and the salmon broth and bring to a simmer. Add salt to taste. Cook until the potatoes are tender, about 15 to 20 minutes.

When the potatoes are tender, add the corn and the chunks of salmon. Cook gently until the salmon is just cooked through, about 5 minutes. Turn off the heat and stir in the chopped bacon, dill, heavy cream and black pepper.
Video
Notes
Note that any sort of salmon or trout will work here. 
Keys to Success
Don't get all low fat on me and sub in milk for the cream. The chowder can break and curdle. Ew. 
If you want, skip the bacon and use olive oil. I won't mind. 
Any dried mushrooms will do for the broth, not just matsutake.
In a perfect world, you would use meat from the head and collars for this chowder, because they are fattier and nicer and won't dry out. Regular fillet meat is fine though. 
Nutrition
Calories:
409
kcal
|
Carbohydrates:
12
g
|
Protein:
33
g
|
Fat:
23
g
|
Saturated Fat:
8
g
|
Polyunsaturated Fat:
5
g
|
Monounsaturated Fat:
7
g
|
Trans Fat:
1
g
|
Cholesterol:
99
mg
|
Sodium:
1248
mg
|
Potassium:
1103
mg
|
Fiber:
2
g
|
Sugar:
4
g
|
Vitamin A:
3054
IU
|
Vitamin C:
5
mg
|
Calcium:
152
mg
|
Iron:
2
mg
Nutrition information is automatically calculated, so should only be used as an approximation.