Roast Venison with Bavarian Dumplings
December 25, 2012 | Updated July 27, 2022
As an Amazon Associate I earn from qualifying purchases.
Roast venison is a wonderful meal for weekends or special occasions, and this recipe will walk you through what you need to know both for roasts, and for a whole deer leg, if you have a small animal.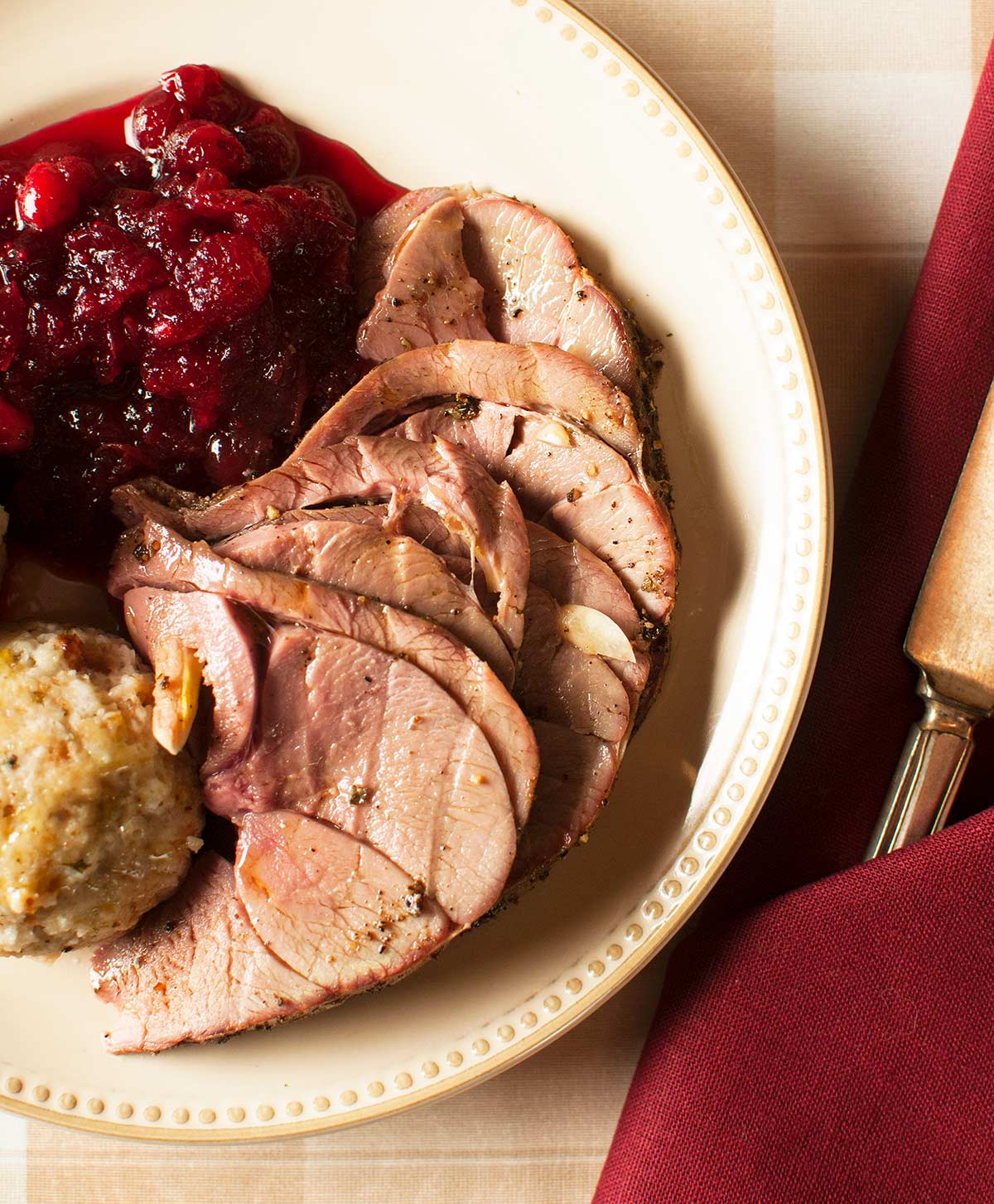 To answer the question you might have in your head right now, yes, the meat in the picture is a little pale. That's because this roast comes from a yearling antelope I shot in Wyoming; younger animals have paler meat. Think veal, but more humane.
This recipe works really well with a whole antelope or deer leg if you have small ones, like yearlings or Sitka blacktail in Alaska. But most of the time we'll be using roasts from the hind leg. Hind leg roasts are by far the best cut of meat for roast venison because you can cook them to an internal temperature of about 135°F, or medium-rare.
Roast Venison is Not Pot Roast
What you are reading is a guide to roasting venison so it's nicely cooked, not hammered. I love pot roasts, which are hammered, and I have a great recipe for venison pot roast. But that sort of dish is best done with venison shoulder, neck or shanks, not hind leg roasts — the reverse is also true.
What follows is the traditional way to make roast venison, a method of cooking that has been used forever. There is an alternate method, however, which is reverse searing. In this method, you slowly cook a venison roast until it's close to the target temperature, then you sear at the end. I have a recipe for reverse seared roast venison here.
To be honest, I had hesitated to post a recipe for roast venison because roasting large joints of meat is more of an art than a science. In few other areas of cookery are recipes more suggestion than manual. It's not brain surgery or anything, but you do need to be watchful when roasting a large joint of meat.
And true roasting requires the radiant heat of an open fire, and if you are ever lucky enough to eat a haunch of venison properly roasted over such a fire, you will never forget it. Texas barbecue comes close, but only in a galactic sense.
What most of us do is technically baking, but it still creates wonderful results if you know what you are doing.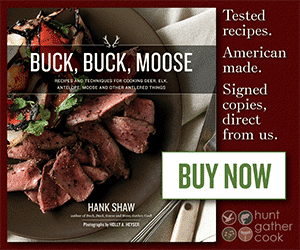 Tips for Better Roast Venison
I begin any roast by bringing the meat (or deer leg) towards room temperature. Roasting a cold joint of meat is a very, very bad idea. You get a charred exterior with a cold center if you do, and unless you enjoy this, you will be sad.
I also salt early and often. Salt when the meat is resting before cooking, salt in whatever rub I happen to be using, and salt when you serve. Adding salt little by little as the meat roasts makes it taste more of itself; adding it all at the end makes the meat taste of salt.
Venison is lean, so you need some sort of fat. Can you drape bacon over the roast as you cook? You bet, but only do it after you have done an initial sear, otherwise the exterior of the meat will look gray and unhappy.
Speaking of the initial sear, I prefer to get there by starting the roast in a roaring oven, somewhere between 450°F and 500°F. The smaller the roast, the hotter the oven. I roast the venison for at least 15 minutes this way, and up to 25 minutes. Then I drop the temperature to a more moderate 350°F. I wait until this point to add spices and herbs to the outside of the meat — if you add them in the beginning, they can burn and become nasty and bitter.
This is also a good time to drape that bacon over the roast, or baste it with fat or oil; melted beef fat is a great option.
Nailing It
Up to this point, you can follow a recipe verbatim. Finishing the roast venison requires attention and an eye for doneness, however.
For whatever reason, heat does not seem to increase in a linear fashion with roasting meat. I've tested a roast and have had it at 110°F and then a mere 10 minutes later have seen it jump all the way to 140°F. Not sure what's going on here, but it happens. A lot.
I've used the fancy probe thermometers that Alton Brown champions, and they are very useful: You can pretty much stand there and watch the temperatures rise at the center of your roast. But if you don't have one, you just need to be vigilant.
When in doubt, pull the meat early. You can always put it back in the oven. Roasts, no matter what meat they're from, are serious, expensive pieces of meat. Letting one get away from you can ruin a holiday meal.
Resting Roast Venison
Finally, for the love of all that's holy, rest roast venison thoroughly.
If you do not, all the juices will flow out of the meat and onto your cutting board. It is an unforgivable sin. Wait and you will be rewarded. How long? At least 10 minutes, even in an emergency. For a typical roast of between 4 and 6 pounds, 20 minutes is about right. Even 30 minutes is not too long.
As for carving, I find that bone-in roasts are best carved in large hunks — take a big hunk off the deer leg first, then carve into serving slices. Boneless roasts can just be sliced.
If you're looking for other ways to cook large cuts of deer, here are more recipes for venison roasts.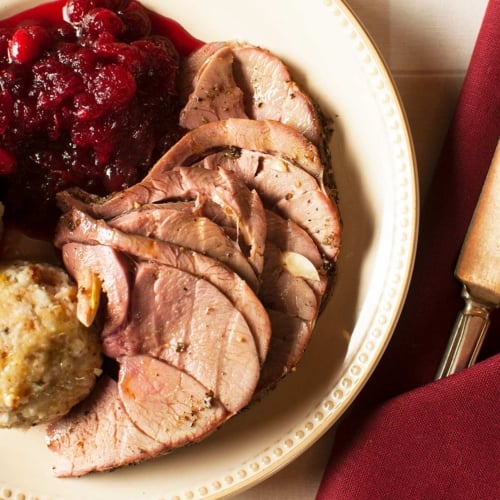 Roast Leg of Venison
Don't roast a whole deer leg on an old animal. Anything mature, use boneless roasts.
Ingredients
4

pounds

venison roast

Salt

6

to 8 garlic cloves,

peeled and cut into thick slivers

1/4

cup

squash seed oil or other flavorful oil

(see below)

About 1 cup of red wine,

stock or water

2

tablespoons

minced sage

2

tablespoons

freshly ground black pepper
GERMAN DUMPLINGS
10

ounces

stale bread

1

teaspoon

salt

1 1/4

cups

milk

3

slices

bacon

1/4

cup

minced shallot

1

tablespoon

minced parsley

1

teaspoon

marjoram

2

eggs,

lightly beaten
Instructions
Take the venison leg out of the fridge and salt it well on all sides. Let it sit on a cutting board for 30 to 45 minutes before proceeding. After 30 minutes have elapsed, preheat the oven to 450°F. Take a sharp knife with a narrow point and jab holes all over the roast or leg of venison, tucking a sliver of garlic into each hole. You can use more or less garlic, depending on your taste.

Pat the venison dry, then massage the oil all over it. Set the roast or leg of venison on a rack in a roasting pan and pour enough wine, stock or water into the bottom of the roasting pan to just moisten the bottom -- don't cover the bottom or the meat will steam. You just want to limit the amount of smoke you will be producing. Put the venison in the oven and roast until it is nicely browned, but no more than 20 to 25 minutes.

Take the venison out of the oven and drop the temperature to 350°F. Carefully sprinkle the minced sage and black pepper all over the roast; use tongs to pick it up if it is too hot. If you want, drizzle a little more oil over the top of the roast. Adding the spices at this point prevents them from burning.

Set the venison back into the oven and roast until the deepest part of the meat reaches the temperature you want: If you pull the venison at 125°F, it will be rare once it has rested. I pull mine at 130°F, which is closer to medium. Do not let the venison cook past 145°F under any circumstances, or it will get tough and gray. How long will this take? At least 25 more minutes, and up to another hour. Check the temperature after 20 minutes, then every 10 minutes after that. A general rule is about 20 minutes per pound at 350°F.

When the venison has hit the temperature you want, move it to a cutting board. Don't carve it for at least 10 minutes; I wait a full 20 minutes. Carve and serve.
GERMAN DUMPLINGS
After you take the venison out of the fridge, break up or chop the stale bread and put it into a bowl. Pour the lukewarm milk over the bread and let it stand while you're getting the venison ready to roast. If it looks like there is not enough milk, add a little water.

Fry the bacon in a small skillet and remove when crispy. Chop it fine. Sauté the onion in the bacon fat until it's nice and brown. Mix the bacon and onion in a small bowl and allow to cool. Once it's cool, mix in the parsley and marjoram.

When the venison goes into the oven, set a large pot of salted water on the stove to boil. Once it boils, drop the heat to a simmer. If there is any milk still in the bread bowl, pour it off. Mix the bacon, onions, parsley and marjoram in with the bread. Make sure to break up any large pieces. Wait until the venison is resting to cook the dumplings.

When it's time, add the beaten eggs and mix well to combine. If the batter is too wet to form dumplings, add breadcrumbs a tablespoon at a time until you can roll the batter into a ball with your hands. Make sure your hands are wet when you do this or the batter will stick all over them. Gently lower each dumpling into the simmering water. Cover the pot. Once they float back to the surface, let them cook for another minute or two, then remove with a slotted spoon. Serve hot with the venison.
Notes
Keys to Success
A note on the oil: I love the flavor that roasted squash seed oil brings to venison, but any good oil will work here: Olive oil, walnut oil, even sesame oil -- the point is to use something that adds flavor to the roast.
If you are roasting a whole deer leg, remove the shank.
If the meat is a little under the target temperature, tent it with foil. That will help boost the interior temperature a little more. 
Should you have leftovers, sliced roast venison is awesome on rye bread sandwiches with some mustard and cheese.
Serve this with classic trimmings:
cranberry sauce, something green and a comforting starch. Mashed, baked or roasted potatoes are traditional, but I like German dumplings. If you decide to go the dumpling route, either make the semolina dumplings from my Hasenpfeffer recipe, or make the Bavarian bread dumplings above.
Nutrition
Calories:
332
kcal
|
Carbohydrates:
30
g
|
Protein:
28
g
|
Fat:
11
g
|
Saturated Fat:
4
g
|
Cholesterol:
131
mg
|
Sodium:
789
mg
|
Potassium:
502
mg
|
Fiber:
3
g
|
Sugar:
6
g
|
Vitamin A:
229
IU
|
Vitamin C:
2
mg
|
Calcium:
162
mg
|
Iron:
5
mg
Nutrition information is automatically calculated, so should only be used as an approximation.