Wild Cranberry Sauce
December 23, 2012 | Updated June 22, 2020
As an Amazon Associate I earn from qualifying purchases.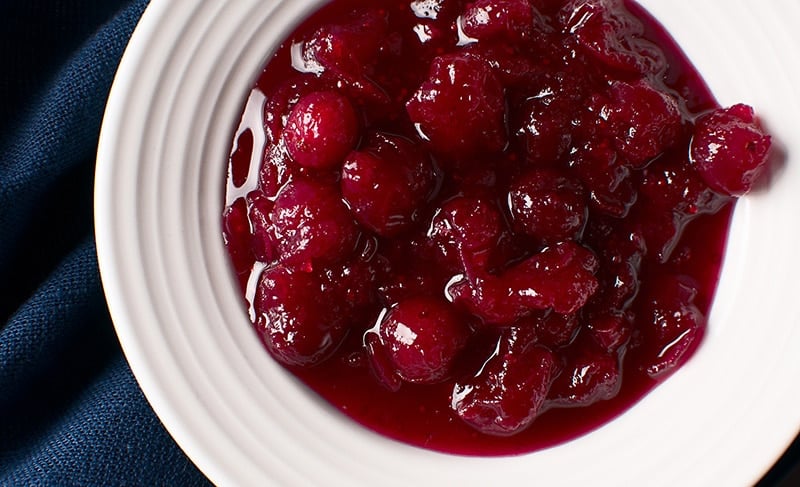 For years, cranberries had been something of a Holy Grail for me. They only live in the North Country, and then only in certain boggy places. Places that are closely guarded. The location of a good cranberry bog is secret kept as secret as the location of a good morel spot, or a duck hunting honey hole in the marsh. You just don't ask someone where they get their cranberries.
So for years I'd blundered around in vain. Until one fall when I was in Massachusetts visiting my family. My friend Nate lives there, too, and he is almost as into hunting, fishing and foraging as I am. When I told him I'd be coming, he casually mentioned something about picking cranberries. Wait, what? Really?! Yeah, Nate said. He'd spotted some around Cape Ann.
We spent some time fishing for mackerel in a steady drizzle, but no fish were biting so we scotched that idea pretty quick. "Let's see if those cranberries are still around," Nate said. I nonchalantly agreed, but inside I was squealing like a little girl. But as we drove toward the secret spot, The Negative crept in: We'll get there and the berries will have gone by. Or someone else will have picked them. Or they won't be ripe yet.
Nate started looking around in some pines and walked down into a little depression among them. "Here they are!" I looked down at the first cranberry bushes I'd ever laid eyes on.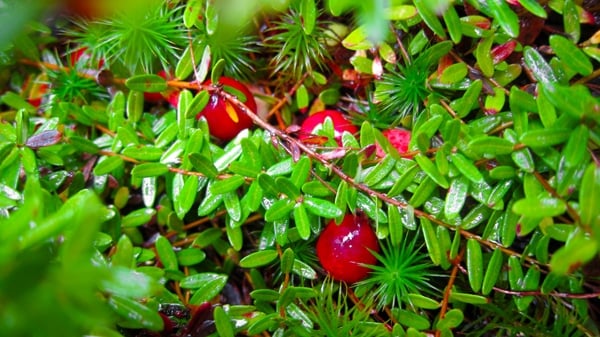 I almost danced a jig. Almost. It looked like mice had decorated the place for Christmas. Nate and I dropped to the ground and began picking. And picking. And picking. Our backs were sore by the time we'd gathered our fill — each of us had filled a gallon bag. A gallon bag full of ruby jewels! I knew I was being irrationally exuberant, and I still am. Sue me. I love cranberries.
Cranberries, if you hadn't noticed, will keep for a couple months in the fridge — and will store almost forever in the freezer. This is good, because I picked them in October but I did not want to use them until Christmas. Normally I would have made cranberry sauce for Thanksgiving, but we didn't cook this year. So the magic berries will not make their debut until Christmas Dinner.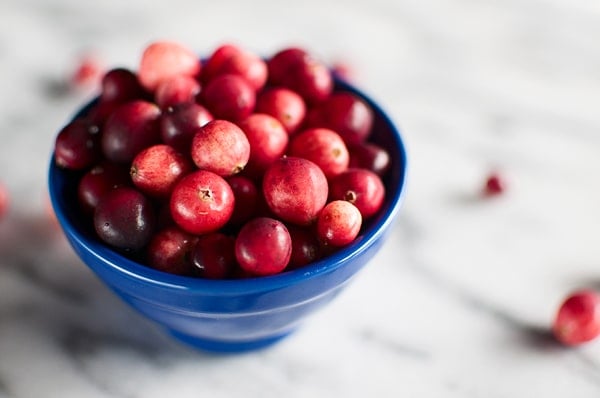 Cranberry sauce is about as American as it gets, although it is believed that our love of cranberry sauce owes its origin not so much to the New England Indians the Pilgrims first met — the Wampanoag did use cranberries, but mostly for pemmican — but rather to Scandinavia and Germany, where a similar sweet-tart sauce is made with cranberry's little cousin, the lingonberry. The cranberries we picked are Vaccinium macrocarpon, while the lingonberry is Vaccinium vitis-idaea.
No one has yet placed the true first reference to cranberry sauce in American cookery; the earliest recorded culinary use of cranberries is in 1672, where they are baked in a tart. The word "cranberry" itself is thought to be American in origin, however, and it dates from the 1600s. The earliest reference to the sauce that I could document comes from an 1808 memoir of an unnamed traveling Frenchman, reprinted in Boston under the title "Miscellanies" in 1821:
Preparing them for the table is very easily done the berries are stewed slowly with nearly their weight of sugar for about an hour and served on the table cold… It is eaten with almost every species of roasted meat particularly the white meats: turkies, partridges &c. Some even eat it with boiled fish and I knew one person, otherwise a very worthy man, who eat it with lobsters for supper.
There are as many versions of cranberry sauce as there are cooks. All involve some sort of sweetener, as cranberries are unbearably tart without it. Most recipes include "warm" spices such as cinnamon, cloves, nutmeg and ginger, and oranges and other citrus made appearances often, too. Here is my recipe, but feel free to modify it as you will.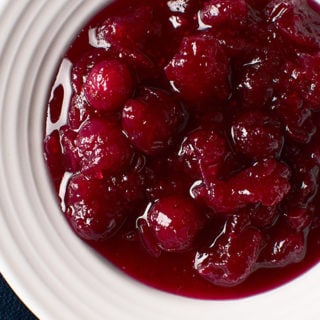 Wild Cranberry Sauce
I had access to wild cranberries, so I used them. But honestly, they are not very different from the kind you buy in the store. Cultivated cranberries are a little larger than wild, but they are similarly tart. You can also skip the maple syrup and use sugar, but if you do, you will need to add a full cup of water. I like the maple syrup because it is a very American sweetener. Honey is another good alternative. Once you make this recipe, it will keep in the fridge for weeks, if not months. Cranberries contain a natural preservative that helps them stay fresh for long periods in the cold. Use it for any wild game meat, or with pork, turkey or chicken.
Ingredients
Zest of 1 orange,

cut into large pieces and pith removed

4

cups

cranberries

1

cup

maple syrup

1/4

cup

water

1

teaspoon

apple pie spice,

or 1/4 teaspoon each of clove, cinnamon, nutmeg and ginger
Instructions
Combine all the ingredients in a heavy pot and turn the heat to medium. Bring everything to a boil, then simmer gently until all the cranberries have burst and the liquid has reduced somewhat, about 20 minutes. Remove the orange zest and chill the sauce. It should thicken dramatically once it's cold. Serve chilled or at room temperature.
Nutrition
Calories:
88
kcal
|
Carbohydrates:
22
g
|
Protein:
1
g
|
Fat:
1
g
|
Saturated Fat:
1
g
|
Sodium:
3
mg
|
Potassium:
89
mg
|
Fiber:
2
g
|
Sugar:
17
g
|
Vitamin A:
20
IU
|
Vitamin C:
4
mg
|
Calcium:
33
mg
|
Iron:
1
mg
Nutrition information is automatically calculated, so should only be used as an approximation.