Classic Hasenpfeffer with Semolina Dumplings
December 04, 2012 | Updated June 06, 2022
As an Amazon Associate I earn from qualifying purchases.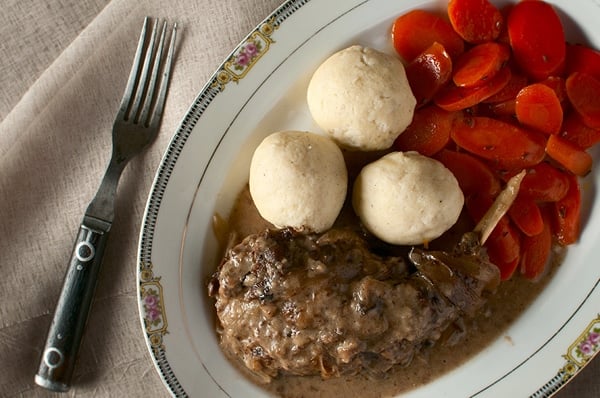 Whenever I'm talking to someone about hunting and the conversation turns to chasing rabbits, I am invariably asked about hasenpfeffer. It seems to be the only rabbit recipe anyone knows, and I am pretty sure we can thank Bugs Bunny for that one.
There is a 1962 episode of Loony Tunes where the king demands hasenpfeffer from his cook, who is of course Yosemite Sam. "Where's my hasenpfeffer!" Sam grabs a knife and hilarity ensues.
Interestingly, there is a hidden truth in this episode: At the end, Bugs notes that this is the only time a "one-eyed Jack (rabbit) beats a king." Hasenpfeffer, you see, is not a rabbit recipe. It requires a "hase," the German word for hare. And our most common hare here in North America is the jackrabbit.
Hasenpfeffer is an old dish. It's combination of vinegar, wine and lots of spices suggests it is at least as old as the Renaissance, and probably older. One source puts its origins in Westphalia, in the 1300s.
The "pfeffer" refers in this case not just to black pepper, which would be the literal translation, but to a general spiciness. not chile spicy, but highly seasoned with herbs, juniper and Spice Trade goodies like black pepper, allspice, cloves and such.
Like its cousin sauerbraten, hasenpfeffer hinges on a flavorful marinade and a long soak time of up to four days. You then braise it slowly and serve with a vegetable of your choice, plus noodles, potatoes or dumplings. I love dumplings, and the Germans happen to be masterful dumpling-makers. Only the Chinese beat them at it, in my opinion. Spätzle is my favorite, but I wanted to try something new for this recipe.
I am amassing a collection of German cookbooks, but so far my favorite is still Mimi Sheraton's classic: The German Cookbook: A Complete Guide to Mastering Authentic German Cooking. This is to German food what Julia Child's Mastering the Art of French Cooking is to French food.
Sheraton has lots of dumpling recipes in her book, and I was intrigued by one for semolina dumplings: Balls of semolina dough bound with egg and heavily spiced with nutmeg; it's a perfect accompaniment to the hasenpfeffer. Done right, these dumplings are (like all good dumplings) light and fluffy. Done poorly, they are gut bombs.
A nice side of classic glazed carrots rounds things out. (The link is to a recipe for glazed carrots I developed with my friend Elise over at Simply Recipes).
This was our Thanksgiving meal, and we did not miss the turkey one bit. Warming, comfy and very traditional. Give this recipe a go for a Sunday dinner when the weather is cold and nasty, even if you use rabbit instead. You will not be sorry you did.
Hasenpfeffer with Semolina Dumplings
While hasenpfeffer should properly be made with hare (snowshoe or jackrabbit in the United States), hares are notoriously hard to find if you are not a hunter. So do what everyone else does and make it with rabbit. The actual making of the dish is pretty easy, but it will be far better if you give it the 2 to 3 days' worth of marinating time. Marinades take a long time to penetrate meat, and the flavorful marinade is the heart of hasenpfeffer.
Ingredients
MARINADE
1

cup

water

1

cup

red wine

1

cup

red wine vinegar

1

tablespoon

salt

2

tablespoons

chopped rosemary

1

tablespoon

juniper berries,

crushed

1

tablespoon

crack black peppercorns

3

bay leaves

4

cloves

1

teaspoon

dried thyme

2

green onions,

chopped
HARE
1

jackrabbit,

snowshoe hare or domestic rabbit, or 2 cottontails or squirrels

4

tablespoons

unsalted butter

Flour for dredging

2

to 3 cups chopped onion

1/4

cup

sour cream
DUMPLINGS
1

cup

milk,

whole or 2%

1

teaspoon

salt

6

tablespoons

semolina flour,

or use farina or Cream of Wheat

2

tablespoons

unsalted butter

1

egg,

lightly beaten

1/2

to 1 teaspoon ground nutmeg
Instructions
Marinate the rabbit. Bring all the ingredients for the marinade to a boil, then let cool to room temperature. While the marinade is cooling, cut up a hare into serving pieces. Find a covered container (plastic, ceramic, glass) just about large enough to hold the cut-up hare and put the meat inside. Cover with the cooled marinade. If you have leftover marinade, put that into a different container. Put everything in the refrigerator and let it sit at least 8 hours, but 2 days is better.

Remove the hare from the marinade and pat it dry. Save the marinade. Heat the butter in a large, heavy pot with a lid. Dredge the hare in the flour and brown well on all sides. Do this over medium to medium-high heat so the butter does not burn. Remove the hare pieces as they brown and set aside.

As the hare is browning, preheat your oven to 325°F and strain the marinade into a bowl.

Once you've browned the hare, add the onion and stir to coat with the butter. If there is not much butter left, add another tablespoon or so. Cook the onions over medium-high heat until they are soft and a little brown on the edges. Sprinkle salt over them as they cook.

Return the hare to the pot and add the strained marinade. Bring to a simmer, cover and put into the oven. Cook until the meat wants to fall off the bones: This will take 2 to 4 hours for a wild hare, or between 90 minutes and 2 hours for a store-bought rabbit. To finish the hasenpfeffer, remove it from the oven and uncover the pot. Spoon off about a cup of the sauce and put it into a bowl. Add the sour cream to the bowl and mix to combine. Return the mixture to the pot and swirl it around to combine. Serve at once with the dumplings.

Make the dumplings. Once the hasenpfeffer has cooked for an hour or so, make the dumpling dough. Heat the milk to the steaming point and add the butter and salt. Start stirring the milk with one hand while you sprinkle in the semolina with the other. Stir well until the semolina absorbs the milk and forms a stiff dough. Take the pot off the heat and let the dough cool. Bring a large pot of salted water to a boil on the stove. once it boils, turn off the heat until the hare is done.

When the hasenpfeffer is ready, turn the heat off the oven but leave everything inside. Mix the egg and nutmeg into the semolina dough. Let the dough stand while you bring your pot of salty water back to a boil, which won't take long because you preheated it. Get a bowl of water ready to wet your hands, so the dumpling dough doesn't stick to them.

Roll the dough into balls. I like to make dumplings the size of a walnut. As you make them, drop each one into the boiling water. Do not crowd the pot. Once the dumplings start bobbing on the surface, let them cook another 2 to 5 minutes, depending on how soft you like them. Remove with a slotted spoon and set aside.
Notes
Nothing in this recipe is difficult to find, with the possible exception of juniper berries. Juniper is used so often in wild game dishes that if you are a hunter, you really need a constant supply. You can either pick them yourself, find them in a large supermarket, or order juniper berries online.
Nutrition
Calories:
1106
kcal
|
Carbohydrates:
15
g
|
Protein:
44
g
|
Fat:
18
g
|
Saturated Fat:
9
g
|
Cholesterol:
162
mg
|
Sodium:
1342
mg
|
Potassium:
790
mg
|
Fiber:
1
g
|
Sugar:
3
g
|
Vitamin A:
438
IU
|
Vitamin C:
3
mg
|
Calcium:
88
mg
|
Iron:
3
mg
Nutrition information is automatically calculated, so should only be used as an approximation.