Pan Roasted Partridge with a Winter Salad
November 30, 2015 | Updated June 17, 2020
As an Amazon Associate I earn from qualifying purchases.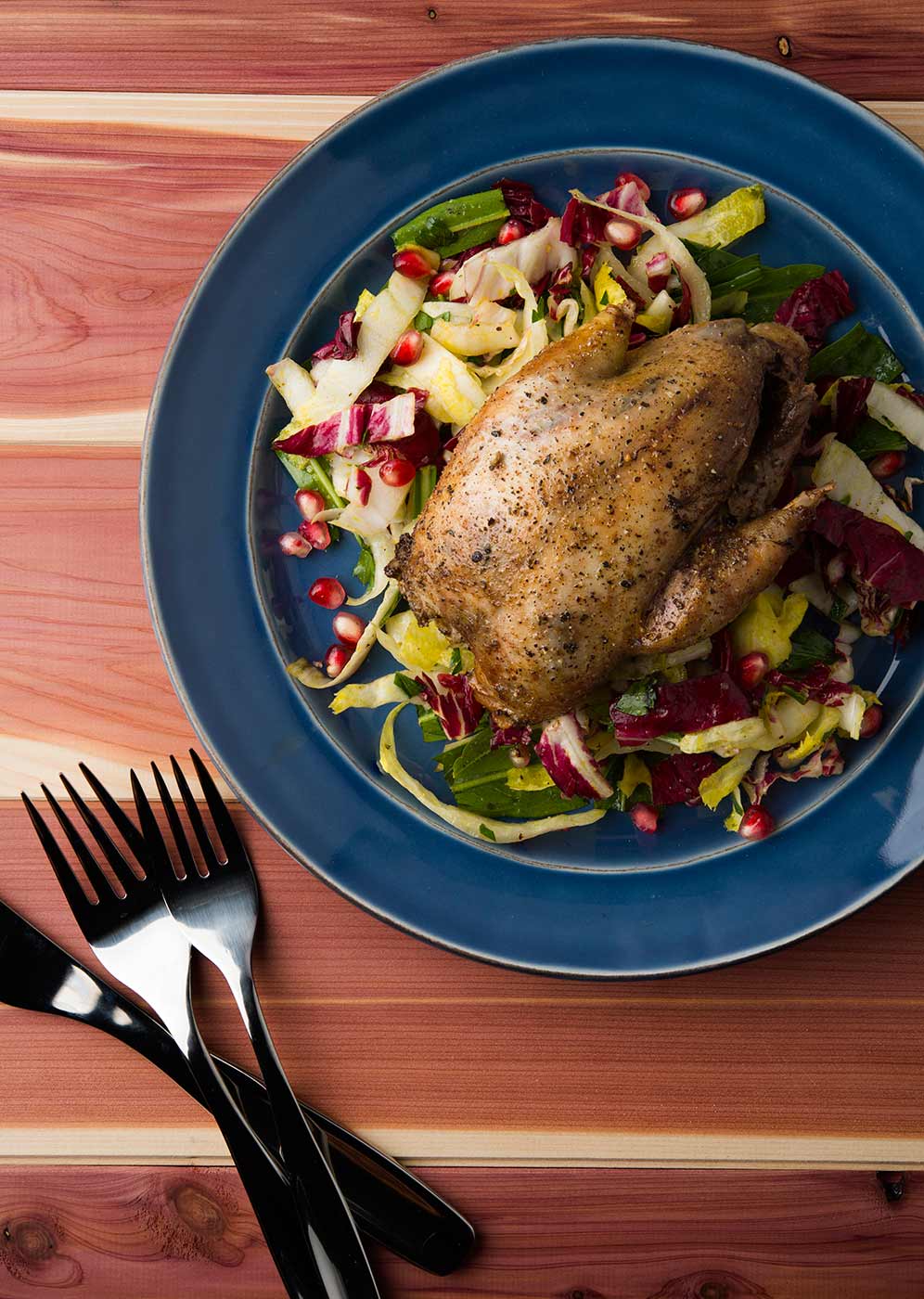 Winter, or at least that dark time between late fall and early winter, need not be as dark as the daylight would seem to dictate. Bird seasons are all open, and the late harvest produce can be bright and cheery indeed. Having a brace of partridges, and access to a nearby farmer's market, the other day I decided to combine the two to make this pan-roasted partridge with a lovely winter salad.
Pan roasting small game birds, especially the white meat birds like partridges, grouse, quail and pheasants, is a vastly superior way to cook them over simple oven roasting. You have way more control over the doneness of the legs and breasts, and need not juggle the temperatures of each with oven-based magic tricks or bacon drapery.
The key is a moderate heat, a room-temperature bird and almost constant basting with butter. I recently detailed the technique here if you want to read further.
Once you master this method of cooking, the sky is the limit. It actually takes less time than the oven roasting method, and you don't need to preheat the oven.
Pairing light-meat birds with a substantial, crunchy salad is something everyone should do more of, if for no other reason than you may discover some new-to-you vegetables in the process. In this case, it's my favorite duo of Belgian endive, which look like pale vegetal spear-points, and radicchio, which disguises itself as a tiny red cabbage.
If you have a dim checkout clerk, you can often get the radicchio at the price of red cabbage, which will save you a few bucks. Both are cousins in the chicory family, and are stalwarts in the European winter salad tradition. I grow a variety of Italian chicories in my garden, in this case a green one that joins the endive and radicchio.
Don't get all hung up on the fancy chicories, though. The point is something crunchy. Hell, even a good cole slaw would work. But if you're looking for a light, bright meal when all around you is dark and dreary, this is it.
Pan Roasted Partridge with Winter Salad
If you've never pan-roasted partridges before,
here are detailed cooking instructions for the process
. Note that when I mean partridges, I mean either chukars or red-legged partridges, but small ruffed grouse would be a near perfect match, too. You can also make this recipe with quail -- in which case I'd serve 2 or even three per person -- or larger grouse or pheasants, in which case you might be able to split one bird between two people. Most of the ingredients in the salad are in everyday supermarkets in larger communities, but if you can't find them (endive and radicchio are normally put next to the fresh herbs), any nice salad will do. The key here is crunchy and slightly bitter as a foil for the butter-sauteed birds.
Ingredients
2

Partridges

Olive or walnut oil

Salt

1/4

cup

butter,

clarified if possible

2

Belgian endives,

sliced

1

radicchio,

sliced thin

1

bunch dandelion greens or arugula or frisee

About 1 cup of pomegranate seeds

Lemon juice or white wine vinegar

Black pepper
Instructions
Take the partridges out of the fridge and coat them with a sheen of oil. Salt them well inside and out and set aside to come to room temperature while you chop the vegetables for the salad.

Heat the butter in a saute pan large enough to fit both partridges in it. Set the partridges in the pan breast side up and let them sizzle a minute or three over medium heat. Continue cooking the partridges slowly by moving the birds to their sides, and, when they are almost done, upside down so the breasts get a little sear. You will want to spoon hot butter over the birds throughout this process (Here are detailed instructions for pan roasting partridges). A partridge or small grouse should take about 10 to 15 minutes, a quail around 10 minutes, a pheasant closer to 20 minutes. When the bird is ready -- you'll start to see the legs separate from the body a little -- set them breast side up on a cutting board to rest.

Mix the salad while the birds are resting. Coat the salad with a little of the same oil you used to coat the birds, then salt it lightly. Toss in some lemon juice or white wine vinegar and grind black pepper over everything. Serve with good bread.
Notes
A word on the butter. If you can find it, use clarified butter because it won't scorch as easily as regular unsalted butter. If you use regular butter, keep the heat to medium or even medium-low and take your time with the birds. It's perfectly OK for the butter to brown, but you don't want the solids to blacken.
Nutrition
Calories:
1162
kcal
|
Carbohydrates:
2
g
|
Protein:
163
g
|
Fat:
55
g
|
Saturated Fat:
15
g
|
Cholesterol:
61
mg
|
Sodium:
474
mg
|
Potassium:
1957
mg
|
Fiber:
2
g
|
Sugar:
1
g
|
Vitamin A:
760
IU
|
Vitamin C:
1
mg
|
Calcium:
17
mg
|
Iron:
35
mg
Nutrition information is automatically calculated, so should only be used as an approximation.