As an Amazon Associate I earn from qualifying purchases.
If you want to skip the slime when cooking okra, roasted okra is a great way to do it. It's super simple, and you can take the flavors in any number of directions. I'm partial to spicy roasted okra.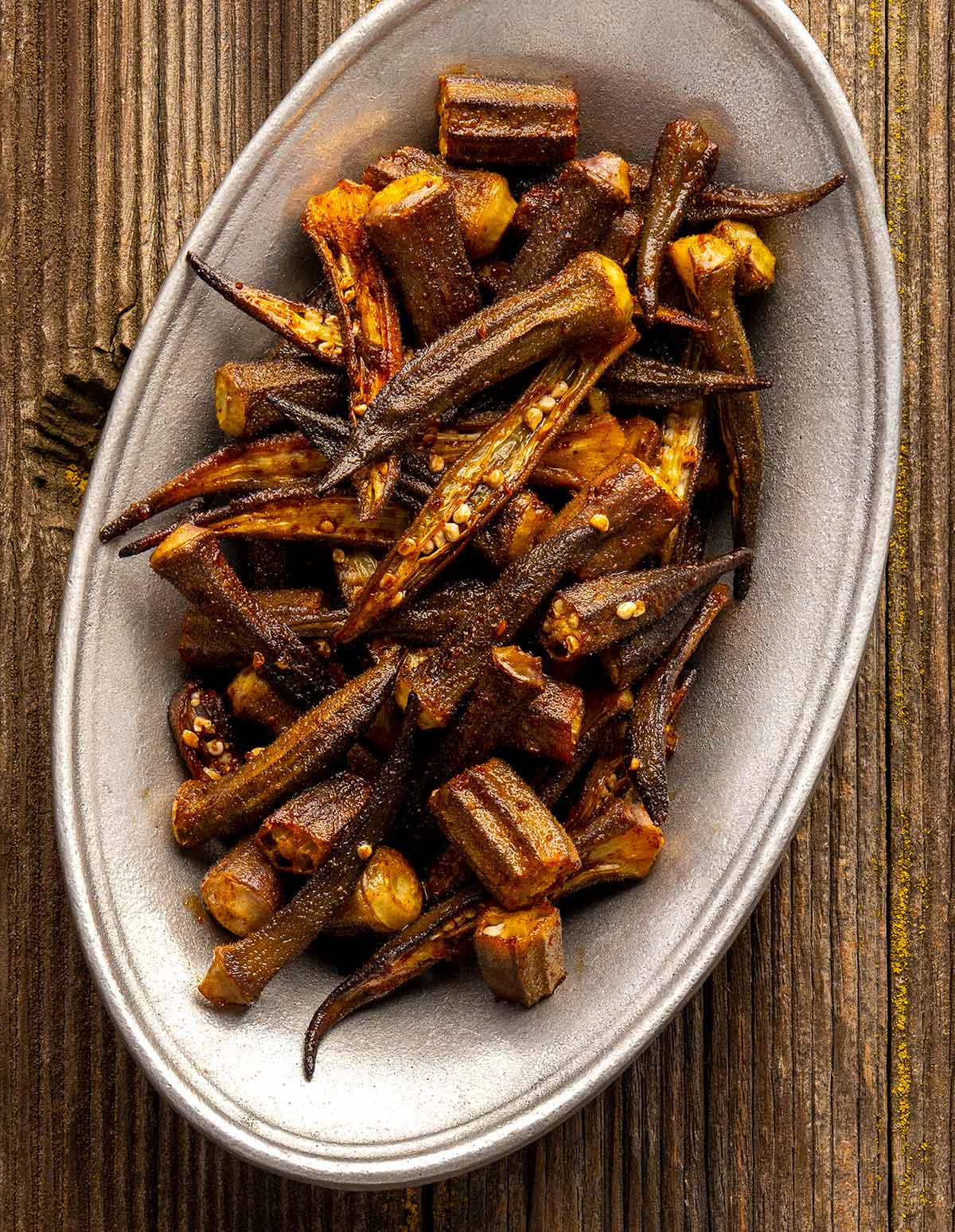 While I love okra in most of its forms, it will release a certain amount of slime when it hits water, which is why it is perfect for thickening stews, like Creole gumbo or West African okra stew.
That's the only time I want my okra in its full juicy glory. In every other case, I perform my cook's magic to remove the slime. There are a few ways, notably fierce, searing heat, like in my okra salad. Grilling okra will do the same thing.
Another trick I've learned is to sprinkle any cut okra — keeping okra whole limits the slime, too — with something acidic. I use Fruit Fresh, which is citric and ascorbic acid used in home canning, but in India they use powdered unripe mangos.
My roasted okra uses both techniques: High heat and an acidic sprinkle.
You may notice from the pictures that my okra looks a little odd. That's because it's red okra. The variety that grows really well in my hot, dry, Sacramento summers is Yuma red. It's variety that's low in slime to begin with, and once you're done with this roasted okra recipe, there's really none.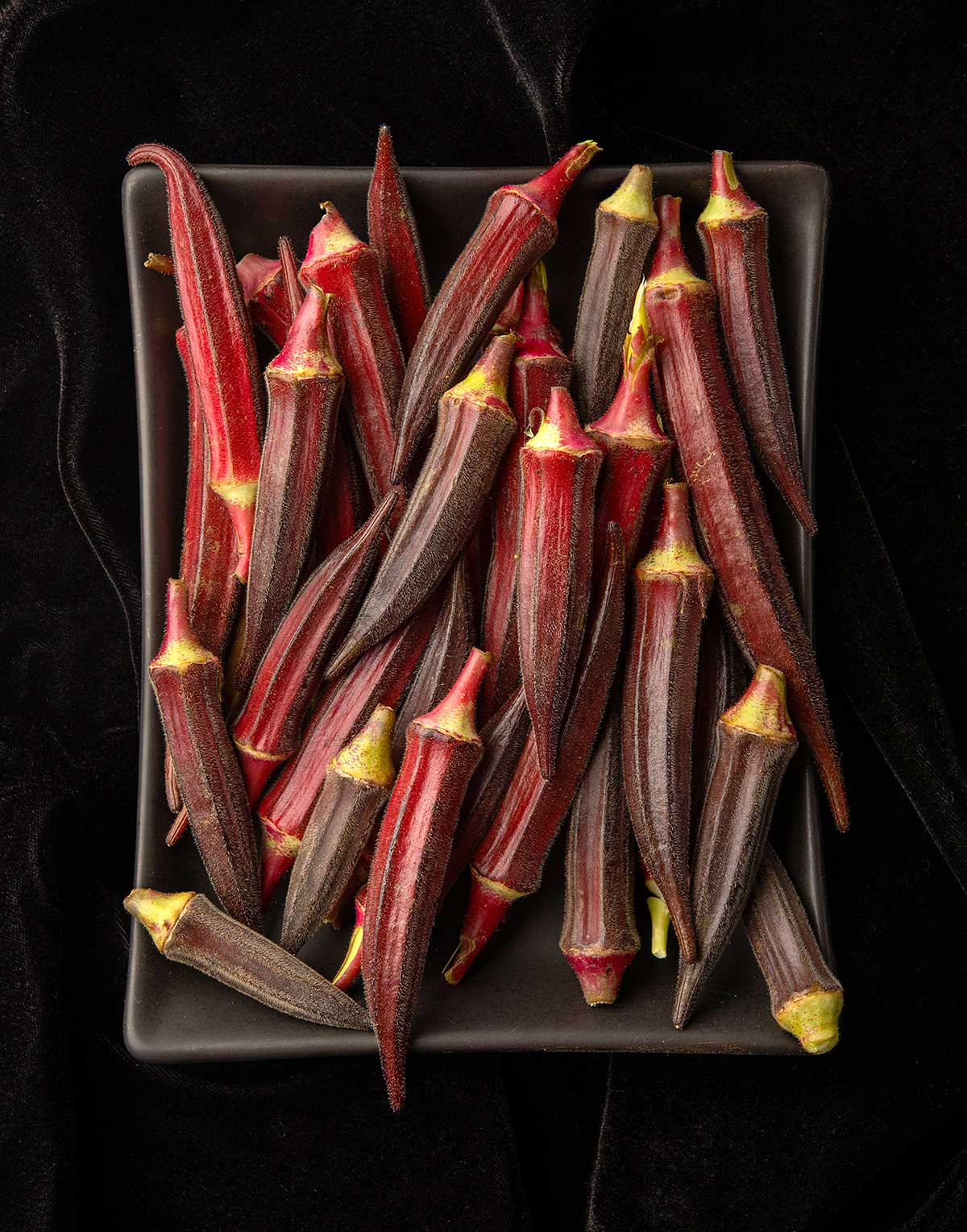 Good luck finding seeds though. Native Seeds Search in Arizona used to sell them, but no longer. Obviously any variety of okra is fine.
It doesn't matter whether you slice your okra or not. I keep pods the size of my pinkie finger whole, and I slice long ones into discs, regular pods lengthwise. Trim the base of the stem end, which can get woody.
Seasonings for Roasted Okra
I like to keep my roasted okra simple, so I season it with salt, ground chiles, that Fruit Fresh for the acidity — remember this kills the slime — and then a squeeze of lemon or lime at the end.
Really all you need is salt. You can skip the acidic sprinkle if you want, but you might get a little slime here and there; the high heat for roasted okra will kill most of it.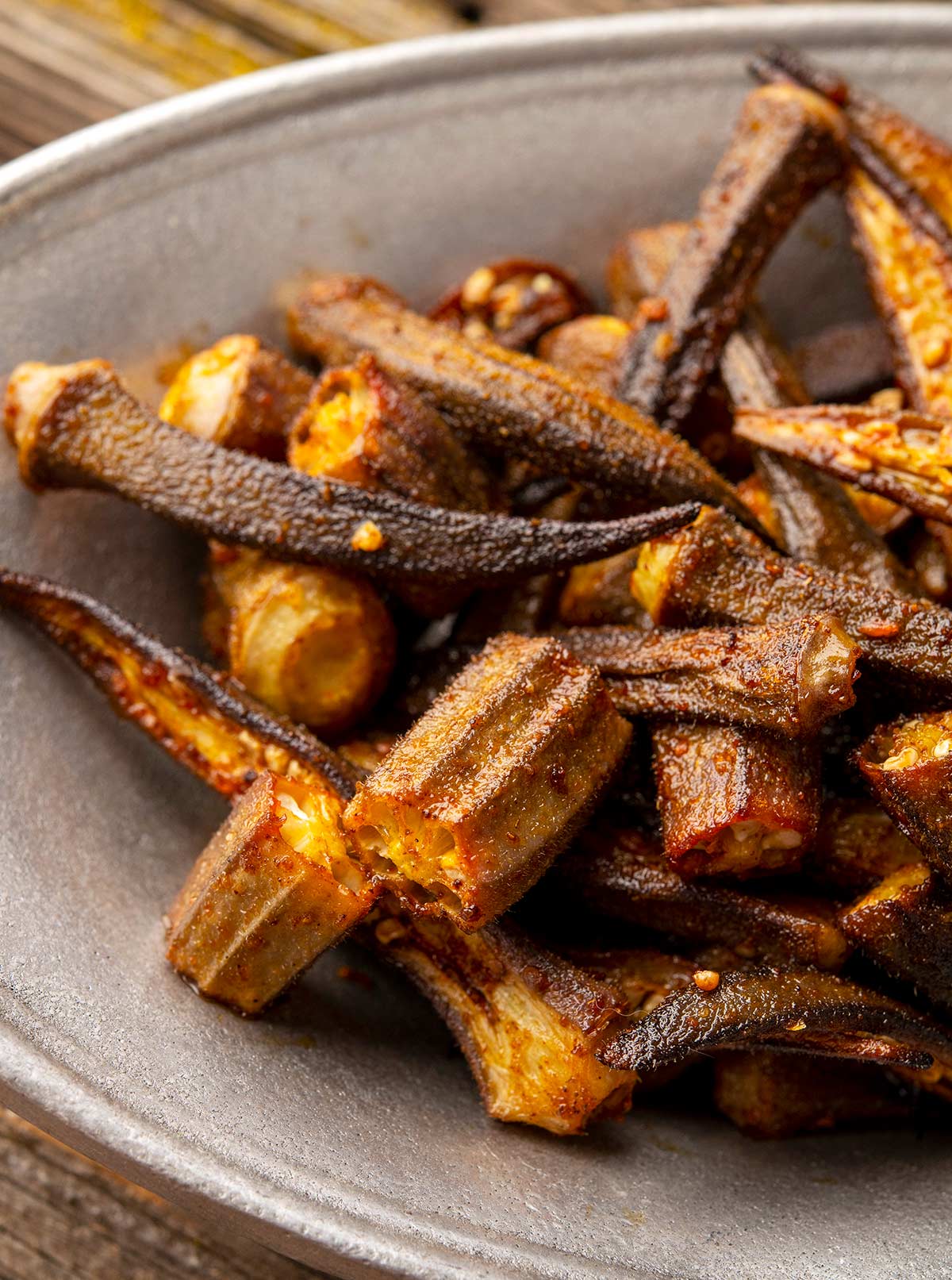 I use olive oil to toss the okra, but any oil you like will work.
You can mix and match seasonings as you will, but I feel a better option is to make up a vinaigrette and toss the roasted okra in it after they come out of the oven. With that, you'll have oil, vinegar or citrus, and you can add herbs like thyme, parsley, savory, etc.
You can also make the roasted okra, then add it to other recipes — a great place for it would be to add it to Egyptian bamia, a meat and okra stew.
I actually like roasted okra at room temperature or even cool, so it's a perfect make-ahead dish.
Looking for more okra recipes? I have lots. Okra stew, Lowcountry okra salad, Creole okra gumbo, pickled okra… yeah, I like okra.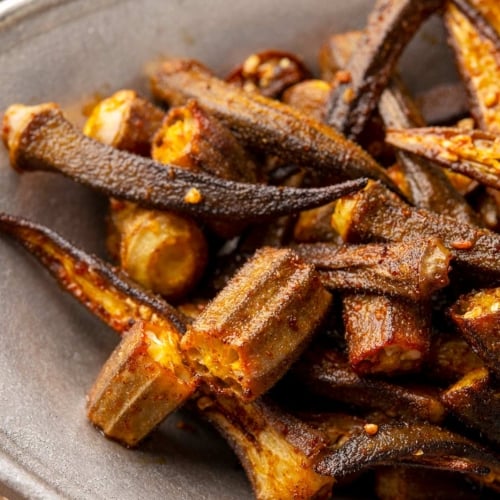 Spicy Roasted Okra
This is super simple, and endlessly variable. Just mix and match your seasonings to suit your taste.
Ingredients
1

pound

okra

2

tablespoons

olive oil

2

teaspoons

Fruit Fresh citric acid powder

(optional)

1

teaspoon

cayenne,

or other powdered chiles

1

teaspoon

salt

(garlic salt is nice, too)

Juice of a lemon or lime
Instructions
Keep very small okra pods whole, slice slightly larger ones lengthwise, and large ones crosswise into discs. Preheat your oven to 425°F

Toss the okra in the olive oil, then the remaining ingredients. Keep in mind you can use whatever spice mix makes you happy. If you use some mix that includes salt, don't add any more salt. Roast in one layer on a baking sheet for 20 minutes, turning once. You want to see some crisping along the edges.

Serve hot or at room temperature with a squeeze of lemon or lime.
Nutrition
Calories:
101
kcal
|
Carbohydrates:
9
g
|
Protein:
2
g
|
Fat:
7
g
|
Saturated Fat:
1
g
|
Polyunsaturated Fat:
1
g
|
Monounsaturated Fat:
5
g
|
Sodium:
590
mg
|
Potassium:
349
mg
|
Fiber:
4
g
|
Sugar:
2
g
|
Vitamin A:
1020
IU
|
Vitamin C:
26
mg
|
Calcium:
94
mg
|
Iron:
1
mg
Nutrition information is automatically calculated, so should only be used as an approximation.