Chicken Fried Duck
December 31, 2018 | Updated June 06, 2022
As an Amazon Associate I earn from qualifying purchases.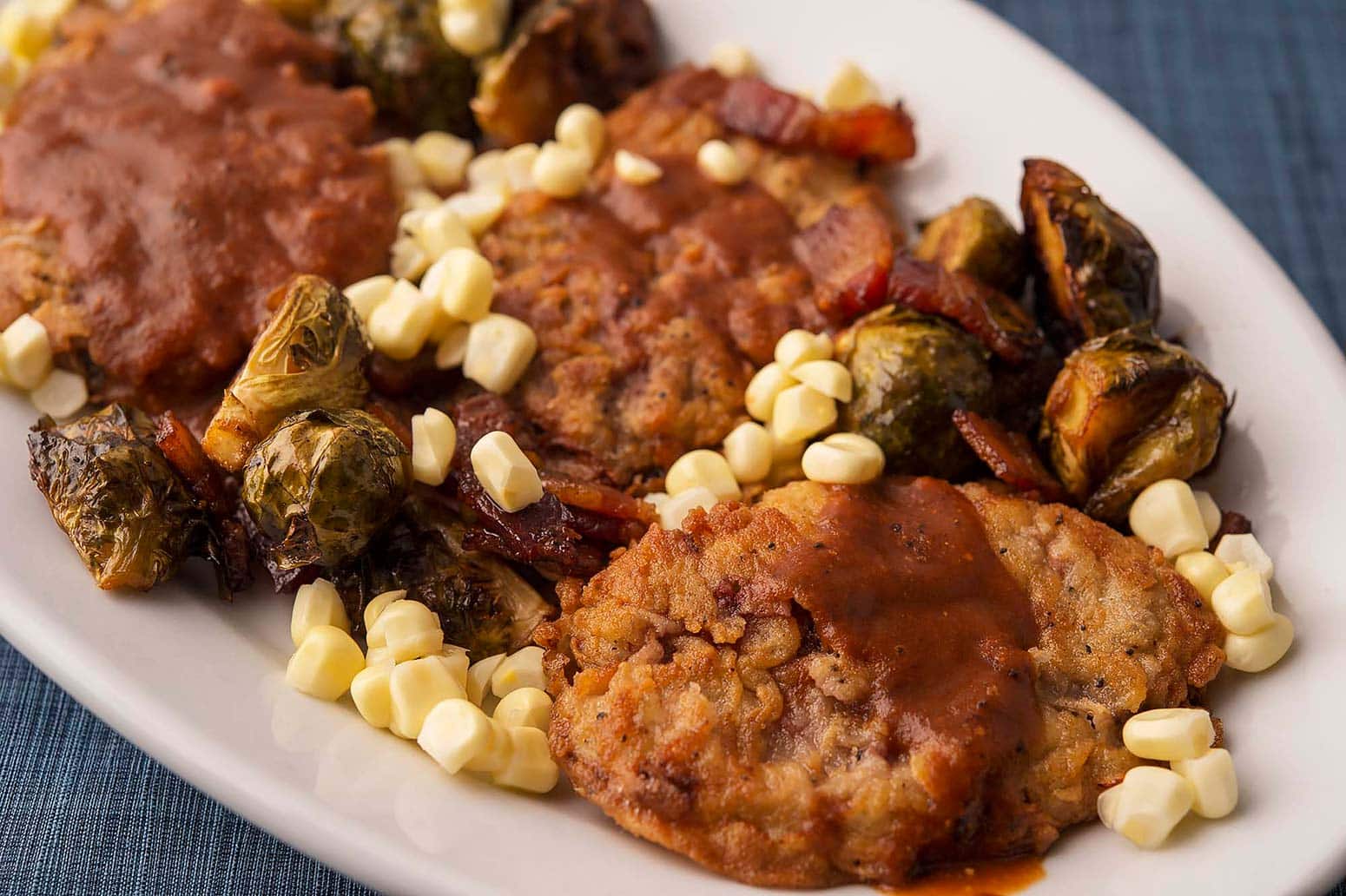 This recipe is a confluence of happenstance.
I've been cooking a lot of Southern food lately, and in that exploration finally developed recipes for chicken fried steak and red-eye gravy that I actually liked. Straight-up red-eye gravy — ham drippings and coffee — is just not to my liking, and many chicken fried steak recipes are heavy on batter with tough meat inside.
At the same time, Holly got a chance to hunt in Great Salt Lake as an invitee on the Beretta Torture Tour, where they are field testing a new shotgun in harsh conditions. If you've ever hunted Salt Lake in winter, you know late season is cold, — and that it's all teal, all the time.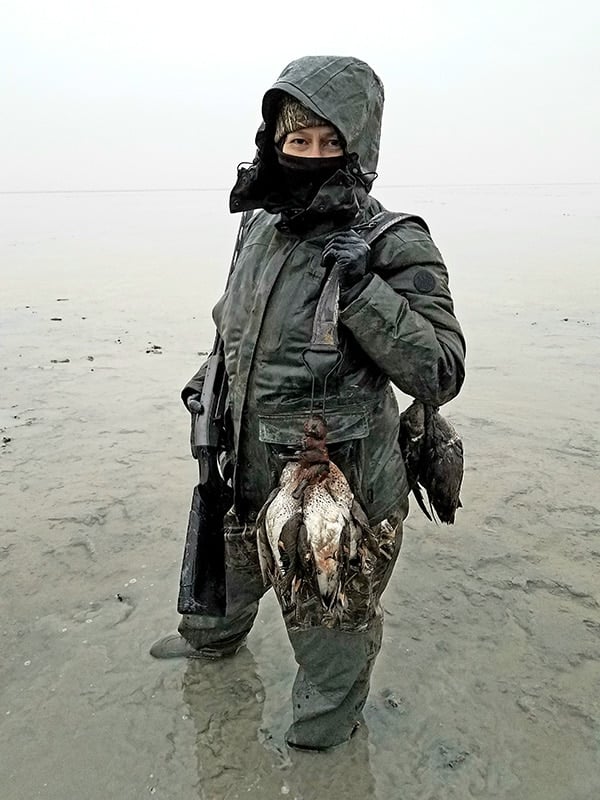 And, well, those teal like to eat brine shrimp. Remember Sea Monkeys? The things you got in the mail and added water to make them come to life? Yeah, those are brine shrimp. That meant the fat from these little ducks may well be briny.
So I thought I might skin them and use the breasts to make chicken fried duck.
To go with my chicken fried duck, I already had some sour corn going in the pantry. Sour corn? Yep. Think sauerkraut, only with sweet corn kernels. Damn good. Sour, salty but still a bit sweet, they taste like corn salsa.
I also added some roasted Brussels sprouts with bacon, because bacon.
The combination, along with my take on red-eye gravy, was fantastic. Tender teal with a crispy crust, earthy-smoky-roasty Brussels sprouts, sweet-sour-salty corn, and that zing you get from a coffee-based gravy. Holly and I ate the breasts from four teal in a flash.
Any meat will work here. Obviously this is intended to be chicken fried duck, but it could be chicken fried anything. It needs to be pounded thin and tenderized. You don't want to have to use a knife here.
While not strictly necessary, whacking the pounded cutlets with a jaccard is a great way to make them even more tender. A jaccard is a hand-held device with lots of blades in it that you hit against the meat to lacerate it all over. You can buy a jaccard online here.
If you want to make sour corn, the best way to do it requires a kitchen scale. Weigh your corn and the water you plan on submerging it in, then dissolve 2 percent of that weight in kosher salt in the water. Submerge the corn in that and leave it for a week before eating. It will keep, in a cool place or the fridge, for months that way.
As for the Brussels sprouts, I used my friend Michelle Tam's recipe here.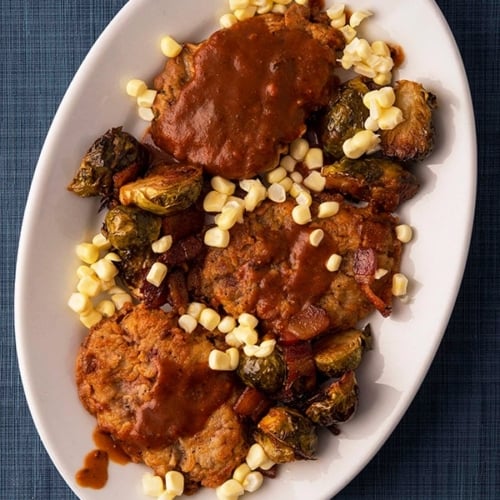 Chicken Fried Duck with Red-Eye Gravy
This is a great plate of food, but you need not make every component if you don't want to. I have instructions for the corn and the Brussels sprouts above, and I'll detail the duck and gravy here. You can of course use any meat you can pound flat for this recipe.
Ingredients
DUCK
1

fatty slice country ham

(optional)

1/4

cup

oil or lard for frying

8 to 12

skinless teal breasts,

about 1 1/2 pounds total

Salt

2

cups

flour

2

tablespoons

seasoning, such as Cajun, Cavender's or whatever you like

1

tablespoon

salt

1

teaspoon

baking powder

1/2

teaspoon

baking soda

1

cup

buttermilk

1

egg, lightly beaten
RED-EYE GRAVY
2

tablespoons

flour

1

cup

strong black coffee

1/2

cup

duck or chicken stock

(optional)

1

tablespoon

tomato paste

Salt and black pepper
Instructions
To make a real red-eye gravy you need ham and ham drippings. So fry the slice of country ham in 1 tablespoon of the oil until crispy on both sides. You can serve the ham with the duck or eat it as a cook's treat.

To prep the duck breasts, set each one between two pieces of plastic wrap, or better yet, a freezer bag cut open. Pound them with a mallet or empty wine bottle until the thick end of the breast is the thickness of the thin end of the breast. If you have a jaccard, run it over the pounded breast so it's full of little lacerations; this helps the batter stick to the meat. Salt the duck breasts well.

Mix the flour, seasoning, salt, baking powder and soda together in a bowl. Mix the buttermilk and the beaten egg together in another bowl. Put the duck breasts in the buttermilk. You can leave them there for a few hours if you need to, in the fridge.

Set a cooling rack on top of a baking sheet and put this in the oven. Set the oven to "warm."

Get the whole 1/4 cup of oil hot, to about 350F if you are checking. When it's hot, coat the duck in the flour mixture well, pressing it into the meat. Fry in batches until golden brown on both sides, about 3 minutes or so. Set the finished duck on the cooling rack in the oven.

When the duck is all done, pour off all but about 2 tablespoons of the fat. Add the flour and cook this a couple minutes, stirring almost constantly so it doesn't burn.

Add the coffee, stock if you're using it, and the tomato paste and stir it all to combine. Bring it to a boil and let this cook a few minutes, until it's thickened to your liking. Add salt if you need it. Serve the hot gravy over the chicken fried duck at once.
Notes
NOTE: If you have self-rising flour, use that and skip the baking soda and baking powder. 
Nutrition
Calories:
561
kcal
|
Carbohydrates:
55
g
|
Protein:
59
g
|
Fat:
10
g
|
Saturated Fat:
3
g
|
Cholesterol:
192
mg
|
Sodium:
2266
mg
|
Potassium:
1195
mg
|
Fiber:
2
g
|
Sugar:
4
g
|
Vitamin A:
287
IU
|
Vitamin C:
4
mg
|
Calcium:
139
mg
|
Iron:
4
mg
Nutrition information is automatically calculated, so should only be used as an approximation.