Pheasant Sausage
March 16, 2022 | Updated May 05, 2022
As an Amazon Associate I earn from qualifying purchases.
It is not uncommon to come home with enough pheasants to make pheasant sausage, especially if you hunt pen-raised birds. This recipe mixes pheasant and pork with French Provencal flavors for a nice, light sausage great for summer grilling.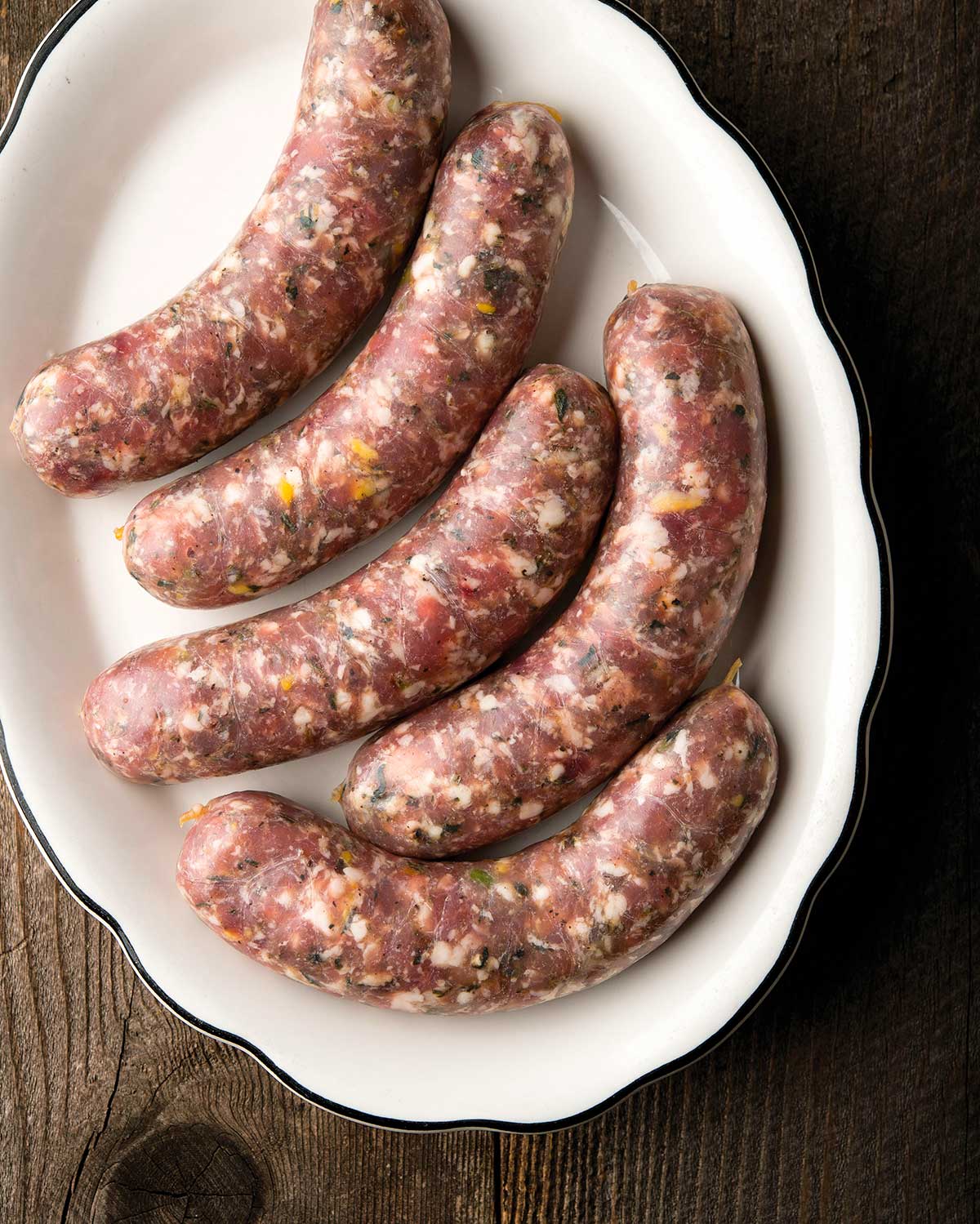 I originally developed this pheasant sausage recipe years ago, and it was for an old rooster, but since then have used the recipe for all varieties of upland game bird, from turkeys to grouse, partridges, as well as rabbit or pork.
And yes, pork is king, so feel free to use that instead. If you go all pork, use shoulder.
The flavors here are Mediterranean, sort of Provence meets Liguria in Italy: oregano, garlic, lemon, fennel and wine. It's a link for summer grilling, or sandwiches, or alongside pasta tossed with greens.
If you have access to fresh oregano, use it. Grate the lemon zest fresh, peel and chop good garlic — green garlic is a nice touch if you are making pheasant sausage in late spring — and grind black pepper on the spot. These little touches will make a better-tasting sausage.
I use standard hog casings here. It doesn't matter which diameter, but in my mind's eye this is a pretty standard link, so maybe avoid the wide hog casings for things like bockwurst. Pheasant sausage is good in sheep casings, however, which you can buy in good butcher shops, or online.
This is not a sausage I would smoke. You want bright, fresh flavors and the smoking process would dull them.
Once you have your pheasant sausages made, they are good poached in beer or wine, slowly grilled over charcoal, browned in a pan over medium heat, or roasted in a 325°F oven for 20 minutes. Serve in a bun, or with your choice of starch and vegetable.
New to making sausage? You can find my detailed tutorial on how to make sausages at home here.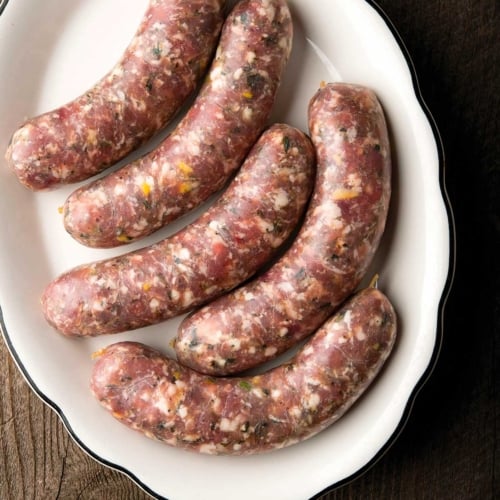 Pheasant Sausages
This is a light, fresh sausage made with good fresh herbs, fresh lemon zest, some garlic and Madeira wine. If you cannot find Madeira, which is a thick sweet wine, sub in any other sweet wine. Barring that, use regular white wine and add a teaspoon of sugar.
Ingredients
3 1/2

pounds

pheasant meat,

or use turkey or chicken

3/4

pound

pork fat

34

grams

kosher salt,

about 2 tablespoons

1/4

cup

chopped fresh oregano

10

grams

cracked black pepper,

about a tablespoon

5

cloves

minced fresh garlic

10

grams

fennel seed,

about 1 tablespoon

Grated zest of a lemon

1/2

cup

Madeira wine, or white Port, or Marsala
Instructions
Chill the meat until it is almost frozen by putting it in the freezer for an hour or so. Take out some hog casings and set in a bowl of very warm water.

Chop meat and fat into chunks that will fit into your grinder. Mix in the salt, and, ideally, let this set in the fridge overnight; this helps the bind. You can skip this step if you are in a hurry, though.

When you are ready to grind, take out half the fennel seeds and half the cracked black pepper. You'll want to add them right before you do that final mix. This keeps some spices whole, altering the sausage's texture, making eating it more interesting. Combine the other half of the fennel and pepper, garlic and herbs with the meat, mix well with your hands and grind through your meat grinder using the coarse die, about 6.5 mm. If your room is warmer than 70°F, set the bowl for the ground meat into another bowl of ice to keep it cold.

Chill the meat for another 30 minutes, then grind half of it through the fine die. Why bother? Because there will be a lot of stray silverskin in an old bird. Grinding to a finer level will make eating the sausage easier without getting any gristly bits. You can skip this if all you are using are breasts.

Add the wine and lemon zest, then mix thoroughly either using a Kitchenaid on low for 60 to 90 seconds or with your (very clean) hands. This is important to get the sausage to bind properly. Once it is mixed well, put it back in the fridge.

Stuff the sausage into the casings. Fill whole casings first. Then twist off links by pinching the casing down and twisting it; you want it to be about 5 to 6 inches long. Twist first away from you, then towards you. This helps the links stay tight. Or you could tie them off with butcher's string. (This video shows how I make links.)

Use a needle to pierce the skin where there are any air bubbles. Gently twist-tighten the link to remove any air pockets. Hang the sausages in the kitchen for an hour, or up to overnight if you have a place to hang them in refrigeration. Once the sausages have dried a bit, put in the fridge until needed. They will keep for a week in the fridge. 
Notes
This recipe makes about 4 pounds.  If you are freezing the sausages, wait a day before doing so. This will tighten up the sausages and help them keep their shape in the deep-freeze.
Nutrition
Calories:
365
kcal
|
Carbohydrates:
3
g
|
Protein:
20
g
|
Fat:
29
g
|
Saturated Fat:
11
g
|
Cholesterol:
81
mg
|
Sodium:
859
mg
|
Potassium:
247
mg
|
Fiber:
1
g
|
Sugar:
1
g
|
Vitamin A:
168
IU
|
Vitamin C:
5
mg
|
Calcium:
35
mg
|
Iron:
1
mg
Nutrition information is automatically calculated, so should only be used as an approximation.